New Waverley Edinburgh, Old Town Development, Info, Photo, Design, Picture, News
New Waverley Development News
New Waverley Scheme: Market Street Buildings, Old Town Project
26 Mar 2017
New Waverley Development in Edinburgh
New Waverley Building Images
Some pictures of recent Premier Inn on Market Street: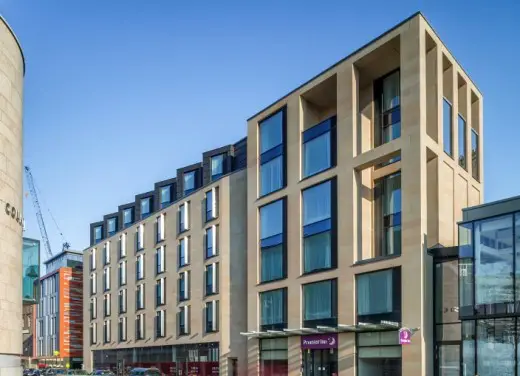 photo courtesy of New Waverley
and the revitalised former school at the East end of Market Street: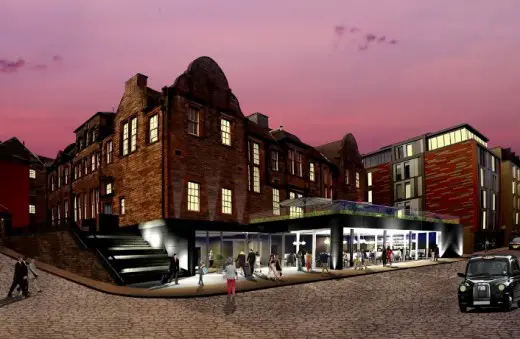 image courtesy of New Waverley
New Waverley is a £150 million groundbreaking development delivering a new civic square, 4 new hotels with Apple Apartments, Premier Inn, Hub by Premier Inn and the Adagio Aparthotel.
Film Produced by Gavin Bryce Film Productions:

Welcome To New Waverley from New Waverley Edinburgh on Vimeo.
Coming soon is over 160,000 sqft of Grade A office space, 148 stunning apartments / townhouses and 40 affordable homes.
Already open in The Arches are 15 thriving independent businesses as part of a total of 28 new retail and leisure businesses.
Adagio Time Lapse film from New Waverley Edinburgh on Vimeo.
The developers are Artisan Real Estate Investors.
Website: New Waverley Development News
8 Mar 2017
New Waverley Award
Scottish Property Award for New Waverley Building Images
New Waverley Wins Top Scottish Property Award
March 8th, 2017 – We are delighted to announce the New Waverley development, our £150 million regeneration scheme currently transforming the heart of Edinburghs Old Town, has won one of the Scottish property industry's most prestigious accolades.
New Waverley collected the award for the best city regeneration project in Scotland at the Scottish Property Awards, held in Edinburgh on Thursday (March 2). Following a record high number of entries in the competition, 710 guests gathered for the annual event to celebrate the best of Scotland's commercial property sector.
Delivered by Artisan Real Estate Investors, the award recognises its current status as one of the UK's most important city-centre regeneration sites, taking place in the historic and highly sensitive World Heritage Site of Edinburgh's Old Town.
Judges commended New Waverley's "brave and ambitious vision which is now becoming a reality….having a significant positive impact on the area around it."
Welcoming the award, Clive Wilding, New Waverley's Project Director said: "We are all absolutely thrilled to have been recognised by the Scottish Property Awards as Scotland's best regeneration project, in what was a fiercely contested category.
"For the last two years, we have worked hard to make New Waverley be an integral part of Edinburgh's Old Town, breathing new life back to a formerly neglected part of the city centre. I am delighted that New Waverley's considerable impact is now being recognised on a national stage by our peers and public alike."
New Waverley Wins Award
Completed so far as part of the first New Waverley development phase are two Whitbread hotels – a Premier Inn and a Hub by Premier Inn – which opened in January 2016 and The Arches, a row of 19 Victorian arches which have been transformed to create an exciting new leisure and retail district for the city.
In December last year the new 146-apartment Aparthotels Adagio overlooking Edinburgh's Royal Mile opened for business overlooking a new football pitch-sized public square becoming the first significant public space to open in the city centre for more than 50 years. In addition, the demand for authentic and healthy 'food to go' has also been met by the launch of The Food & Flea Market based at the new square. Featuring street food and shopping combined into a 7-day week market has transformed the local area.
Architects for the New Waverley development are Edinburgh-based Allan Murray Architects. Allan Murray added: "This development has galvanised the revitalisation of a sadly neglected but very central part of the Old Town, within a World Heritage Site setting.
"The mixed-use project interweaves high quality new build with the refurbishment of historic buildings and creates a bold new urban public realm for the benefit of the local community."
Artisan Real Estate Investors is a real estate investment and development advisory business formed by a powerful consortium of South African and Isle of Man based investors.
Artisan Real Estate Investors brings together more than 20 years of experience in Grade A office, retail, industrial and leisure developments. Artisan's specialism is in delivering large scale mixed use schemes, such as Phase 1 of the New Waverley development underway in Edinburgh. This includes 3 new hotels delivering 400 rooms, 30,000 sq ft of retail, mainly food and beverage and creative common areas.
Artisan has broad experience. It recently completed two student accommodation schemes in Birmingham and has advised on acquisitions totalling in excess of £100m across the UK, Germany and Switzerland.
Partners in Artisan include property developers Atterbury, who have a 20 year track record of delivering prestigious mixed use developments across the Southern Hemisphere, including the development of The Mall of Africa, with 155,000 sq m of office space completed, which is only a third of the total site. Sanlam, a dominant financial services conglomerate, together with private equity firm Argosy Capital, provide strong shareholder support.
The partnership have extensive experience of working with office occupiers including DPD, PWC, Altech group, Cell c, and Digistics to name a few.
More information can be seen at: Artisan Real Estate Investors
18 Feb 2016
Caltongate Building Photos
Photos of the new Market Street arches in Edinburgh Old Town, and elegant new building at the corner of Jeffrey Street and Market Street, a clever device to turn the corner with the main orthogonal form of the building block set back: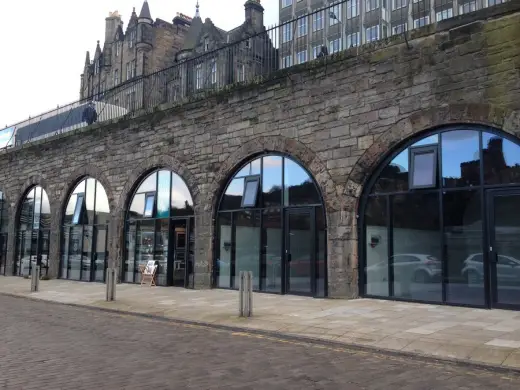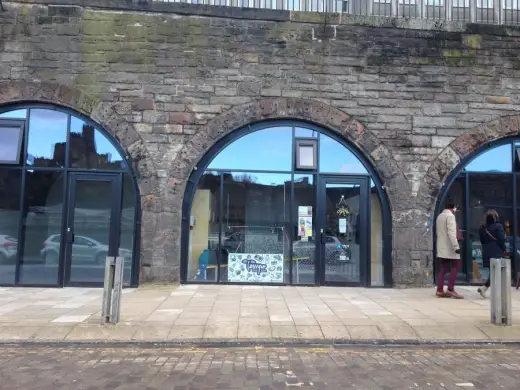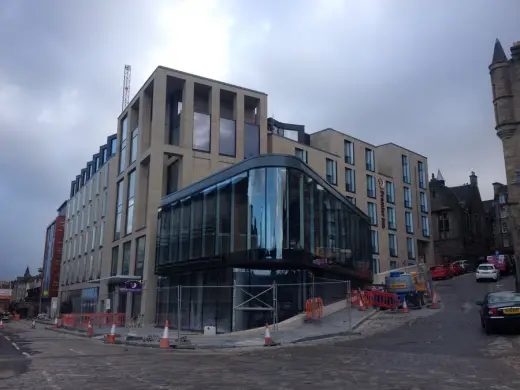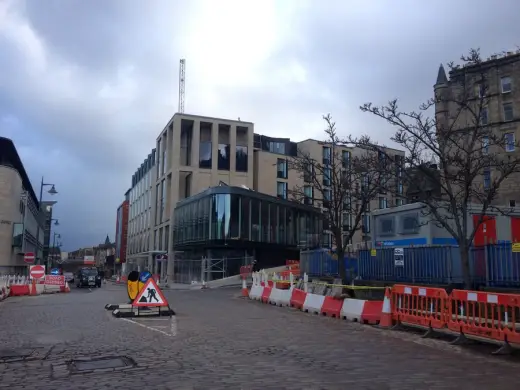 building photos © Adrian Welch
New Waverley development – Caltongate Building News
Key Architecture in Edinburgh
Edinburgh Tours : Architecture Walking Tours
Comments / photos for the New Waverley Development page welcome
Website: New Waverley Development