The People in the Places: Edinburgh Buildings Spill Their Secrets Advice, Scottish Escort Reviews, Travel Tips
The People in the Places: Edinburgh Buildings Spill Their Secrets
14 July, 2020
Scotland's capital city has plenty of secrets that aren't necessarily deep or well-kept, because all it takes is a friendly query and suddenly you'll find this one local might spill all the very interested beans about the building they are standing in front of. The secrets of Calton Hill is always worth a visit, and going along the Leith will always net you a good conversation with someone who remembers it a little bit differently way back when.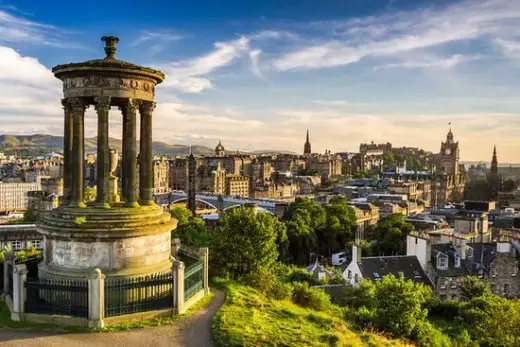 image courtesy of architects
When the Sun Goes Down
A nighttime walking tour of the city is not to be missed, in part because of the fun you can have. In fact, you can find some very special guides who won't just show you around the town, but their bedroom as well. There are many Edinburgh luxury Escort Reviews online to support this fact – see https://www.escortrankings.uk/escorts-edinburgh-982.
While one can argue that you can miss plenty of the details by walking at night, it is also true that things you might have ignored or overlooked during the light of day is much more readily apparent. And it is certainly true that certain castles and old buildings take on a unique glow under carefully set up artificial light.
Even themed tours that are designed to give you a bit of a scare – like going into the underground vaults below Old Town – will give you renewed appreciation for the designs of what was meant to be hidden from view but remain operational for several generations.
Give Your Love to the Mound
Yes, architecture usually involves looking up or straight ahead, but some construction projects that excavate instead of 'create' deserve our respect, especially if you consider what ends up being built upon them. For sixty five years – and without a single bulldozer or backhoe, since it was 1765 to 1830 – an artificial slope was built to connect New and Old Town, and when it was finally finished everyone was so tired of it that they didn't bother to get any other name except 'The Mound'. But it is without a doubt interesting enough that they named a museum focusing on Scottish currency history after it.
While hauling dirt is not the most exciting sort of thing, certainly one can appreciate the functionality of the mound's creation, and certainly admire the indomitable spirit that is required to keep doing anything that will take decades to complete. While not nearly as inspiring as the pyramids, at least with the Mound the citizens were able to build something worthwhile on top, instead of settling for a singular point. Certainly it can be agreed that The Scottish National Gallery qualifies.
Getting More out of Edinburgh Castle
It's one of the most visited attractions in all of the United Kingdom, and while it helps that it is smack-dab in the middle of the city and is so hard to avoid noticing if you ever even so much as look up, you'll be forgiven for thinking that there is nothing fresh or new that can be squeezed out of a thousand year old castle. Being so frequently attached and re-re-built means that each room and even each wall can have its own little history, where the sum is obviously much greater than its parts.
David I built it in the 11th century, the English went mad trying to take it over dozens of times in a fifty year span, and Cromwell caught and executed Charles I. That's the history in a sentence, because after that it became places for sentences, as plenty of prisoners from various wars across the globe (the American Revolutionary Wars, the Seven Years' War, the Napoleonic Wars) found themselves here.
The most interesting resident, though, had four legs and a trunk, because the 78th Highlanders (in what was in no way a dare, we think) brought back an elephant from Sri Lanka in 1838. Happily it took a shine to Scottish weather, but it might have helped that it also took a liking to lager, and was known to use its trunk to grab a glass or barrel to get a taste.
Some Modern Masterpieces
Since time has been so kind to Edinburgh, it's easy to focus on the castle and the neighbourhoods that have the word 'old' in their name (and it's not like 'new town' is a spring chicken, either). So it is inspiring to see buildings like the Chapel of Saint Albert the Great siting alongside much older counterparts. Angled windows, oak slats and several mirrored sections allow for a very bright interior while still providing excellent shelter from the elements.
Parliament Buildings are typically stuffy old affairs, but the nation's early millennium take has certainly turned a few heads an even won a few prizes over the years. And like all good art, the general populace was a bit iffy before embracing the collection of low-lying buildings of various sizes that mix the urban and pastoral elements splendidly. It's nice to see religion and politics go modern, at least on a superficial level.
And finally, Harry Potter
Not all 'citizens' have to be real and in the flesh, and it can't be helped that JK Rowling was inspired to write her seven-volume epic while living in Edinburgh. Certainly if you are walking the streets in Old Town past sunset in the fall, there will be more than a slight hint of magic in the air (certainly the fog will help with the atmosphere). There are plenty of walking tours that have capitalized on the series' popularity, and even if you've done enough exploring of the city and have plenty of knowledge on its architectural history, there is something to be said about learning how certain neighbourhoods and buildings were used as inspiration for Rowling as she created a massive, fictional wizarding world for everyone to enjoy.
Comments on the The People in the Places: Edinburgh Buildings Spill Their Secrets article are welcome
Architecture
Contemporary Buildings
Dance Base, The Grassmarket, Old Town
Design: Malcolm Fraser Architects



image : Steffen Schefer
Dance Base
Comments / photos for the The People in the Places: Edinburgh Buildings Spill Their Secrets – good Scottish Escort info page welcome