Royal Scottish Academy Show 2022, Architects, Artists, Architecture Scotland, Review
RSA Annual Exhibition in Edinburgh
Royal Scottish Academy Exhibition, Edinbugrh : Architecture Information
13 November 2021
RSA Architecture Exhibition 2021
196th Royal Scottish Academy Annual Exhibition
Online submission is now open for the 196th Annual Exhibition!
We are delighted to announce that the RSA Open Exhibition of Architecture is returning once again next spring as part of the 196th RSA Annual Exhibition. On view from 23 April – 12 June 2022, the exhibition will showcase a diverse range of contemporary art and architecture from our Royal Scottish Academicians, plus artists and architects carefully selected from online open submissions.
For a chance to be part of the 196th RSA Annual Exhibition submit your work online now at www.royalscottishacademy.oess1.uk.
Architects may submit up to TWO works of any dimensions in any suitable medium, including drawing, photography, print, film and models/3D.
Entry is £35 per work (student & under 26s £10) plus £10 hanging fee if selected.
Regulations and FAQs are available on the website and and should be read in full before completing the application.
Submission deadline: Friday 6 February 2022 at 5pm
Previously on Edinburgh Architecture:
25 Mar 2014
RSA Architecture Exhibition 2014
Royal Scottish Academy Annual Exhibition
29 Mar – 4 May 2014
RSA Building, The Mound, Edinburgh, EH2 2EL | Admission by donation
188th RSA ANNUAL EXHIBITION
"Focus on Film"
The RSA Annual Exhibition is a focal point of the RSA programme and showcases work from RSA Academicians the length and breadth of Scotland. Now in its 188th year, it continues to provide a platform for contemporary paintings, sculpture, film, printmaking, photography and installation alongside work by some of the country's leading architects.
This year's convenors, Ronald Forbes RSA and Charles Hussey RSA (Elect) have also curated a themed aspect within this major exhibition entitled 'Focus on Film' – a survey of Scottish art involving the moving image. The exhibition will showcase Academicians whose practice currently utilises film, established filmmakers past and present and emerging film artists, some who have come through the RSA New Contemporaries and other RSA programmes. There are nine curatorial themes exploring varied approaches to creativity in filmmaking and including a range of documentary works about RSA Members.
Invited artists include two previous winners of the Glasgow Film Festival Margaret Tait Award: Stephen Sutcliffe (2012) and Rachel Maclean (2013). Maclean was recently placed at no.9 on The List's 'Hot 100' issue (to "honour the best and brightest in Scottish arts and culture") and Sutcliffe's recent piece 'Outwork' was the subject of a major exhibition at Glasgow Tramway last year. As a survey exhibition, works by the late Margaret Tait will be featured, along with other established artists working in film such as John Byrne and Daziel + Scullion.
Works by recent RSA award winners will be exhibited, including new work by Oliver Mezger, the recipient of the 2013 RSA Morton Award for Lens-based work. Additionally, there will be a small survey of the Morton Award, looking at previous recipients including Alexander & Susan Maris and Paul Rooney. There will be memorial works for Anthony Wheeler PPRSA, John Bellany HRSA and Keith Rand RSA.
Many works will be available for purchase and the RSA is part of the Own Art scheme, offering interest-free credit for people to buy contemporary art! For further details visit www.ownart.org.uk.
The RSA gratefully acknowledges support from The Friends of the Royal Scottish Academy and Drambuie.
List of Invited Artists:
John Byrne RSA
Joyce Cairns RSA
Henry Coombes
Victoria Crowe RSA
Gina Czarnecki
Dalziel + Scullion
Katy Dove
Kate Downie RSA
Graham Fagen
Sam Firth
Murray Grigor
Derrick Guild RSA
Ronald Forbes RSA
Douglas Hart
Rose Hendry
Will Maclean RSA
Alexander and Susan Maris
John Maclean
Rachel Maclean
Tracy Mackenna & Edwin Janssen
Wendy McMurdo
Dawson Murray
Ruth Paxton
Anna Pearson
Eva Riley
Emile Shemilt
Sam Spreckley
Andy Stenhouse RSA
Edward Summerton RSA
Stephen Sutcliffe
Mike Windle
Works from the Estates of:
John Bellany HRSA
Josef Beuys
Derek Clarke RSA
Tadeusz Kantor
Rory McEwan
Norman McLaren
Keith Rand RSA
Margaret Tait
List of Invited Architects:
The Bothy Project
Foster and Partners
Kengo Kuma
Konishi Gaffney
Graeme Massie
About the Royal Scottish Academy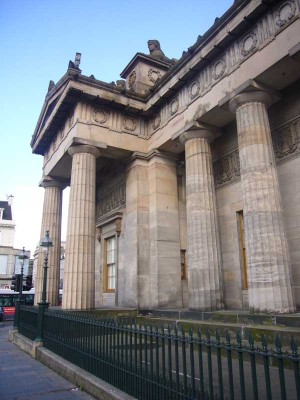 image © Adrian Welch
Royal Scottish Academy
The Royal Scottish Academy of Art & Architecture has a proud tradition of promoting excellence in contemporary art and architecture in Scotland. Led by eminent artists and architects it supports the creation, understanding and enjoyment of the visual arts through exhibitions, artist opportunities and related educational talks and events. Re-establishing itself as a leading organisation for the visual arts in Scotland, it has successfully garnered a reputation for the strength of its engaging and diverse exhibitions and the fantastic opportunities it offers both established and emerging artists. For further information about the RSA visit www.royalscottishacademy.org
New Town RSA Playfair : Royal Scottish Academy Article



image © Adrian Welch
Royal Scottish Academy Annual Exhibition: 2004 Review



Royal Scottish Academy, Edinburgh – image © Adrian Welch
Royal Scottish Academy Annual Exhibition
Comments / photos for the RSA Annual Exhibition – Royal Scottish Academy Architecture Show page welcome
RSA Annual Exhibition : page