St Marys Cathedral, Edinburgh, Architect, Photo, George Gilbert Scott Building
St Mary's Cathedral Edinburgh : Architecture
St Mary's Episcopal Cathedral, Palmerston Place, New Town
St Mary's Episcopal Cathedral Edinburgh
Location: Palmerston Place, Edinburgh
George Gilbert Scott 1873-79; Scott 1890-91; Scott 1913-17
St Mary's Episcopal Cathedral is located in the later, western phase of Edinburgh's New Town.
Refurbishment of the west facade, Sep 2008:
Architect: Sir George Gilbert Scott
St Mary's Cathedral, Edinburgh: Description
Sir George Gilbert Scott's design was selected from a shortlist of six in an architectural competition. Scott's brother Giles Gilbert Scott had previously also won Liverpool Cathedral competition (against Lutyens).


aerial image © webbaviation
Two additional towers were requested post-competition. Thus three soaring spires now form a major Edinburgh landmark, visible the length of Princes Street and notably from Calton Hill at the other end of the city. The central larger spire (270 ft high) sits on axis with Princes Street, due to the grid shift the western towers sit slightly to the left.
St Mary's Episcopal Cathedral is ornately built in the Gothic Style of sandstone and is one of the buildings that was not completely sandblasted in the Eighties thus remains fairly dark (like the Scott Monument), often presenting a forboding form in the skyline depending on the weather. St Mary's rear facade terminates the vista down the wide Melville Street.
St Mary's Cathedral was built from 1873/74, to seat 1500 people, but the Cathedral (minus Chapter House) was only consecrated in 1879. The two spires on the western facade were completed during the First World War.
St Mary's Episcopal Cathedral was mainly funded by sisters Barbara & Mary Walker, after whom the twin spires are named (but not yet part of Edinburgh folklore like New York's 19 buildings of New York's Rockefeller Center – named after the Rockefeller brothers). These two unmarried daughters of Sir Patrick Walker bequeathed their entire fortune to the Episcopalian Church on the condition that a cathedral was built on their chosen site. The bequest was actioned in 1870 upon the death of the second sister, Mary (thus the Cathedral's title is all the more appropriate).
The Walker sisters' Trustees invited six architects to submit designs for what became the largest church built in Scotland since the Reformation.
One of three designs by Sir George Gilbert Scott, for a church with a single central tower and spire, was selected; however, it is worth noting a three-spired submission by Alexander Ross was publicly popular.
Amazingly the Cathedral's ongoing development was coordinated by George Gilbert Scott's family: One of Scott's sons designed the missing Chapter House to the original design in 1890-1 and another son completed the two western spires, to Scott's amended design, from 1913 to 1917.


St Marys Episcopal Cathedral : photo © adrian welch
A hanging rood (cross) marks the division between nave and choir. The high altar is the Cathedral's focal point, illuminated by the eastern stained glass windows. Verona and Carrera marble were used in the decorative reredos (sculptured screen) behind the altar. Statues of St Margaret of Scotland & St Columba are placed in niches.
Context: Edinburgh New Town
George Gilbert Scott was also responsible for St Marys Cathedral Glasgow
George Gilbert Scott: Introduction
Sir George Gilbert Scott PRIBA (1811-1878)
Scott is known as the leading architect of the Gothic revival.
George Gilbert Scott started in architecture by designing jails and workhouses. He worked for the architect Henry Roberts and the builders Peto & Grissell before setting up his own practice. Scott was articled to James Edmeston from 1827-31, and formed a partnership with W. B. Moffat from 1834-45.
George Gilbert Scott designed his first church in 1838. Scott studied French Gothic Cathedrals & Churches, and was influenced by Augustus Welby Pugin's works on medieval architecture, first materialising in the Martyrs' Memorial, Oxford. Scott won the competition for the Nikolai Church (1845-63) in Hamburg, Germany. Scott's design in 14th-century German Gothic earned him an international reputation and launched his career.
George Gilbert Scott: Buildings
George Gilbert Scott designed the following Scottish buildings:-
St Mary's Episcopal Cathedral – with John Oldrid Scott (1884)
Glasgow University, Glasgow (1865 -1886)
Scott was also responsible for the following English buildings:-
Albert Memorial, London (1862-3)
St Pancras Station, London (1865) & Midland Grand Hotel (1872; later renamed St. Pancras Hotel)
Foreign and Colonial Office, Whitehall, London (1858)
India Office, Whitehall, London
Martyrs' Memorial, Oxford (1841)
St John's College Chapel, Oxford, George Gilbert Scott
Exeter College Chapel, Oxford
General Infirmary, Leeds
Scott also worked on the restoration of various cathedrals, including Ely, Salisbury, Westminster Abbey, Gloucester, Rochester, Chester, Lichfield, Worcester and St Davids.
George Gilbert Scott: Background
Scott's pupils included George Edmund Street, William White and G. F. Bodley.
George Scott was born in Gawcott, Buckinghamshire, England in 1811 and died in London in 1878.
Dedicated to the historic preservation of medieval buildings, Scott helped restore many churches throughout Europe. Scott was the most prolific architect of the Gothic revival designing nearly 1000 buildings alone or with his practice. Among the approximately 850 buildings that Scott solely designed, restored, or otherwise influenced are 39 cathedrals and minsters, around 500 churches, and many academic buildings.
George Gilbert Scott designed most of his buildings in a Gothic manner that conflicted with contemporary ideas on appropriate architecture. A proponent of the Ecclesiological principles of church design, he developed the ability to blend elements from disparate architectural sources.
George Gilbert Scott won a Royal Gold Medal in 1859, became Professor of Architecture at the Royal Academy (1866-1873), and was knighted in 1872.
Religious building just to the south: Palmerston Place Church



photo © Adrian Welch
Churches to Visit in Scotland: 10 Years Commemoration Volume. Scotland's Churches Scheme, John R. Hume (Illustrator)
Our Price: £8.99
Free UK delivery on orders over £25 with Super Saver Delivery.
Availability: usually dispatched within 24 hours.
Paperback 429 pp (2004) Publisher: NMS Enterprises Limited
– Publishing ISBN: 1901663868
Order Churches to Visit in Scotland Today!
One of George Gilbert Scott's most famous buildings – St Pancras Station Hotel – is set in 2005 to once again become a hotel, with apartments included.
St Mary's Cathedral Courtyard Development



St Mary's Cathedral Edinburgh: Catholic Cathedral – LDN Architects
Related buildings to St Mary's Cathedral include St Giles Cathedral & St Mary's ChurchHaddington.
Edinburgh Area Religious Buildings – Selection:
Rosslyn Chapel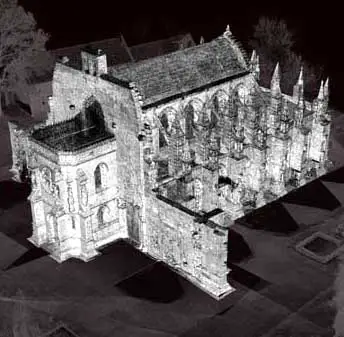 picture from the architect
St Peter's Church



photograph : Keith Hunter
Canongate Kirk



photo © Adrian Welch
George Gilbert Scott is buried in Westminster Abbey
Comments / photos for the St Mary's Episcopal Cathedral Architecture page welcome