Unbuilt Architecture, Scotland, Images, Architects, Developments, Plans, Projects
Edinburgh Building Proposals : Architecture Information
R. I. P. The Great Unbuilt
Unbuilt Architecture
Edinburgh, 1900-2000
This page is for projects that got away: Waverely Station proposals, Murphy's Usher Hall 'Ring of Saturn', Benson & Forsyth in Leith, oh, and their Cowgatehed Library scheme, shown here as the first scheme.
BENSON & FORSYTH: EDINBURGH CITY LIBRARY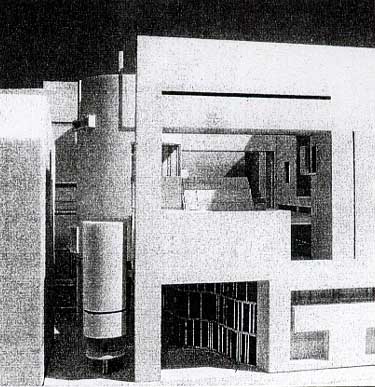 Cowgatehead competition submission report pages:-
PRINCES STREET GALLERIES
EDI Proposal – Princes Street Galleries under part of Princes Street & Gardens
Allan Murray Architects:


MATTHEW PRIETSMAN ARCHITECTS: WAVERLEY STATION Model Image:-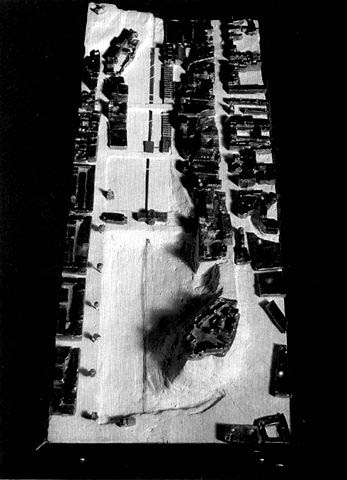 The competition (end 1989) was arranged by the Scotsman
Newspaper, and was a call to citizens to propose ways of re-claiming
'Edinburgh's Lost Valley' as they put it
1st Price and Cullen (Cullen now sadly deceased)
2nd Matthew Priestman Architects
3rd Troughton McAslan (Matthew Priestman working for them at the time)
4th Max Hutchinson
All presented to the then British Rail. John (McAslan) made a huge effort
to promote his scheme and was on the point of submitting an Outline PA when
the Waverley Station ticket hall was mysteriously (?) spot listed
EDWARD CULLINAN ARCHITECTS: HAYMARKET COMPETITION


Competition entry for the Haymarket Goods Yard site at the western entry to the city centre
HOLMES PARTNERSHIP: OCEAN HEIGHTS

Leith scheme for Aberdeen's Stewart Milne Builders
Developed into Skyliner aka Ocean Heights
G4 COMPETITION 2001
Edinburgh Park
Winner: Campbell & Arnott
Runner-up: Gordon Murray + Alan Dunlop Architects
NEW EDINBURGH LTD, developer of Edinburgh Park, invited architects in Scotland to submit design ideas for a £2m office building. The offices were to incorporate an innovative marketing suite for NEL.
Review of Exhibition held at Edinburgh University:
Everyone from Ushida Findlay to Keppie Architects here: don't miss the wild overhangs of Duffy & Batt(far right), the trendy Dutch folds of ATA Studio, or – by the door – the spaceship of Watson Burnett Architects, surely a joke entry. Considered and innovative schemes from the likes of Sutherland Hussey Architects, Oliver Chapman, Gordon Murray + Alan Dunlop, Richard Murphy (left), Andrea Faed, Malcolm Fraser Architects and CIAO.
No larger images, apologies:



Other schemes desired include all Ronaldsons Wharf entries, Usher Hall entries, Elder & Cannon's Blackfriar's scheme, and of course the AR Architecture Centre 'Haymarket' competition entries. More G4 competition images are sought. Any other suggestions welcome.
TRON SQUARE COMPETITION 1998
Tron Square Housing Competition
Invited Competition, 1998
The Burrell Company (Developments) Limited Competition: Jury included Piers Gough, Janet Street Porter
Winner: Richard Murphy Architects
2nd – Allan Murray Architects – welcomed
3rd – Duffy & Batt


Cooper Cromar Architects scheme:


Other schemes welcomed.
Developed by Buredi, partnership between The Burrell Company and EDI.
Wood on the Street: Gabriels Wharf student competition



Commended entry: David Dejous & Gwendolyn Kochendoerfer of Duffy & Batt
Comments / photos for the Unbuilt Architecture pages welcome