Leith Masterplan, Development, Edinburgh Docks, Photos, Architects, Design
Western Harbour, Edinburgh
Forthside – Proposals : Leith Docks, Scotland, UK
Western Harbour Edinburgh
Leith Docks delays 30 Jun 2009 News Update:
The Scotsman reports today that the development of parts of Leith Docks faces significant delays unless the project wins public funding, the company behind the regeneration of the area warned today.
Forth Ports wants to push ahead with creating facilities for a ferry crossing between Fife and the Waterfront. It also wants to create a waterside walkway behind Ocean Terminal featuring shops and restaurants.
The company has now applied for funding from an innovative city council scheme in a bid to kick-start the infrastructure works, and it warns that, without the money, the plans would have to be halted.
The city council recently said it would be willing to pump £50 million into the Waterfront area to kick-start development.
A "tax incremental financing" scheme, popular in the United States but untested in the UK, would see the council borrow the money against a projected increase in business rates from firms that are brought to the Waterfront as a result of the infrastructure work.
Pier One Dec 2008 News Update:
10 storey £15m tower designed by make unveiled – office space with two street level restaurants. Located at former ScotFM base near the Malmaison Hotel. Entried to the competition included designs by Allan Murray Architects and Sutherland Hussey Architects. Subject to planning permission and interest from operators, Forth Ports could get the project underway in second half of 2009
Leith Docks Dec 2008 News Update :
Planning submission by RTKL for Western Harbour incl. two new piers, homes, offices and up to five new hotels
Leith Docks Mar 2008 News Update :
Applecross / Forth Ports £50m joint venture to develop four sites at Western Harbour: 144 flats + 36 townhouses
Leith Docks Oct 2007 News Update :
RTKL Architects' indicative Leisure Village proposals for area around Ocean Terminal released, 2 new piers into the Western Harbour from the west, one containing a relocated Cruise Liner terminal & Britannia visitor centre, the other containing a 22 storey hotel/apartment tower. Also, another pier proposed just northeast of the Ocean Terminal with possibly a 15 storey hotel, more details online soon
Forthside Sep 2007 News Update :
Largest Edinburgh planning application ever submitted by Forth Properties for 15msq ft £700m scheme masterplanned by RMJM: 9 'urban villages'. Elements incl. 16,000 homes; 1m sqft office space; community; leisure; retail; industrial.

Forthside Sep 2006 Building Update :
Forth Ports appoint RTKL as Leith Docks Master-planner
Reports advise RTKL Architects to take over not only the Leith Docks masterplan but also the Ocean Terminal Extension, previously designed by RMJM Architects.
Detailed masterplan for Britannia Quay and Waterfront Plaza at Forthside.
RTKL were responsible for the redevelopment of Baltimore inner harbour to make one of the USA's most successful urban transformations.
The Western Harbour masterplan was created by RMJM Architects and Robert Adam Architects
Jul 2005 Building Update: RMJM Architects Masterplan Image


New Ocean Terminal Extension on the right, landmark tower on left


Plan of Western Harbour Masterplan – Buildings, Parks – Robert Adam Architects


Aerial Image looking from Forthside to Newhaven and Granton, Edinburgh on left


Design Codes – Community, Squares, Housing – Robert Adam, Architecture


Western Harbour Property – waterside apartments
Montages by Gross.Max and Sutherland Hussey – scroll to base of page


Western Harbour (left) & Ocean Terminal from the air
Forthside



Leith Docks – image by Pixel Image from Robert Adam Architects
Images of Robert Adam Architects' proposals at Forth Ports Forthside website:
www.edinburgh-forthside.co.uk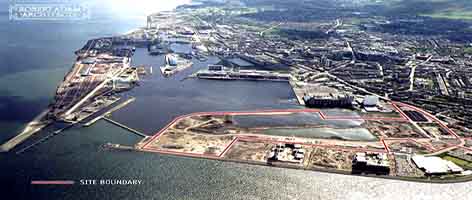 Leith Harbour by Pixel Image from Robert Adam Architects
After the Forthquarter we now have Forthside to gather the Forth Ports masterplan, see 11.03.05 entry for aerial view below
Granton Harbour house types, also masterplanned to the same principles by Robert Adam:


Granton Housing by Pixel Image
Housing designed in accordance with masterplan codes by Gilbert Associates for Hart Developments
17.03.05
Robert Adam Architects – 16 Mar 2005 Leith Docks – Building PR:
Masterplan for Western Harbour, Leith, Edinburgh
Robert Adam Architects have developed a detailed masterplan for the future development of Western Harbour in Edinburgh. The site is a large trapezoidal land-fill area pointing northward into the Forth and adjacent to the historic fishing village of Newhaven.
Whilst the harbour was previously Edinburgh's main port, the extensive dock area is now largely redundant due to industrial decline and has become increasingly dislocated from the traditional city fabric. Emphasis has recently shifted towards regeneration, with the area reassessed as a site for new development.
Robert Adam Architects have designed the scheme according to the principles of Traditional Urbanism. A new approach to planning developed over the last 25 years, this technique recognises the value of traditional planning and empahsises the need in today's architecture to marry what is still vital in local tradition with the best in our increasingly global civilisation.
The masterplan places emphasis on the creation of desirable places. The space is defined by interconnected character areas rather than detached, industrial scale structures which often relate poorly their surroundings and are difficult to adapt over the long term. Buildings groups within are of mixed scale and use, encouraging pedestrian street life throughout the whole day and ensuring a sense of welcome and safety.
Urban spaces are similarly well defined and enclosed and are located within a varied network of easily negotiable streets and passageways. Importantly, all buildings are constructed in local materials and designed with reference to the local building character, avoiding the development looking and feeling as though it could be anywhere.
The design establishes a clear and positive urban vision for the future of Western Harbour, using traditional planning methods to meet our modern needs and aspirations. Whilst ensuring the reconnection of the site to the City of Edinburgh, the masterplan creates a place with an identity specific to the immediate locality with the potential to renew the urban life of the area.
Letter re Forthside / Western Harbour from Malcolm Fraser
16.03.05
Dear Sirs,
I can only think that Professor Brian Edwards is misquoted, or quoted out of context, when he welcomes Robert Adam's plan for Leith by stating "Edinburgh has always been based on Neo-Classical principles".
The essence of Edinburgh lies in the tension between the loose-fit planning of the mediaeval Old Town and the planning of the classical New Town – a recent introduction, from the late 18th century. Pre-Georgian Scottish urban planning was based around long, linear mercats (markets) with narrow closes off – the classic "fishbone" pattern – which gives the lie to the Krier brother's dogmatic insistence that the European city consists entirely of squares, streets and blocks.
Such thinking represents the triumph of one model – the European superlock, with its overshadowed and claustrophobic back courts – over all others. While Robert Adam's plan may well be humane and sensible I'd like to think that in Edinburgh – as elsewhere – it is not considered the only approach possible.
Yours faithfully
Malcolm
Opinion on Forthside from Adrian Welch
17.03.05
I can only agree with Malcolm, too much is written that tritely tries to link new work on the periphery of Edinburgh – especially the waterside – with the New Town. There seems to be a slight whiff of desperation in giving weight to mass housing in Leith's post-industrial land by using metaphors from what is essentially a huge and well-grounded middle class urban quarter, the current Edinburgh New Town.
I would warmly support Robert Adam Architects' proposals: for us architectural diversity is akin to multicultural society – something to be celebrated. Though I would never dream of designing anything in the neo-classical style I look forward to seeing this new quarter develop, potentially a major event in Scottish Architecture because although neo-classical housing has been completed in Europe (often merging with postmodernist thinking) it is new to Scotland.
However, it will probably be a challenge to Robert Adam Architects as neo-classical buildings have latterly been associated in the UK with Oxbridge additions, English country houses and the like. The very style suggests old-fashioned wealth, a strong link with history and with favour (the elite). The barren reclaimed land site – and industrial context of Leith Docks to the east – is almost antithetical to neo-classical's normal home.
However, Forth Ports are really to be congratulated on now supporting a truly urban masterplan for Leith. Something has to bind the disparate buildings already in place. Forth Ports should not underestimate the broad feeling – amongst architects and non-architects alike – that the current situation needs softening, reworking.
In the week that the North Holyrood Masterplan wins yet another award, it would be instructive for those involved in the Leith / Granton developments to consider why this subtle interplay of public spaces and private buildings is so popular, albeit in a totally different (and you could say easier) environment.
I certainly wish Tony Kettle, RMJM and all involved at Leith Docks well in realising the Forthside plans. It has to succeed.
Leith Docks


image from RMJM: 11.03.05
Robert Adam – the original architect
Leith Docks – Feb 2005 Update
Leith Docks Approved
RMJM's 'masterplan' for Leith Docks over the next 15 years has been approved by the Edinburgh City Council.
This is the largest single planned development in Edinburgh and involves 170 hectares of 'brownfield' land
Turner & Townsend is providing cost advice for the infrastructure, phasing and development strategy for the Leith Docks Development Framework.
The Leith Docks Framework sets out the vision for the area over the next 15 years creating up to 18,000 new homes: family homes and waterfront apartments and villas enclosed within nine new waterfront villages. There will also be commercial, leisure and retail developments, schools, libraries, health and educational facilities and an abundance of green spaces & promenades.
The redevelopment of this key Edinburgh dockland is being designed to meet the BREEAM excellent rating and will have on site renewable energy regeneration, creating a sustainable waterfront development.
Leith Docks – The Future
Forth Ports Ltd has submitted an outline planning application for a £19.2m development of 480 flats and offices on Ocean Drive, Leith. Up to 18,000 new homes – 5,400 family homes and 4,500 affordable properties – could be created at Leith Docks. The proposals are part of a draft framework, produced by Forth Ports in conjunction with Edinburgh City Council, which has set out a 15-year vision for Leith Docks.
Also proposed is a new cruise liner terminal, an extension to the Ocean Terminal shopping centre, a major new civic space around the Imperial Dry Dock, and a marine windfarm.
Across the Western Harbour, beyond the flour mill (below), can be seen newly-formed land: this area is being developed by Forth Ports plc and will include new housing and a park 'larger than Princes Street Gardens': Platinum Point.


Western Harbour: Allied Mills © Adrian Welch
Above & below: the bold industrial architecture of the Allied Mills on the western edge of Western Harbour.


Western Harbour, Leith: Allied Mills © Adrian Welch
Edinburgh Guggenheim proposals from previous years with Frank Gehry


Guggenheim, Leith Docks: image © Farningham Macreadie Partnership


Albert Dock, Leith image © Adrian Welch
News Excerpts re the Western Harbour:
Forth Ports has been given permission to proceed with its Western Harbour development in Edinburgh, despite recent fears that the £600m project would be derailed because of methane contamination of the site
07.02.02


Industry, Leith Docks: Allied Mills © Adrian Welch
Western Harbour Redevelopment
The CEC North East Edinburgh Local Plan Alteration adopted Jan 2004 updated the Local Plan of 1998, mostly reflecting redevelopment of Western Harbour and Leith Docks generally away from dock-related industrial uses.
The Western Harbour Redevelopment is made of housing primarily, with minimum 25% affordable housing. Nature Conservation is a key aspect of the Alteration, noting the Special Protection Area, firth of Forth SSSI and Ramsar wetland of international importance. There is a common tern colony noted at the entrance to Imperial Dock, Leith Docks.
Waterfront Walkways – Blue Sky thinking for Riccardo Marini – CEC
Montages by Gross.Max and Sutherland Hussey:
Time now for some action – cost-effective solutions to the mess that is the frontage at Seafield, down-at-heel Portobello promenade and the hidden seafront behind Leith's remaining active docks
Buildings / photos for the Western Harbour Redevelopment page welcome