Leith Building, Photos, Housing, Property, Images, History, Docks, River, News
Leith Architecture : Buildings
Contemporary Property Developments in Leith, Edinburgh, Scotland
post updated 7 January 2022
Leith Building News
Leith Buildings – Latest News
1 Mar + 27 Feb 2017
Skyliner, Ocean Drive
Submission of plans to erect 237 homes arranged across four separate 'fingers' up to 13 storeys in height by Edinburgh architects CDA for S1 Developments.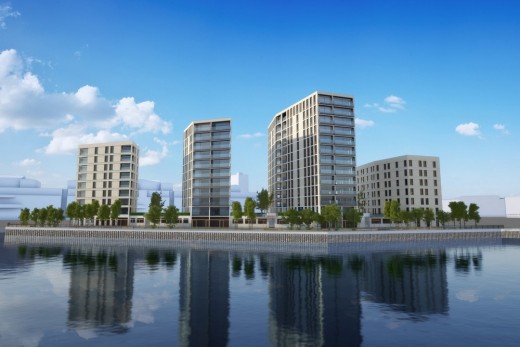 image courtesy of architects
The prime 2.6 acre waterfront residential development site has potential to develop approximately 300 units subject to planning, PRS or private sale potential.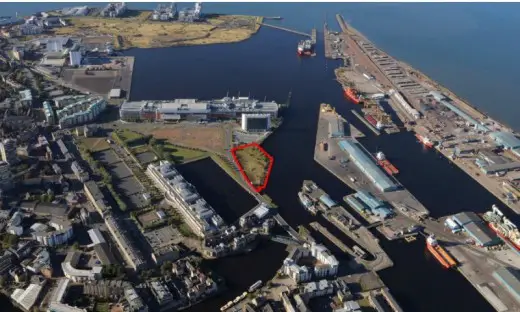 aerial photo by Guthrie Aerial Photography, courtesy of Invest in Edinburgh
The Skyliner development will include 54 affordable homes plus on the Eastern block a ground floor commercial unit.
This Western Harbour site was originally destined for 'Ocean Heights' (2002-) designed by Holmes Partnership.
After Stewart Milne Builders discontinued their involvement, the new developer, Cala Homes, issued revised images 2001 for a development rebranded as 'Skyliner'.
7th February 2017
Leith Architecture : Post-war Buildings
Scotland's 50 Post-war A-listed Buildings
7 + 1 Feb – A block of flats in Leith made famous by the novel Trainspotting have been awarded Category A listed status, reports the BBC.
The curving "Banana flats" in Leith were home to Simon "Sick Boy" Williamson in Irvine Welsh's book.
Cables Wynd House was built in the 1960s in the "Brutalist" architectural style.
Historic Environment Scotland said it had decided to recognise the flats and neighbouring Linksview House after consultation with residents.
Historic Environment Scotland, stated: "Cables Wynd House and Linksview are amongst the best examples of these schemes, with their use of external access decks as a way of recreating the civic spirit of traditional tenemented streets, and the inclusion of modern features like lifts and heated flooring helping to lift living standards for the residents.
"Cables Wynd was the largest block of flats in Edinburgh at the time, and possibly the most accomplished architecturally, characterising the 'New Brutalism' in building, which laid bare the essential materials of a building's construction, using reinforced and in situ concrete."
Website: Post-war A-listed Buildings in Leith
26 Jul 2016
Malt & Hops Pub Expansion on The Shore in Leith
Design: GRAS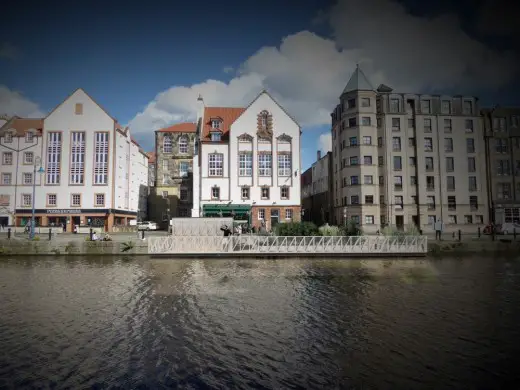 image from architect
GRAS have recently submitted a planning application for River Craft: a new floating platform that is as an expansion to the Malt & Hops pub on the Shore, Leith, Edinburgh.
The proposal is for the installation of a new floating deck (18.5 m x 6.3 m) to the eastern edge of the Water of Leith basin, directly opposite the pub, which can accommodate additional seating, a servery, storage space and an accessible WC. The expansion will also benefit from additional sunlight for a longer period of the day. Its distinct aesthetic will provide enhanced marketing opportunities to help improve the long term sustainability of the establishment while adding to the creative capital of the area.
Malt & Hops Pub Expansion on The Shore in Leith
15 Nov 2011
GIA Education Award goes to Pro Bono Project from Archial's Glasgow Office
On 11 Nov 2011, Archial's Glasgow office picked up an Education Design Award from the Glasgow Institute of Architects (GIA) for its pro bono work on the Vine Trust Barge. The Vine Trust is an international, interdenominational, volunteering charity which seeks to enable volunteers to make a real and significant difference to some of the poorest children and communities in the world.
Vine Trust Barge, Leith Docks:






photos courtesy Vine Trust
The Vine Trust has two refitted MOD vessels operating as floating medical centres, providing free health check and dental care to some of the poorest communities living along the Amazon river in South America. In addition, they run children's homes for vulnerable and abandoned children found on the streets of Lima, Peru, providing them with a family environment and safe passage into adulthood.
In November 2008, the charity approached Archial to help them refit a third MOD fuel vessel, this time to be located in a permanent mooring in Leith, Edinburgh, which, in addition to providing a fundraising centre and accommodation for their staff, would also act as an educational teaching base, connecting school children across Scotland with the plight of street children in Peru.
The ambitious project includes teaching areas, a cinema, exhibition space and a multipurpose outdoor performance stage, as well as office accommodation for the Trust. Thanks to the generosity of Forth Ports, the charity has secured free mooring in front of the historic Port Authority Building at Leith Docks for the next 25 years.
In contrast to the heavy, and tired industrial look of the existing ship, new insertions of crisp glass and timber volumes sit within the shell of the old ship, with varying levels of transparency attenuated by western red cedar timber slats. The slats provide both a level of visual accessibility and privacy depending on their viewing angle: the intention is that this will draw people in to investigate the contents, as well as providing a level of solar control to the main space.
As this was a charitable project, Archial's Glasgow Office donated their services free of charge for the duration of the three year project and encouraged a number of other key consultants and material suppliers from the local area to do the same.
The project was completed in September 2011 and opened by HRH Princess Royal.
Leith Buildings
Areas incl. The Shore, Western Harbour, Victoria Dock & The Water of Leith




photos © Adrian Welch 26 May 2008
Leith History
New Leith building
'Love Leith' housing development, Salamander Street:



image © Adrian Welch 2006
Dr Bell's Centre by Smith Scott Mullan Architects – Leith building:



photograph: Michael Wolchover / Paul Zanre
For Granton's buildings see base of page
To reach Leith from the City Centre there are numerous buses, but to reach The Shore use No.1, 16 or 22. On foot it is quite a trek down Leith Walk but if you attempt it don't miss the famous and original Valvona & Crolla restaurant and delicatessen extraordinaire (new Valvona & Crolla restaurant in the New Town).
Top of the Walk



photo © Adrian Welch
Further down Elm Row (the top of Leith Walk) was a theatre:
Queen Margaret University Gateway Theatre
2000
Law & Dunbar-Nasmith



photo © Adrian Welch
Gateway Theatre – now closed
Hypostyle Architects' Royal Mail building is on Brunswick Road, off Leith Walk. On the other side of the road is the former LRT bus garage – Shrub Place
Architects' Studio, 378 Leith Walk
2002
Smith Scott Mullan Associates



picture from architect
At the Foot of the Walk, continue through the Kirkgate shopping precinct
Edinburgh Property Centre, Leith Walk
2003
Smith Scot Mullan Associates



picture from architect
New Kirkgate Shopping Centre, Foot of the Walk
2002
CDA



photo © Adrian Welch
Make your way east to the Shore, the Water of Leith
As most Scots will know Leith used to be a rough quarter of town, actually a separate city from 1827 until 1921: cabbies are fond of telling the story about the Boundary Bar half way down Leith Walk (still there, opposite Pilton St.) where punters would cross to the Leith side of the bar after the earlier closing time in the Edinburgh end), but despite the continued presence of the red light district, the area is now teeming with trendy loft apartments and expensive restaurants.
Aerial Map of Leith's centre – The Shore : Leith Map




bridge photo © Adrian Welch
Leith is fortunate to have kept a sizeable proportion of old buildings and the area around the Shore is fascinating, helped by good refurbishments. Queen Mary (of Guise) had her base here, Charles I was fond of playing golf on Leith Links (1640s) and George IV chose to alight here (plaque on wall opposite grey ship) in 1822.


photo © Adrian Welch
However, as you progress around the former industrial areas of the dock towards Newhaven via Victoria Dock there are appearing many new additions of questionable architectural quality.
If you are peckish Leith has a good array of quality restaurants: some, such as Fishers Restaurant and Skippers Restaurant need prior booking. I recommend Michelin-starred Restaurant Martin Wishart, 54 The Shore, for sumptuous food in calm surroundings.


photo © Adrian Welch
If you look West along the Shore towards the Raj Restaurant you can see Coalhill:
Coalhill Housing, Coalhill
2001
Allan Murray Architects



photo © Adrian Welch
This Buredi housing project sits on the wharf side in a prominent position looking down the Water of Leith. The crisp white style is typical of Allan Murray Architects
Phase II continues the barrel-shaped river frontage into the area of parkland to the West with a semi-enclosed raised podium to the south.
Ronaldson's Wharf Housing
2003
Dignan Read Dewar with Fraser Brown Mackenna



photo © Adrian Welch
The scheme is four to six storeys high, consists of 120 flats, with retail along the Water of Leith walkway.
Close by is Gregor Shore's Crescent By The Shore 62 two & three-bed apartments, on Coburg St / Dock St corner
Couper Street Housing
2002
Campbell & Arnott Architects



photo © Adrian Welch
St Ninian's Leith – resoration, Quayside Street
2000
Simpson & Brown Architects


photo © Adrian Welch
late 16th century Dutch tower, former North Leith Parish Church
Walk back down The Shore and cross the bridge; on the right is the former Customs House, Commercial Street, 1812 by architect Robert Reid (sadly closed to the public, used by the National Museum of Scotland as a store – see small black & white image to right, from McKean's guidebook), interior remodelled by William Burn.


photograph from Charles McKean
Further along is the massive form of Rennie & Patterson's Warehouses (for wine and whisky, colour image to right) dating from 1810 and renovated in late 90's to residential and restaurants. Commercial Street marks where the Leith seashore used to be – Leith dock buildings: take a right here
Commercial Quay (pool with fountain; restaurants with attractive canopies) which used to be a Dock and latterly a cable storage area. If you continue up to the old Quay (the old shoreline) you find:



photo © Adrian Welch
Infinity, 108 Commercial Quay
2000
Arcade Architects
Fresh insertion by Arcade into the old Leith Naval College; now moved 50m to West (below), amended entry for new owners Infinity.
142 Commercial Street
Arcade Architects



picture from the architect
Commercial Quay Leith
To the East is the beige block of the Scottish Executive:
Scottish Executive, Victoria Quay
1995
RMJM


picture from the architect
Solid building in symmetrical three-storey shape possibly to recall warehouse that existed previously on the site.
Scottish Executive Leith
Head North through car park
Ocean Terminal, Western Harbour
2001
Conran & Partners



picture from the architect
Ocean Terminal Shopping Centre
Britannia Visitor Centre, Western Harbour
1998
Conran & Partners



photo © Adrian Welch
This building due to become the Cruise Line Terminal
Guggenheim
proposed 2002
Frank Gehry with Farningham Macreadie Partnership



picture from the architect
Scottish Guggenheim
Western Harbour



photo © Adrian Welch
Flour mill & newly-formed land: this area is being developed by Forth Ports plc
The Element
Cooper Cromar Architects



picture from the architect
Platinum Point
2003-
Gilberts Architects



Leith architecture picture from the architect
Lindsay Road Leith – Lindsay Road
2004
Hackland + Dore Architects



photo © Adrian Welch
Ocean Heights, Western Harbour
2002-
Holmes Partnership



picture from the architect
After Stewart Milne Builders discontinued their involvement, the new developer, Cala Homes, issued revised images 2001: Skyliner
Office Development, Ocean Drive
2001-
Terry Farrell & Partners



photo © Adrian Welch
Ocean Point, adj. Ocean Terminal, Leith Docks – only one half of scheme built
You can return by the listed John Leckie Bridge – formerly a revolving bridge to allow boats entry – then right past the harpoon gun (interesting historical text, also horses used to race here along the Links) – and past the former Seaman's Mission, now a hotel:
Malmaison Hotel Leith



Leith architecture photo © Adrian Welch
An interior refurbishment for the Malmaison Edinburgh has been designed by Jestico + Whiles; Ferrier Crawford were executive architects with the original refurbishment being by Rob Hunter Architects in 1992-94. More images at Edinburgh Restaurants
Adjacent to the Hotel is Fishers – darkly atmospheric pub with celebrated food – under the former Signal Tower (1685, Mylne), a windmill then a defensive position in the Napoleonic Wars:



photo © Adrian Welch
Leith was a walled town in the 16th century and the remains of Cromwell's Citadel can be seen half way along Commercial Street on the left (1560).
Proposed Scottish Parliament, Victoria Dock
1998
Benson & Forsyth



Leith architecture picture from the architect
One of three sites initially proposed for the new Scottish Parliament:
Port of Leith Housing Association, Constitution St
2002
Lee Boyd



picture from the architect
Port of Leith Housing Association HQ
Telectra House, North Junction St



Leith architecture photo © Adrian Welch
Telectra House was demolished late 2003, despite a campaign by the Cockburn Association.
A full description of Granton is found at:
Edinburgh Buildings + Granton Harbour


Leith architecture picture from the architect
Granton Waterfront interview
News Excerpts re Leith Architecture & Buildings
Leith Theatre
Design revealed for tower at Leith Theatre complex, part of £9m scheme to refurbish/redevelop six historic Leith buildings incl. Leith Victoria Boxing Club, Lambs House, Citadel Youth Club, St James Church & the Hindu Temple
Apr 2006


Leith Architecture photo © Adrian Welch
Ciao Leith
CiAO won an invited competition from a shortlist of 5 practices, to design Leith Creative Arts & Education Centre
Crescent By The Shore, Leith by Gregor Shore



Crescent Housing, Leith Architecture image © Adrian Welch
Leith Community Treatment Centre
Leith Community Treatment Centre: designed for Lothian Primary Care NHS Trust. The £;5.5m building by designlab went on site Jul 2002 with Gleesons as contractor, to complete in Oct 2003
Leith Bingo
A Former bingo hall and cinema in Leith is to reopen as a massive Egyptian-themed nightspot. More than £3 m is being spent turning the historic building in Leith's Great Junction Street into a luxurious haven for clubbers.
Jan 2002
Leith Skyhouse
David Marks, who designed the London Eye, is expected to visit Leith later this week to investigate whether the area is suitable for his new affordable Skyhouse plans. David hosts a lecture on the London Eye in Edinburgh on Thursday. Councillor Elizabeth Maginnis, chairman of Waterfront Edinburgh Ltd, the company responsible for the regeneration project in Granton in the north of Edinburgh, welcomed Mr Marks' interest in Leith.
May 2003
Leith Docks – The Future
Forth Ports Ltd has submitted an outline planning application for a £19m
development of 480 flats and offices on Ocean Drive, Leith – CALA Homes



Albert Dock, Leith Architecture image © Adrian Welch
Up to 18,000 new homes – 5,400 family homes and 4,500 affordable properties – could be created at Leith Docks. The proposals are part of a draft framework, produced by Forth Ports in conjunction with Edinburgh City Council, which has set out a 15-year vision for Leith Docks.
Also proposed is a new cruise liner terminal, an extension to the Ocean Terminal shopping centre, a major new civic space around the Imperial Dry Dock, and a marine windfarm.
Leith – Assembly St
Design: Sutherland Hussey Architects



picture from the architect
Leith Assembly Street
Views around Leith
Constitution St



photo © Frazer Hay
Seafield Sewage Works



image © Frazer Hay
Comments / photos for the Leith Architecture page welcome