Living Room Inspiration: Modern Wall Units With Storage guide, Property Advice, Home Tips
Living Room Inspiration: Modern Wall Storage Units
19 Jan 2021
They say that the kitchen is the heart of the house. If that's the case, a living room surely must be its soul, since no other room is equally filled with memories and experiences. Moreover, no other place in the house says that much about the owners, with the photo collection on the wall, multiple travel souvenirs, and personal comfort pieces laying all around.
If you live alone, you might store your personal items there. If you live with your family, the living room is bound to convert into a space for family meetings, where everybody has their equal share in contributing to the general outlook of it. Unfortunately, that's why the living room, especially a small one, is typically a place in the house that gets cluttered quickly.
Luckily, there is one way to improve the storage of your living space and maintain the cosy feel to it. The solution is a sound wall unit with storage. These days, it's so much more than a basic bookcase, or in-built cabinets. On the contrary, the new contemporary trends in this regard – think futuristic designs, modern patterns and unexpected colour combinations – are just waiting to be discovered.
To find yourself in the world of modern shelving and wall unit ideas, and get inspired about interior design, follow our short guide.
Minimalist Design
To save some floor space and send your living space way into the future, ensure the minimalist design of your TV unit. Forget about ornamental, old-fashioned, heavy-looking feature wall: your new wall TV unit should consist of a TV cabinet, and sleek, lacquered, unified colour shelves, that will border the TV set. To visualize this simple modern design better, you can look here: https://sena-homefurniture.co.uk/20-wall-units. Fantastic living room storage and stylish design guaranteed.
Asymmetrical Wall Unit
Typical wall units found in most houses are composed of a few, symmetrical boxes, in the same shape and colour. A new, modern idea for a wall unit with storage is to let the shelves speak…. and surprise you. Unobvious various geometric shapes, such as squares, rectangles or even circles, will allow you to store your books and photographs in a unique, creative way.
Even though they should be practical, living room wall units don't have to be boring! The geometrical setting of your wall unit will be a decoration itself, and thanks to irregular shapes, they might serve you precisely in the way you need them to.
Colour Schemes
If you're feeling bold, go for living room furniture in unobvious colour schemes, for instance by applying to your wall unit the shelves of lighter and darker tones of the same colour. For a futuristic interior design, think different shades of grey.
Another contemporary idea is to mix two contrasting, bold colours, such as black and white. This way, even a regular bookcase will become a piece of art that you and your guests will love.
A modern wall might also include a surprising colour hint in one cabinet. If the whole unit is one colour, but there is one outstanding piece in another bold shade, the feature wall will catch the eye and add a little spice to the dull area. Just remember that the storage unit should go hand in hand with the rest of your interior design.
Open Shelving
Open shelving is one of the best interior design ideas in the last few years. The open shelf storage system looks light, fresh, and is an excellent option for a small room. It's not expensive and extremely easy to install; if you're feeling hefty, you can even construct some floating DIY shelves yourself.
The open shelf wall unit might be even more interesting if it creates a specific shape. The staircase shape, including levels of different lengths and heights for other items, will be a captivating and interesting storage option, making the modern wall unit a focal point of the room.
If you need to store the things that you don't want to expose, consider mixing open and closed shelves. When they have irregular geometrical shapes as well, they will add a fresh, modern look to your living space.
Lighting System
To ensure your living room shines bright, you should invest in a sound lighting system. Using LED lights in the storage unit is not that obvious and common, which makes it seem innovative and creative. LED lights will beautifully illuminate the room and make it look modern, expensive and chic.
Please don't take our word for it; the best interior designers say that nothing screams luxury more than illuminated glass shelves. Note that specific LED lighting systems can be controlled digitally, for example, through a smartphone or a remote controller. It's a great, practical and fancy solution for every gadget lover.
Living room inspiration: modern wall units – Conclusion
If you would like to change something in the interior of your living space, changing the living room furniture is undoubtedly a great start. Indeed, these days, most interior design trends include modern solutions, including differently-shaped geometrical shelves, experimenting with colour schemes, open shelving, and incorporating LED lighting.
However, if you have entirely different preferences, and another idea for an ample living room storage, dare to try it out. Remember that in the end, the living room has to be for you, and not for the magazines. That means it should fit your unique personality, needs, and style. When you take this approach to the interior design, soon you will fall in love with your house once again.
Comments on this guide to Living room inspiration: modern wall units with storage article are welcome.
Edinburgh Architecture
Liberton Brae Townhouses
Design: LBA Architects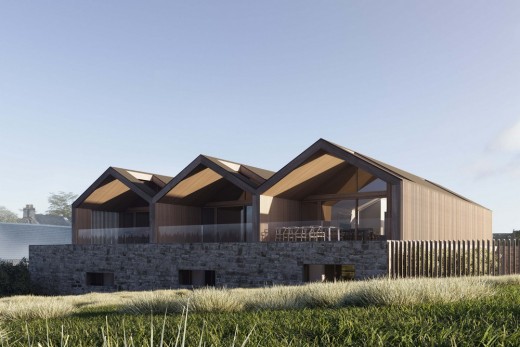 image courtesy of architects
Liberton Brae Townhouses
St James Quarter Edinburgh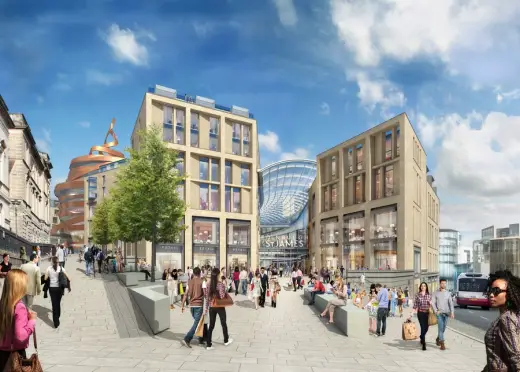 image of the development
St James Quarter
Comments / photos for the Living room inspiration: modern wall units with storage Advice page welcome