Edinburgh Architecture News 2020, Lothian Buildings, Architects, Images, Design Scotland
Edinburgh Building News 2020
Scottish Architectural + Construction Updates – East of Scotland Property Design Information
post updated 21st of May
Edinburgh Architecture News 2020
22 May 2020
Construction Industry Coronavirus Forum welcomes long-awaited return to work in Scotland
The Construction Industry Coronavirus (CICV) Forum has welcomed the first tentative steps announced yesterday (May 21) to get the sector in Scotland back to work – but insists health and safety and collaboration must be at the heart of the phased return.
More details on the Glasgow Architecture website's news page
21 May 2020
SPF welcomes route map but seeks clarity for construction sector return to work
Following the First Minister's statement today (21 May 2020) announcing the Scottish Government route map to exiting lockdown, Robin Blacklock, Chair of the Scottish Property Federation, comments:
"We welcome these steps towards re-starting our economy, but there are still considerable questions to be asked of government around the pace and processes for construction sites to reopen.
"We need to see published guidance on the steps contractors and developers need to be making now, in order to integrate these into the plans already being made for a safe and gradual return to work.
"We also note the difference between outdoor and indoor working and there are examples where key indoor work may be done safely in line with COVID-19 safety operating procedures.
"These works will include fit-out operations for businesses and retailers that will be necessary for their successful reintroduction to the economy as the route map unfolds."
13 May 2020
Recommencement of Home Building in Scotland
13th of May 2020 – First Minister asked to signal a timescale for the recommencement of home building in Scotland as housing market divergence increases
Members of the Board of trade body Homes for Scotland (HFS) have written to the First Minister requesting a phased return to work which would enable them to put the finishing touches to around 6000 largely completed homes worth in excess of £1bn to the economy.
With the industry having carefully considered and addressed all issues relating to the safe operation of construction sites and sales offices, the timely request follows the announcement by the UK Government that estate agents and home builders in England can re-start the buying and selling process. A similar announcement by the First Minister would allow customers in Scotland who have been left in lockdown limbo and who still wish to move to do so.
As the increasing divergence creates more confusion and uncertainty for customers, the letter (signed by 20 industry leaders who sit on the HFS Board and represent both national and smaller regional businesses), points to the detailed procedures developed by industry to ensure that activity can be safely recommenced as soon as the green light is given.
The signatories believe this first step would also help mitigate the pandemic's wide-ranging shockwaves by limiting the damage in terms of housing supply, job losses and business failures.
HFS Chief Executive Nicola Barclay said:
"The Scottish Government's recently announced short-term loan facility for SME home builders is welcomed and will provide a lifeline for many, but there is no escaping the fact that the long-term survival of all these businesses depends on their ability to get back on site and build homes, for both owner-occupation and rent.
"As we see the first sets of figures being released about the financial impact of the lockdown, we can be sure that the full impact is still to be felt. Our industry contributes significantly to Scotland's social and economic wellbeing and we are ready and willing to re-open safely with additional measures in place to help protect our employees and customers, while also supporting the struggling economy. Our Board is now asking for the First Minister's backing to allow us to do so."
Click here to read the full letter.
6 May 2020
Bérubé Circus of Life Prize · APDC Space Wizards Award 2020
Scottish interior architect Frazer MacDonald Hay is a judge in these international awards:
http://www.apdc-awards.org/info/detail/id/895?lang=en-us
1 May 2020
EAA Awards Shortlist 2020
The Edinburgh Architectural Association is pleased to announce that the following projects have been shortlisted for the 2020 EAA Awards.
In total 42 submissions were received. All projects are designed by registered architects and built within the chapter area, with exception of the Ambassador Award which is built out with the chapter.
The awards results will be announced at a celebratory drinks event when lockdown restrictions have been lifted, hopefully in the autumn.
29 Apr 2020
Edinburgh World Heritage in conversation with…architects
Today's Edinburgh skyline reveals not only the towers and spires of our renowned World Heritage Site, but also countless cranes and gantries which signify the biggest building boom the city has seen for many years.
More details on our Architecture events page
29 Apr 2020
CICV Forum Call to keep Key Workers Safe
Minister echoes CICV Forum call to keep key workers safe from abuse during essential construction work.
The Construction Industry Coronavirus (CICV) Forum is providing greater visibility on what constitutes 'essential work' to prevent key workers being harassed and verbally abused during vital construction projects.
The Forum's members have reported an increasing number of tradespeople being intimidated and verbally abused by the public while carrying out legitimate projects in line with CICV Forum guidelines.
One contractor said: "On one commercial job, our engineers were subjected to a barrage of abuse by residents and staff. Our guys were upset and didn't want to be there, so in the end, the local authority had to put up posters explaining that we were carrying out essential work. It was the only way our engineers could be left alone to do the work.
"Not all essential obvious work is obvious to the public, but that is no excuse for the behaviour that some of us in the construction industry are having to put up with."
To try and diffuse the situation, the Forum has produced a checklist of projects to help the public understand the range of work classified as 'essential'. It also plans to offer on-site signage to help workers make it clear to the public they are carrying out essential work only.
Kevin Stewart, Minister for Local Government, Housing and Planning, said such measures were essential to provide clarity and reduce tension between the wider public and workers.
He said: "The general public may not be aware of the full range of projects that constitute 'essential work', but these are workers who are performing a vital role safely and responsibly.
"At a time when the Scottish Government is asking people to remain in their homes it is even more important that these homes are watertight, safe and have essential working facilities, such as water, gas and electricity.
"Builders and plumbers' merchants are also needed to provide supplies for essential repair and maintenance, such as heating and hot water breakdowns, roofing repairs, and electrical and fire safety."
Mr Stewart added: "It is important that the public understand that there is still a need for essential works to be carried out in these challenging times and industry professionals should be able to complete repairs in safety, without fear of criticism and rebuke."
His words were echoed by John McKinney, secretary of Forum members the National Federation of Roofing Contractors, the Stone Federation and the Scottish Contractors Group, who said: "Essential construction work is not confined to building a major hospital for COVID-19, but we know that people might not be aware of this.
"There are dozens of other construction works that are classed as essential to keep the fabric of Scotland intact. At the very least, homes need to be watertight and safe both inside and out for people to be able to live in them. That's why the construction industry is working hard across Scotland to ensure people can stay at home during these times to protect the NHS.
"Greater understanding is needed among the public to understand that the key workers carrying out such work aren't flouting the rules – they are performing essential tasks and should be allowed to do so without fear of abuse."
To help the public, the Forum has now compiled a list of essential work that is permitted to be carried out, including:
• Removal of elements in danger of collapse, e.g. cladding
• Repair and construction of critical road and utility infrastructure
• Emergency call-out services, e.g. electrical, plumbing, glazing and roofing
• Making inhabited buildings safe and watertight, e.g. after storm damage
• Domestic repairs to ensure occupants' safety and wellbeing, e.g. the elderly
• Repair and maintenance of essential buildings, e.g. fire and police stations
• Safe operation of faulty heating and water systems
• Essential inspections to prevent health outbreaks, e.g. legionnaires
• Supply of materials for these and other essential COVID-19 projects.
In addition, the Forum is developing a series of free signage for contractors to use to make it clear that any work being carried out is essential.
Designed to be printed out and inserted in van windows and properties, the read: "Key Worker: Carrying Out Essential Construction Work."
Andrew Renwick, Managing Director of Caltech Lifts, who represents Forum member the Lift and Escalator Industry Association, said it was vital that this new collateral was used responsibly.
He said: "It is imperative that this material is only displayed and worn by individuals undertaking qualifying work, so employers should also issue employees with appropriate paperwork so that they can provide evidence if question by the police.
"Anyone caught abusing this material should be dealt with and the employer spoken to by the authorities."
Set up in March, the CICV Forum has already played a major role in clarifying conflicting information for the sector and issuing practical guidance for companies, clients and employees. It has also established a series of influential sub-groups dealing with mission-critical aspects such as health and safety, skills and future planning.
28 Apr 2020
Supporting makers in response to the Covid-19 crisis
MAKE is a manifesto for craft in Scotland, which aims to harness a collective voice for makers. Panel are the current custodians of the manifesto, guided by a committee of 10 makers.
on 27 April, MAKE launched a programme of resources to support makers in Scotland. Check out opportunities and advice for makers, craftspeople and small craft organisations including:
• micro-grants in partnership with Applied Arts Scotland
• group finance advice sessions in partnership with Applied Arts Scotland
• one-to-one finance advice sessions
• resources and tailored guidance for the craft sector
Alongside these opportunities, MAKE has commissioned makers, across disciplines, to create Craft Activity Guides – have a go at traditional and contemporary craft activities through our downloadable series launching on 21 May!
MAKE | SUPPORT is delivered in partnership with Applied Arts Scotland and in association with Craft Scotland. MAKE is kindly supported by the William Grant Foundation
27 Apr 2020
University of Glasgow News
The University of Glasgow announce that Ian Campbell is to become its new Executive Director of Estates.
More details on the Glasgow Architecture website news page
22 Apr 2020
Vienna House Hotel
Vienna House Hotel in Glasgow
Artisan Real estate has gained planning permission for a 250-bed, 124,000 sqft hotel in St Vincent Street. The building design is by award-winning London architects Hawkins\Brown.
21 Apr 2020
Glasgow Buildings Photos 2020
Architectural photos taken today by Editor Adrian Welch around the Gorbals area:
Glasgow Buildings Photos
12 Apr 2020
Happy Easter!
We bring you some photos taken from deserted streets in Glasgow this morning:
9 Apr 2020
New Town North Development at Former RBS Site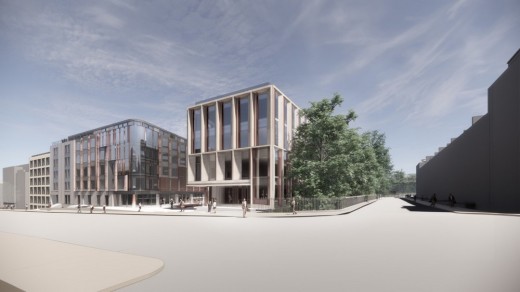 image courtesy of architecture office
Edinburgh New Town North Development
7 Apr 2020
Digital Collaboration During COVID-19 Pandemic
By David Halliday, managing director, architectural, urban design and masterplanning architectural practice Halliday Fraser Munro:
Homeworking During COVID-19 Pandemic
3 Apr 2020
Scottish Property Market Recovery?
Up until two weeks ago, the property market in Scotland was roaring, firing on all cylinders and accelerating away. The post-Brexit bounce was in full swing and people who had been sitting on their hands for years were active as puppies.
Article by Alan Gordon, DM Hall, on our Glasgow Architecture website's news page.
27 Mar 2020
Construction Industry Coronavirus (CICV) Forum News
Scottish construction bodies issue new guidance to clarify working practices during Coronavirus crisis
The newly-established Construction Industry Coronavirus (CICV) Forum has today (March 27) taken immediate action to provide clarity for the sector in Scotland following advice from First Minister Nicola Sturgeon on Wednesday (March 25) that all building sites with the exception of any hospital work should close.
Fiona Hodgson, Chief Executive of SNIPEF, said: "This is a valuable response to a rapidly evolving situation. The mixed messages from government had created significant uncertainty and we hope that this new guidance will help employers, employees and customers to know where they stand."
Vaughan Hart, Managing Director of the SBF, said: "It is of the utmost importance in these uncertain times to have the parameters clearly defined. The CICV Forum guidance makes it clear that, with the exception of sites classified by the First Minister as being essential, only repair and maintenance of an emergency nature should be undertaken in the construction industry."
Gordon Nelson, Director of FMB Scotland, said: "The conflicting messages were leaving contractors in the dark and the most important thing we need from those in charge during this period of uncertainty is clarity."
Grahame Barn, Chief Executive of CECA Scotland, added: "We were in danger of damaging confusion around what is regarded as safety critical infrastructure work. This new guidance puts us in a position from which we can plan and move forward."
SELECT Managing Director Alan Wilson represented the Forum in a meeting this week with Fiona Hyslop, Secretary for Economy, Fair Work and Culture, during which he pressed for greater clarity on how the current working practices will affect tradespeople across Scotland
The Forum has also set up two working groups to deal with employment issues, led by Vaughan Hart, Managing Director of SBF, and a commercial group led by SNIPEF Chief Executive Fiona Hodgson.
"This is a valuable response to a rapidly evolving situation. The mixed messages from Governments had created significant uncertainty and we hope this new guidance will help employers, employees and customers to know where they stand." Read more here@@LINK
– Fiona Hodgson, Chief Executive, SNIPEF
"It is of the utmost importance in these uncertain times to have the parameters clearly defined and the CICV guidance makes it clear that only repair and maintenance of an emergency nature should be undertaken in the construction sector." Read more here@@LINK
– Vaughan Hart, Managing Director, SBF
23 Mar 2020
Construction Action for Coronavirus Crisis
Scottish construction bodies call for urgent action to help firms during coronavirus crisis
A group of respected construction industry bodies, who between them represent the majority of contractor business in Scotland, has suggested a number of simple actions which the Scottish Government could introduce immediately to help with cashflow and protect jobs against the "crippling" background of coronavirus.
More on the Glasgow Architecture website news page
10 Mar 2020
Judges line up for 2020 Scottish Design Awards
The judging panels for the 2020 Scottish Design Awards have been confirmed with a mix of figures from industry and academia coming together to celebrate the nation's best new work:
2020 Scottish Design Awards News
6 Mar 2020
Entries invited for the 23rd Scottish Design Awards
The Scottish Design Awards has resumed its search for the finest examples of architecture and design.
Organised by Urban Realm, in partnership with The Drum, the awards showcase boundary shaping work to an audience of design professionals to reward those who've gone above and beyond in delivering their briefs.
More info – Scottish Design Awards News – on our Glasgow Architecture website.
3 Mar 2020
Political Leadership, Resourcing And Infrastructure Key To Achieving Vision Of Housing To 2040
Political leadership, adequate resourcing and delivery of supporting infrastructure are all essential if Scotland is to have the volume and range of quality homes it requires to meet the diverse needs of its population in 20 years' time.
That is the view of industry body Homes for Scotland (HFS) in its response to the Scottish Government's "Housing to 2040" consultation in which it calls for:
 an immediate all-tenure housing target to deliver at least 25,000 new homes per annum
 a well-resourced planning service
 centralisation of local authority building control services and the extension of this service to independent verifiers
 a national housing delivery agency
 incentivising consumer behaviour to make low carbon housing choices
29 Feb 2020
Perth's New Creative Hub
The aim is to generate a positive environment for artists and entrepreneurs who want to live and work in the area – rather than having to seek opportunities elsewhere.
New Creative Hub Perth News
Architectural Conservation Masterclass
5 March 2020
The next session of the 43rd annual series of Architectural Conservation Masterclasses is:
How Lime Mortar Works
This masterclass is jointly offered by the Scottish Centre for Conservation Studies and the Institute for Historic Buildings Conservation – IHBC.
Details on our events page.
19 Feb 2020
EAA Awards News
Submissions Deadline – Wed 26 February 2020 – 4pm
EAA members, and non-members, are invited to submit nominations – details on our events page
19 Feb 2020
KSLD EFLA Lighting Design Move to 100 Ocean Drive
KSLD | EFLA Lighting Design are excited to announce that our team are moving to new premises at 100 Ocean Drive, Leith on the 21st of February 2020.
We have been at our current location since 2001. The old buildings at Baltic Street are rich in history, but since becoming part of EFLA Consulting Engineers, our horizons have continued to grow, and we look forward to a bright future in our fresh new home.
100 Ocean Drive will be our new studio, next to Ocean Terminal at Leith Dock overlooking the Royal Yacht Britannia. We are situated on the first floor, above The Gate Worldwide brand and communications hub. We look forward to watching the sun rise and set across the dramatic harbour landscape and inviting you to share in our new daylit space.
Our new address is: 100 Ocean Drive | Edinburgh | EH6 6JJ | Scotland, UK
Our telephone number remains the same: 0131 555 5553
For any questions, please contact us: office@ksld.com
https://ksld.com/blog/2020/we-are-moving
7 Feb 2020
Property industry welcomes rates reform
6th of February 2020 – The Scottish Property Federation welcomes a step towards reducing the large business supplement on business rates, as announced in today's Scottish draft budget, but calls for further action to attain parity with England.
David Melhuish, Scottish Property Federation Director comments:
"The decision to reduce business rates burdens for 9,500 ratepayers in Scotland is a welcome step towards meeting the Barclay Review's recommendation on the large business supplement.
"However, a full realignment with England is needed to reduce the current disadvantage faced by some Scottish ratepayers.
"The introduction of an additional tax rate on commercial property leases is also disappointing. This new charge will add further tax and complications to businesses for relatively little return to the Scottish Government."
Architectural Conservation Masterclass – Conservation and Climate Change
43rd annual series of Architectural Conservation Masterclasses:
Dr James Simpson OBE
Time: Thursday, 30 January 5.30-7.00pm, followed by a wine reception
Venue: Adam House Lecture Theatre, 3 Chambers Street, Edinburgh EH1 1HR
23 Jan 2020
Scotland's Non-Domestic Rates Bill risks significant damage to investment into student accommodation sector
23rd of January 2020 – Student accommodation, like any domestic premises, is exempt from business rates.
However, this principle is currently at risk in Scotland due to an amendment to the Non-Domestic Rates (Scotland) Bill.
The amendment, introduced at Stage 2 of the parliamentary scrutiny process without consultation, would bring student accommodation into the scope of business rates.
Ahead of the Bill's Stage 3 debate, the Scottish Property Federation (SPF) has been working across political parties to urge Holyrood to consider the damage this amendment could cause to investment into the student accommodation sector.
David Melhuish, Scottish Property Federation Director comments:
"Extending business rates to what is essentially domestic property is fraught with unfairness and a fundamental departure from the principles of a tax that is aimed at non-domestic properties. Business rates are not designed for properties in which people live for any significant period of time.
"Inflicting an additional charge on student accommodation providers, who already pay business rates on their commercial spaces, will have a significant impact on the high-quality accommodation that this sector provides.
"Over the past decade, student accommodation providers have built tens of thousands of homes for students, meaning that the houses students otherwise would have been living in are available to families or young professionals.
"Business rates would strike a significant blow to this sector, deterring further investment at a time when government is seeking to support all housing tenures to alleviate growing housing pressure in Scottish university cities and towns.
"This new legislation will ultimately harm Scotland's world-class higher education system and the students who call this accommodation their home."
Home Builders Welcome New Infrastructure Strategy As Joined Up Approach Required To Support Future Housing Delivery
20th of January 2020 – With the cost and delays associated with delivering necessary supporting infrastructure among the biggest blockers to residential development, trade body Homes for Scotland today welcomed the 30-year blueprint published by the Infrastructure Commission for Scotland.
Full details on our Glasgow Architecture news page
13 Jan
RSA Metzstein Architecture Discourse 2020
Wednesday, 29 January 2020 from 18:45 to 20:30
Gordon Aikman Lecture Theatre. 32 George Square, Edinburgh EH8 9LH
The RSA is delighted to announce that Snøhetta will present this years Metzstein Architecture Discourse.
More info on our events page.
Halliday Fraser Munro new appointment supports changing landscape in masterplanning for the future
A rise in masterplanning project wins across Scotland has seen award-winning architectural design and planning practice Halliday Fraser Munro bring high-level expertise to its team, adding landscape architectural services to its portfolio.
Its new in-house landscape architecture team will be at the heart of its masterplanning process, supporting the vision of achieving successful and sustainable places to live, learn or work through excellence in design planning.
Halliday Fraser Munro has delivered significant masterplans across Scotland, like the 120-acre Queensferry One site at Rosyth, which combines manufacturing, distribution and office space and Aberdeen's Marischal Square city centre regeneration, with new retail and leisure developments mixing with a historic building and attractive user-friendly public spaces.
Masterplans that improve peoples' lives through the creation of healthy, viable communities requires a multi-disciplinary response, and Halliday Fraser Munro's recently appointed landscape architect Lesley Samuel will work closely with the firm's masterplanners, architects and town planners to deliver design frameworks that meet the aspirations of communities, developers and planning agencies in Scotland.
Lesley said: "Masterplanning shape our towns and cities and to leave a positive legacy for future generations to appreciate and enjoy. Never has planning policy in Scotland placed such an emphasis on the quality and suitability of people's living environments.
"I'll be working closely with colleagues at Halliday Fraser Munro to deliver masterplans which meet the aspirations of all stakeholders by looking at the complete picture.
"This is an exciting time for landscape architecture. It's important to support quality of life through providing opportunities for social interaction, to consider active travel options and to look for environmentally friendly solutions to aspects like site drainage. All this while creating a visually attractive development in keeping with the area's natural environment.
"It's not a case of putting down ideas for people but working with communities, clients and regulatory bodies, to get it right every time. Halliday Fraser Munro is already delivering on these priorities, and I am looking forward to being part of a multi-disciplinary team striving for excellence in every single project."
Lesley has more than 20 years' experience in private practices in Northern Ireland and Scotland. She has been involved in detailed design public realm works and large-scale landscape and visual assessments. These include public realm projects in Penicuik High Street, Countess Street in Saltcoats and Helensburgh's town centre and esplanade and plans for upgrading sites within Loch Lomond and Trossachs National Park to maximise public enjoyment while protecting the special quality of the area.
She was part of a team that worked on landscape and visual assessment for part of the Aberdeen Western Peripheral Route (AWPR).
Halliday Fraser Munro has an impressive track record of masterplanning. At Queens Quay in Clydebank, it prepared a masterplan which sets the principles to deliver a vibrant mixed-use community that extends Clydebank's existing town centre down to the riverside, enjoying public access to, and focus on, the river frontage, historic dock and iconic Titan Crane.
Close to Bannockburn, its South Stirling Gateway masterplan was prepared for landowners to meet the need for new homes in a very sensitive setting. It is now going through the planning process with a national housebuilder.
The challenge for masterplanners is to produce a design framework which encourages the creation of desirable and attractive places for people to live, work and relax but which are also commercially viable – and a fully integrated design planning service will support the firm's vision for urban design planning, said Stephen Barker, director at Halliday Fraser Munro.
Mr Barker said: "We've always provided a seamless approach by using external expertise but bringing landscape architecture in-house allows increased opportunities to tap into our very own talent stream at every aspect of the design and planning process. "Masterplanning in the 21st century takes a holistic approach and having our own landscape architecture team enhances communication and collaboration opportunities.
"This is particularly important for masterplanning as we continue to raise the bar and set new standards, creating quality places where people enjoy living, working and spending their leisure time in, in a sustainable manner."
Halliday Fraser Munro is an award-winning firm offering architectural, urban design and masterplanning services along with a specialised planning consultancy team. It has offices in Aberdeen, Dundee, Edinburgh, Glasgow, Leeds, London and Belfast. Further information is available at www.hfm.co.uk
Lesley Samuel joins Halliday Fraser Munro as a landscape architect: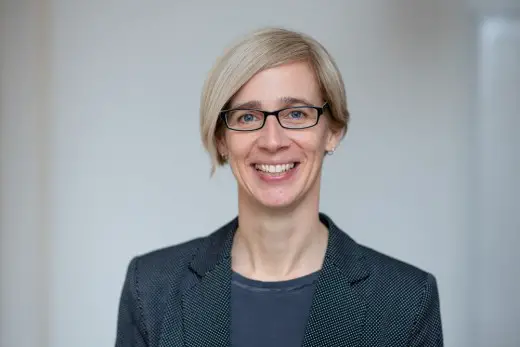 photo courtesy of architects
Edinburgh Architecture News 2019
Building Updates from 2019 – Highlights
6 Dec 2019
New Proposals for Edinburgh's New Town Revealed
New Town North Development News
19 Nov 2019
Architecture and Collective Life conference, Dundee
Dundee Architecture News
29 Oct 2019
Paisley Museum Planning Permission
Paisley Museum Renewal
14 Oct 2019
Maggie's mourns loss of co-founder
Charles Jencks
24 Sep 2019
Address Scottish barriers to housing delivery to mitigate Brexit effects and safeguard improving build rates
www.glasgowarchitecture.co.uk/glasgow-news-2019
8 Sep 2019
Scottish Design Awards Winners
Clydebank Community Sports Hub by Marc-Kilkenny Architects wins:
Scottish Design Awards 2019 Winners
6 Sep 2019
Botanics' Glasshouses close one by one for emergency repairs
Royal Botanic Gardens Edinburgh Biomes
Edinburgh Architecture News Archive
Edinburgh Building News archive links below:
Edinburgh Architecture News Jul – Dec 2017
Edinburgh Architecture News Apr-Jun 2017
Edinburgh Architecture News Jan-Mar 2017
Edinburgh Architecture News 2016 – Archive for July to October
Edinburgh Architecture News Mid 2016 – Archive for May to June
Edinburgh Architecture News Early 2016 – Archive for the early part of the year
Edinburgh Architecture News 2015 – Archive
Scottish Parliament entrance: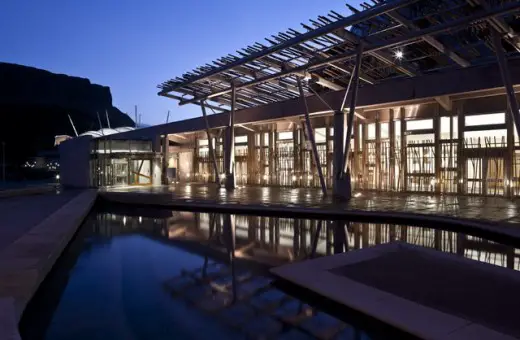 Comments for the Edinburgh Building News 2020 page welcome
Website: Edinburgh, Lothian