21 trends in basement wet bar design guide, Entertainment building renewal advice
21 Trends In Basement Wet Bar Design – Advice
14 February 2022
Tired of looking at the same old design of your basement bar while sipping on your favorite wine? It's about time you considered renovating.
Well, it can cost quite a bit of money for sure. But, on the bright side, you will be able to revive its aesthetic appeal and show it off to your friends the next time they come over.
Not to mention, a house with a trendy wet basement bar is worth a lot more than a house without one. Therefore, rest assured, besides bringing your wet bar back to life, renovating will increase the value of your property.
Now, without further ado, let's take a look at some trendy basement wet bar designs that you can add to your home.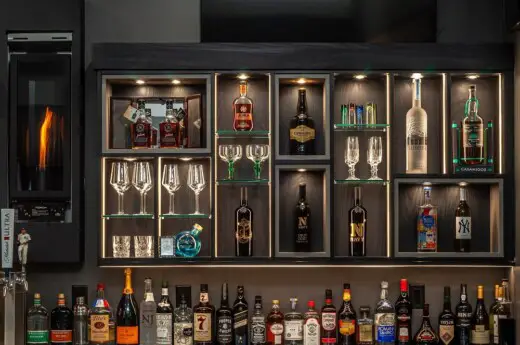 21 Trends In Basement Wet Bar Design
Here are some of the most spectacular wet bar designs:
1. Entertainment Or Party Space
We are pretty sure that your local bar has a big TV and a thumping stereo system for games and karaoke. So, why not bring this entertainment aspect to your basement bar? Believe it or not, this is a trend that is not going to die anytime soon, as more homeowners look forward to using their basement for fun activities.
Start small. Simply add a TV to watch games, music videos, sitcoms, or anything that you like watching after a long day at work. Also, include a stereo system — preferably a Bluetooth one to prevent the clutter of cables. This way, you can play some classical music or watch a movie while having a drink or two to relax.
If you are into rock and heavy metal music, we recommend getting the ceiling wall insulated so that the ones upstairs do not get disturbed. Lastly, don't forget to add comfortable seating options. Instead of bar stools, consider adding lounge seats or a sofa to relax on whenever you are in the basement bar.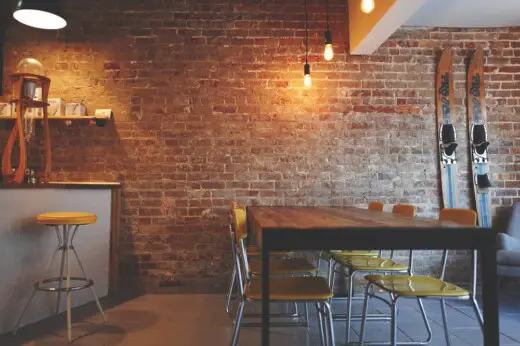 Take a look at the image above to get an idea.
2. Bold Colors And Tile Patterns
More recently, counter designs remain neutral while other features such as the flooring, cabinets, and backsplash are being fitted with bold accents for an artistic and fun feel. You can see a bold tile flooring with a beautiful mix of artistic patterns and colors produced using mosaic tiles in the image above. Looks classy, doesn't it?
Additionally, you can put up a feature wall using a large piece of art, tiles, painting, or wallpaper. Nevertheless, it's best to do without the conventional countertop and instead design an aesthetic focal point with some other materials such as tiles with metal and wood finishes.
3. Under-Counter Appliances
Most modern basement bars no longer feature modest countertop areas and built-in cabinetry; instead, they sport built-in microwaves and under-counter refrigeration units. These designs not only add a pub-like vibe to the bar but also offer functional storage to ensure a sufficient supply of chilled drinks.
That is why many homeowners these days prefer adding ice makers, beer kegerators, beverage centers, and wine cellars instead of single-cabinet storage units. Apart from that, make sure you get a built-in microwave as well if you love hosting guests. This will save you from the hassle of going upstairs every time you want to make hot beverages or popcorn.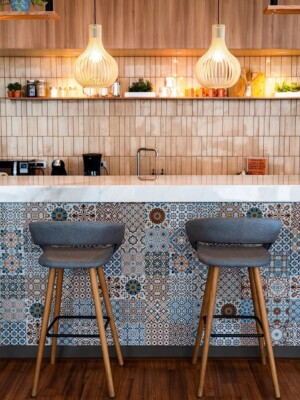 4. An Extension Of The Kitchen
These days, many homeowners are starting to create basement bars as an extension of their kitchens. We feel it is a great idea, especially if your existing kitchen is a bit smaller and has difficulty providing sufficient space during family gatherings.
So, if you have enough room in your basement, get in touch with an interior decorator to design a space with an oven and a full refrigerator. Also, don't forget to add comfortable seating options to ensure that the basement soon becomes a perfect hang-out spot.
That said, confirm with your local authorities if such renovations are allowed in your area, as more often than not, this type of design is considered an additional dwelling.
5. Family-Friendly Designs
If you have kids, you may want to take them downstairs to the basement bar to spend some quality time together.
That's why it's best to keep the bar design family-friendly. And what we mean by this is having lower counters, adding a beverage center with non-alcoholic drinks, and placing comfortable seating options. You can also bring in a home ice-cream maker and a small microwave to make ice creams and popcorn before movie night.
Lastly, you can store action figures, coloring books, and board games in the base cabinetry so that you can enjoy them with the family whenever the mood strikes.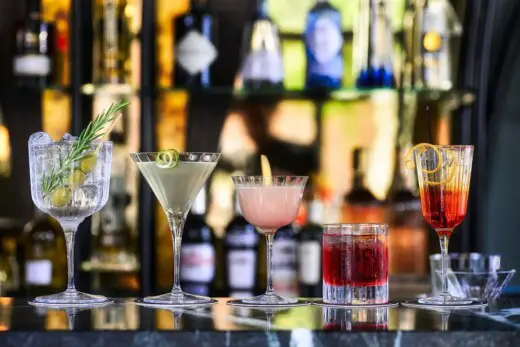 6. Fascinating Countertop Materials
Since a wet bar looks like a kitchen in many ways, homeowners may get bored with its design soon. Therefore, we strongly recommend using unique countertop materials for a refreshing look. Instead of tile, granite, marble, or quartz, experiment with concrete, stainless steel, or even wood. These options can deliver a much-needed character to your wet bar.
While concrete can create a traditional design, steel is modern and ideal for those who love having parties in the basement.
And if you want a luxurious look, you can consider glass bar tops as glass can be etched with any pattern or design to customize the space. Not to mention, it is a great alternative to expensive materials such as granite and quartz.
7. Floating Shelves
Installing floating or open shelves in your basement wet bar offers you two main advantages.
First, it offers storage without obstructing your bar space. Needless to say, the low-profile look makes it sit perfectly well in a basement wet bar. Secondly, floating shelves and open shelving are a perfect way of exhibiting your expensive wines, which is something any wine connoisseur will truly appreciate.
Apart from that, it lets you fool around with LED lighting to create impressive effects and illuminate the shelf, as shown in the images. That way, you can transform your dark and dull basement bar into a happening and cheerful space in no time.
8. Plain Yet Classy Design
Designing minimalist yet classy basement wet bars has undoubtedly become a trend in the past few years. That's why, today, many homeowners are prepared to shell out some extra dough to get a streamlined design, mainly focusing on the floating shelves, countertop space, and base cabinets.
That said, high-end design and amenities, such as painted cabinets, high-end natural stone or quartz worktops, and eye-catching tile backsplash designs, are still desired by many homeowners. To be honest, it's not uncommon to see homeowners either going all out with over-the-top bar designs or keeping things fairly minimal — there is hardly ever a middle ground.
9. Wine Storage
Special storage for wine bottles is an absolute must for all wine enthusiasts because how you store them affects their taste and quality. That's why more homeowners prefer creating functional and visually-pleasing storage for their collection of wine, with some going as far as transforming their entire basement into a wine cellar.
Now, before you go ahead and create a wine cellar in your basement wet bar, here are a few things to consider:
Ensure the wine is stored at a steady temperature
Do not refrigerate the wine for more than two months
Never store your wine in a hot place, as heat tends to compromise the wine flavors
If you have a durable rack in the basement wet bar, you can use it to store the wine. However, if you are in need of more storage, consider storing the wine behind a large glass door in a separate room.
10. Man Cave Bar
The idea behind making man cave bars is to maximize space to design an aesthetically pleasing yet masculine corner of the home. As shown in the picture, the bar offers the freedom to decorate and design the area on a budget. For creating such a man cave, add a clean bar top, dark wood shelving, and some comfortable stools.
Also, don't forget to equip the bar with a mini-refrigerator for your beers, and make sure to leave enough space for a big TV. Couple them with a few quality decorations and wall art, and you'll be set to kick back with the boys.
11. Functional Homemade Bar
This contemporary basement bar is an ideal choice for all homeowners looking to build a place to drink but don't want to invest much. Pretty much everything you see in the image above can be a part of a DIY project or effortlessly put together with multipurpose furniture.
From a clean countertop to magnificent blue shelving for the liquors and glasses, this functional homemade bar simply looks stunning.
12. Small Basement Bar (Corner Bar)
Let's face it; not everyone is looking to give up their entire basement. Hence, a small basement corner bar is a perfect compromise, don't you think?
Designing a corner bar lets you utilize the remaining space to add a pool table or a more comfortable seating option.
13. Go for Marble
Marble offers a feeling of sophistication and class, which is why it is an ideal choice for a wet bar. Here, we see a neutral wet bar designed by Ariella Horowitz that delivers a traditional feel and looks. This wet bar design will most likely work perfectly in a dining room or a living space.
If you have a tight budget, you can achieve this look with a marble-patterned contact paper and a marble peel-and-stick backsplash.
14. Neon-Themed Wet Bar
The image above is another outstanding example of how you can freshen up your dull basement by adding a touch of neon. Not only will it make your basement bar look just like your local pub but also it'll make the area feel more important. The stone walkway that you see further enhances the look of the basement bar, which your guests are bound to love.
Naturally, it is one of the most popular trends in basement wet bar design.
15. Minimalistic DIY Design
This might come to you as a surprise, but a basement wet bar doesn't necessarily cost an arm and a leg. Yes, you read that right. Just put on your DIY shoes and set up a little countertop, a cocktail mixing set, a few stools, and some decorations on the wall, and have a start.
Apart from that, you can consider adding some shelves and a tiled inset for some pragmatic storage and visual appeal, respectively. Oh! And don't forget the drinks.
16. Dark But Powerful
Some homeowners are of the opinion that the basement is too dark of an area for drinks and entertainment. But this basement wet bar shows that darkness is not always a bad thing; in fact, in some cases, it can act as a solution rather than a problem.
As you can see, this bar embraces the darkness without much effort, thanks to the dark-toned furniture and countertop. Plus, the blue cabinet lighting adds a subtle touch of color and light, which is just enough for having drinks and spending quality time with friends and families.
17. Pool Paradise
Do you play pool every time you visit the local bar? Then you will be glad to know that it is fairly easy to transform your basement wet bar into a pool paradise in just a few steps. First, add a large and eye-catching pool table in the center of the basement bar, one that is capable of making a statement.
Secondly, ensure that you add adequate lighting to make the space more lively, as shown in the picture. Apart from that, you can add a big LED TV so that you can keep an eye on the scores and watch movies.
Long story short, adding a pool and a big TV can transform your mundane basement bar into a dream man cave where you can hang out and unwind on the weekends.
18. Stately Stone
There's no denying that stone is a popular finish that can add a touch of character to any space. So, if you are looking to renovate the old and boring walls of your basement bar, why not use stones to add the much-needed visual appeal, texture, and dimension?
If you take a look at this picture, the basement bar boasts natural stacked stones, which deliver a carven-like feel and a dramatic flair. Now, imagine what the bar would look like if those areas were simply painted with neutral colors without the stone. Boring, right?
Well, we think it's safe to say that stately stone can offer a huge transformation in your basement wet bar. Therefore, before renovating, make sure you consider adding some stone.
19. Farmhouse-Themed Basement Wet Bar
The farmhouse-themed style is another trendy basement wet bar design that you can most certainly consider. As shown in the image, you can incorporate elements such as vintage light fixtures, dark wood cabinets, and sliding barn doors to add a much-desired rustic charm to the bar.
Furthermore, you can add vintage bottles, dishware, and other decor items to make it look more authentic. Rest assured, this will give your basement wet bar the feel of a farm cottage in the countryside.
20. Earthy Elements
Given that a basement is basically under the Earth, styling it with natural and raw elements only makes sense. Take a look at this bar; the interior decorator has used hardwood floors, paneled walls, and cement-like wall tiles to deliver a more organic feel.
The open layout of the area makes it look cavernous and expansive, which is great. But especially pleasing is the corner bar having ample seating, four light fixtures, and open shelves, which ensures it is an open and bright space.
21. Curved Countertop
As shown in the image, you can use a curved countertop in your basement wet bar. Since it's a part of the bar and not the main kitchen, you can take the liberty to go all creative while designing the kitchen area.
Important Tips
Here, we've talked about a couple of important tips that you might want to consider in order to have the best experience in your basement wet bar.
1. Consider Installing A Second Dishwasher
If you are confused between choosing a second dishwasher or an extra cabinet space, we would say go with the dishwasher. This is because after spending an evening with family and friends, the last thing you would want to do is take the dishes upstairs or wash them by hand.
3. Utilize The Space You Have
You don't necessarily have to renovate the entire basement into a bar; rather, you can work with the available space and make the most out of it. In this image, you can see the bar fits snugly right under the stairs and still has pretty much everything that you would require.
This is a perfect example of how you can get creative and incorporate your basement wet bar ideas into a smaller space without compromising much.
Final Thoughts
A basement wet bar is undoubtedly the perfect place to unwind and relax with friends and family on weekends. If you are planning on getting it renovated this year, do it without a second thought, as there are many basement bar ideas to choose from.
On that note, we have reached the end of the article. Hopefully, you can finally decide which wet bar design to go with. Just make sure that you use the space properly and choose a design that best suits your style.
Until next time, take care!
Comments on this guide to 21 trends in basement wet bar design article are welcome.
Edinburgh Architecture
Liberton Brae Townhouses
Design: LBA Architects
Liberton Brae Townhouses
St James Quarter Edinburgh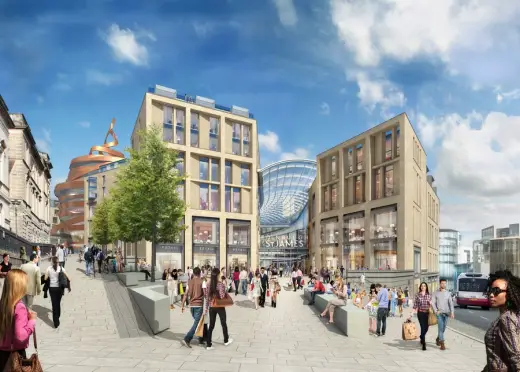 image of the development
St James Quarter
Comments / photos for the 21 trends in basement wet bar design page welcome