The beauty of a solid roof conservatory guide, Property sunroom advice, Home expansion
The Beauty of a Solid Roof Conservatory in a Home
22 February 2022
The beauty of a solid roof would be that it performs as if it was part of your home. You won't encounter such significant seasonal fluctuations in temperature, brightness from the sun, or noise from the rain. You may preserve a bright, airy space by picking windows and downlighters to add to your roof too!
Combining high-quality precision engineering with appealing styling inside and out, you will be adding vital extra usable space to your house without the price of building an extension. It's also an obvious way to convert tired, old conservatory roofs. In only one day, your current roof may come off, and the new roof erected, offering you little disturbance and inconvenience!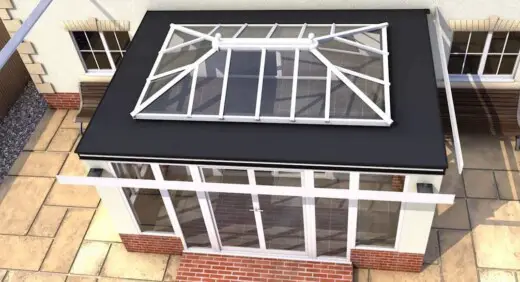 A high-quality and effective solution
A solid roof conservatory efficiently retains heat and eradicates any possible cold patches that may emerge in your greenhouse. The revolutionary conservatory roof system uses the benefits of timber to create a warm roof construction.
To have a conservatory with such a solid roof helps you to do this at all times of the year and reap the benefits of the wonderful seasonal change that may otherwise pass you by. So whether it's to look out over your snow-covered lawn or to watch the red and yellow leaves bursting in autumn, you'll always have a great view without having to crank up the heater.
A replacement roof that provides for a contemporary aesthetic
Selecting for a solid conservatory roof not only provides a variety of practical benefits but also may transform any traditional appearing conservatory into a modern extension. Our solid roofs are offered in a choice of 3 popular and attractive colors: Black, Brown and Terracotta. Beautiful interior design may be used with up to four different conservatory styles.
When you choose a great solid roof conservatory, you may create stunning interiors. It would help if you decided on ridge apex or orangery-style exterior shelf soffits, both of which can be fitted with downlights for the ultimate modern look. All of the solid roofs should be plaster-boarded to provide a beautiful internal finish, and it is required to incorporate downlights for the ultimate modern look. The ceilings are white on the inside, but they can be painted to match the rest of the house if desired.
Good solid roofs are offered in four different types to complement and enhance the current conservatory styles: the Victorian, the Lean-to, the Edwardian, and the Gable designs. This implies that even if your home is restricted in terms of area and you wish for a spacious and functional building extension, a smaller lean-to conservatory can benefit from all of the practical advantages of a solid roof. The same may be said for every other style that has been listed.
The advantages and characteristics of a solid-roof conservatory
The benefits of a solid roof are simple: it provides superior insulation and heat retention, allowing you to make use of your additional space all year round.
Modern aesthetics: Choosing a solid roof for your existing or freshly constructed expansion instantly transforms the typical glazed style into more contemporary.
Environment friendly:
Solid roof tiles are environmentally friendly because they are made entirely of recycled materials from other sources. They are available in a wide range of colors, including black, brown, and terracotta.
Living both inside and outside: A solid roof erected by a professional unlocks the potential for both inside and outside living, effortlessly integrating the house and garden to make the most available space.
Affordability: Choosing a solid tiled roof from Win-Dor is significantly less expensive than completely replacing your existing conservatory. Availability: A solid investment that increases the value of your property while also enhancing it.
Entry of natural light:
To complement the thermally efficient solid roof, designs can still contain insulated glazed roof vents, which enable natural light to enter the area while still maintaining energy efficiency.
Installed quickly and easily: even though all solid roof conservatories are custom-made and uniquely planned, they are engineered with rapid installation in mind so that homeowners are never inconvenienced.
The art of finding a harmonious balance between indoor and outdoor spaces
Are you thinking about adding a conservatory but are concerned that it would take up all of your garden space? Not to be overlooked are the fact that gardens and grounds may significantly increase the value of a property. It's critical to strike the correct balance between adding more inside space while not limiting the outside area available.
The ideal circumstance is when a conservatory serves as a transitional space between indoor and outdoor areas. This is at the heart of the indoor-outdoor living movement, and it has the potential to provide a great deal of flexibility and pleasure to both family life and gatherings of friends and family.
Wrap up
Your new conservatory can become a unique place for you and your family if the design is done correctly. Being in the space gives the impression that you are sitting in the garden, but without dealing with the weather conditions!
Comments on this guide to the beauty of a solid roof conservatory article are welcome.
Edinburgh Architecture
Liberton Brae Townhouses
Design: LBA Architects
Liberton Brae Townhouses
St James Quarter Edinburgh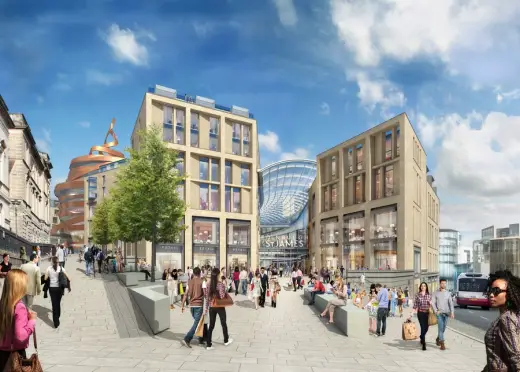 image of the development
St James Quarter
Comments / photos for the The beauty of a solid roof conservatory advice page welcome