Using orange in interiors guide, Building decor colour design advice, Retro style tips
Using Orange In Interiors
16 February 2022
To be honest, most of us are scared of adding orange to our interiors.
For some irrational reason, the bright and fun color has slowly been abandoned from home decor. Moreover, orange at times feels like the color of the past and is often equated with a retro vibe. But this might actually be beneficial to those who want to design a cozy and fun space with a pop of color from the past.
Contrary to popular beliefs, the right shade of orange can totally transform any space into a refreshing experience. On top of that, orange is one of the colors that can turn your home into a tropical summer paradise, especially when you pair it with turquoise.
Therefore, we thought of giving you some inspiration to add shades of orange to your home. So, without further ado, let's get started!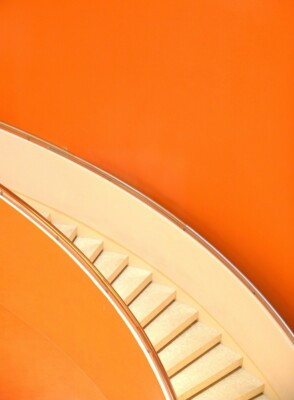 25 Ways To Use Orange In Interior Design
1. Orange Curtains
One of the best ways to introduce orange in any space is using curtains. You don't need to choose bright orange drapes; instead, it would be better if you went with colors like terracotta, burnt orange, or rust for a neutral palette. Moreover, opt for a light, flowy fabric like linen in colors like marigold, tangerine, or honey in summers.
2. Orange Throw Blankets
No one can deny that a classic way of adding an accent to your living room is by using throws and cushions on the couch. Using a handmade orange throw during fall can bring much-needed warmth into a chilly room. We also do like the use of rustic style crocheted throws for a personalized touch.
3. Adding Soft Neutrals
Often a plain white kitchen can end up looking boring. However, you can bring a bit of color into the space by painting some of the shelves or cubbies with a neutral shade of orange. Depending on the theme of your kitchen, colors like dark amber, ochre or spice can make the area appear warm.
4. Orange Accent In Interior Design
It's perfectly okay if you don't want to take the leap of permanently adding orange tones to your home. But, you can surely start by adding orange-colored bits and pieces in every room. We especially like the thought of decorating with seasonal orange flowers in the well-lit areas around the house.
5. Contemporary Orange Furniture
Have you ever thought of adding an orange sofa to your living room? If not, think about it as a refreshing piece of orange furniture that can deliver a fun and contemporary look to your space.
We can vouch that your bold choice will become a successful conversation starter for any visitor. You can even work with small pieces of furniture like an orange footstool or ottoman.
6. Orange Art Pieces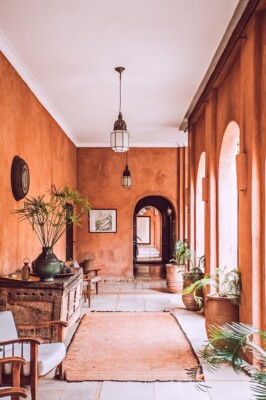 If you have been searching for orange home office or library decoration pieces, we highly suggest looking for artwork. Framed prints of citrus fruits or even your favorite movie poster can be perfect for adding orange accents. The only thing you need to ensure is that the shade of orange doesn't clash with any other decor piece.
7. Orange Bookshelves
Most of us wouldn't think about the color of our bookshelves. However, painting your bookshelves a shade of orange can help provide the much-needed pop of color.
We recommend going for bare frame or industrial style bookshelves as they make a room appear spacious. On top of that, you can think about adding pops of other colors like turquoise, yellow or white for a fun and bold look.
8. Bold Orange Walls
We want to start by saying that this idea isn't for everyone. But if you're someone who enjoys orange as a color, there's no need to shy away from adding it to the interior design of your home. Paint shades like tangerine or gold look pretty good on an accent wall, such as in a foyer or dining room.
9. Orange Bed Linen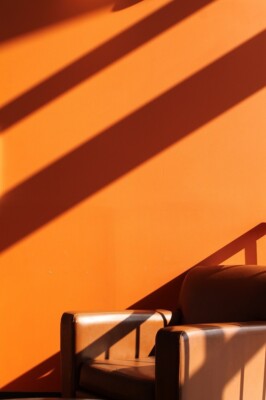 Do you want your bedroom to appear a bit more fun and cheerful? Think about adding some orange sheets to the bed or maybe some orange pillow covers.
To make it more subtle, you can also use two colors to create a contrast. For instance, you can use orange-white or orange-gray pairs to design a more vibrant space.
10. Decorating Bathrooms With Orange
Yes, you can add orange to the interior of your bathroom, and it would look pretty good. Usually, bathrooms can appear a bit dull, but adding the right tone of orange can brighten up the area. If you're not sure about adding orange tiles, think about using accessories like orange towels or ceramics.
11. Orange Rugs
Rugs are a classic piece to add to your bedroom, living room, or bathroom, as the distressed rugs are available in many shades of orange. However, to make the interior design more interesting and fresh, you can choose an orange rug with blue or green accents.
12. Orange In Children's Bedroom
Believe it or not, shades of orange can be the perfect color for your children's bedroom. It adds a sense of playfulness to the room and gives the much-needed boost of warm colors. And, the best part is that furniture for kids is easily available in bright colors like orange.
13. Orange Shades In Nursery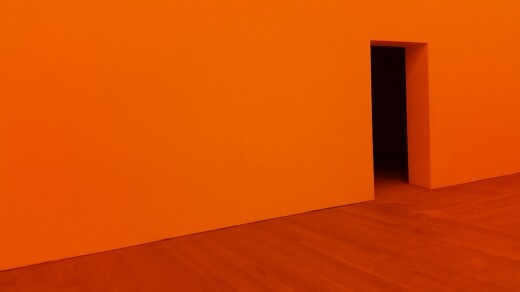 Are you tired of nurseries that are painted blue or pink? Change it up by adding an orange or tangerine accent wall to the room. Or, you may opt for orange pieces of furniture. You can even create a more cheerful space by adding a fox theme.
14. Orange Accents And Finishing Touches
Those who have already finished decorating their home can use shades of orange for the final touches. Something like a tangerine rug or sheer peach curtains can make a space feel more warm and cozy. You can even use orange accessories to contrast the main color used in your interior design. A slightly bolder approach would be to add orange trims to achieve a playful ambiance.
15. Orange Lamp Shades
We know that yellow light might not be the best option in modern homes. However, you can still create a warm setting by adding orange lampshades in your living room. We especially suggest hunting for some quirky or playful designs to make it stand out in any room.
16. Orange Coffee Table
When it comes to the interior design of a living room, most people gravitate towards a brown tone. But, to break the monotony, you can use a distinct piece of furniture like an orange coffee table. If possible, you can commission a wooden coffee table with resin accents in shades like dark amber and rust.
17. Terracotta Planters
The simplest way to add an orange tone to your living room or bedroom is through terracotta planters. These simple and earthy pots add a beautiful orange-brown touch to your interior design. Moreover, this allows you to add shades of green in the room either through live or artificial plants making the space fun and ready for social interaction.
18. Orange Ceramics
One of the best things you can have in your home is a collection of ceramics. You can mix and match with colors like orange, pink, brown, blue, white, black, yellow, or green to create a neutral and bright combination. If you prefer a more minimalist decorating style, try adding amber glass accessories like vases, candle holders, or random bottles.
19. Orange In Combination With Neutral Colors
As you may know, interior design is often heavily based on themes. However, rather than creating an Instagrammable space, it's better to add hints of personalization to a home. If you are still deciding on a theme and would like to include shades of orange, maybe think about combining colors. This may include creating predominantly neutral spaces while sporadically breaking the monotony with pops of orange shades like amber.
20. Orange Ceilings
Having orange ceilings in a room may seem like a crazy idea, but we are all about it. Like accent walls, bright-colored ceilings can add a level of personalization to your room, making it distinct from any other space. Adding the right shade of orange can significantly brighten a room, especially if you live in a colder part of the country.
21. Orange Floors
Another more permanent option of including the color orange in an interior space is by adding it to the floor. Even though this may seem odd right now, having orange floors wasn't out of bounds even a few decades ago. Based on your budget, you can add the color through tiles or polished concrete. The easiest way out would be to add wall-to-wall carpets in soothing shades like terracotta or squash.
22. Orange In Dining Room
The dining room is by far one of the spaces in your home that would look exceptional with a touch of orange. Pieces of furniture like comfortable orange chairs or cabinets work well. At the same time, you can also use accessories like orange table cloths, runners, or glassware to achieve a warm look.
23. Vibrant Interior Design Schemes
Till now, we have talked about neutral or more subdued shades of orange. But, even a bright color like pumpkin or carrot can gel with a space. All you need to do is find colors that go with orange and create an aesthetically soothing contrast.
24. Orange Vintage Interior Design
Are you a fan of vintage interior design? If so, you should know that shades of orange and similar colors like yellow, pink, red, and brown used to be big a few decades ago. You can paint your interior by searching up the right color palette or add accessories to each room by thrifting pieces.
25. Seasonal Orange Interior Design
Can you ever have too many pieces for decorating during the holidays? We don't think so! That's why you should stock up on orange pieces for decorating in fall and winter. Moreover, you can pick pieces in light shades like melon and pink-orange for summer.
Using orange in interiors – Final Words
That's everything we had to tell you about using orange in interior design themes. We hope that our suggestions help you decide on how to add orange to any room or space.
One of the final things we would like to point out is the lighting of an orange room. If you're using darker shades of orange, try adding bright lights to a room as a highlight. And, do think about natural lighting while decorating, and you'll be set to add a blast of orange to your home.
Comments on this guide to using orange in interiors article are welcome.
Edinburgh Architecture
Liberton Brae Townhouses
Design: LBA Architects
Liberton Brae Townhouses
St James Quarter Edinburgh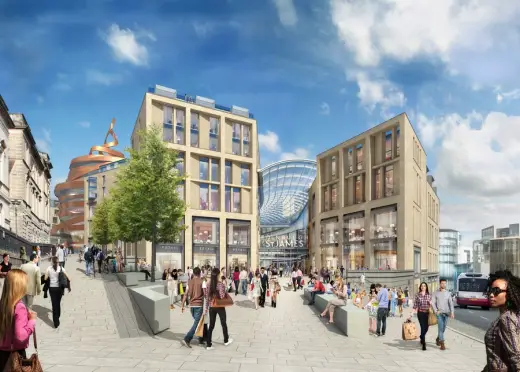 image of the development
St James Quarter
Comments / photos for the Using orange in interiors page welcome