A complete guide to double glazing windows guide, Property Glass Advice, Home Facade Tips
A Complete Guide to Double Glazing Windows in Homes
9 Feb 2021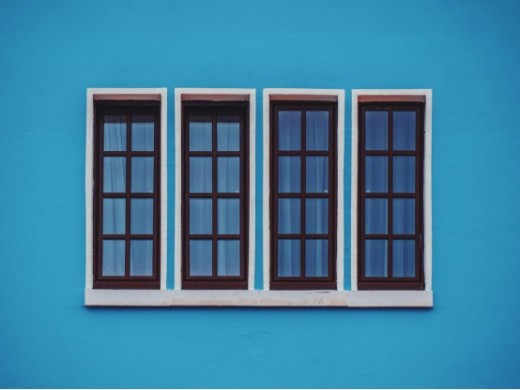 The implacable need and desire to decorate and beautify homes, is as old and inherent as time itself. Consumers want to create a specific environment that suits their particular requirements and lifestyle alternatives.
When choosing suitable, value-for-money building accessories such as windows, there are many details to consider. Finding a service provider that matches the budget, while rendering a trustworthy, reliable service, may be a big challenge. As luck would have it, development in modern manufacture techniques and a variety of styles and merchandise available on the market, give the customer carte blanche to create beautiful, customized living spaces.
A Complete Guide to Double Glazing Windows in Your Home
WHAT TO CONSIDER WHEN SHOPPING FOR WINDOWS
Design
The correct units can make or break the outward appearance and aesthetic appeal of a home. It is imperative that the design of the windows complements and enhances the structure rather than detract from its character and charm.
Companies such as Windows Are Us support their customers from the preliminary design to completion of installation. Most design companies pride themselves on their outstanding craftsmanship, always keeping the customer happy and providing excellent customer attention and service from beginning to end.
Product Specifics
Modern windows and building trimmings are often fashioned using Unplasticized Polyvinyl Chloride, also known as UPVC, an inelastic, chemically resilient form of PVC. This chemical compound may be used in pipes, window frames and other building functions. Alternatively, aluminum or wood are also used, although to a much lesser extent.
Windows in particular, maybe double glazed or triple glazed according to stipulations, and take shape as classy conservatories, orangeries or old favorites such as casement windows or re-created nineteenth century flush sash timber models.
Windows Locations in Your Property
WHERE CAN I USE DOUBLE OR TRIPLE GLAZING?
Conservatories and Orangeries
A conservatory is essentially a glass house attached to the main building structure. Conservatories and orangeries effectively add extra living space to a home and allow for a large variety of tailor-made applications. It was fashionable from the seventeenth century to the nineteenth century for influential people to grow oranges and other fruit in orangeries or green houses during the cold winter months. Modern day purposes may include basking in the sun and relaxing with the family on a rainy day or nurturing and protecting beloved plants from the harsh elements. Conservatories and orangeries allow for the optimum use of available light and can be creatively adapted to any specifications.
Casement Windows
Casement or transom designs are attached to a supporting frame using hinges on one side. They can be used as single moveable frames or in pairs to allow air flow and light into a stuffy room. Hinges are chosen to compliment the visual integrity of the structure and for functionality, and are available in a variety of metals, alloys and finishes.
Awnings and Hopper Windows
Awning and hopper types are usually a bit smaller than casement windows and are installed in order to keep dust and debris out of bathrooms or basement areas.
Awnings are supported at the top of the frame by sturdy hinges and may be opened upward and inward. Hopper windows on the other hand, allow access through hinges installed on the bottom of the frame and feature a downward and inward mobility.
Slider Windows
Slider windows are also called gliding windows. This is because the window can be slid left or right horizontally on the frame, easily allowing or denying access to the great outdoors and the elements of nature.
Tilt and Turn Windows
Tilt and turn models may be opened inwards to allow for adaptable ventilation needs. These windows can be angled and tilted to accommodate air flow as the mood dictates.
Check out these window style examples that you can consider for your next home renovation: https://www.pinterest.ie/lynchwindows1/window-styles-colours/.
Double and Triple Glazing
BENEFITS OF DOUBLE AND TRIPLE GLAZING
Glazing is a process that necessitates the addition of extra glass panes and insulation to the structure of the window. When using triple glazing techniques, the finished product will consist of three panes of glass cleverly separated and lined by argon gas. The use of triple glazed windowpanes has become a popular, practical practice, especially in colder parts of the world.
Reduced Energy Bills
The configuration of a triple glazed window guarantees better lagging and limits the loss of heat from the interior of the residence, resulting in a lower consumption of energy for heating purposes and ultimately a substantially decreased energy bill. This arrangement not only saves money but enhances the dwellers' comfort, diminishing the occurrence of inevitable cold draughts and icy pockets of air around the household.
Environmental Consideration
Conscientious homeowners often pay particular attention to the influence their renovations may have on the environment and the associated, resulting carbon footprint. Installing triple coated windows efficiently reduces the consumption of heat generating fuels, curbing harmful carbon dioxide being released into the air and easing the effects on global warming.
In some instances, reputable construction companies will even remove materials taken from building sites and recycle rubble with the aim of reclaiming and recycling for alternative utilization elsewhere.
Condensation
It has always been inevitable for hot, humid air from the house to collect as water droplets on the inside of the cold windowpane, obscuring the view and dirtying the panes. Installing triple glazed windows negates this process and reduces condensation on windowpanes.
Security
An added benefit of layered window glazing is the additional security it provides. The extra films in the glazed units successfully minimize the chance of glass easily being broken and security being breached.
Noise Pollution
Triple glazing may very well be the solution to noisy neighbors. Additional deposits in the pane cancel out excessively loud noises, the sound of busy traffic or other instances of noise pollution.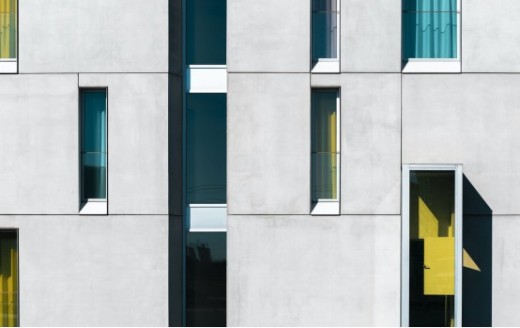 Nothing beats a warm, comfortable home that looks and feels great. Selective customers should demand satisfaction when employing a contractor. Choose a company that will meet your demands. Look for dependability, honesty, artistry and impeccable superior products. You have the right to be delighted by the outcome.
Comments on this guide to A Complete Guide to Double Glazing Windows article are welcome.
Edinburgh Architecture
Liberton Brae Townhouses
Design: LBA Architects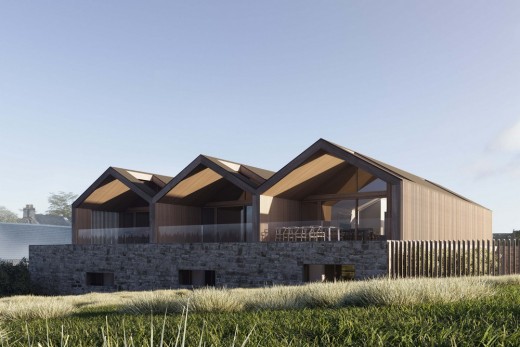 image courtesy of architects
Liberton Brae Townhouses
St James Quarter Edinburgh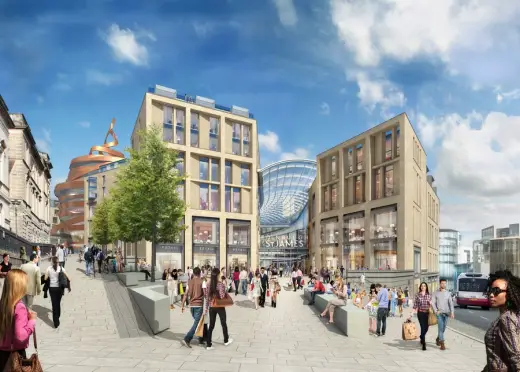 image of the development
St James Quarter
Comments / photos for the A Complete Guide to Double Glazing Windows Advice page welcome