Artisan Real Estate Homes, New Edinburgh Property, Innovative Residential
Artisan Real Estate Sustainable Edinburgh Homes
29 Oct 2020
Canonmills Garden Recognised for Success at the Scottish Homes Awards
Boutique Edinburgh Homes Development Shortlisted for Two Prestigious Awards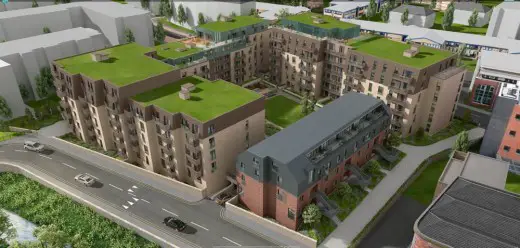 Canonmills Garden, Artisan Real Estate's stylish new homes development in Edinburgh, is in the running for two prestigious accolades in this year's Scottish Home Awards which takes place on Thursday (October 29). The boutique development, overlooking the Water of Leith to the north of the city centre, is a finalist in the hotly contested Apartment Development of the Year and the blue-riband Large Housing Development of the Year categories.
show home interior: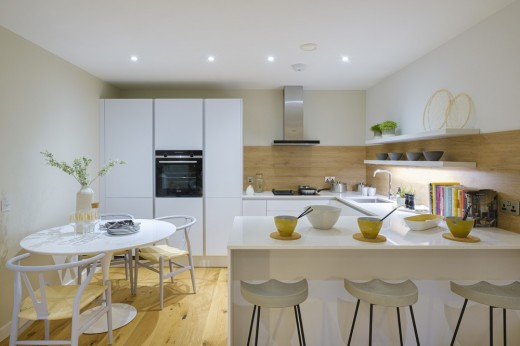 The Scottish Homes Awards were originally planned for March this year but have been rearranged as a virtual event due to the ongoing restrictions imposed by the coronavirus pandemic. And, despite similar restrictions also facing the homes-selling sector in recent times, Canonmills Garden has more than risen to the challenge with over two-thirds of homes now sold.
Charlotte Swanson, Artisan's Regional Development Manager, believes the 'virtual' setting for the Scottish Homes Awards is a fitting platform for Canonmills Garden, which has seen the majority of its homes sold in a virtual environment. "Artisan is an independent, niche developer which, from the start, gave us the freedom to react quickly to the challenges of lockdown," she says.
"We created a strong sales proposition which reflects the challenges of our times by making our website-based visitor experience even more user friendly, introducing chat-boxes directly linked to our sales team as well as cutting-edge interactive graphics including virtual presentations and 3D apartment walk-throughs. We had a huge advantage in that, even before lockdown, we were pushing a 60 per-cent success rate despite all sales being off-plan and all marketing activity up to that point being conducted off site."
Artisan's boutique development, a spectacular mix of 180 one, two and three-bedroom apartments and colony-style properties, was first launched in 2018 and has firmly established itself as the new blueprint for post-lockdown living. Generous and airy internal dimensions combine with large balconies and terraces overlooking private gardens and the Water of Leith – all underpinned with the latest in smart design and energy efficient technology.
Artisan was subsequently one of the first developers to open a show home and marketing suite once the initial lockdown restrictions were relaxed, reintroducing the human touch to the homes-sales process. And the results, so far, have been spectacular with sales at Canonmills Garden continuing apace with two first-phase blocks now sold out – including 70% already sold off-plan. The first residents will be moving in during the first quarter of 2020
With consumer confidence continuing to return to the market, prices and value are increasing with the average value of apartments growing by seven per-cent since the development's marketing launch in 2018. The Canonmills Garden show home, designed by well-known Scottish Interior Designer Carol Yates, is now available to visit. To book an exclusive VIP tour click here: https://canonmillsgarden.simplybook.it/v2/
A range of apartments is now available at Canonmills Garden with prices starting at £333,000. For more information, visit: www.canonmillsgarden.com.
19 June 2020
Sustainable Homes by Artisan Real Estate
Artisan Launches New Standards for Sustainable Homes Development
Locations:
Canonmills Garden to the north of the city centre
&
Rowanbank Gardens in Corstorphine
Urban Regeneration Specialist Creates New Design Framework to Boost Low Carbon City Living
Niche homebuilder Artisan Real Estate has launched an ambitious new blueprint for sustainable development, responding to the changing requirements of local people and communities in a post-Covid world.
Smart, energy-efficient building design has been matched with an innovative approach to placemaking and community, introducing such creative concepts as green roofs, 'edible' gardens and green transport plans to sensitive city centre environments. Initially focusing on new homes' projects in Edinburgh, the plan is geared to achieving low to zero carbon development – as well as creating a more open and landscaped environment to benefit general health and well-being.
Linking closely with the City of Edinburgh Council's 'Future Edinburgh' strategy which aims to make the city carbon neutral within the next ten years, Artisan is now applying its radical design philosophy to two major developments in the city – Canonmills Garden to the north of the city centre and the recently acquired Rowanbank Gardens in the popular Corstorphine area and currently subject to a planning application.
"The challenges highlighted by the Covid 19 pandemic has accelerated the importance of changing the way we deliver new home development," explains Clive Wilding, Artisan's Group Development Director. "We are now very much going above and beyond the existing Council guidelines as outlined in its 'Future Edinburgh' strategy. As well as reducing urban sprawl by optimising the number of people living in well-designed, sustainable homes in low car-use locations well-served by public and 'self-propelled' transport, we are also envisaging what people want from their living environment, post-Covid 19.
"Significant emphasis is placed on the quality of internal space and light to create enjoyable home-working environments, whilst accessible gardens and landscaping promote health and well-being by making nature and well-designed outdoor space integral to the day-to-day living experience."
Rowanbank Gardens Corstorphine homes: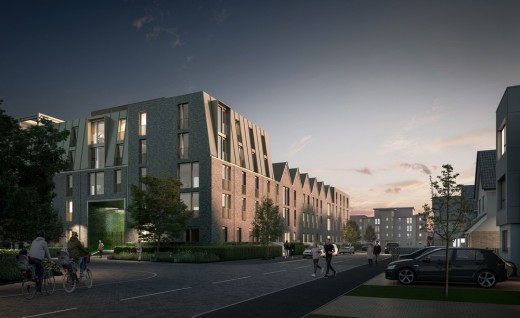 Artisan's Canonmills Garden development, scheduled for completion in early 2021, has pioneered the integration of low and zero carbon generating technology. This includes a combined heat and power system helping to support building energy loads whilst charging electric vehicles, reducing both building and transport CO2 emissions. This strategy, combined with well-designed green roof spaces and climate responsive building facades, helps improve and enhance environmental integration, natural light provision and the quality of indoor and outdoor air.
Similar development principles have been applied to the major planning application for 126 new homes at Artisan's Rowanbank Gardens. The former care-home site in Corstorphine is set to answer the Council's requirement for well designed, high density living whilst providing spacious communal areas and well-established public transport links ensuring low car ownership. The development is designed around a central courtyard garden providing nearly twice the level of open space recommended by council planning policy, filled with fruit trees and communal planting and growing beds. Apartments are designed for open plan living with large windows giving views of the courtyard and the wider area, while green roofs ensure benefits of surface water retention, insulation and ecology.
Rowanbank Gardens in Corstorphine: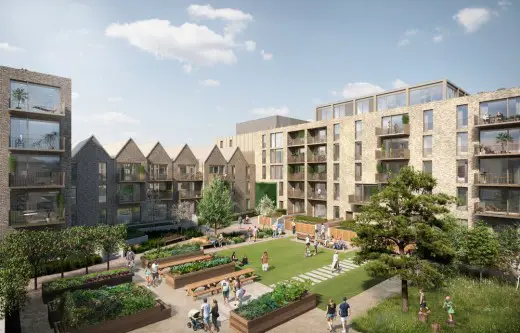 Artisan is perhaps best known in Scotland for large-scale city regeneration projects like the award-winning New Waverley, which has transformed the heart of Edinburgh's historic Old Town. The developer is now applying the same values and philosophy which has guided the successful design and execution of New Waverley to its residential developments, setting it apart from other major homebuilders in Scotland.
"Remaining true to our urban regeneration credentials, at the heart of all Artisan's developments is building a strong sense of place," adds Clive Wilding. "We are specialising in niche urban developments in the most exciting parts of the city centre, creating a high-value premium product for a wide range of homebuyers, including young professionals, families and downsizers. Artisan now has an opportunity in Scotland to set a new benchmark for high quality urban regeneration in sensitive city-centre environments – whether it be commercial, residential or mixed-use. Our track record in Edinburgh and in Scotland has given us a strong understanding of the importance of high quality placemaking, which is at the heart of all Artisan's developments."
For more information on Artisan's developments in Scotland and the UK visit:
www.artisanrealestate.co.uk,
www.rowanbankgardens.com
www.canonmillsgarden.com
Edinburgh Architecture
Liberton Brae Townhouses
Design: LBA Architects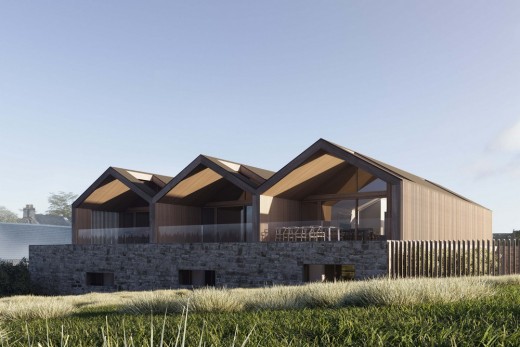 image courtesy of architects
Liberton Brae Townhouses
Edinburgh Georgian Townhouse Apartment
Glamorous Edinburgh West End Apartment
Mezzanine Apartment in Edinburgh
3-8 St Andrew Square
Design: CDA and Gareth Hoskins Architects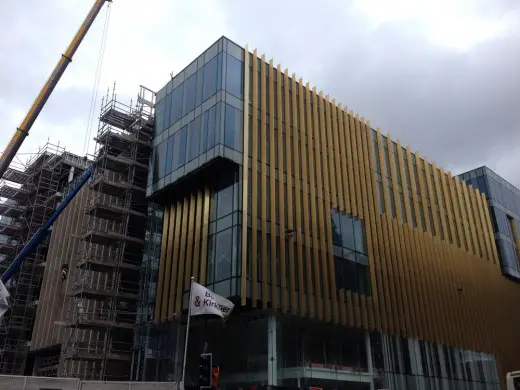 photo © Adrian Welch
St Andrew Square Building
Comments / photos for the Artisan Real Estate Sustainable Homes page welcome
Website: Edinburgh Lothian