BDP returns to Edinburgh with Pattern acquisition news, Sports and stadia architecture office
BDP Makes A Return To Edinburgh With Pattern Acquisition
7 October 2021
Lindsay Johnston – Architect Director, BDP's Edinburgh Studio: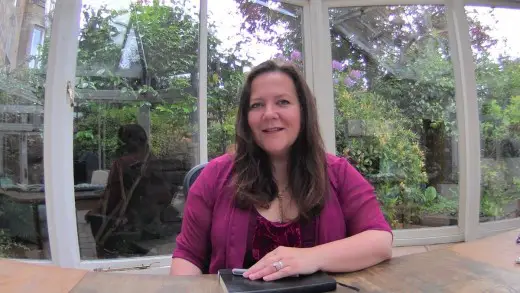 photo courtesy of architects office
BDP Makes A Return To Edinburgh – Pattern Acquisition News
• BDP's recent acquisition of the specialist sports and stadia architecture firm, Pattern Design – the practice delivering Everton FC's new £500 million waterfront stadium – results in BDP's return to Edinburgh. Previously, BDP held an Edinburgh office from 2008 to 2011.
• The new Edinburgh studio expands BDP's presence in Scotland and coincides with BDP's successful completion of the £1bn St James Quarter development.
• The new Edinburgh studio will be led by Architect Director, Lindsay Johnston, who co-founded Pattern Design in 2009. Scott Mackenzie, Chair of BDP Scotland, is responsible for leading BDP's Glasgow and Edinburgh studios.
Scott Mackenzie, Chair of BDP Scotland: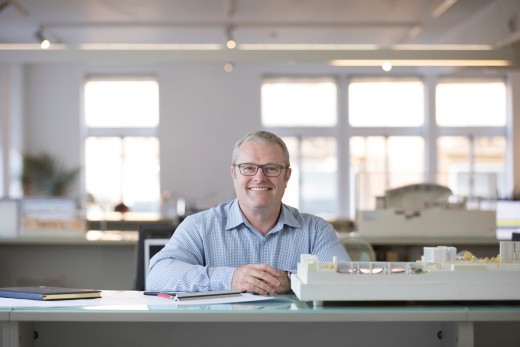 photo courtesy of architects office
BDP has set up a new practice studio at Thirlestane Road in Edinburgh city centre.
The new studio, which will act as a hub in the heart of the Scottish Capital, comes as part of BDP's acquisition of Pattern Design in July 2021 and follows a strong year of growth as the business achieved revenues of £131.3m and expanded its presence in Northern Europe and South East Asia.
Co-founded in 2009 by Lindsay Johnston and Dipesh Patel, Pattern has developed an enviable portfolio of high-profile sports and entertainment projects. The firm successfully won a series of international competitions and major commissions in the Middle East, North and South America, Europe, China and the United Kingdom; most recently working with Everton FC on its new 52,000-capacity stadium at Bramley-Moore Dock in Liverpool.
BDP's acquisition of Pattern bolsters BDP's extensive experience in designing famous sporting venues across the UK, including Wimbledon All England Lawn Tennis Club, Aintree Racecourse and Emirates Old Trafford Cricket Ground.
BDP also continues to operate from its studio in Exchange Place, Glasgow.
Lindsay Johnston, Architect Director, BDP's Edinburgh Studio said:
"It is very exciting to be part of the BDP global interdisciplinary practice and to realise our ambition to grow the company's presence in Scotland. Pattern's wealth of experience in creating iconic sporting venues increases our ability to deliver major international sports projects. Our team in Edinburgh will continue to focus on sport whilst also stretching BDP's reach across Scotland to work in other sectors and disciplines to support our clients."
BDP continues to operate its interdisciplinary practice from its original studio in Exchange Place in Glasgow city centre.
Scott MacKenzie, Chair of BDP Scotland said:
"Across our 60-year history, we have held a strong connection with the city of Edinburgh. We have a lineage of major projects in the city including the Scottish Widows HQ, buildings at Napier University Business School, and most recently, at St James Quarter. Our new partnership with BDP Pattern, not only reinforces our strength in the sport and stadia sector but also emphasises our commitment to designing the most sustainable and innovative buildings for Edinburgh and for the whole of Scotland. It's wonderful to be back."
BDP
BDP is an international interdisciplinary practice of architects, engineers, designers and urbanists. We work closely with users, clients and the community to create special places for living, working, shopping, culture and learning across the world. Founded in 1961, we now have studios across the UK, Ireland, Netherlands, UAE, India, China, Singapore and Canada. BDP has a leading track record in all major sectors including health, education, workplace, retail, urbanism, heritage, housing, transport and leisure and has won over 1000 awards for design quality.
In March 2016, BDP combined forces with Japan's leading engineering practice Nippon Koei to form an integrated design group of genuine international reach. Sharing a philosophy which places an emphasis on design integration and community impact, the new group offers a unique combination of deep technical skills in engineering, architecture and the full range of design disciplines. www.bdp.com
BDP Pattern
BDP Pattern is the sports and entertainment division of BDP. Pattern was founded in 2009 by Dipesh Patel and became part of the group in 2021. The practice is now a globally respected brand in the sports and entertainment sector. From our first project Hazza Bin Zayed Stadium, which was completed in 2014 and reinvented stadia for hot climates, to the wind-harnessing athletics stadium for the 2019 Pan-American Games our project are based on deep research, high technology design and simple implementation.
Founded on innovative rule-based parametric design, mathematics and beauty are key research areas for the practice. Data analysis and computation underpins our design process. We have delivered venues for major global events including the FIFA World Cup, Olympics, Pan American and Commonwealth Games. BDP Pattern's experience encompasses sports and entertainment buildings, sports masterplanning, hospitality and revenue analysis. Our goal is to deliver projects that are innovative, culturally specific, financially sustainable and respectful to the environment.
Recent projects include two stadia for the 2022 FIFA World Cup Qatar, eight sports venues for the Pan American Games, Lima 2019, Suoyuwan Stadium in Northern China for the 2023 Asian Cup and Everton Football Club's new stadium starting construction in 2021. www.bdp-pattern.com
BDP returns to Edinburgh with Pattern acquisition images / information received 071021
Edinburgh Architecture
Liberton Brae Townhouses
Design: LBA Architects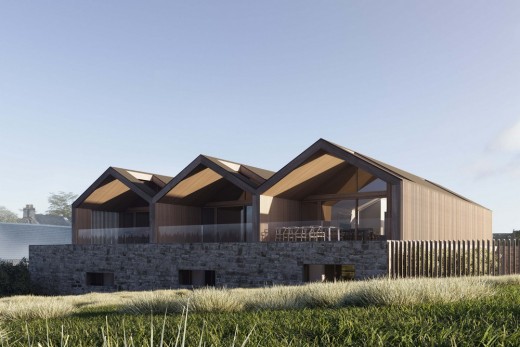 image courtesy of architects
Liberton Brae Townhouses
St James Quarter Edinburgh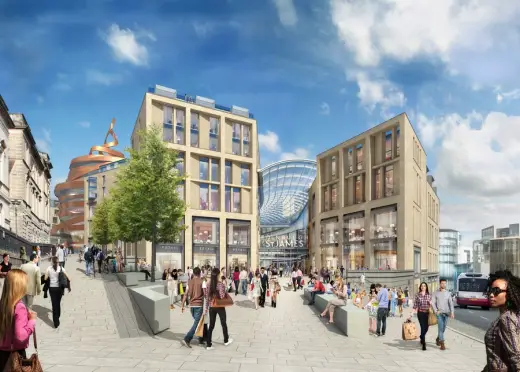 image of the development
St James Quarter
Comments on this BDP returns to Edinburgh with Pattern acquisition article are welcom