Edinburgh Building News 2022, Lothian Architecture Images, Architects, Property Design Scotland
Edinburgh Building News 2022: Architecture
post updated post updated 11 August 2022
Edinburgh Architecture News 2022 – Summer
10 Aug 2022
Belford Road Property Development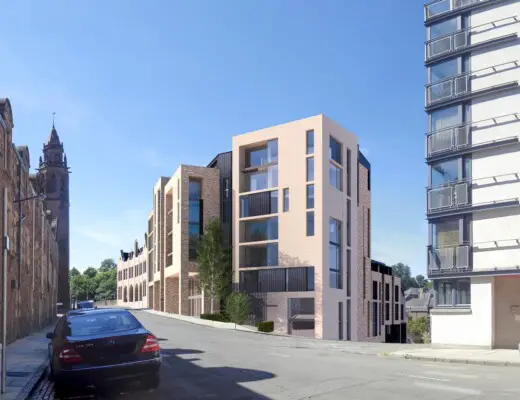 New building warranty specialists, J3 Advisory was instructed by AMA Homes to place the building warranty insurance on its £24million Belford Road scheme in Edinburgh. The policy from the specialist insurance and structured finance advisory firm will provide cover for any damage as a result of defective design, workmanship, or materials after practical completion.
AMA has been at the forefront of residential and commercial development in Edinburgh for over 35 years, having converted many iconic properties and created landmark buildings that have helped shape the city's architectural landscape.
This insurance will enable the developer to proceed with plans for the redevelopment of the site to 78,000 sq ft of residential space and 44 car parking spaces on-site and provide a 10-year cover.
Head of business development, Daisy Neall, was able to secure quotes from two additional A-rated insurers, adding to the terms AMA Homes received directly before engaging J3.
J3 Advisory managing director, Jack Bristow, said: "We're an ambitious business, and our aim is to advise experienced developers on the best way to insure and fund their pipeline of schemes. There is a very real gap in the market to deliver best-in-class advice on large-scale projects, coupled with full access to the building warranty provider market. That offering being led by Daisy, who has been on the frontline with developers for more than five years, is a truly powerful offering."
Murray Faughnan, architectural technologist for AMA Homes, added: "Having already made enquiries for the warranty on Belford, I was fairly certain our path was set. However, Daisy was confident that she could make a positive impact on our search for the right warranty provider, and she delivered on her promise with aplomb.'
Launched by ex-London Belgravia trio Jack Bristow, Johnny Leadsom, and James Mole, J3 has instructed on over 100 units and 14000m2 of residential schemes across Scotland since its launch in November 2021.
25 July 2022
RIAS Andrew Doolan Best Building 2022
The five extraordinary buildings competing to be Scotland's building of the year.
Shortlist for Scotland's Best Building Award:
RIAS Andrew Doolan Best Building
21 July 20222
Scottish Education Campus is Stirling Prize Shortlisted
The six buildings contending for the UK's most prestigious architecture award are revealed, including the Forth Valley College campus designed by Edinburgh's Reiach and Hall Architects:
Stirling Prize
18 July 2022
Salamander Yards Homes Planning Submission
A new residential development at Salamander Yards on behalf of Cruden Homes has moved forward.
A formal planning application by 7N Architects presents plans for 99 apartments alongside two ground-floor commercial units and a new public space bordering the Leith Links masterplan area.
The property development will replace a carpet retail shed and will meet the City of Edinburgh's requirement for more housing on brownfield sites. The project will deliver a mix of one, two and three-bed homes, with 35% of the units being affordable and 51 out of 99 having dual aspects.
The designs also anticipate CEC's 'Leith Connections' programme of streetscape improvements which will see a protected cycle route being created between Salamander Street and Lindsay Road. The industrial Ropeworks district is developing quickly as a residential area.
15 July 2022
Two Scottish winners for the UK's best new homes
The Royal Institute of British Architects (RIBA) has announced the longlist for the 2022 RIBA House of the Year. The shortlist and winner are to be revealed on Channel 4's Grand Designs: House of the Year.
– Ostro Passivhaus, Kippen, design by Paper Igloo
– The Den, Tighnabruaich, by Technique Architecture and Design in collaboration with Stallan-Brand
RIBA House of the Year 2022 Winners
10 July 2022
New application prepared for Edinburgh Filmhouse
An amended planning application for the £60 million Filmhouse project in Edinburgh's Festival Square is expected to be lodged next month.
9 July 2022
Open call: Scotland + Venice 2023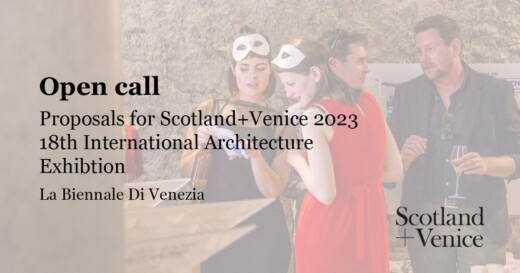 The Scotland + Venice partners are seeking proposals for a team to develop and deliver a major exhibition to represent Scotland at the 18th international architecture exhibition at La Biennale di Venezia in 2023.
Scotland + Venice is looking for projects which will make the strongest impact within this internationally significant context and explore how good architecture and the built environment can be more available to, and inclusive for, everyone creating places that are healthy, sustainable, and thriving.
Proposals should provide a strong and compelling response to the overall themes set out by curator Lesley Lokko under her title: The Laboratory of the Future.
More information on the project and how to submit are available at https://bit.ly/3yKbaAo
The submission deadline is noon 15 August 2022.
Scotland + Venice is a partnership which comprises, Creative Scotland, British Council Scotland, National Galleries Scotland, Architectures and Design Scotland, V&A Dundee and the Scottish Government.
8 July 2022
Stead's Place Building Construction News
Stead's Place Leith Walk Construction
8 July 2022
Red Sandstone Building on Leith Walk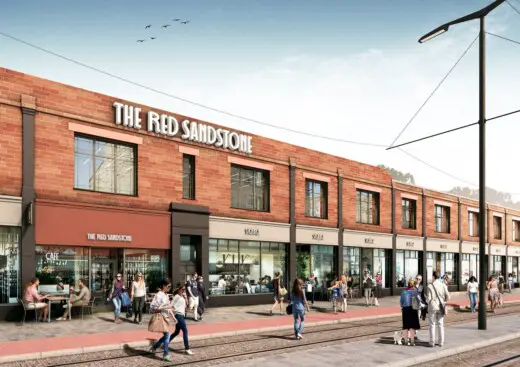 Drum Property Group is seeking occupants for high quality office space in the refurbished 1930s 'Red Sandstone' building which extends from 106 to 154 Leith Walk, Edinburgh:
Red Sandstone Building on Leith Walk
2 July 2022
Scottish Design Awards Winners News
Anderson Bell + Christie won the Architecture Grand Prix for Fielden Street, praised by judges for its attention to detail. The Design Grand Prix meanwhile was awarded to BRC Imagination Arts for the Johnnie Walker Visitor Centre, heralded as a 'celebration moment' on a street which has long needed some good news:
Scottish Design Awards 2022 winners
23 June 2022
RIBA Awards 2022 Winning Buildings and Architects
Scotland has three one of the 29 winners of the 2022 RIBA National Awards for architecture:
• Forth Valley College – Falkirk Campus by Reiach and Hall Architects (Scotland)
• High Sunderland by Loader Monteith (Scotland)
• Quarry Studios by Moxon Architects (Scotland)
14 June 2022
Virgin Hotels Edinburgh Opens


photo : Virgin Hotels Edinburgh
Nestled in the heart of Edinburgh's Old Town and a UNESCO World Heritage site at 1, India Buildings, Victoria St. Designed by Ica, the first Virgin Hotel outside the USA has recently opened in the oldest part of Scotland's capital:
Virgin Hotels Edinburgh Victoria Street
14 June 2022
Home Builders Welcome Increase In Housing Completions
Latest statistics showing a 26 per cent increase in the total number of new homes completed in the year to end September 2021 compared to the previous 12 months have been welcomed as a step in the right direction by sector body Homes for Scotland:
Scottish Architecture News
13 June 2022
Outlander Castle reopens to the public
One of Scotland's most iconic heritage attractions and star of hit TV series Outlander, Doune Castle, has reopened to the public.
Access restrictions were put in place temporarily at the castle last year as a precaution for essential high level masonry inspections, while Historic Environment Scotland (HES), who manage the attraction, conducted a full survey of the site.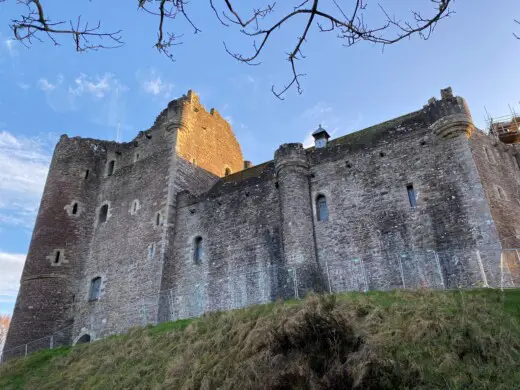 photo courtesy of Historic Environment Scotland (HES)
The iconic visitor attraction which features in Outlander as Castle Leoch, has been reopened with a special access corridor put in place, with visitors once again able to enjoy the interior of the castle, including the courtyard, basement, and many of the smaller chambers. Some minor access restrictions will however remain in place, for ongoing conservation work.
Visitors are also encouraged to explore the castle grounds, including the new pedestrian bridge over the Ardoch Burn, which was recently opened following a partnership between HES, VisitScotland, Stirling Council, and local community groups to connect the castle with other nearby natural and heritage visitor attractions such as the River Teith, Doune Ponds, the Mill of Doune and the village itself.
Stephen Duncan, Director of Marketing and Engagement at Historic Environment Scotland (HES) said;
"We are delighted to be able to reopen the interior of the castle once more after access restrictions were put in place for essential high masonry work.
"We know how keen visitors are to enjoy the castle, which is an iconic site and has featured in a wealth of productions, including most recently in Outlander.
"The castle and the surrounding village are a hugely popular destination, and we look forward to welcoming visitors back through the castle doors so they can enjoy this much-loved heritage attraction once again."
Tickets for Doune Castle are available to book from the History Awaits page on the HES website and advanced booking is recommended to guarantee entry.
9 June 2022
Hydro Ness
Hydro Ness Inverness Building
7 June 2022
Usher building topping out celebration
Construction of a world-class research and teaching facility at Edinburgh BioQuarter has reached its highest point:
Usher Building Edinburgh Bioquarter. We hope to feature completion photos soon on the Edinburgh Building News 2022 page.
6 June 2022
RIAS Award Winners
Eight exceptional buildings are unveiled as the winners of Scotland's national architecture awards:
RIAS Awards 2022 Winners
3 June 2022
Royal Scottish Academy Medal for Architecture Winners
Master of Architecture alumna Claire Milnes has won the RSA Medal in recognition of her outstanding Masters' social housing project in Kirkwall, Orkney:
Scott Sutherland School of Architecture News
Edinburgh Building News 2022 – Spring
26 May 2022
Collaboration Key To Delivering The New Homes Scotland Needs
The importance of ongoing collaboration between Scotland's home building sector and the Scottish Government was the focus of attention at the Homes for Scotland (HFS) Annual Lunch & Awards last Friday (20 May).
23 May 2022
Homes For Scotland 2022 Awards Winners
The event, which was attended by some 1,000 senior industry representatives and their guests, saw Cruden Homes take the award in the large home builder category, with Whiteburn Projects being celebrated as top SME and CCG (Scotland) crowned Home Builder of the Year (Affordable Housing Provider):
Homes For Scotland 2022 Awards Winners
20 May 2022
The Great Tapestry of Scotland Visitor Centre
The Great Tapestry of Scotland Visitor Centre Galashiels
The Great Tapestry of Scotland Gallery building design by Page \ Park architects is in Galashiels at the heart of the Scottish Borders. This new building was designed to house a unique visual history of the nation crafted by the hands of a thousand stitchers.
18 May 2022
Health and Wellbeing Centre, Bristo Square
For the first time, the University of Edinburgh's new Health and Wellbeing Centre brings together the institution's previously disconnected Counselling and Disability services, Pharmacy and Health Centre, in a now fully accessible facility. Dedicated to the prevention and treatment of mental and physical health issues, both clinically and holistically, the Centre has become a beacon for the promotion student and staff well-being:
University of Edinburgh Health and Wellbeing Centre by Page\Park Architects
17 May 2022
Holmes Miller Promotions
Holmes Miller has strengthened its senior team as it continues to grow with the promotion of seven staff across its Glasgow and London offices. Matt Heaney has been promoted to Project Director in recognition of his contribution to the growth of the residential sector with a particular focus on Later Living opportunities across the UK and Ireland:
Holmes Miller Glasgow Architects
16 May 2022
Homes For Scotland Announces New Chief Executive
Critical time as £3.4bn home building sector faces significant change and challenge.
Sector body Homes for Scotland (HFS) has announced Jane Wood as its new Chief Executive with effect from Wednesday 1 June.
Jane joins HFS from BT where she was Group UK Nations and Regions Director and a member of the BT Scotland Board, responsible for managing relationships with public bodies, politicians and other key stakeholders on strategic business areas including climate change, skills, SMEs, infrastructure and public policy affairs.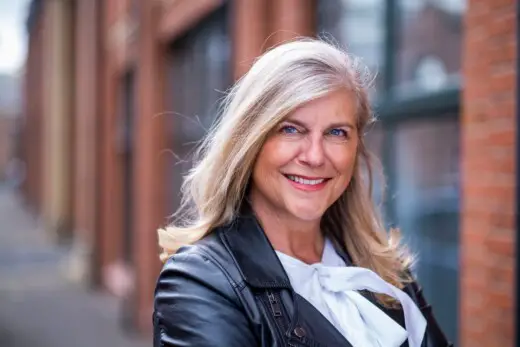 photograph : Chris Watt – www.chriswatt.com
In the 12 years prior to this, Jane was CEO in Scotland and then UK Executive Director for the membership organisation Business in the Community, which helps members improve their responsible business practices.
Having also been Head of Corporate Affairs for Scotland and Northern Ireland for the Walgreens Boots Alliance, Jane has championed inclusive growth and worked to create policies and business relationships which deliver both economic and sustainable outcomes throughout her career. She has extensive experience working across complex regulatory issues and within central, devolved and local governments.
HFS Chair Ken Gillespie said:
"I am delighted Jane has agreed to join us as Chief Executive. Jane's track record as an established and experienced leader will drive forward our solutions-focused, evidence-based approach to realising our strategic aim of delivering more homes across Scotland.
"With a shortfall in housing completions now approaching 100,000 homes since 2008, we still aren't building enough to meet the needs of our population and we must prioritise practical solutions to the barriers that are preventing this."
In a seamless transition, Jane succeeds Nicola Barclay (who is stepping down after six years in the role) as Chief Executive. She joins HFS at a critical time for the home building sector, which contributes over £3bn annually to the Scottish economy. As well as ongoing planning reform and changes to building standards as part of the transition to net zero, builders are also having to contend with significant material constraints and labour shortages – with the considerable cost pressures that result.

photo : Chris Watt – www.chriswatt.com
Jane said:
"It will be a privilege to lead a highly respected organisation representing such a key sector in Scotland. Not only does the housing sector have a crucial economic role to play, it also brings vital broader benefits to Scotland's social wellbeing, such as improved health and education outcomes, through the delivery of high quality and sustainable homes for all.
"I am looking forward to working with the team and members to address the many challenges and changes facing those who deliver the new homes of all tenures that the people of Scotland need."
12 May 2022
Sales & Marketing Suite Launched at Rowanbank Gardens, Corstorphine, Edinburgh
Savvy home buyers can now see for themselves the progress being made on one of Scotland's most anticipated new residential developments following the launch of the on-site sales and marketing suite at Artisan Real Estate's Rowanbank Gardens, in Corstorphine, Edinburgh:
Rowanbank Gardens Edinburgh Housing
12 May 2022
Cumbernauld Town Centre Views Welcomed
HES is seeking views from the public on whether or not they think the building is of special architectural or historic interest, as well as any further information which will enhance understanding of the building's significance, as part of the wider process:
Cumbernauld Town Centre public consultation
10 May 2022
BAM appointed to St James Quarter's W Edinburgh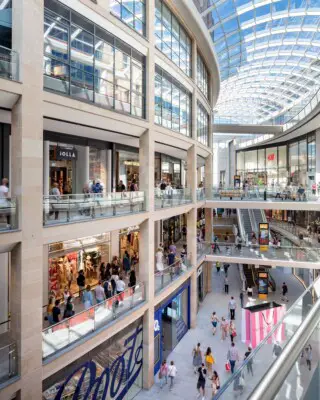 Nuveen Real Estate has appointed BAM Construction Scotland to deliver the interiors of W Edinburgh – the centrepiece of St James Quarter, the £1bn retail-led lifestyle district in Edinburgh. BAM will be the contractor fitting the 244 stylish guest rooms and public areas across the three buildings that make up the hotel:
W Edinburgh Hotel at St James Quarter
10 May 2022
Finalists prepare for the Scottish Design Awards 2022
A hectic 48-hour judging programme has drawn to a close, a process which has delivered the final shortlist for the Scottish Design Awards 2022, from which all this year's winners will be named:
Scottish Design Awards 2022
10 May 2022
The Den, Tighnabruaich
Jamie Ross, Founder of Technique Architecture and Design was the project architect, and the project was undertaken in collaboration with Paul Stallan and Stallan-Brand Architects.
6 May 2022
Scott Sutherland School of Architecture Exhibition
Scott Sutherland School of Architecture Exhibition 2022
2 May 2022
HES sets out vision for heritage-led green recovery
Historic Environment Scotland (HES) has set out its vision for how heritage can be the keystone of Scotland's green recovery with publication of its Green Recovery Statement for the historic environment:
Historic Environment Scotland Green Recovery Statement
27 Apr 2022
Built Environment – Smarter Transformation: new direction for innovation centre
Built Environment – Smarter Transformation, formerly Construction Scotland Innovation Centre, has announced a new strategic focus prioritising the built environment's transition to zero carbon and improving the sector's contribution to the fight against climate change:
Built Environment – Smarter Transformation News
13 Apr 2022
Clyde Gateway Community Park News
Work starts on transforming a site in Glasgow's East End into a community park after a £1m investment from Clyde Gateway, Scotland's most ambitious regeneration project – see our Glasgow Architecture news page for more.
12 April 2022
Homes for Scotland responds to Scottish Conservative announcement on boosting home building levels to 25,000 a year
Responding to Douglas Ross' announcement that the Scottish Conservatives would increase home building targets to 25,000 new properties each year, Nicola Barclay, Chief Executive of sector body Homes for Scotland, said:
"It is encouraging to see the main opposition parties aligning behind our call to build more homes of all tenures to meet the needs and aspirations of all those living in Scotland. With a shortfall of close to 100,000 homes built since the last recession, building more is the only way to solve Scotland's housing crisis and benefit from the multiple social and economic benefits that this would bring.
"Delivering more homes on the ground requires real political commitment at a local level and we hope this will be evident following the council elections."
11 April 2022
£4 million to restore glasshouses at Royal Botanic Garden Edinburgh
The two A-Listed Victorian Palm Houses and a modernist range of 1960s glasshouses at the heart of the Royal Botanic Garden in Edinburgh are to be restored thanks to a £4 million grant from the National Lottery Heritage Fund. The grant will fund the re-display of their rare and endangered historic plant collections, create engaging new interpretation and deliver innovative new activities for visitors:
Royal Botanic Garden Edinburgh Glasshouses Restoration
9 Apr 2022
Double Award Accolade For Aitken Turnbull Designed Railway Building Restoration Project
A community trust restoration and refurbishment project that breathed fresh life into a Borders railway station building, is celebrating two key award wins – a Scottish Borders Design Award and a national Network Rail Community Award. The design of the project was created and developed by Galashiels-based Aitken Turnbull Architects.
The project resulted from an intensive local campaign and tireless effort by Stow Community Trust to acquire the lease of the Stow Station House. The building had been earmarked for demolition, as part of the reinstatement of the Waverley Line, however the vision and commitment of Stow Community Trust has seen it saved and redeveloped. The Community Trust had campaigned for years to secure it and raise funds to refurbish it.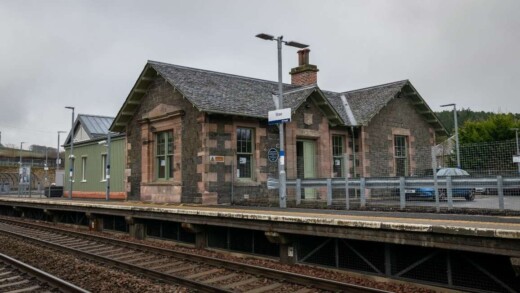 This tenacity has now paid off with the Stow Community Trust having picked up two accolades – The Scottish Borders Design Award for Works to an Existing Building, and The Network Rail Community Building Award from the Railway Heritage Awards, where a plaque has now been unveiled and prominently displayed in Stow Station House, highlighting Stow Community Trust for 'the restoration, refurbishment or other improvement of a station of building either by a community group, or for a community use which connects communities and promotes social inclusion'.
Having secured the building, the Trust's plan is to now create a community bistro, bar/meeting space and cycle hub/workshop providing a superb new facility and employment for the local community.
Aitken Turnbull Architects were appointed initially to conceptualise and develop the design and then head up the design team to realise the project.
Ben Glennon, lead Architect on the project reveals that a key aspect of the brief stipulated by the trust was to retain and enhance the character of the existing building whilst maintaining the 'heritage' element of the structure and blend this with the new extension that would complement this and would house main bistro space.
He comments.,
"The new extension has an exposed structure internally which acknowledges the bygone era of industrial railway building architecture but blends seamlessly with openness, vibrancy, and innovation. The modern design enhances the overall appeal of the building.
The project is a fantastic example of an ability to create a high quality and aesthetically pleasing design on a prominent trackside site and one that retains the history and heritage of the Waverley Line for the benefit of the community for future generations."
Grace Murray from Stow Community Trust commented.,
"Throughout the development of Stow Station House that resulted in an award-winning development, Stow Community Trust worked closely with colleagues from Aitken Turnbull. The team was responsive and helpful throughout, and we are delighted with the result."
Aitken Turnbull is also pleased to recognise the efforts of Stow Community Trust, Quantity Surveyors – Thomson Gray, Civil & Structural Engineers – Will Rudd Davidson, local business services company – Waverley M&E and Contractor James Swinton and Sons who all helped deliver the successful outcome of both awards.
6 Apr 2022
Kepdarroch Farmhouse
Drawing reference from the scattered groups of barns, cottages and steadings found throughout the surrounding countryside, this new Scottish house is arranged as a cluster of forms. Gathered casually together, they create a functional courtyard, which claims a clear and defined arrival space within the otherwise open landscape:
Kepdarroch Farmhouse Stirlingshire
4 Apr 2022
Laidlaw Music Centre Building News
Designed by award-winning architects Flanagan Lawrence, the £12.5m Laidlaw Music Centre, open to staff, students and the local community, will become an integral part of the St Andrews cultural quarter, attracting world-class performers and recitalists from around the globe:
Laidlaw Music Centre University of St Andrews
1 Apr 2022
New Holmes Miller Equity Director
Ryan Holmes' promotion to Equity Director follows a 20-year journey at the company, where he has championed new sustainability practices and the early adoption of digital technology.
31 Mar 2022
Residents and artists breathe new life into Edinburgh's historic closes
Pirrie's Close: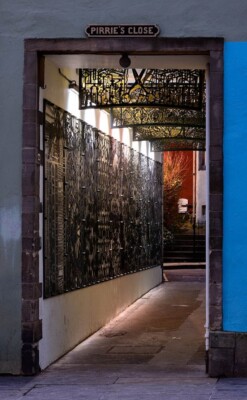 photo © Tom Duffin
Edinburgh World Heritage completes the first batch of its Twelve Closes Project:
Edinburgh World Heritage Twelve Closes Project
31 Mar 2022
Rowanbank Gardens Nominated for National Climate Crisis Award


Artisan Real Estate's wholesale commitment to sustainable residential development across the UK has been recognised with its Edinburgh-based Rowanbank Gardens development being nominated for a prestigious national accolade geared to tackling climate crisis:
Rowanbank Gardens Edinburgh Housing
31 Mar 2022
Key Planning Document Risks Making Housing Crisis Worse
Home building body Homes for Scotland (HFS) has said that a key Scottish Government document outlining the approach to planning and development to 2045 risks making the country's housing deficit even worse.
In its submission to the consultation on National Planning Framework 4 (NPF4), HFS highlighted that the document, as drafted, "will likely reduce the number of homes delivered, thereby exacerbating the housing crisis":
see Glasgow Building News 2022
30 March 2022
Will Rudd Davidson appointed for homes projects in Edinburgh


The City of Edinburgh Council has appointed Will Rudd Davidson as consultant civil and structural engineers to oversee two housing projects in the capital and a survey of the condition of high rise homes in the city:
Will Rudd Davidson Edinburgh Homes
30 March 2022
Fairways Homes at St Andrews Old Course
Fresh plans by Edinburgh's Sutherland Hussey Harris architects to build luxury homes overlooking the Old Course have been revealed, just months after a previous proposal was rejected:
Fairways Homes at St Andrews Old Course
29 Mar 2022
Concern Over Drops In Affordable Housing Delivery As Scotland Faces 100,000 Homes Shortfall
Trade body Homes for Scotland (HFS) has expressed its concern at latest Scottish Government housing statistics which show marked drops in housing association completions and approvals – see the e-architect Scottish Architecure News page.
28 Mar 2022
Rosslyn Chapel Papers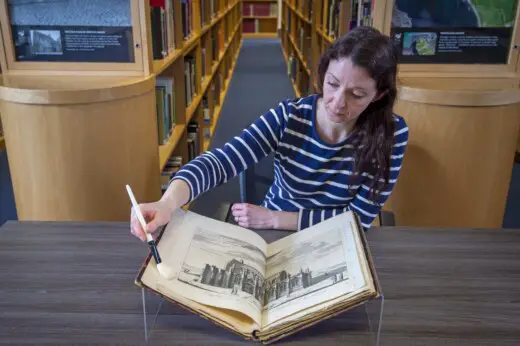 photo © Neil Hanna
A newly acquired collection relating to Rosslyn Chapel helps to shed light on the remarkable architecture and restoration of one of Scotland's most outstanding buildings:
Rosslyn Chapel
23 Mar 2022
Homes For Scotland 2022 Awards Shortlist
Home building body Homes for Scotland announces the shortlist for its 2022 awards programme as it plans for a return to the largest annual gathering of its kind where winners will be announced:
Homes For Scotland 2022 Awards Shortlist
22 March 2022
Neil Gillespie – Royal Society of Edinburgh Fellow
The Royal Society of Edinburgh (RSE), Scotland's National Academy has announced its 2022 intake of Fellows, with 80 names from the arts, business, public service and civil society as well as academia from Scotland and beyond – report Reiach and Hall Architects. They will be joining the RSE's current Fellowship of around 1,700 Fellows, who are recognised as being some of the greatest thinkers, researchers and practitioners working in or with Scotland today.
Professor Neil Gillespie OBE RSA, director at Reiach and Hall Architects, has been named as a Fellow of the RSE, joining the company of such remarkable people. This year's cohort represents the diversity of expertise within Scotland and the UK, with academics, leaders from business, Scotland's tech sector, the legal sector and arts and culture industries being inducted to the Fellowship. Congratulations Neil!
22 March 2022
HFM's agenda-setting Replanet initiatives attracts proven expert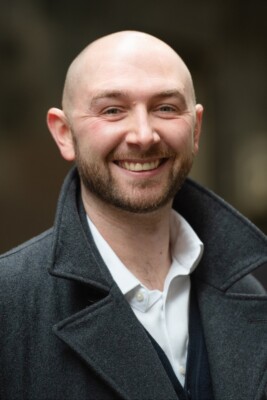 photo © Julie Broadfoot
A Progressive firm of architects has appointed a renowned sustainability specialist as part of its drive to help commercial clients adapt to stringent new environmental standards:
Halliday Fraser Munro Replanet News
The Burrell Collection Restoration AHSS lecture
Thursday 24 March
AHSS Strathclyde
Venue: Online & in person at the Renfield Centre, 260 Bath Street, Glasgow G2 4JP
The Impact of Enslavement on Scotland's Built Environment AHSS lecture
Monday 11 April
Venue: Online & in person at Augustine United Church, George IV Bridge, Edinburgh EH1 1EL
See the Edinburgh Architecture Events page for details
15 Mar 2022
New funding enables expansion of green construction skills initiative
Fully funded training for up to 500 Scottish construction professionals provided by CSIC
Construction Scotland Innovation Centre (CSIC) is to expand its successful Low Carbon Learning programme with the launch of a second free-to-attend programme focused on the fabric and structure of sustainable buildings.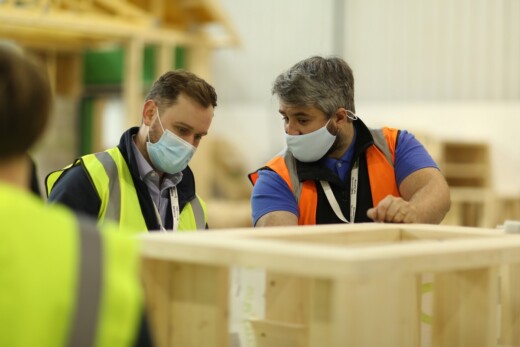 Supported by Skills Development Scotland, through more than £175,000 from the National Transition Training Fund, CSIC is offering valuable training for people in the construction sector looking to upskill and reskill, supporting a Scotland-wide transition towards a zero-carbon built environment.
Up to 500 places are available for Low Carbon Learning: Fabric and Structure, which launches with an online webinar on 29th March and will run until July. The course covers four core areas critical to the future of the sector.
A fabric-first module will focus on design decisions that can help to reduce energy consumption, while a carbon accounting module will highlight the need for environmental data to be calculated for each project. The role of sustainable insulation materials, including homegrown alternatives, and mass timber solutions will also form a core part of the course.
Training includes both online learning and live demonstrations at CSIC's Innovation Factory in Hamilton – home to the UK's only commercial-scale vacuum press for manufacturing cross-laminated and glue-laminated timber components, and a Pilot Insulation Line for trialling new insulation materials.
The launch of the programme follows the success of the first tranche of Low Carbon Learning which was Scotland's first publicly funded training programme in Passivhaus and EnerPHit, the globally recognised approaches for the design, construction and retrofit of highly energy-efficient buildings.
Caitriona Jordan, head of retrofit programmes at CSIC, said: "Reskilling and upskilling will be a core element of the construction sector's transition to zero carbon, and we want to help provide the knowledge and experience workers need to help deliver the wide range of new projects and energy-efficient retrofits required.
"This new course focuses on the fabric and structure of buildings, including important training on carbon accounting that, although complex, is only going to become more relevant, as well as highlighting alternative homegrown construction materials. Increased green skills across the sector will help to ensure we have a future-proofed workforce that is well-equipped to reduce the carbon footprint of our built environment."
Elaine Ellis, Skills Planning Manager – Construction at Skills Development Scotland, said: "The construction sector will play a critical role as we transition to become a net-zero economy. This programme will provide practical tools and knowledge to help the construction sector to upskill and adapt their practices to meet the needs of net-zero. We look forward to working with CSIC as this programme is developed and delivered."
For more information and to join the launch event, please visit: https://www.cs-ic.org/innovationcentre/future-skills/low-carbon-learning/fabric-and-structure/
About Construction Scotland Innovation Centre
CSIC is Scotland's national innovation centre for the built environment and one of Scotland's seven innovation centres supported by Scottish Government, Scottish Funding Council and Scotland's Enterprise Agencies. CSIC's mission is to accelerate the built environment's transition to zero carbon, and does this through a range of innovation, R&D, knowledge exchange and service design initiatives.
Collaboration partners gain access to CSIC's innovation ecosystem as well as a range of flexible tools and support services including an extensive network of academic experts and the Innovation Factory; the UK's first dedicated digital manufacturing, prototyping and future skills centre of excellence. CSIC delivers impact across four interlinked programme areas; Digital Transformation, Modern Methods of Construction, Sustainability and Retrofit, and is supercharging change that will help achieve its vision of a better built environment that delivers inclusive and sustainable economic, social and environmental impact for Scotland and the planet.
9 Mar 2022
RIAS Awards Winners
The shortlisted buildings for the 2022 RIAS Awards are spread widely across the country and include new school and college buildings in Cumnock, Falkirk and Jedburgh, the restoration of an iconic Modernist house in Galashields, a community centre in Fife and pioneering low energy homes:
9 Mar 2022
Updated Plans For Luxury The Angus Resort Given Go-ahead
New designs by 3DReid Architects, Edinburgh, approved for £100m golf resort, hotel and spa which will create hundreds of jobs for Angus and Dundee.
Construction on a £100m world-class golf resort, hotel and spa in the Angus countryside will get underway this summer after councillors approved an updated masterplan for the once-in-a-generation luxury destination.
Edinburgh Building News 2022 – Winter
15 Feb 2022
Scotland starts the year as most searched for new home location
• Whathouse.com analysis of buyer searches in January 2022 reveals Scotland started the year as Britain's fastest climbing new home search location, jumping by 42% across all property types and tenures.
• Searches surged six-fold in the retirement category as 50+ home hunters actioned pent up plans to change lifestyle or move to be nearer children or grandchildren.
• Across Scotland first time buyer search for Help to Buy properties doubled in the first month of 2022.
New data from whathouse.com, a UK-based new home audience platform, can reveal that January was the busiest month on record for Scottish new home hunter activity, as first time buyers, forever home hunters and 50+ prospective buyers start 2022 with a strong desire to improve lifestyle, increase available space and lower energy consumption and running costs.
Daniel Hill, Managing Director, whathouse.com comments:
"2021 was an incomparable year for Scottish house builders in every sense, with the impact of COVID-19, shortage of materials and labour and unprecedented demand for new homes from buyers. It is usual for new home hunter activity to ramp up across Scotland in the first month of the year as people turn their attention to actioning plans. The start of 2022 has, however, been exceptional.
We've recorded record breaking levels of new home buyer interest across all regions of Scotland signalling that a new group of prospective buyers are considering a move to a new build property. This group is primarily made up of first-time buyers interested in taking advantage of the Help to Buy scheme, and 50+ buyers considering a move to a new retirement property. This group may have held back during the uncertainty of the pandemic but are now resolved to consider a move to a new build property, rather than second-hand, to improve lifestyle, increase available space and lower energy consumption and running costs.
The six-fold surge in retirement searches from 50+ home hunters leaves us in no doubt that retirees across Scotland are now ready to action pent up plans – contemplated during the coronavirus pandemic – to change lifestyle or move to be nearer children or grandchildren."
The WhatHouse? New Homes Index is based on data sourced from the whathouse.com new homes audience platform. The Index is compiled using a sample representing approx. 400,000 new home buyer searches across England, Scotland and Wales per year and its findings are reflective of whathouse.com user experiences and geographic market share.
10 Feb 2022
Urban Union Renew Historic Building
Urban Union has opened a new free to use community space featuring a gallery and exhibition area at 166 Gorbals Street, a Glasgow landmark and one of the last remaining historic buildings in the Gorbals. Read the news in full on the Glasgow Architecture news page.
1 Feb 2022
Scottish Design Awards
The Scottish Design Awards have been showcasing boundary shaping work, industry best practice and sustainability in all forms for a quarter of a century. Now on the cusp of a new era, we will be celebrating a new generation of design professionals who've gone above and beyond in delivering their briefs.
1 Feb 2022
Too Many In Housing Need Not Being Counted
Too many people in housing need in Scotland are not being counted, MSPs have been told (today).
Giving evidence to the Scottish Parliament's Local Government, Housing & Planning Committee as it scrutinises the draft National Planning Framework 4 (NPF4), Nicola Barclay, Chief Executive of trade body Homes for Scotland, said:
"The national dataset on housing need takes a very limited view of what constitutes housing need, with only two very acute forms actually counted: homeless households in temporary accommodation and overcrowded households that include at least one concealed family.
"But there are many groups that are not included. For example, overcrowded households, say a family with two children, a boy and a girl, but only two bedrooms; they are not counted. Neither are single person households such as adults living together in a shared flat or a single adult returning to live with their parents.
"So there is a huge sector of the population that is being overlooked, they are not in the houses they want to be and are unable to live their lives to the full, starting relationships, having families etc because we are not counting them in the first place."
Whilst draft NPF4 refers to the climate emergency and nature crisis, Barclay highlighted that the document completely disregarded the housing crisis, which she described as being of equal importance and "the third leg of the stool". She concluded:
"The way NPF4 is drafted at the moment, housing will not be delivered to the people that need it and that is a fundamental concern."
25 Jan 2022
Glasgow School of Art Fire Inquiry
Fire investigators have failed to find a cause for the fire that destroyed Glasgow School of Art's world-renowned Mackintosh building in 2018.
24 Jan 2022
University of Glasgow ARC: Advanced Research Centre
The University of Glasgow welcomes the first researchers into its pioneering flagship research facility, the ARC (Advanced Research Centre). The £116 m, 16,000 sqm building will house a collaborative community of academics from across a range of disciplines and will be fully operational from Spring this year:
University of Glasgow ARC: Advanced Research Centre
Comments for this Edinburgh Building News 2022 page are welcome.
Happy New Year to all our readers!
Isabelle and Adrian at e-architect wish you a Happy New Year.
Royal Scottish Academy Annual Exhibition
RSA Annual Exhibition
Edinburgh Architecture News 2021 – selection below:
Edinburgh City Plan: Capital Homes Shortage
Edinburgh City Plan
First Glimpse of Rowanbank Gardens in Corstorphine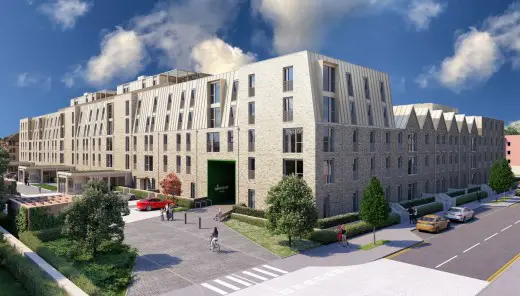 Rowanbank Gardens Edinburgh Housing
West Town Vision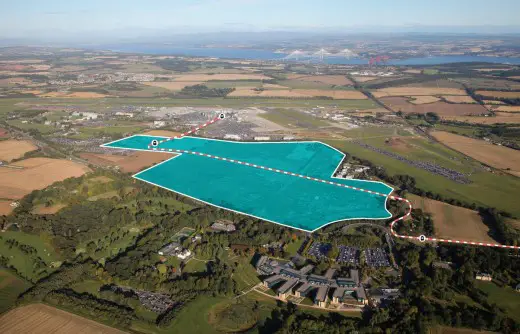 image courtesy of architects practice
West Town Edinburgh Property Vision
Cammo Meadows by CALA Homes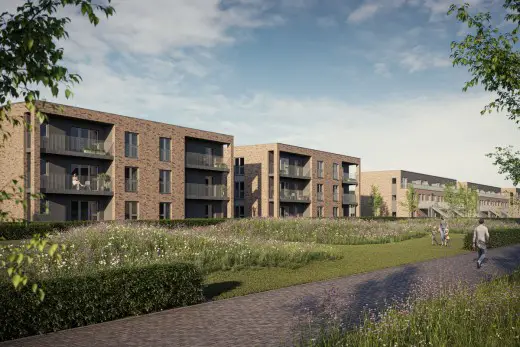 Cammo Meadows by CALA Homes News
More Edinburgh Building News 2022 online soon
Edinburgh Architecture News Archive
Edinburgh Building News archive links below:
Edinburgh Building News 2020
Edinburgh Architecture News Jul – Dec 2017
Edinburgh Architecture News Apr-Jun 2017
Edinburgh Architecture News Jan-Mar 2017
Edinburgh News – Archive for July to October
Edinburgh Architecture News Mid 2016 – Archive for May to June
Edinburgh Architecture News Early 2016 – Archive for the early part of the year
Edinburgh Architecture News 2015 – Archive
Comments for the Edinburgh Building News 2022 page welcome