Edinburgh Architecture News 2018, Lothian Buildings, Architects, Images, Design Scotland
Edinburgh Building News 2018
Scottish Architectural + Construction Updates – East of Scotland Property Design Information
2018
Edinburgh Architecture News
16 Dec + 2 Nov 2018
The Fruitmarket Gallery Redevelopment
The Fruitmarket Gallery, Edinburgh has appointed Reiach and Hall Architects to lead the refurbishment of its existing gallery building and the opening-up of the neighbouring warehouse building. The project will breathe new life into The Fruitmarket Gallery, and bring the adjacent building into active cultural use.
The Fruitmarket Gallery Redevelopment
14 Dec 2018
Edinburgh Architectural Association Awards News
CALLS FOR ENTRY ARE NOW OPEN FOR THE PRESTIGIOUS ANNUAL EAA AWARDS FOR ARCHITECTURE
The awards showcase and celebrate the very best architecture in the chapter area and beyond, which enhances the built environment and people's lives, regardless of size, form or budget.
The awards are also open to chartered architects working in other areas of the UK, who have completed projects within the chapter area.
Short-listed entries will be displayed, and the winners announced and presented with their awards at a special reception at St Cecilia's Hall in May 2019 (winner of the 2018 Regeneration & Conservation Award).
An exhibition of all short-listed entries will be held in the RIAS Joyce Deans Room at 15 Rutland Square in the run up to the awards event.
2018 EAA Building of the Year Winner – New Boroughmuir High School by Allan Murray Architects
Entries for the following award categories are invited:
*Large Project
*Small Project
*Regeneration & Conservation
*Wood Award
EAA Ambassador
*All entries built within the chapter area are eligible for the
highest accolade of Building Of The Year.
Closing date for entries is 16:00 Tuesday 29th January 2019
'Edinburgh Architectural Association' (known as EAA) is a Scottish Charity SC001369 regulated by the Scottish Charity Regulator (OSCR)
12 Dec 2018
RIAS / RIBA Awards for Scotland 2019
Entries invited for the RIAS / RIBA Awards for Scotland 2019.
The deadline for entries is 21 February 2019:
RIAS / RIBA Awards for Scotland 2019
11 Dec 2018
Seize huge housing opportunities builders urge Scottish Government
As the level of housing completions continues to head in the right direction according to statistics published today, the country's home building industry urged the Scottish Government to build on this positive news to enable it to deliver more of the homes Scotland's growing population needs.
11 Dec 2018
Amendments to business rates policy at the forefront of SPF calls ahead of Scottish Budget
The Scottish Property Federation (SPF) has set out the key policy areas it wishes to be addressed in Wednesday's Scottish Budget in a letter to Finance Secretary Derek Mackay MSP.
Citing a recent report from the Fraser of Allander Institute which highlighted that for every £100m of demand for commercial development an additional £73m is produced for the economy, the letter details nine key actions that the Scottish Government could take to support the growth of Scotland's real estate sector.
The nine policy positions outlined by the SPF are:
1. Outline how the Large Business Supplement may be reduced to at least English levels or removed altogether
2. Do not introduce an out of town business rates supplement on ratepayers
3. Ensure the Scottish National Investment Bank is supported through appointing the best possible staff and ensure it has the resources to make an early, positive, impact on leveraging in investment to drive economic growth
4. Continue to invest in infrastructure to support economic development
5. Reduce the burdens currently added to the planning services applied at Stage 2 of the Planning Bill
6. Examine the case for a replacement of business premises renovation allowance in order to bring disused buildings back into economic use
7. Lobby the UK Government for a reduction of VAT on repairs and maintenance in order to encourage repair, maintenance and investment in older buildings
8. Provide more time for vacant listed buildings to be turned around before the impact of empty property rates kicks in
9. Increase the threshold of LBTT on residential property transactions so that the 10% rate does not apply until £500,000.
27 Nov 2018
Ross Pavilion International Design Competition winning concept design shortlisted at the World Architecture Festival
Re-imagining of Edinburgh's West Princes Street Gardens is on the 'Culture – Future Project' shortlist at the World Architecture Festival in Amsterdam:
26 Nov 2018
George Street Edinburgh Vision
Proposals, developed by LDA Design and WYG on behalf of the Council and sustainable not-for-profit Sustrans, to improve accessibility, prioritising active travel and creating a place to belong:
George Street Edinburgh Vision News
26 Nov 2018
New Glasgow School of Art Director
The Board of The Glasgow School of Art appoints Professor Irene McAra-McWilliam as Director of the GSA.
Education Buildings Scotland
21 – 22 Nov 2018
EICC, The Exchange, 150 Morrison Street
Howard Liddell Memorial Lecture; Eco Max 4
22 Nov 18:00 – 20:30
Lecture Theatre, G.03, University of Edinburgh, 50 George Square
More details on the Edinburgh Architecture Events page
6 Nov 2018
Nucleus Archive Facility Scoops UK's Richest Architecture Prize at V&A Dundee Award Ceremony
Nucleus, The Nuclear Decommissioning Authority and Caithness Archive, Wick by Edinburgh architecture office Reiach and Hall Architects wins the RIAS Andrew Doolan Best Building in Scotland Award for 2018.
7 Nov 2018
Home builders announce Social Bite charity partnership
7th of November 2018 – Industry body Homes for Scotland (HFS) has announced its support of the work undertaken to end homelessness throughout the country through a new charity partnership with social enterprise Social Bite.
2 Nov 2018
Royal Botanic Garden Edinburgh
The Royal Botanic Garden Edinburgh is to commence a major transformation of its glasshouses in order to improve its visitor experience, research and education.
ARB Code of Conduct & Risk Management for Architects, Edinburgh
Wednesday 31st Oct at 18:00
Suitable for both professionals and students, this event covers issues and disputes within the context of real-life experience.
Speakers – Simon Howard, Head of Professional Standards – ARB and Charles McGregor, Partner – Clyde & Co
Expert Witness Training Day, Edinburgh
Wednesday 31 October 2018 12.00pm – 4.30pm
Venue: RIAS, 15 Rutland Square, Edinburgh, EH1 2BE
30 Oct 2018
Homes for Scotland budget response
With the Chancellor announcing an additional £500m for the Housing Infrastructure Fund to help unlock up to 650,000 homes in England, Chief Executive of industry body Homes for Scotland Nicola Barclay called for a level playing field north of the border.
Read more on the Glasgow Architecture news page.
EAA Awards: A Showcase of the Best, Edinburgh
Wednesday 7th Nov at 17:30
Architects and clients from five different projects talk about their 2018 award winning projects. This packed evening will include short presentations on each project followed by some drinks and a chance to socialise with speakers and fellow attendees.
Speakers – See event page for full details
25 Oct 2018
Premature Land Value Capture amendment to Planning Bill unlikely to swell Council funds
Today the Local Government & Communities Committee approved an opposition amendment to include a 'Land Value Capture' measure in the Planning (Scotland) Bill. Responding to the vote, Homes for Scotland Director of Planning Tammy Swift-Adams said:
"Land Value Capture is a topical subject with broad political support but, unfortunately, this amendment is a premature and poorly thought through way of trying to achieve it.
"Whilst it has been clear since Stage 1 of the Bill that the opposition parties were keen to use the Planning Bill to get the words 'land value capture' into legislation, it is disappointing they've done it in a way which seeks to disadvantage one set of landowners over others – as the proposed approach will only affect people whose land will, at some stage in the future, be designated by a council as a 'Masterplan Consent Area'.
"It is also somewhat misleading since the compensation landowners get when land is compulsorily purchased is usually much lower than the full market value they'd have got from developing it or securing planning permission themselves. So the additional cash being anticipated for affordable housing etc isn't likely to add up to as much as supporters might be hoping. In fact, the amendment could mean some people getting more compensation than would otherwise have been the case.
More info on the Glasgow Architecture news page.
24 Oct 2018
Royal High School Proposal
Duddingston House Properties and Urbanist Hotels, co-developers behind a hotel vision for Edinburgh's Old Royal High School, have reaffirmed their commitment to press ahead with the project following a public inquiry.
Over the past month the Scottish government has been considering evidence in the developer's vision to bring a 'world class' Rosewood Hotel to the city, despite the Hoskins Architects design being thrown out by the city council last year.
23 Oct 2018
The Bayes Centre
The Bayes Centre Building is a pivotal piece of the University of Edinburgh's estate set to transform Edinburgh city centre into one of UK's most dynamic places for tech, attracting the highest calibre of international experts in data science and artificial intelligence.
22 Oct 2018
UoE School of Engineering on King's Buildings Campus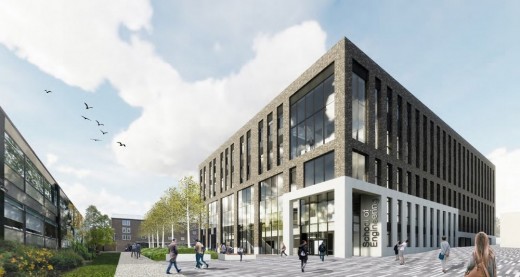 images courtesy of architects
The University of Edinburgh has partnered with architects BDP to create a new School of Engineering within the King's Building campus, report urban realm.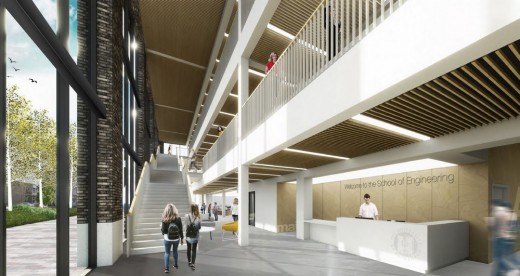 Offering 6,500sqm of floor space the five-storey build is the first element of a five-phase masterplan for the site which will see the entire school relocate to the site by 2025.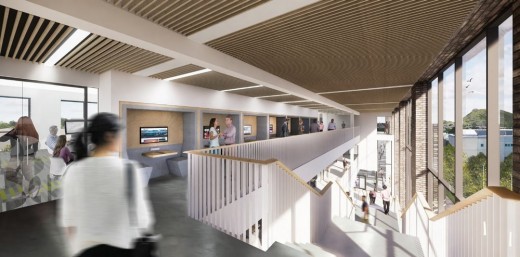 Phase one construction works are expected to begin by the third quarter of 2019, adhering to an original masterplan first conceived by Page/Park Architects and subsequently revised by Bennetts Associates.
22 Oct 2018
City Observatory Building News



photo : Jonathon Fowler
Edinburgh's City Observatory on Calton Hill is to begin a new life as a spectacular arts venue.
19 Oct 2018
Gleneagles owners to open luxury hotel in Edinburgh
Ennismore, owner of the famous Perthshire estate and golf resort, will take over two empty premises at St Andrew Square with the 33-bedroom Gleneagles Hotel, report the Edinburgh Evening News.
The hotel will be located in the former Bank of Scotland premises next to Dundas House, which closed in 2016.
A bronze-coloured rear extension called the garden pavilion will be constructed as well as a new rooftop terrace for members, subject to approval from the City of Edinburgh Council.
The developers have also applied for permission to build a full-width, recessed roof extension with an external terrace on the front section of the building – which will sit behind the building's prominent statues: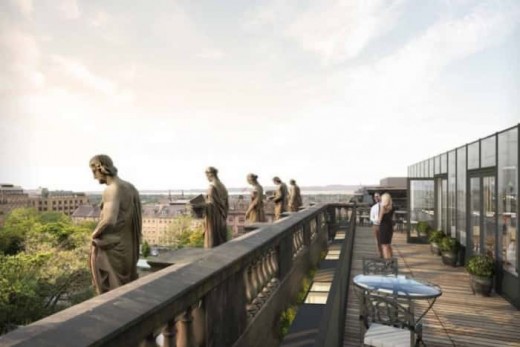 Read more at:
Gleneagles luxury hotel in Edinburgh
7 Oct 2018
Robin Webster OBE FRIAS RIBA Elected RIAS President
Robin Webster has been elected the next President of the Royal Incorporation of Architects in Scotland (RIAS). Robin will take over from Stewart Henderson at the Incorporation's AGM on 11th October 2018. As approved at the RIAS Council meeting on 12th September, the newly elected President will serve for 19 months.
More on our Glasgow Architecture news page
RIAS/Saint-Gobain Emerging Architect award 2018
31 + 29 Aug 2018 – The RIAS/Saint-Gobain Emerging Architect Award recognises the crucial role architects play in delivering a better world and encourages the great architects of the future at the outset of their careers.
This year, the award went to Eilidh Henderson of Page\Park Architects for her inspiring work on St. Cecilia's Chapel in Edinburgh.
Assorted pictures of St. Cecilia's Hall, Old Town, Edinburgh: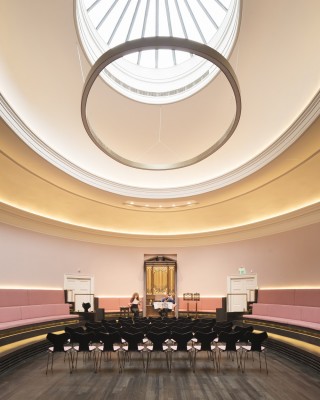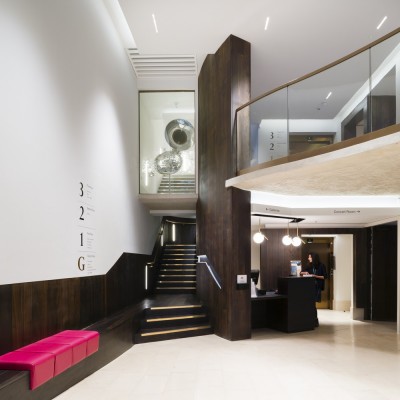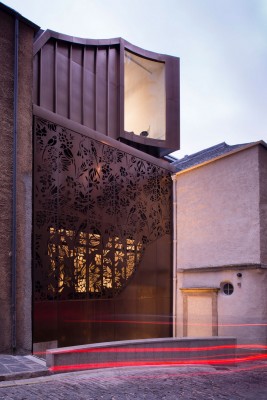 photos : Jim Stephenson
One project distinguished with the Emerging Architects Award: St. Cecilia's Hall.
St. Cecilia's hall has been home to the University of Edinburgh's musical instrument collection since the 1960s. An 'L' shaped arrangement of galleries wraps round Scotland's oldest purpose-built concert room at the centre.
Planning (Scotland) Bill News
28 Aug – Barton Willmore urge planners and developers to have their say and complete a survey to help influence the Planning (Scotland) Bill.
The Happenstance: The Exhibition
from 30 August at The Lighthouse, Mitchell Lane
RIAS Presidential and Council Candidates
24 Aug – The RIAS announce that there are two Presidential Candidates for the upcoming election.
RIAS Presidential Candidates:
Gordon G Smith FRIAS RIBA
Robin Webster OBE RSA FRIAS RIBA FRSA
Online voting will open the week commencing 10th September and close on 1st October 2018.
RIAS Council Nationally Elected Candidates
• Karen Anderson FRIAS RIBA
• Gordon Duffy FRIAS RIBA
• Malcolm Fraser FRIAS RIBA
• Helen M Lucas RIAS RIBA
• Stephen Miles FRIAS RIBA
• Douglas Read PPRIAS RIBA
• Ben Scrimgeour RIAS RIBA
Alan Jones elected RIBA President 2019-21
Congratulations to Alan Jones FRIBA Hon RIAS who has been elected the next President of the Royal Institute of British Architects (RIBA). Alan will take over the two-year presidential term from Ben Derbyshire next year (1 September 2019); from 1 September 2018 he will officially become RIBA President Elect.
RIBA Brexit Survey for Non-UK Nationals
As the UK prepares to leave the European Union, the RIBA would like your help to better understand the main issues facing those from outside the UK who are working in architectural practice. Please give five minutes of your time to complete this survey. All data will be recorded anonymously and kept completely confidential. Your response will only be seen by the survey team.
GIA Design Awards 2018; Call for entries
Entries to the GIA Design Awards opened on 1 August . The annual GIA Awards are recognised at local and national level and are one of the main highlights of the annual GIA programme.
The deadline for entries is 7 September 2018
This year's categories include:
1. Conservation
2. Education/Healthcare
3. Leisure/Arts
4. Office/Commercial/Industrial/Retail
5. Residential
6. Small Works (under £250,000)
RIAS Presidential and Council Elections 2018 / 2019
Candidates for President of the RIAS and for Nationally elected positions can download the relevant forms and guidance notes.
Completed nominations must be received by the RIAS by 5.00pm on Wednesday
15 August 2018 (and will be acknowledged).
Keep an eye on the website where you can keep up to date with facts about how you can vote and find details about the election process.
Student/Associate Elections will be held in the new academic year and details for nomination will follow.
RIAS Quarterly- New Editorial Group – Volunteers Sought
Could you help with a new editorial group to deliver and evolve the RIAS Quarterly?
The RIAS President is setting up a small working group to look at improving the magazine as part of an initiative to refresh areas of the Incorporation's endeavours.
If this is something you would like to be involved in, please contact Carol-Ann Hildersley.
BEFS Chair
As the current BEFS Chair, Dr Graeme Purves, is stepping down at the next AGM in December, BEFS are inviting expressions of interest from potential candidates for the role.
If you are interested in the position of BEFS Chair then please write to the BEFS Director, Euan Leitch in the first instance, outlining (no more than one side of A4) why you would be a suitable candidate for the post. Please also include a brief career synopsis (maximum 500 words).
Hanover (Scotland) Housing Association News
Board Recruitment – Looking for Individuals With Architecture Expertise
Hanover (Scotland) Housing Association are currently seeking new board members for their governing body and are specifically looking for a member with property and development expertise as they are a housing association that does new build developments each year.
Building Standards Compliance and Fire Safety – A Consultation on Making Scotland's Buildings Safer for People
This consultation seeks to obtain the views and opinions of stakeholders on a review of building and fire safety regulatory frameworks in order to help ensure the safety of people in and around Scotland's buildings.
The consultation covers two main areas, as follows:
• The first part relates to the roles and responsibilities of people verifying, inspecting and certifying building work and strengthening enforcement of and compliance with building regulations.
• The second part of the consultation covers specific fire safety standards relating to external cladding and cavities, escape, the provision of sprinklers and finally, the proposal for a "central hub" for verifying complex fire engineered solutions.
You are invited to respond to this consultation by 26 September 2018
ADP'S Charity Art Auction
ADP decided to launch a challenge to the practice, to encourage employees to take time out, and reveal their creative talent.
All the artwork has been generously donated by ADP's employees, and the funds raised will be donated to charity: the Marudyan Society (which funds education for deprived children in India) and Macmillan.
RIBAJ Rising Stars 2018
Industry leaders and a 2017 star join RIBAJ's hunt, in association with Origin, for construction's Rising Stars.
To be eligible you should have completed your professional training (Part 2 for architects) 10 or fewer years ago as at Friday 7th September 2018.
We need: Your details: a short biography; why you should be a RIBAJ Rising Star; referee comment; a selection of images and your answer to two questions: What would you most like to improve about the industry? What existing building or place would you most like to tackle?
Deadline: 10 September 2018
Drum Submits Major Planning Application for Leith Walk
7 Aug – Revised Planning Proposal Set to Maintain Area's "Distinctive Feel and Character" Following Community Feedback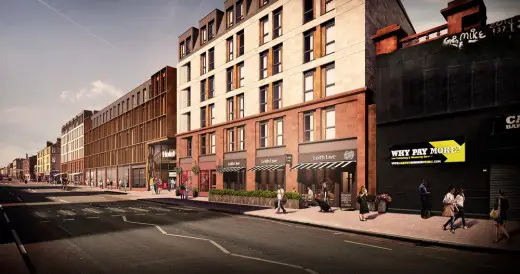 image courtesy of Drum
A significant section of Leith Walk, Edinburgh is set to be transformed into a vibrant residential, student and visitor quarter following a major planning application submitted by Drum Property Group.
Stead's Place Leith Walk Property
16 Church Street
3 Aug – West Dunbartonshire Council's flagship office building at 16 Church Street, Dumbarton, designed by Keppie, is now complete and operational.
Royal Incorporation of Architects in Scotland Strategy
1 Aug – The RIAS Strategy Group (Chapter representatives) have agreed a timetable for adopting the new five-year strategy and as part of the drive to ensure that members are consulted as widely as possible- each Chapter is doing this in its own way. Some chapters are planning questionnaires to send to members and non members in their areas: others are holding workshops such as the Coarum series organised by the EAA.
Doors Open Days News 2018
1 Aug – Doors Open Days is Scotland's largest free festival that celebrates heritage and the built environment, new and old. Every September, you can explore hundreds of fascinating buildings across Scotland for free. Some open up once a year, some just once in a lifetime.
'Our World Heritage' exhibition opens at the historic Tron Kirk in Edinburgh
26 Jul – A new exhibition which showcases the Old and New Towns of Edinburgh, as well as Scotland's five other World Heritage Sites, opens today at the historic Tron Kirk on Edinburgh's Royal Mile.
The exhibition, housed within the atmospheric 17th century former kirk, attempts to capture the essence of the World Heritage Site in Edinburgh through the voices and opinions of local people. The story is told in a series of videos, quotes, and specially commissioned portraits from award-winning Scottish photographer Alicia Bruce.
Doors Open Days Festival News
21 Jul – Doors Open Days is Scotland's largest free festival that celebrates heritage and the built environment, new and old. Every September, you can explore hundreds of fascinating buildings across Scotland for free. Some open up once a year, some just once in a lifetime.
Chris Stewart Group sells Greenside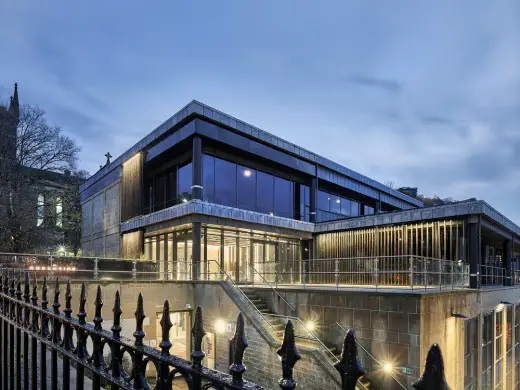 photos courtesy of Chris Stewart Group (CSG)
11 Jul – Chris Stewart Group (CSG) has confirmed that the award-winning Greenside office building in the burgeoning east end of Edinburgh's city centre, has been acquired by Leading Cities Invest (LCI), a real estate investment fund managed by Frankfurt-based KanAm Grund Group.
Greenside Edinburgh Development News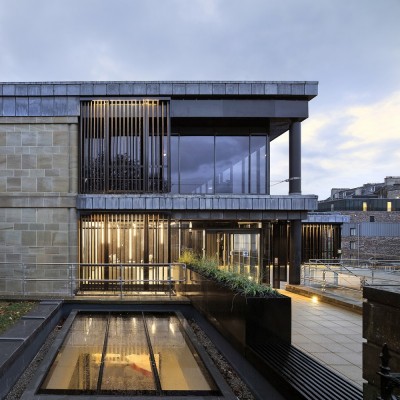 Glenmorangie New Still House Building
6 Jul – Glenmorangie broke ground on a new still house, part of a multimillion pound expansion designed to position the single malt whisky for a strong, successful future. This significant investment in the Highland Distillery, which this year celebrates its 175th anniversary, will enable Glenmorangie to meet soaring global demand for its award winning single malt Scotch whisky.
72 percent of businesses inaccessible in Edinburgh is unacceptable
On behalf of members of the British Polio Fellowship in Scotland, we welcome calls to make councils responsible for ensuring businesses provide adequate wheelchair access. There is now a very real need to enforce the Equality Act.
This cause has been taken up by Christine Jardine MP and constituent (Shirley Todd), after finding 72 percent of businesses around Lothian Road in Edinburgh were not accessible. Our experience is this is not an isolated case but an issue for Scotland and indeed, the wider UK. 13.4 million people with a disability deserve better and proactive enforcement may be the only solution. As a former business owner myself, I understand some fear accessibility means increased costs for a high street already struggling. Reasonable adjustments to make life easier however need not cost the earth and help and understanding go a long way.
For our members, accessibility is a key concern and an ageing population means this is going to become a bigger issue as the years pass so resolving this now is in the long-term interests of us all. The British Polio Fellowship continues to support the 120,000 in the UK who now live with PPS. If you want to know what we think about accessibility or if you need our support, call us now on 0800 043 1935 or visit www.britishpolio.org.uk
Yours faithfully
David Mitchell
National Chairman, The British Polio Fellowship
Ref. https://www.theedinburghreporter.co.uk/2018/06/jardine-backs-accessibility-campaign/
30 Jun 2018
Chris Stewart Group strikes deal with Baillie Gifford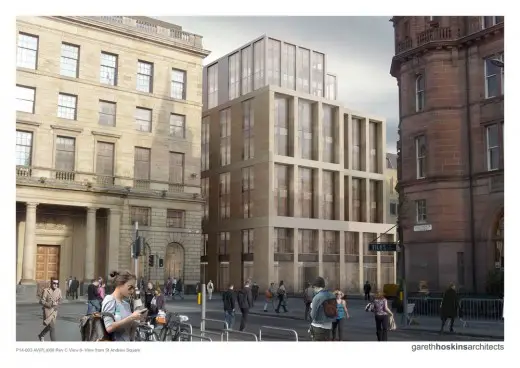 image courtesy of developer
Chris Stewart Group (CSG) has confirmed that it has pre-let the office space at 20 West Register Street, designed by Hoskins Architects, part of the award-winning property developer's £85 million regeneration project at 'The Registers' in Edinburgh's city centre, to Baillie Gifford.
The Registers, St Andrew Square
20 Jun 2018
2018 Saltire Society Housing Design Awards Winners
Social Housing in Leith scoops prestigious Saltire medal and wins top housing design award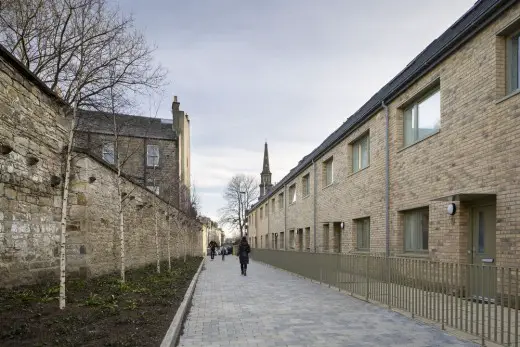 photo : Gillian Hayes
The Leith Fort site is approximately 1.7 hectares and sits within the historic confines of what was once Leith Fort. The site is surrounded by an existing category B-listed stone wall, the remains of the former Leith Fort. The proposed housing consists of 94 new-build residential units and a communal green space.
Glasgow School of Art Down-takings
29 Jun – Statement released by the Glasgow School of Art:
"The areas of significant concern are the east elevation, the west elevation and sections of the south elevation.
"The plan of works will involve…undertaking extensive down-takings and potential structural bracing.
"Due to the condition of the Mackintosh building, this work will be undertaken in a highly-controlled way to minimise any potential risk of failure and be sufficient to achieve structural stability of the Mackintosh building."
Glasgow School of Art Fire News
New Social Housing Safety
20 June – Sprinkler systems to protect against fire.
Legislation to make sprinkler systems compulsory in new social housing is to be taken forward. Housing Minister Kevin Stewart confirmed that the Scottish Government will take forward David Stewart MSP's proposal for a Members' Bill to make it a legal requirement for all future new build social housing properties to be fitted with sprinkler systems.
Currently all new high-rise domestic buildings, whether private or social, with a floor over 18 metres must have automatic fire suppression systems fitted.
Background
MSP David Stewart brought forward a final proposal for a Bill to require new-build Scottish social housing to be fitted with automatic fire suppression systems 22 May 2018.
Expanding the use of sprinkler systems in Houses in Multiple Occupancies (HMOs) that are used as care facilities, or house more than 10 people, is one of the recommendations that will be consulted on as a result of work done by the Ministerial Working Group on Building and Fire Safety since it was established last June. This will be consulted on in the coming weeks.
FitHome Village in the Highlands
19 June – A Saltire Award-winning concept that unites the priorities of healthcare, housing provision and tenant welfare is welcoming its first tenants in the Highlands today.
Fourteen people can now call the 'FitHome' village in Dalmore, Alness, their home, as the pilot development delivered by Albyn Housing Society, in partnership with Carbon Dynamic and NHS Highland, welcomes its first residents ranging in age from 18 to 90 years old.
New Homes in Baberton Avenue, Juniper Green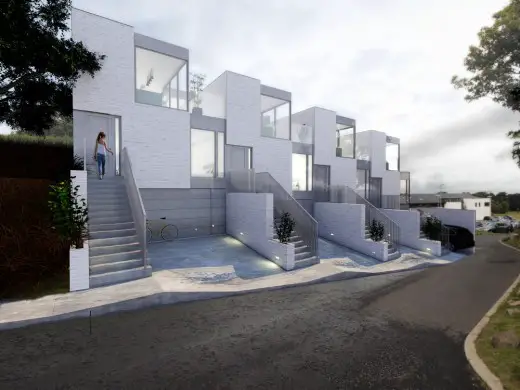 image courtesy of architects studio
18 Jun – Architecture firm, LBA has secured planning permission for a series of four contemporary family homes specifically designed to knit sensitively into the context on the existing sloping and elevated site at Baberton Avenue in Juniper Green
Glasgow School of Art Fire
18 + 16 Jun – The Glasgow School of Art suffers a catastrophic fire for the second time in four years, with more than 120 firefighters sent to fight the blaze on Friday night. The Scottish fire and rescue service said the fire in the Mackintosh building had spread to neighbouring buildings including the O2 ABC nightclub.
RSA Scotland: MCICH Network – Politics of Cultural Memory in the nations of Europe
Date: 18 June 2018
Time: 17:45 – 19:30
Venue: Hawthornden Lecture Theatre, National Galleries of Scotland on the Mound, EH2 2EL
RSA Fellows and guests, IIC Members and NGS Patrons, friends and supporters are warmly invited to attend this lecture, the second in an RSA Fellows' Media, Creative Industries, Culture & Heritage Network (MCICH) Series to mark 2018 European Year of Cultural Heritage. The MCICH Network extends its thanks to the Diplomatic Academy, Vienna, National Galleries of Scotland and RSA Scotland for support of this event. Early booking is advised.
Scottish Natural Heritage News
15 Jun – SNH launch a ground-breaking new approach that makes nature a key factor at the 'idea stage' of successful building projects.
To inspire developers on the benefits of nature from the outset, SNH is launching its innovative approach – Planning for Great Places. The aim is to help Scotland become the best place to live, work and visit, by directing development to where it is needed, and is the best fit.
Doors Open Days News Stories in July
Doors Open Days want to share your thoughts on aspects of the past, present and future of our built heritage, if you are an architecture student or a recent graduate.
Please get in touch with the Scottish Civic Trust to be featured on the Doors Open Days website.
Contact Carmen at carmen.hesketh@scottishcivictrust.org.uk for more information. She will interview you and share your stories through a series of Doors Open Days news stories in July.
Deadline: 28 June, 12 noon
Braw Buildings Competition
Date: Various, September 2018
Venue: Various
Deadline 5 July 2018
Are you 16-25? Do you want to Explore Scotland in September? See the BRAW BUILDINGS competition and you could win accommodation in one of 6 Youth Hostels across Scotland – for Year of Young People in partnership with Hostelling Scotland and Doors Open Days.
http://www.doorsopendays.org.uk/news/braw-buildings/
New Scottish Home Completions Increase
12 June 2018 – Scotland's home builders today welcomed official statistics showing a 4.8 per cent increase in the total number of housing completions in 2017 (17,739) but highlighted the tough task ahead in tackling the country's housing crisis as the figures equated to just 806 extra new homes on 2016 (16,933).
RIAS SGM Calling Notice and Membership Update
7 June 2018 – Second Membership Update From The President
At its meeting yesterday, RIAS Council discussed significant proposals to update the constitutional arrangements of the Incorporation. Council confirmed the interim Bye-laws needed as key steps to allow Council to put in place further reform of the Incorporation to reflect the membership's priorities and aspirations.
A Special General Meeting (SGM) is now called on 28th June 2018 to allow proposed changes to the Bye-laws to be considered by the wider membership of the RIAS.
More details on our Glasgow Architecture news page.
National Museums Scotland Acquires Rare Charles Rennie Mackintosh Wash Stand for 150th Anniversary
7 June – National Museums Scotland has acquired a rare and important wash stand by Charles Rennie Mackintosh. A highly significant example of Scottish 20th century design, the piece with go on permanent display from today to coincide with the 150th anniversary of Mackintosh's birth, on 7 June 1868.
The acquisition has been made possible with generous support from Art Fund and the NMS Charitable Trust. The wash stand is now on display in the Design for Living gallery at the National Museum of Scotland.
Dating from 1917, the wash stand is a rare example of Mackintosh's later work and was made by skilled 'enemy intern' cabinet makers at the Knockaloe Internment Camp on the Isle of Man.
Stephen Deuchar, Director of Art Fund, said:
'Charles Rennie Mackintosh's fine and important washstand intriguingly brings together the world of British design with the overlooked history of the internment camps of World War I. Art Fund is proud to support National Museums Scotland in making this imaginative acquisition.'
Edinburgh Architecture Tours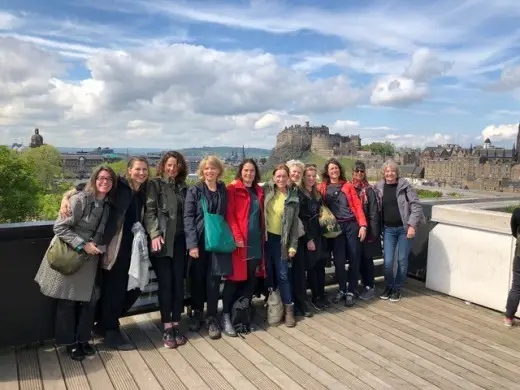 Edinburgh Architecture Tourreference, from our latest guided walk through the city, for van Gemert > interieurarchitectuur, The Netherlands
Craig & Rose opens first Scottish showroom in Edinburgh
Friday 25 May 2018 – Craig & Rose, one of the oldest established paint makers in the UK, has selected Edinburgh for its first dedicated showroom in Scotland.
The showroom in Stockbridge (13 Deanhaugh Street) Edinburgh is part of a store roll-out campaign which complements the recently opened London store in Chiswick.
The new Edinburgh showroom is less than two miles from the original Craig & Rose factory in Leith, where the company was founded in 1829 by two young Edinburgh entrepreneurs James Craig & Hugh Rose. Today Craig & Rose paints continue to be produced in a purpose-built factory in Scotland.
Famed for its highly pigmented Chalky Emulsion, Craig & Rose is known for its archive-accurate colours and an intensely matt finish that gives a real depth of colour with excellent opacity levels for great coverage.
Phil White, General Manager at Craig & Rose, said: "The opening our first showroom just had to be in our home town of Edinburgh, the home of Craig & Rose and the source of all of our 1829 paint range's rich heritage.
"Our team in Stockbridge will be offering personalised expert advice and a bespoke colour consultancy service to customers browsing in our new showroom together, where our complete range of colours is on display to both sample and buy.
"We were founded in 1829 in Edinburgh so the warmth to the memory of Craig & Rose and our local heritage has been heartening. It has been an absolute pleasure to realise the much-anticipated vision of opening our dedicated paint showroom here and to have so much interest from members of the public during the build. Producing quality paint finishes using the latest technology whilst incorporating traditional methods is at the heart of what we do and our new store will allow us the opportunity to showcase the collection to its fullest."
The Edinburgh showroom features the full 1829 Vintage Colour Collection, a curated palette of 110 vintage colours from the Craig & Rose archive, and a wall of hundred of more mixable colours, where budding decorators and interior designers can see how the colours would look in situ and select samples. The Artisan Effects Range is also on display, featuring the unique Copper Patina and Rust Effect paints and the on-trend Concrete Effect paint and Glitter Glazes.
Craig & Rose is one of the oldest established paint makers in the UK. An establishing principle of the firm was a dedication to quality. Traditionally when paint was milled, grinding the base raw materials that came from all over the world – where competitors ground twice, Craig & Rose were known for triple grinding.
Craig & Rose won the tender to paint the iconic Forth Bridge in the 1880s and provided the paint for over 100 years. Many famous public buildings including the National Portrait Gallery, St Pauls Cathedral and Brighton Pavilion have chosen, and still choose Craig & Rose paints.
Craig & Rose is proud of its Scottish roots and its paints continue to be produced in a purpose-built factory in Scotland.
Craig & Rose Edinburgh, 13 Deanhaugh Street, EH4 1LU. 0131 357 5798
Scottish Modernist Landscape Project
18 May – Call for Sites
The Sco.Mo Project is a Landscape Institute Scotland funded project that is here to promote and implement the documentation, preservation and celebration of Scottish Modernist Landscape Architecture (1945-1999).
The project is currently in its early phase – although we aim to eventually be an online resource for projects from this period, including information, photos, articles and interviews, we first need to collate and catalogue all the important sites. This is where we need your help.
Scottish Modernist Landscape Project
RIAS Festival of Architecture 2018
18 May – Call for Interest – Opening Your Practice or Promoting a Talk or Walking Tour
This year the RIAS's Festival of Architecture will support events through its 'brand' to bring a focus to Architecture during the autumn.
There has been a successful pairing of Doors Open Days and @RIASFest over the last two years and the RIAS have been invited to join the initiative this year. This is an opportunity to open the doors of your architecture practice, architect designed house or building to the public and being part of your local Doors Open Day programme.
The deadline for inclusion in the Edinburgh Doors Open Days 2018 printed programme is Sunday 10th June so if you wish to participate please contact Joseph Taylor on admin@cockburnassociation.org.uk and copy in veronica.low@rias.org.uk as soon as possible.
If you are interested in opening your architectural practice and/or conducting a tour or a 'talk' to promote architecture or the work of your practice during the month of September and would be interested in it being promoted as part of Doors Open Days and the Festival of Architecture please contact info@festivalofarchitecture.scot as soon as possible. The will put you in touch with your local Doors Open Day organiser.
Malmaison Hotel St Andrew Square
17 May – Buchan House – 3DReid to deliver Malmaison city centre hotel on Edinburgh's prestigious St Andrew Square. Malmaison Hotel du Vin Group has teamed up with property developer S Harrison to transform a Grade A building on Edinburgh's prestigious St Andrew Square into a boutique hotel, Malmaison.
Malmaison Hotel St Andrew Square
Independent Review of Building Regulations and Fire Safety
17 May – Responding to the Independent Review of Building Regulations and Fire Safety report published today, Minister for Local Government Kevin Stewart said:
"We welcome the engagement we have had with Dame Judith Hackitt and, while her report looks specifically at the system in England and Wales, we will look closely at the findings to ensure that any lessons or actions that may be needed are swiftly considered in Scotland.
Drum Property Group Unveils New Music Venue for Leith Walk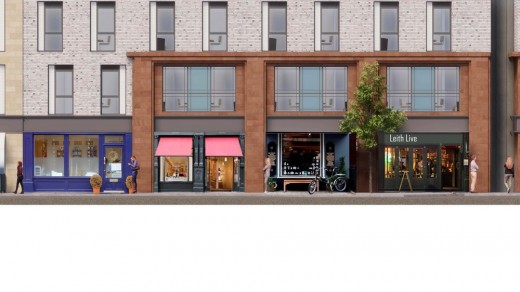 image courtesy of Drum Property Group
14 May – Drum Property Group has redesigned its proposals for Stead's Place, Edinburgh following extensive consultation with the local community.
New Music Venue for Leith Walk
Planning approved for design-led residential development on Gayfield Square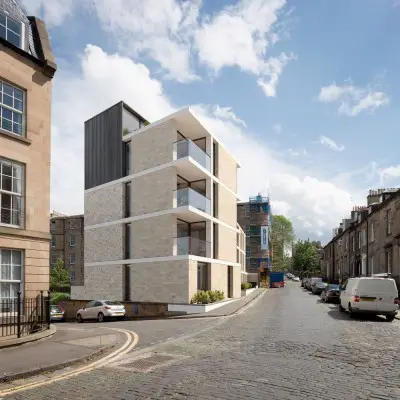 image courtesy of architects
13 May – LBA, a leading Edinburgh-based firm of architects, have recently secured Planning approval for the eleven-apartment luxury residential development in the city centre. They are also delighted to announce their appointment to take the project forward with housing developers Mactaggart and Mickel, who purchased the site with planning approval.
Gayfield Square Residential Development
Kilmartin Museum Redevelopment Project awarded National Lottery support
11 May – Kilmartin Museum has received a confirmed grant of £3.2 million from the Heritage Lottery Fund (HLF) for their Redevelopment Project.
The project aims to transform Kilmartin Museum into a landmark venue that interprets and celebrates the global significance of Kilmartin Glen, one of the most significant archaeological landscapes in Britain.
Urban Union Housing in Scotland
10 May 2018 – An award-winning regeneration company is gearing up for an ambitious year with plans to build more than 250 homes across Scotland.
Urban Union – which has sites in Glasgow, Edinburgh and Perth – is committed to creating high quality accommodation, with a significant number of its stock being affordable housing.
New Channel 4 Regional HQ in Scotland?
8 May – Research by leading UK planning and design consultancy Barton Willmore has revealed the city of Glasgow to be a frontrunner in the race to become the new regional home for Channel 4.
RIAS Convention
RIAS Convention 2018 takes place on 11-12 May in Aberdeen:
Booking closed 9 May
Threesixty Architecture at The Garment Factory
2 May – Leading practice Threesixty Architecture has taken occupation of its new studio in The Garment Factory, a unique and contemporary office development in Glasgow's city centre.
RSA Architecture Forum – What is the new Scottish vernacular?
8 May 2018, 18:30 – 20:00
Venue: David Hume Lecture Theatre A, University of Edinburgh, George Square, Edinburgh, EH8 9JX
Cost: £8 – £10
CIOB CPD Event on Concrete Defects, Dalkeith, Midlothian
9 May 2018, 18:00 – 20:00
Venue: Corn Exchange in Dalkeith, 200 High St, Dalkeith EH22 1AZ
Cost: This event is free to all members of the CIOB. Non-members will be charged £10.
********************
Edinburgh Architecture News Archive
Edinburgh Building News archive links below:
Edinburgh Architecture News Jul – Dec 2017
Edinburgh Architecture News Apr-Jun 2017
Edinburgh Architecture News Jan-Mar 2017
Architecture in Lothian
Scottish Parliament entrance: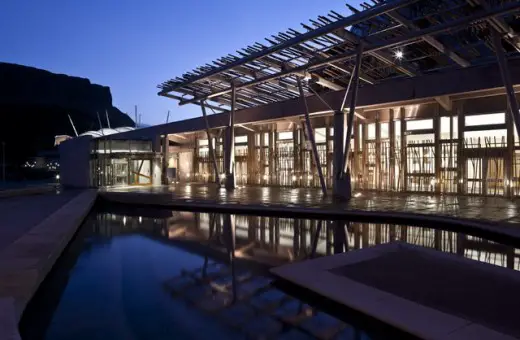 Comments for the Edinburgh Building News 2018 page welcome