Malmaison Hotel St Andrew Square Edinburgh, Scottish Capital Accommodation
Malmaison Hotel St Andrew Square
Buchan House Accommodation in the Capital of Scotland – design by 3DReid Architects
17 May 2018
Malmaison Hotel Edinburgh St Andrew Square
Malmaison Hotel St Andrew Square in Edinburgh
Design: 3DReid
Buchan House – 3DReid to deliver Malmaison city centre hotel on Edinburgh's prestigious St Andrew Square
Malmaison Hotel du Vin Group has teamed up with property developer S Harrison to transform a Grade A building on Edinburgh's prestigious St Andrew Square into a boutique hotel, Malmaison.
Buchan House proposed rear extension: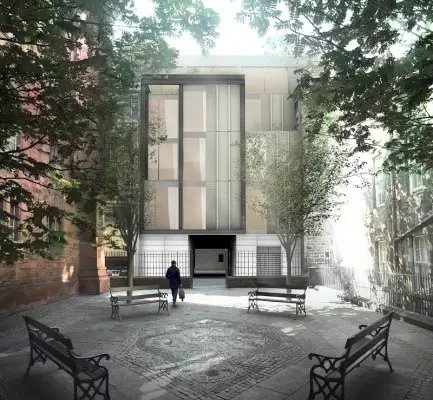 3DReid has achieved planning approval and Listed Building Consent for the re-imagining of Buchan House in Edinburgh. Appointed as architects and lead designers by S Harrison Developments, 3DReid's sensitive conversion of the disused Grade A listed building will create a Malmaison Boutique Hotel with 72 guestrooms, restaurant, bar, coffee lounge and private dining facilities with lift access to all floors.
Situated in Edinburgh's New Town Conservation Area and part of the Old and New Towns of Edinburgh World Heritage Site, the main part of the building was built in 1775 as five houses by renowned architect and builder John Young. 3DReid's design creates a series of active public spaces at street level and bedroom accommodation on upper levels, plus two sensitive new build extensions within the existing courtyard and rear of the building to provide additional front of house space and key operational connections, and enhance the setting of the nearby Findlay Court public square.
Buchan House courtyard view looking South West: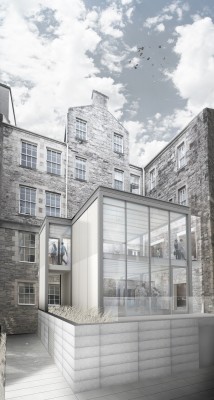 The existing principal ground floor rooms are disjointed and at different levels, impeding the connectivity of the spaces, causing problems with the guest flow, servicing and accessibility. By removing the non-original rear wall and enlarging the reception area 3DReid has balanced unlocking the required space with making non-invasive changes to the internal fabric.
An existing 1970's elevation to the rear of the property will be re-configured and re-clad to enhance the setting of both Buchan House and the adjacent Findlay Court. A respectful extension within the courtyard will help solve the front of house issues by unlocking the plan and providing connectivity between the two active facades.
The rear extension presented a particular challenge in finding a language and form capable of negotiating the stepped geometry of the existing extension, while reconciling both with the N St Andrew Lane street elevation and addressing the Portrait Gallery square, Findlay Court. The graceful design proposes a simple palette of materials for both structures, with the new facades composed in anodised aluminium cladding panels and glazed units. In both structures, the base element will be clad in stone to give each a strong grounding.
"The new extensions were essential for the commercial viability of the scheme. However, new and old have been clearly delineated as it was of particular importance that the external additions were sensitive to, but visually and materially distinct from, the A-Listed Buchan House." Says Doug Pearson, Associate Director at 3DReid.
Buchan House vew from North St David Street showing proposed rear extension:

S Harrison's Development Director, David Clancy, said: "This is an exciting project and we are very pleased to conclude this deal with Malmaison, who will bring to life such an extremely prominent building. Its rich history and splendid architectural features will ultimately form the foundations of a fascinating, memorable and truly unique hotel. Malmaison's high quality offering and sympathetic styling in other high-profile buildings throughout the UK ensures it will be the perfect fit for Buchan House."
The viable and sympathetic conversion from an incoherent series of vacant office spaces to a stylishly individual hotel will provide this grade A listed building with a sustainable future, preserving the building and giving it a long and carefully maintained future.
Gordon Ferrier, Director and Head of Hotels at 3DReid said: "This project has drawn on our familiarity with the context and the understanding of the aspirations and aims of the City of Edinburgh Council strategy.
We've also applied our considerable hotel experience following on from the successful recent completion of the nearby Principal Edinburgh George Street and Principal Edinburgh Charlotte Square. Our recently completed HUB Hotel on Rose Street presented very similar challenges in terms of the extension and refurbishment of a listed building in the New Town."
'Buchan House' at Royal Scottish Academy Annual Exhibition 2018
3DReid is further delighted that 'Buchan House' has been selected for the Royal Scottish Academy Annual Exhibition 2018. (5th May until 6th June 2018). This is a focal point of the RSA programme and showcases work from RSA Academicians the length and breadth of Scotland.
Ryan Hodge, project Architect at 3DReid said: "It is fantastic that our design for this significant location in Edinburgh has been selected for the RSA Annual Show. We are very pleased that the quality of work put forward in the initial stages of the scheme has been deemed worthy of exhibition, and look forward to ensuring the same can be said of its built form."
The project has commenced on site with anticipated completion by the end of 2019.
Visuals
1 Buchan House: Proposed rear extension
(This image is currently being exhibited at the RSA Annual Exhibition)
2 Buchan House: Courtyard view looking South West
3 Buchan House: View from North St David Street-proposed rear extension
Images: 3DReid
About 3DReid Ltd
3DReid is an award winning creative architecture and design practice with over 130 staff across five UK studios Edinburgh, Glasgow, Manchester, Birmingham and London. The practice provides full architectural services from masterplanning to interior design. 3DReid design a wide range of building types and spaces, with specialist skills in the design of airports; hotels; offices; residential and retail buildings. Their reputation has been built on providing creative and intelligent architectural solutions that meet their operational brief without compromise.
For more information about 3DReid, please go to www.3dreid.com
About S Harrison Developments Ltd
S Harrison Developments Ltd is one of the north's leading property and development businesses. The Group has gone from strength to strength, growing successful construction and development businesses in parallel until 2007 the decision was taken to sell the construction arm and focus on the burgeoning developments operation.
With new flagship headquarters now located at The Chocolate Works in York, S Harrison Developments has spread from the group's North Yorkshire heartlands to be delivering schemes on both sides of the Pennines, deep into South Yorkshire and the Midlands, and the first completed scheme in Scotland in 2016.
For more information about S Harrison, please go to www.s-harrison.co.uk
Malmaison Hotel St Andrew Square Edinburgh images / information received 170518
George Street Edinburgh Buildings
George Street Architecture – Selection
Centotre, 103 George Street



George Street Restaurant
The Dome, 14 George Street



The Dome Edinburgh
Le Monde restaurant, 16 George Street



Le Monde Restaurant – boutique hotel, brasserie, bar & nightclub
Edinburgh Hotels – accommodation across the Scottish capital city
30 Jun 2018
The Registers, St Andrew Square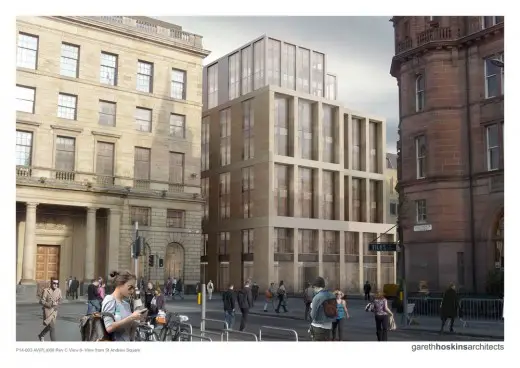 image courtesy of developer
Hotel Missoni, an interesting building on the Royal Mile


George Street restaurant – Centotre
Comments / photos for the Malmaison Hotel St Andrew Square Architecture, page welcome