Edinburgh Architecture News 2020, Lothian Buildings, Architects, Images, Design Scotland
Edinburgh Building News 2020
Scottish Architectural + Construction Updates – East of Scotland Property Design Information
post updated 31st December 2020
Edinburgh Architecture News 2020
17 Dec 2020
Plannng Approval for 65 London Road
HG Developments proposed redevelopment of 65 London Road site to form a 76-bed Purpose Built Student Accommodation, designed by 3DReid, replacing disused car-wash buildings:
65 London Road Edinburgh
7 Dec 2020
Moxy Hotel Edinburgh News
This is part of a regeneration project in the new Fountainbridge district, the 262-room Moxy Hotel from Marriott International is situated on the former Scottish & Newcastle Fountain Brewery site, alongside offices, cafés, co-working spaces and a restaurant.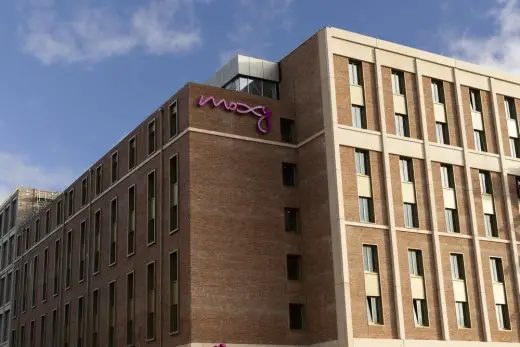 12 Nov 2020
EAA Photography Competition News
The EAA announce an extended deadline for Old New Edinburgh – New Old Edinburgh, a photography competition open to all exploring the impacts of time and change on the fabric of Edinburgh and its surrounding towns:
Closing date extended to 25 November 2020
1 Nov 2020
HDR | Hurley Palmer Flatt Named as One of 50 Consultants on a Brand New £95m Professional Services Framework
Leading independent multidisciplinary engineering consultancy Hurley Palmer Flatt has been appointed as one of 50 consultants on a major new professional services framework in Edinburgh, Scotland. The programme intends to rejuvenate the city of Edinburgh with the delivery of new state-of-the-art schools, early years centres, sports facilities, and affordable homes across the city.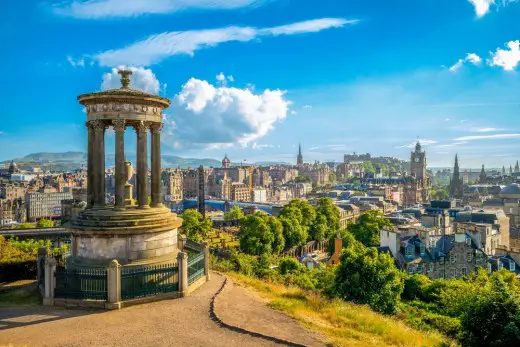 The £95 million framework will consist of numerous architectural, engineering and project management contracts over a four-year period.
The procurement for this scheme entered its first stage a year ago, with the second stage commencing in February, just a short time before the whole of the UK entered a national lockdown. Despite the challenges the City of Edinburgh Council would have faced due to Covid-19, it is a great success that the procurement process was able to come to completion, although other public sector procurement faced delays and cancellations.
The framework has sustainability at the core of its plans, with Passivhaus Architects ensuring that new buildings are energy efficient and the city's net zero carbon by 2030 target is taken into full consideration. The scheme also brings great support to small businesses, with this being a priority for the council, resulting in more than 70% of successful bidders being SMEs. Each consultant is also required to pay the Living Wage and carry out community benefits as part of any work they obtain.
Hurley Palmer Flatt are thrilled to be supporting the projects awarded through the framework.
These are not the only projects the company is currently supporting in Scotland's both historically-rich and dynamic capital, as it is working on a redevelopment which will see the transformation of Edinburgh's Rosebery House by Aviva Investors, welcoming a new state-of-the-art office block. The new 'landmark' development will hold the potential to onboard 1,500 office workers by 2025, and like the new Professional Services Framework, will have the future in mind, with sustainability at the heart of the project as it is committed to securing a Net Zero Carbon rating for the building's operation.
On the news of the Framework appointment, Associate Director at HDR | Hurley Palmer Flatt Group Emma MacLeod commented that "the firm are keen to be providing a key function to further projects across the city of Edinburgh."
1 Nov 2020
30,000!
The e-architect resource has over 30,000 pages of architectural information + building news.
We passed the 30k mark on 31 October 2020.
29 Oct 2020
Canonmills Garden Recognised for Success at the Scottish Homes Awards
Canonmills Garden, Artisan Real Estate's stylish new homes development in Edinburgh, is in the running for two prestigious accolades in this year's Scottish Home Awards which takes place on Thursday (October 29):
Save The Date – EAA Awards 2020
Wednesday 4 November
The EAA is pleased to announce that the EAA Awards ceremony will be an
on-line event on Wednesday 4 November 2020 @ 6.00 pm. Invitations will be sent shortly.
8 Oct 2020
Langside Halls News
Langside Halls Glasgow
Langside Halls Trust (LHT) is delighted to announce the appointment of award winning, Glasgow-based Hoskins Architects and culture & heritage management consultancy, Jura Consultants to undertake a 20 week feasibility study of Glasgow's magnificent 'A' listed Langside Halls.
8 Oct 2020
EAA Photography Competition
The EAA is delighted to launch Old New Edinburgh – New Old Edinburgh, a photography competition open to all exploring the impacts of time and change on the fabric of Edinburgh and its surrounding towns.
As an organization the EAA has a long history, predating the establishment of the RIAS. In recent years the EAA has updated its constitution and revitalized its membership, drawing on connections within education to bridge between study and practice, and now goes beyond its original core functions to engage with society in the promotion of good Architecture.
The competition aims to raise awareness and promote discussion around the theme of change in the context of Edinburgh and its surroundings. Change is a perennial challenge for architects in their work, but also creates challenges that affect all of us as we navigate our lives. How does Edinburgh cope with change, without losing its essential qualities?
Brief and entry requirements:
https://eaa.org.uk/competitions/old-new-edinburgh-new-old-edinburgh
Entry form:
8 Oct 2020
Residential Market in Scotland News
The residential market in Scotland is bubbling away as buyers escape the lockdown straitjacket, but is it also on the point of creating a price bubble?
By Eric Curran
There is, I am sure, a more measured and professional way of saying this, and in more normal times I would instinctively reach for it, but the stark fact of the matter is that the residential housing market in Scotland has gone nuts.
Hyperbole it may seem to be, but how else to describe the unprecedented numbers of transactions we are seeing, the phenomenal volumes of work, the speed of sales – often in days, rather than weeks – and the hitherto undreamt-of prices being achieved.
It is all so 2006/2007, eerily reminiscent of the feeding frenzy that took place just before the Crash.
And it is not what anyone in the sector envisaged would happen as soon as buyers, sellers and property professionals were released from the straitjacket of the March-to-June total lockdown. No one was very sure where demand would come from or what the sentiment would be.
The received wisdom as we went through these dark days was that, once the traps were opened on June 18 and transactions could resume, it would take around six weeks to clear the backlog and get back on to the even keel of normal trading.
Well, we are now 14 weeks into the tsunami of activity that was unleashed in midsummer, and it shows no sign of abating, with closing dates being set in days and lockdown-stranded properties now flying off the shelves.
Our firm's levels of business are some 25% to 30% higher than normal and we are seeing prices being offered that will certainly not be recoverable in the foreseeable future. One recent property went for 43% over the Home Report valuation.
Is it sustainable? Not at these levels, I think. We are well into the creation of a price bubble of pre-2008 crisis proportions, despite the marketplace being completely different and the characteristics of the purchasing process being so askew.
In a one-sided sellers' market, decision-making has become disassociated from the cold facts of a bricks and mortar transaction and buyers are bidding against each other, rather than for the property itself, in a frantic attempt to secure the home they want.
The huge disparity in taxation between Scotland and the rest of the UK has not affected sentiment as much as might have been expected. A buyer of a £500,000 home in Scotland still has to pay Land and Buildings Transaction Tax of £21,250, while his or her counterpart in England pays zero Stamp Duty under the Chancellor's temporary measures.
There have been some low-lying grumbles about the perceived unfairness of the tax differential, but these tend to be outweighed by the feeling that even the limited concessions which have been made by Holyrood represent a rare opportunity.
For instance, purchases of up to £250,000 are for the moment tax free in Scotland, saving first-time buyers up to £2,100 – a sum which will come in handy as mortgage lenders continue to hold out their hands for much higher deposits.
Market drivers still include well-heeled ex-pats returning home to work or to secure a bolthole from international instability, allied to the post-lockdown imperative among locals to find more attractive lifestyle homes with space round about them in case we are incarcerated again.
Predictions are difficult in these uncharted waters. The market may settle back into seasonal norms, with activity tailing off as the nights draw in at the end of October and the beginning of November.
Against that, with increasingly febrile chatter about ongoing lockdowns and the potential cancellation of Christmas, buyers with financial savings amassed during isolation may well keep things bubbling away over the course of the Yuletide festivities.
What we can predict is that surveyors stand ready. Professionals going out again to value homes – the key part of the process – are armed with a formidable arsenal of safe working procedures to protect both themselves and the public.
And I must record how the lessons learned this year about technology and the agility of tech-working have also taught us a lot about our people. Despite the enforced break, they have come back with a renewed commitment to the firm and are working harder than ever. Their dedication merits a huge thanks.
There is now much more reason to be optimistic than there was six months ago. The last quarter has pulled us out of the abyss, and there is an enormous desire and determination not to be plunged back into it.
Eric Curran is managing partner of DM Hall Chartered Surveyors, based in the firm's Glasgow North office.
25 Sep 2020
Help for first-time buyers in Scotland extended
Scots trying to get their foot on the property ladder north of the border will benefit from the country´s first home fund for another year, following a recent government decision.
The first home fund helps people buy their first new or second-hand home offering up to £25,000 as an equity loan and is to be extended to March 31, 2022. Buyers must contribute a minimum of 5 per cent mortgage on the purchase price.
Trade body Homes for Scotland, HfS, chief executive Nicola Barclay said: "As well as recognising the continuing demand from Scots to own their own home, extending the scheme will provide more confidence for consumers and more investment certainty for businesses, the benefits of which will ripple through the wider housing sector and economy."
The initiative was first introduced in December 2019 and has proved particularly popular with the re-opening of the Scottish house market in late June. HfS said it had also helped mitigate the impact of lenders reducing loan-to-value ratios on new mortgages.
Consistency needed to deliver new homes
But Ms Barclay stressed it was important for all areas of government policy to be aligned and pulling in the same direction.
She warned the decision to remove the 'presumption in favour of sustainable development' from the Scottish planning policy housing consultation was a retrograde step.
"This gives Scotland's planning authorities the wrong message when they should instead be encouraged to work with home builders to facilitate an increase in the supply of much-needed homes across all tenures."
The current planning guidance the 'presumption in favour' phrase allows for development proposals which accord with a council's development plan to be approved.
HfS said in the last six years since the 'presumption in favour' clause was introduced it had helped deliver 8,000 new homes of which 1,600 were affordable.
"Deleting it would now cut off that modest but very important source of housing supply," said Ms Barclay.
Brokers Hank Zarihs Associates said property development lenders were surprised Scotland had chosen a different tack from England and that this would hamper housing delivery.
The deadline for responding to the consultation document is October 9.
25 Sep 2020
Historic Canongate tenements returned to former glory
195 – 197 Canongate Edinburgh building facade: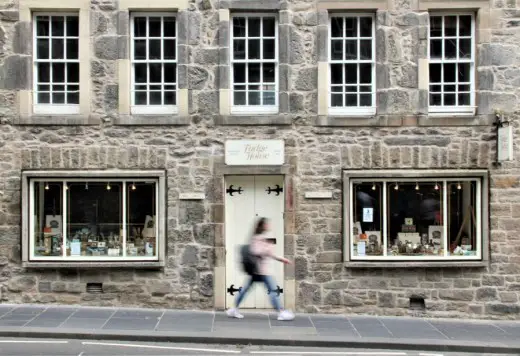 photo © Edinburgh World Heritage
Major conservation work, led by Edinburgh World Heritage, has just been completed on the last of three historic tenements on the Canongate which comprise 16 residential dwellings and 5 shops. Work was funded by the charity's Conservation Funding Programme, which is supported by Historic Environment Scotland:
Canongate Historic Tenements Conservation
25 Sep 2020
Tenders Invited For Cultural Development of John Knox House
The Edinburgh UNESCO City of Literature Trust is calling today for architects and designers to bring their expertise and creativity and enter a competitive Tender process to work with the Trust to create a Literature House for Scotland at John Knox House in Edinburgh.
22 Sep 2020
All-tenure Housing Target
The Scottish home building industry today called on the Scottish Government to issue a clear statement of intent on the need to deliver 25,000 new homes of all tenures each year and to mandate public agencies to work in partnership with developers across sectors to achieve this.
According to trade body Homes for Scotland (HFS), this would generate greater investment confidence, helping to boost the wider economy as well as providing much needed homes across the country.
The call is part of a package of measures submitted to the Scottish Government to ensure the longer-term sustainability of the home building sector as it strives to recover from the impact of the Coronavirus.
HFS Chief Executive Nicola Barclay said:
"As the First Minister acknowledged during her Programme for Government announcement, investment in housing will make a crucial contribution to Scotland's recovery.
"A number of notable steps have already been taken to assist in ongoing housing delivery (such as the lifeline £100m emergency liquidity fund for SME home builders), but further longer-term action is required if we are to ensure we can provide the homes of all tenures that Scotland needs, with all the wide-ranging benefits this brings in terms of employment, social outcomes and economic growth.
"Whilst builders may have returned to work, it is far from business as usual. Regardless of whether the properties being built are for private sale or social rent, required Covid-related measures (such as social distancing and hygiene controls) mean that fewer operatives can be on site at any one time. This in turn means that the construction of much needed homes of all tenures is taking longer and costing more.
"This compounds the significant upfront expenditure incurred by developers to acquire land and complete construction, with cost recovery very often only achieved when the last properties are occupied.
"Our members are doing all they can to meet pent-up demand whilst market conditions remain stable, but this is against a backdrop of never before seen levels of uncertainty for both businesses and individuals. That is why our calls are set out across the immediate and medium to longer term, encompassing private and social housing."
Barclay added:
"Given its fundamental importance and strong multiplier effect, housing can be the springboard for a Scotland-wide recovery.
"With the appropriate Scottish Government support, we can minimise the effects of the Coronavirus on housing delivery, SME builders, jobs and the economy.
"As the First Minister herself has said, we now have an opportunity to address many of the deep-seated challenges our country faces. Let's make getting housing sorted once and for all our top priority."
18 Sep 2020
Edinburgh World Heritage publishes climate emergency manifesto
Edinburgh World Heritage today issued a call for the historic environment, which includes buildings, parks and open spaces, to be 'at the heart of the city's response to the climate emergency' with a 10-point manifesto aimed at policy makers, experts and residents.
The manifesto, published during Scottish Climate Week, points out ways in which Edinburgh's traditional buildings – such as tenements, houses, shops and public buildings, can be sensitively improved to both reduce energy consumption and better adapt to changing weather patterns.
10 Sep 2020
Scottish Architecture Conference
The programme for the RIAS 2020 convention has been announced. With the Grain will run online from Monday 28 Sept – Friday 2 October:
RIAS Convention 2020
28 Aug 2020
Plans submitted for 65 London Road
HG Developments has submitted plans for a proposed redevelopment of the site at 65 London Road to form a high quality 76- bed Purpose Built Student Accommodation, designed by 3DReid that will replace the disused car wash buildings that are currently present:
25August 2020
Scottish commercial property salesatlowestlevelfor 10 years
The Scottish Property Federation (SPF) analysis of the latest commercial property sales figures from Registers of Scotland reveals Scotland'sworst quarter for commercial property sales in a decade.
See Glasgow News 2020 for full release
17 August 2020
Edinburgh Biomes Construction News
RBGE Edinburgh Biomes Construction
6 August 2020
Edinburgh Traditional Building Festival
The line-up for the 8th Edinburgh Traditional Building Festival has been announced with all the organisers and presenters donating their time to "Celebrate Edinburgh's Traditional Buildings."
Edinburgh Traditional Building Festival
6 August 2020
Scottish Government planning proposals news
Scottish Government planning proposals at odds with announcement on generating growth and supporting jobs, builders warn
Industry body Homes for Scotland (HFS) has welcomed today's Scottish Government announcement on its plans to "generate significant economic growth, combined with a focus on supporting jobs, skills and training" but warned that new proposals on planning contradicted such intentions.
5 August 2020
SPF comments on the Scottish Government's blueprint for Scotland's wellbeing economy
Commenting on the Scottish Government's response to the Advisory Group on Economic Recovery report, the Scottish Property Federation (SPF) Chair Robin Blacklock said:
"Today's focus on reforming national planning policies as part of the economic recovery strategy is welcome and promises to unlock much needed economic development across Scotland.
"The economic emergency triggered by the pandemic has increased many of the pressures previously faced by our town and city centres.
"If we are to revitalise our local economies in a sustainable way, we will have to repurpose our built environment. This will require flexibility in terms of planning policies and regulations.
"Our research shows that for every £100m of new demand for commercial property, the sector creates an additional £73m for the wider Scottish economy. With this far-reaching impact, the sector has a pivotal role to play in supporting recovery across the length and breadth of Scotland in existing and new projects.
"To make these aspirations a reality we must invest in physical infrastructure and in the necessary planning and building services."
30 July 2020
Planning Application Submitted for New Town Quarter Development
Plans have now been submitted for one of the largest developments to come forward in Edinburgh's city centre for a generation.
Ediston and Orion Capital Managers have been working together on their shared vision for New Town Quarter, previously known as New Town North, since last year and have carried out what has been one of the largest consultations ever on a city centre development.
27 July 2020
Maven acquires site in Edinburgh to develop new purpose built student accommodation
Maven Capital Partners, a leading UK property and private equity manager, has purchased a site at Murieston Crescent, Edinburgh, for the development of a purpose built student accommodation (PBSA) complex.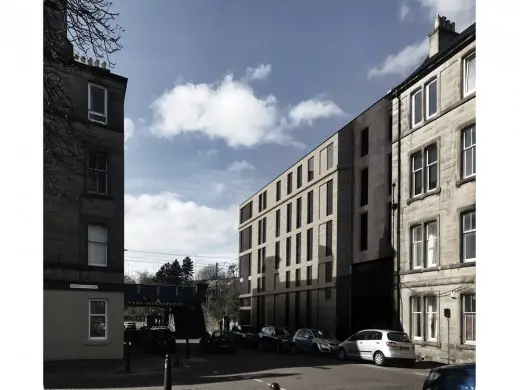 Murieston Crescent student accommodation
26 July 2020
Cardross Seminary Building News
Catholic Church Transfer Cardross Seminary. The ownership of an A-listed modernist building which the Catholic Church has been trying to get rid of for years has been transferred to a charitable trust.
23 July 2020
Mackintosh at the Willow
Help Save Mackintosh at the Willow is live on Crowdfunder.
With one day left the trust has met their £20,000 target, so far reaching £20,655. This fund request is to allow the premises to survive through lockdown:
21 July 2020
Builders frustrated by poor performance on crucial planning decisions
Responding to official planning performance statistics for 2019/20 published today, trade body Homes for Scotland (HFS) described another overall increase in decision times for housing applications as "hugely frustrating".
Director of Planning Tammy Swift-Adams said:
"Despite an 11.5 per cent drop in the number of decisions made on local housing applications (defined as being for less than 50 homes), the time taken to make those decisions crept up for the second year running.
More at Scottish Architecture News
20 July 2020
St Columba of Iona RC Church, Woodside
New photos of 1941 building design by Glasgow's Gillespie Kidd & Coia
16 July 2020
Finnieston Crane Proposal
£7million proposals to transform Glasgow's Finnieston Crane into major visitor attraction – restaurant and museum, with visitors able to get up to the top deck.
15 July 2020
Construction moves to next stage of COVID-19 restart
The construction sector is commencing Phase 4 of its restart plan in response to the coronavirus (COVID-19) pandemic.
It means that close working can now take place on-site – with appropriate PPE use – if necessary.
Ministers agreed to the move after receiving assurances that this would not compromise PPE supplies required for the NHS.
Housing Minister Kevin Stewart said:
"I am pleased that the Construction industry can take this further, important step in returning to work and continuing its response to the Covid-19 pandemic.
"Controlled close working will enable the sector to carry out tasks that have not been possible since the lockdown began, but we are of course not back to business as usual yet and the health and safety of construction workers and the public remains the top priority.
"The move into Phase 4 of the restart plan is subject to appropriate use of PPE, and we have agreed to it only after making certain that this will not impact on supplies required by the NHS.
"The sector's response to this crisis continues to be responsible and measured, but I must reiterate again how important it is that, in order to ensure public and workforce confidence and safety, that the latest Scottish Government and the safe operating guidance put in place by Construction Scotland – are followed."
Background:
The construction restart model was devised by the industry in line with Scottish Government guidelines.
Coronavirus (COVID-19): construction sector guidance includes links to other relevant resources, including trade union links and industry guidance.
The Safe Operating Guidance is available on the Construction Scotland website.
10 July 2020
Clarity on timing of LBTT change "absolutely crucial", say builders
Scotland's home building industry has responded to this afternoon's announcements on Land & Buildings Transaction Tax (LBTT) and the First Home Fund by Finance Secretary Kate Forbes.
Director of Policy Fionna Kell said:
"These announcements are welcome support for the Scottish housing market but both require further action if the benefits are to be fully maximised for individual customers and the wider economy.
"On LBTT, it is absolutely crucial that we get an early date for implementation otherwise we are at risk of seeing already fragile market recovery stall as buyers delay purchases.
"With regards to the First Home Fund, this will help those who have been affected by mortgage lenders reducing Loan to Values but we also need to see the scheme extended beyond next March as so many transactions and housing completions have been delayed by the construction shutdown."
"Both of these issues are core elements of the industry recovery plan we are preparing to submit to the Scottish Government."
1 July 2020
Demand Surges For New Build Homes
Over half now appreciate their home 'more than ever' / 40% of people want a home office
With show homes and sales offices in Scotland now open again, builders are reporting strong levels of Interest as lockdown restrictions begin to ease.
This is supported by new research by Zoopla revealing an upsurge in demand in Scotland of 33% (greater than the South West of England at 23%) to 21 June, after an initial fall in early March, despite the market north of the border being closed over the period.
The survey, released today by the Home Builders Federation (HBF) and Homes for Scotland (HFS) to mark the launch of New Homes Week Unlocked from 20 – 27 July, also highlights the importance of "home" after the months people have spent taking refuge in their existing properties.
It shows that:
• 55% of people polled stated that they now value their home space more than ever
• 2 in 5 (40%) people say that they would now prioritise space for a home office if they were searching for a new home
• 1 in 5 (18%) people want to change the style of their home, with 1 in 6 (16%) stating whilst being in lockdown their interest in updating their home has increased
As more and more people re-evaluate their circumstances and consider a move, Scottish builders are reporting a surge in new home enquiries and reservations since the moving home process restarted on Monday.
Nicola Barclay, Chief Executive of Homes for Scotland, said:
"Lockdown has been an extremely testing time, during which people have spent much more time than usual in their homes. This has led to a re-evaluation in how people see their homes and what they want from them. As a result, high-quality, environmentally-friendly new build homes specifically designed for modern living are increasingly in demand. With homes available to suit all needs, budgets and locations, there really are options to suit everyone.
"New Homes Week Unlocked will give those who have developed itchy feet an opportunity to update their space according to their new priorities so the Scottish Government's continuing support for Help to Buy for a further year has been very welcome, with the First Home Fund pilot scheme also proving popular with new purchasers.
"The feedback we are receiving is that buyers and sales advisors alike are really welcoming the by appointment process, enjoying higher quality time together while staying safe, and with the added benefit of no interruptions."
Alex Rose, Director of New Homes, Zoopla added:
"Buyer expectations have shifted since the coronavirus lockdown. Home offices have spiked in popularity as more people plan to work from home more frequently, while gardens and proximity to outdoor space have also become a prerequisite for many buyers.
"Despite the pressures of social distancing, demand from home hunters has been served by best-in-class technology, CGIs and virtual viewings made available by home builders. Buyers are also able to visit show properties by appointment, making social distancing easier to navigate, enabling new home purchases to move forward."
New Homes Week Unlocked will provide valuable guidance to potential buyers following the Covid-19 crisis, with home building also playing a major part in helping the economy recover. The week will focus on supporting buyers recommence with the plans they have been forced to put on hold. As show homes around the country re-open their doors, with social distancing safety procedures in place, the event will provide expert guidance on how to navigate the new normal. New Homes Week Unlocked will also showcase the vast range of new homes available around the UK and the benefits of opting for a brand-new property.
Research was conducted by Opinion Matters using a sample of 2000 nationally representative UK adults aged 18+.
For more information about New Homes Week Unlocked go to New Homes Week Unlocked or follow the event on Instagram.
30 June 2020
RIAS Elects Youngest Ever Candidate as President
Christina Gaiger FRIAS has been elected the next President of the Royal Incorporation of Architects in Scotland (RIAS). Christina will take over from Robin Webster OBE at the Incorporation's AGM on 30th June 2020. Christina will serve as President for a two year term.
26 June 2020
Central Edinburgh Photos
As we enter a new phase of Scotland's route out of the coronavirus pandemic, you can enjoy Edit's new photo gallery showing the University's Central Area and the surrounding city in recent days:
Capturing the city in covid times
25 June 2020
SELECT and SJIB launch engaging new apprentice animation explaining the steps to a successful FICA
SELECT and the Scottish Joint Industry Board (SJIB) have once again teamed up to develop another eye-catching animation – this time shining the spotlight on the Final Integrated Competence Assessment (FICA).
As testing centres prepare to reopen next week, and apprentices across Scotland pick up their tools and books again, the two-minute film gives an overview of exactly what the important assessment entails.
From preparing a pre-FICA checklist to what to expect on the day itself, the animation gives a step-by-step overview, preparing apprentices for what awaits them at the ultimate stage of the electrical training programme.
The new animation follows the success of the first SELECT and SJIB joint animation, Journey of an Electrician, which was released in April 2019.
SELECT's Director of Employment and Skills, Fiona Harper, said: "This new animation takes candidates through the many practical steps which are necessary to approach and successfully complete the FICA and become a qualified electrician, with all the professional benefits that the qualification brings.
"Like our previous animation, it is easy to follow, engaging and informative, and explains the procedures clearly, giving an excellent idea of what is required of the young people who are about to undertake this tough assessment."
First established in 1998, the FICA is part of the SJIB's modern apprenticeship programme, which leads to the SVQ (SCQF 7) qualification in electrical installation.
Held at three testing centres across Scotland – which will be reopening on Monday 29 June – the challenging two-day assessment is made up of practical and complex electrical installation tasks, compliant with the 18th Edition of the IET Wiring Regulations, which must be completed against the clock.
Fiona, who is also The Secretary of the SJIB, added: "The FICA can often seem quite daunting to the candidates, so this animation is designed to offer clarity and reassurance and show exactly what awaits them at this stage of their career."
Once again created by the animation team at Connect Communications, it will now be hosted on the SELECT and SJIB websites, as well as being shown in schools, colleges and trade fairs to give would-be electricians an idea of what the assessment entails.
Fiona said: "Scotland currently face a skills challenge, with recruiting an issue in particular, so it's crucial that we attract the best young people possible to the electrical industry.
"Initiatives such as this animation, which can be screened at events and conferences to explain career choices, will have a hugely beneficial effect."
For more information, please contact Iain Mason, Director of Communications at SELECT, the Electrical Contractors' Association of Scotland, The Walled Garden, Bush Estate, Midlothian EH26 0SB. T: 0131 445 5577. F: 0131 445 5548. E: admin@select.org.uk. W: www.select.org.uk
19 June 2020
Virtual Coarum – Re-imagine Edinburgh
Coarum: (Scots) a group, gathering;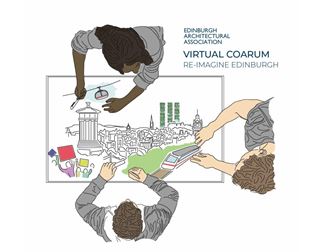 Virtual Coarum is an online discussion to explore a better way of living post-COVID 19.
The Edinburgh Architectural Association are asking members of the design community to contribute to a new vision for Edinburgh and the surrounding areas:
see our event spage for details
19 June 2020
Artisan Launches New Standards for Sustainable Homes Development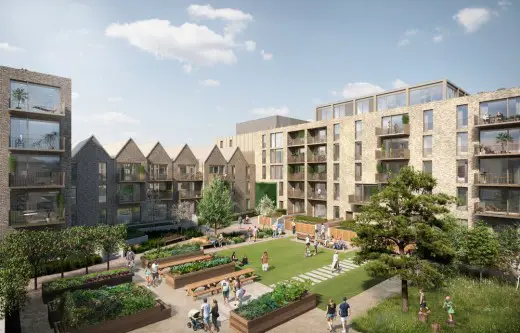 image courtesy of architects
Artisan Real Estate Sustainable Homes
Niche homebuilder Artisan Real Estate has launched an ambitious new blueprint for sustainable development, responding to the changing requirements of local people and communities in a post-Covid world.
11 Jun 2020
Melville Monument News
Activists in Edinburgh have organised another Black Lives Matter rally to take place this weekend at the Melville Monument in St Andrew Square.
The statue commemorates Henry Dundas, a politician who delayed the end of slavery leading to around 630,000 slaves waiting an extra 10 years for their freedom.
The protest, set to take place on Saturday 13 June between 12pm and 3pm has called upon activists to join organisers 'in unity and pride'.
On Tuesday 9th of June Edinburgh City Council leader Adam McVey said he would feel 'no sense of loss' if the statue was removed. It was also announced that wording for a plaque to be put at the base of the statue had been approved to explain Dundas' ties to the slave trade.
11 Jun 2020
Construction industry takes next step towards COVID-19 recovery
The construction sector is commencing the next phase of its restart plan in response to the coronavirus (COVID-19) pandemic.
It's the third of a six-phase approach devised by the industry in line with Scottish Government guidelines and will allow for a slow build-up of workforces to optimum capacity while physical distancing remains in force. Work in this phase on 'non-essential' sites can only be carried out within physical distancing parameters.
Earlier stages of the plan included health and safety planning and risk assessments, followed by preparatory work to implement new cleaning measures, install signage and arrange appropriate security at construction sites.
Housing Minister Kevin Stewart said:
"The health and safety of construction workers and the public remains the top priority as we begin to restart the industry.
"In considering the industry's readiness to move to the next stage, we have taken an evidence-led approach. The sector's response to this crisis continues to be responsible and measured, and I am satisfied that it is well-placed to progress into this next phase.
"I must reiterate, however, that easing restrictions will not mean returning to how things were before the virus. Physical distancing, hand hygiene, and other critical behaviours will be essential in each area to ensure public and workforce confidence. I am pleased that we are now able to take this significant step in safely returning the industry to work."
Background
The six-phase Restart model was developed by Construction Scotland on behalf of the industry. It starts with planning in Phase 0 and gradually progresses through the stages to increasing density/productivity in Phase 5.
In Phase 2, a proportion of staff can now begin to return to sites, becoming familiar with the new ways of working before activity recommences.
Coronavirus (COVID-19): construction sector guidance includes links to other relevant resources, including trade union links and industry guidance.
11 Jun 2020
Return to construction and extension of Help to Buy delivers much needed housing boost
The home building industry has warmly welcomed the First Minister's announcement that construction can move to Phase 2 of its restart plan which will see sites begin to open up again with workers following strict social distancing and hygiene controls. Providing further confidence for both prospective customers and builders, the First Minister also confirmed the extension of the highly successful Help to Buy scheme for a further year until March 2022.
Chief Executive of industry body Homes for Scotland Nicola Barclay said:
"To get confirmation that home builders can now commence the re-opening of their sites is great news that hasn't come a moment too soon given the robust safety plans that the industry has developed and put in place. With pent-up housing demand having increased with every day that has passed, we look forward to finishing off the many homes that are already largely complete and that families are desperate to move into as well as starting to get the new homes that are so desperately needed out of the ground.
"Having the extension of the Help to Buy scheme announced at the same time is also a much required confidence booster for the housing market that will help ensure even more younger Scots can benefit from this hugely successful initiative and realise their aspirations of owning their own home.
"The First Minister paid tribute to the very responsible approach that has been adopted by the industry during the lockdown, and this is a sentiment I wish to echo loudly. Home builders have stepped up to the plate supporting their customers, employees and local communities, and this will continue as we look forward to working closely with government and other stakeholders to rebuild Scotland's economy."
10 Jun 2020
RSA William Littlejohn Award
The RSA William Littlejohn Award (£2,000) is for Excellence and Innovation in Water-based media. The award, funded by The William Littlejohn Bequest and administered by the Royal Scottish Academy, consists of:
– A monetary award (£2,000) to research, develop and produce a new body of work in any
water-based medium.
– Exhibition of selected completed work at the Royal Scottish Academy in 2021.
– Acquisition of work into the prestigious RSA Permanent Collections.
Deadline: Sunday 28 June 2020, 11.59pm
RSA Morton Award
The RSA Morton Award (£5,000) is for artists working in a lens-based media in Scotland.
The award, funded by The Morton Charitable Trust and administered by the Royal Scottish Academy, consists of:
– A monetary award (£5,000) to research, develop and produce a new body of work in a
lens-based medium.
– Exhibition of selected completed work at the Royal Scottish Academy in 2021.
– Acquisition of work into the prestigious RSA Permanent Collections.
Deadline is Sunday 28 June 2020, 11.59pm
How can we build a better city?
EWH have released more free tickets for their online event this Thursday, where they will welcome four leading Edinburgh politicians and ask the question: how can we make our capital city a better place in which to live and workpost-Covid?
Joining the event will be:
Adam McVey, Leader of City of Edinburgh Council
Sarah Boyack MSP, the Labour Party spokesperson for Local Government
Alison Johnstone MSP, Co-Leader of the Scottish Greens in the Scottish Parliament
Jeremy Balfour MSP, Scottish Conservative spokesperson for childcare and early years.
Do you have questions for the panel?
Send them to members@ewht.org.uk
Donate the cost of a ticket
The series of on-line conversations with leading local and national figuresare all free. However, if you are able, EWH ask that you consider donating £6 – the price of a normal ticket – to help us cover the loss of income we are experiencing during the lockdown.
Text
EDINBURGHWH 6
to 70450 to donate £6
Texts cost £6 plus one standard rate message and you'll be opting in to hear more about our work and fundraising via telephone and SMS. If you'd like to give £6 but do not wish to receive marketing communications, text EDINBURGHWHNOINFO 6 to 70450.
28 May 2020
Property industry relieved to see recovery plan taken forward
Also calls for trust and collaboration with Scottish Government as it prepares to deliver safe working places
Following the First Minister's statement today (28 May 2020) confirming the commencement of Phase 1 of the Scottish Government's route map to easing lockdown, Robin Blacklock, SPF Chair and MD Dowbrae Property Consultancy, commented:
'The real estate industry is relieved to see the start of a firm path to recovery signalled today by the First Minister. The sector will continue to prioritise safe operating and business practises for its employees, contractors and clients.
'The construction sector has worked hard to develop detailed safe working practises. We encourage the government to press ahead as quickly as possible with the sector's advice on a gradual return to work for construction and building works. The critical decision will be between now and Phase 2 and it is not clear how or when that decision will be made.
'This week's retail guidance is also welcome, but we feel the emphasis should be on ensuring retail facilities can trade safely, rather than on the size of the property.
'We are entering a critical period as we move towards the more substantive Phase 2 of the route map. With government collaboration, the real estate sector should be trusted to adopt safe, innovative and flexible working practises in order to get the economy moving again and to secure crucial jobs and investment.'
28 May 2020
Scottish Buildings – Unidentified Images
The Scottish Development Department collection consists of photographs and corresponding records sheets captured by SDD investigators, predominately in the 1970s and 1980s.
Photographs show both urban and rural areas throughout Scotland, including cities, towns and villages.
Some of these images do not have any additional 'metadata' – information about themselves, take a look:
Unidentified Scottish Buildings
22 May 2020
Construction Industry Coronavirus Forum welcomes long-awaited return to work in Scotland
The Construction Industry Coronavirus (CICV) Forum has welcomed the first tentative steps announced yesterday (May 21) to get the sector in Scotland back to work – but insists health and safety and collaboration must be at the heart of the phased return.
More details on the Glasgow Architecture website's news page
21 May 2020
SPF welcomes route map but seeks clarity for construction sector return to work
Following the First Minister's statement today (21 May 2020) announcing the Scottish Government route map to exiting lockdown, Robin Blacklock, Chair of the Scottish Property Federation, comments:
"We welcome these steps towards re-starting our economy, but there are still considerable questions to be asked of government around the pace and processes for construction sites to reopen.
"We need to see published guidance on the steps contractors and developers need to be making now, in order to integrate these into the plans already being made for a safe and gradual return to work.
"We also note the difference between outdoor and indoor working and there are examples where key indoor work may be done safely in line with COVID-19 safety operating procedures.
"These works will include fit-out operations for businesses and retailers that will be necessary for their successful reintroduction to the economy as the route map unfolds."
13 May 2020
Recommencement of Home Building in Scotland
13th of May 2020 – First Minister asked to signal a timescale for the recommencement of home building in Scotland as housing market divergence increases
Members of the Board of trade body Homes for Scotland (HFS) have written to the First Minister requesting a phased return to work which would enable them to put the finishing touches to around 6000 largely completed homes worth in excess of £1bn to the economy.
With the industry having carefully considered and addressed all issues relating to the safe operation of construction sites and sales offices, the timely request follows the announcement by the UK Government that estate agents and home builders in England can re-start the buying and selling process. A similar announcement by the First Minister would allow customers in Scotland who have been left in lockdown limbo and who still wish to move to do so.
As the increasing divergence creates more confusion and uncertainty for customers, the letter (signed by 20 industry leaders who sit on the HFS Board and represent both national and smaller regional businesses), points to the detailed procedures developed by industry to ensure that activity can be safely recommenced as soon as the green light is given.
The signatories believe this first step would also help mitigate the pandemic's wide-ranging shockwaves by limiting the damage in terms of housing supply, job losses and business failures.
HFS Chief Executive Nicola Barclay said:
"The Scottish Government's recently announced short-term loan facility for SME home builders is welcomed and will provide a lifeline for many, but there is no escaping the fact that the long-term survival of all these businesses depends on their ability to get back on site and build homes, for both owner-occupation and rent.
"As we see the first sets of figures being released about the financial impact of the lockdown, we can be sure that the full impact is still to be felt. Our industry contributes significantly to Scotland's social and economic wellbeing and we are ready and willing to re-open safely with additional measures in place to help protect our employees and customers, while also supporting the struggling economy. Our Board is now asking for the First Minister's backing to allow us to do so."
Click here to read the full letter.
6 May 2020
Bérubé Circus of Life Prize · APDC Space Wizards Award 2020
Scottish interior architect Frazer MacDonald Hay is a judge in these international awards:
http://www.apdc-awards.org/info/detail/id/895?lang=en-us
1 May 2020
EAA Awards Shortlist 2020
The Edinburgh Architectural Association is pleased to announce that the following projects have been shortlisted for the 2020 EAA Awards.
In total 42 submissions were received. All projects are designed by registered architects and built within the chapter area, with exception of the Ambassador Award which is built out with the chapter.
The awards results will be announced at a celebratory drinks event when lockdown restrictions have been lifted, hopefully in the autumn.
29 Apr 2020
Edinburgh World Heritage in conversation with…architects
Today's Edinburgh skyline reveals not only the towers and spires of our renowned World Heritage Site, but also countless cranes and gantries which signify the biggest building boom the city has seen for many years.
More details on our Architecture events page
29 Apr 2020
CICV Forum Call to keep Key Workers Safe
Minister echoes CICV Forum call to keep key workers safe from abuse during essential construction work.
The Construction Industry Coronavirus (CICV) Forum is providing greater visibility on what constitutes 'essential work' to prevent key workers being harassed and verbally abused during vital construction projects.
The Forum's members have reported an increasing number of tradespeople being intimidated and verbally abused by the public while carrying out legitimate projects in line with CICV Forum guidelines.
One contractor said: "On one commercial job, our engineers were subjected to a barrage of abuse by residents and staff. Our guys were upset and didn't want to be there, so in the end, the local authority had to put up posters explaining that we were carrying out essential work. It was the only way our engineers could be left alone to do the work.
"Not all essential obvious work is obvious to the public, but that is no excuse for the behaviour that some of us in the construction industry are having to put up with."
To try and diffuse the situation, the Forum has produced a checklist of projects to help the public understand the range of work classified as 'essential'. It also plans to offer on-site signage to help workers make it clear to the public they are carrying out essential work only.
Kevin Stewart, Minister for Local Government, Housing and Planning, said such measures were essential to provide clarity and reduce tension between the wider public and workers.
He said: "The general public may not be aware of the full range of projects that constitute 'essential work', but these are workers who are performing a vital role safely and responsibly.
"At a time when the Scottish Government is asking people to remain in their homes it is even more important that these homes are watertight, safe and have essential working facilities, such as water, gas and electricity.
"Builders and plumbers' merchants are also needed to provide supplies for essential repair and maintenance, such as heating and hot water breakdowns, roofing repairs, and electrical and fire safety."
Mr Stewart added: "It is important that the public understand that there is still a need for essential works to be carried out in these challenging times and industry professionals should be able to complete repairs in safety, without fear of criticism and rebuke."
His words were echoed by John McKinney, secretary of Forum members the National Federation of Roofing Contractors, the Stone Federation and the Scottish Contractors Group, who said: "Essential construction work is not confined to building a major hospital for COVID-19, but we know that people might not be aware of this.
"There are dozens of other construction works that are classed as essential to keep the fabric of Scotland intact. At the very least, homes need to be watertight and safe both inside and out for people to be able to live in them. That's why the construction industry is working hard across Scotland to ensure people can stay at home during these times to protect the NHS.
"Greater understanding is needed among the public to understand that the key workers carrying out such work aren't flouting the rules – they are performing essential tasks and should be allowed to do so without fear of abuse."
To help the public, the Forum has now compiled a list of essential work that is permitted to be carried out, including:
• Removal of elements in danger of collapse, e.g. cladding
• Repair and construction of critical road and utility infrastructure
• Emergency call-out services, e.g. electrical, plumbing, glazing and roofing
• Making inhabited buildings safe and watertight, e.g. after storm damage
• Domestic repairs to ensure occupants' safety and wellbeing, e.g. the elderly
• Repair and maintenance of essential buildings, e.g. fire and police stations
• Safe operation of faulty heating and water systems
• Essential inspections to prevent health outbreaks, e.g. legionnaires
• Supply of materials for these and other essential COVID-19 projects.
In addition, the Forum is developing a series of free signage for contractors to use to make it clear that any work being carried out is essential.
Designed to be printed out and inserted in van windows and properties, the read: "Key Worker: Carrying Out Essential Construction Work."
Andrew Renwick, Managing Director of Caltech Lifts, who represents Forum member the Lift and Escalator Industry Association, said it was vital that this new collateral was used responsibly.
He said: "It is imperative that this material is only displayed and worn by individuals undertaking qualifying work, so employers should also issue employees with appropriate paperwork so that they can provide evidence if question by the police.
"Anyone caught abusing this material should be dealt with and the employer spoken to by the authorities."
Set up in March, the CICV Forum has already played a major role in clarifying conflicting information for the sector and issuing practical guidance for companies, clients and employees. It has also established a series of influential sub-groups dealing with mission-critical aspects such as health and safety, skills and future planning.
28 Apr 2020
Supporting makers in response to the Covid-19 crisis
MAKE is a manifesto for craft in Scotland, which aims to harness a collective voice for makers. Panel are the current custodians of the manifesto, guided by a committee of 10 makers.
on 27 April, MAKE launched a programme of resources to support makers in Scotland. Check out opportunities and advice for makers, craftspeople and small craft organisations including:
• micro-grants in partnership with Applied Arts Scotland
• group finance advice sessions in partnership with Applied Arts Scotland
• one-to-one finance advice sessions
• resources and tailored guidance for the craft sector
Alongside these opportunities, MAKE has commissioned makers, across disciplines, to create Craft Activity Guides – have a go at traditional and contemporary craft activities through our downloadable series launching on 21 May!
MAKE | SUPPORT is delivered in partnership with Applied Arts Scotland and in association with Craft Scotland. MAKE is kindly supported by the William Grant Foundation
27 Apr 2020
University of Glasgow News
The University of Glasgow announce that Ian Campbell is to become its new Executive Director of Estates.
More details on the Glasgow Architecture website news page
22 Apr 2020
Vienna House Hotel
Vienna House Hotel in Glasgow
Artisan Real estate has gained planning permission for a 250-bed, 124,000 sqft hotel in St Vincent Street. The building design is by award-winning London architects Hawkins\Brown.
21 Apr 2020
Glasgow Buildings Photos 2020
Architectural photos taken today by Editor Adrian Welch around the Gorbals area:
Glasgow Buildings Photos
12 Apr 2020
Happy Easter!
We bring you some photos taken from deserted streets in Glasgow this morning:
9 Apr 2020
New Town North Development at Former RBS Site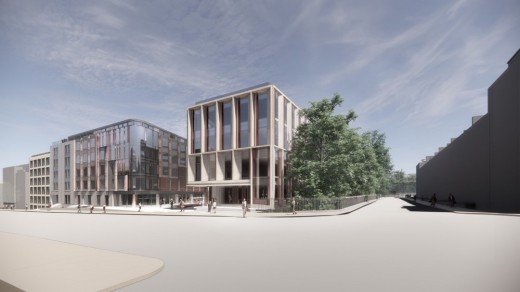 image courtesy of architecture office
Edinburgh New Town North Development
7 Apr 2020
Digital Collaboration During COVID-19 Pandemic
By David Halliday, managing director, architectural, urban design and masterplanning architectural practice Halliday Fraser Munro:
Homeworking During COVID-19 Pandemic
3 Apr 2020
Scottish Property Market Recovery?
Up until two weeks ago, the property market in Scotland was roaring, firing on all cylinders and accelerating away. The post-Brexit bounce was in full swing and people who had been sitting on their hands for years were active as puppies.
Article by Alan Gordon, DM Hall, on our Glasgow Architecture website's news page.
27 Mar 2020
Construction Industry Coronavirus (CICV) Forum News
Scottish construction bodies issue new guidance to clarify working practices during Coronavirus crisis
The newly-established Construction Industry Coronavirus (CICV) Forum has today (March 27) taken immediate action to provide clarity for the sector in Scotland following advice from First Minister Nicola Sturgeon on Wednesday (March 25) that all building sites with the exception of any hospital work should close.
Fiona Hodgson, Chief Executive of SNIPEF, said: "This is a valuable response to a rapidly evolving situation. The mixed messages from government had created significant uncertainty and we hope that this new guidance will help employers, employees and customers to know where they stand."
Vaughan Hart, Managing Director of the SBF, said: "It is of the utmost importance in these uncertain times to have the parameters clearly defined. The CICV Forum guidance makes it clear that, with the exception of sites classified by the First Minister as being essential, only repair and maintenance of an emergency nature should be undertaken in the construction industry."
Gordon Nelson, Director of FMB Scotland, said: "The conflicting messages were leaving contractors in the dark and the most important thing we need from those in charge during this period of uncertainty is clarity."
Grahame Barn, Chief Executive of CECA Scotland, added: "We were in danger of damaging confusion around what is regarded as safety critical infrastructure work. This new guidance puts us in a position from which we can plan and move forward."
SELECT Managing Director Alan Wilson represented the Forum in a meeting this week with Fiona Hyslop, Secretary for Economy, Fair Work and Culture, during which he pressed for greater clarity on how the current working practices will affect tradespeople across Scotland
The Forum has also set up two working groups to deal with employment issues, led by Vaughan Hart, Managing Director of SBF, and a commercial group led by SNIPEF Chief Executive Fiona Hodgson.
"This is a valuable response to a rapidly evolving situation. The mixed messages from Governments had created significant uncertainty and we hope this new guidance will help employers, employees and customers to know where they stand." Read more here@@LINK
– Fiona Hodgson, Chief Executive, SNIPEF
"It is of the utmost importance in these uncertain times to have the parameters clearly defined and the CICV guidance makes it clear that only repair and maintenance of an emergency nature should be undertaken in the construction sector." Read more here@@LINK
– Vaughan Hart, Managing Director, SBF
23 Mar 2020
Construction Action for Coronavirus Crisis
Scottish construction bodies call for urgent action to help firms during coronavirus crisis
A group of respected construction industry bodies, who between them represent the majority of contractor business in Scotland, has suggested a number of simple actions which the Scottish Government could introduce immediately to help with cashflow and protect jobs against the "crippling" background of coronavirus.
More on the Glasgow Architecture website news page
10 Mar 2020
Judges line up for 2020 Scottish Design Awards
The judging panels for the 2020 Scottish Design Awards have been confirmed with a mix of figures from industry and academia coming together to celebrate the nation's best new work:
2020 Scottish Design Awards News
6 Mar 2020
Entries invited for the 23rd Scottish Design Awards
The Scottish Design Awards has resumed its search for the finest examples of architecture and design.
Organised by Urban Realm, in partnership with The Drum, the awards showcase boundary shaping work to an audience of design professionals to reward those who've gone above and beyond in delivering their briefs.
More info – Scottish Design Awards News – on our Glasgow Architecture website.
3 Mar 2020
Political Leadership, Resourcing And Infrastructure Key To Achieving Vision Of Housing To 2040
Political leadership, adequate resourcing and delivery of supporting infrastructure are all essential if Scotland is to have the volume and range of quality homes it requires to meet the diverse needs of its population in 20 years' time.
That is the view of industry body Homes for Scotland (HFS) in its response to the Scottish Government's "Housing to 2040" consultation in which it calls for:
 an immediate all-tenure housing target to deliver at least 25,000 new homes per annum
 a well-resourced planning service
 centralisation of local authority building control services and the extension of this service to independent verifiers
 a national housing delivery agency
 incentivising consumer behaviour to make low carbon housing choices
29 Feb 2020
Perth's New Creative Hub
The aim is to generate a positive environment for artists and entrepreneurs who want to live and work in the area – rather than having to seek opportunities elsewhere.
New Creative Hub Perth News
Architectural Conservation Masterclass
5 March 2020
The next session of the 43rd annual series of Architectural Conservation Masterclasses is:
How Lime Mortar Works
This masterclass is jointly offered by the Scottish Centre for Conservation Studies and the Institute for Historic Buildings Conservation – IHBC.
Details on our events page.
19 Feb 2020
EAA Awards News
Submissions Deadline – Wed 26 February 2020 – 4pm
EAA members, and non-members, are invited to submit nominations – details on our events page
19 Feb 2020
KSLD EFLA Lighting Design Move to 100 Ocean Drive
KSLD | EFLA Lighting Design are excited to announce that our team are moving to new premises at 100 Ocean Drive, Leith on the 21st of February 2020.
We have been at our current location since 2001. The old buildings at Baltic Street are rich in history, but since becoming part of EFLA Consulting Engineers, our horizons have continued to grow, and we look forward to a bright future in our fresh new home.
100 Ocean Drive will be our new studio, next to Ocean Terminal at Leith Dock overlooking the Royal Yacht Britannia. We are situated on the first floor, above The Gate Worldwide brand and communications hub. We look forward to watching the sun rise and set across the dramatic harbour landscape and inviting you to share in our new daylit space.
Our new address is: 100 Ocean Drive | Edinburgh | EH6 6JJ | Scotland, UK
Our telephone number remains the same: 0131 555 5553
For any questions, please contact us: office@ksld.com
https://ksld.com/blog/2020/we-are-moving
7 Feb 2020
Property industry welcomes rates reform
6th of February 2020 – The Scottish Property Federation welcomes a step towards reducing the large business supplement on business rates, as announced in today's Scottish draft budget, but calls for further action to attain parity with England.
David Melhuish, Scottish Property Federation Director comments:
"The decision to reduce business rates burdens for 9,500 ratepayers in Scotland is a welcome step towards meeting the Barclay Review's recommendation on the large business supplement.
"However, a full realignment with England is needed to reduce the current disadvantage faced by some Scottish ratepayers.
"The introduction of an additional tax rate on commercial property leases is also disappointing. This new charge will add further tax and complications to businesses for relatively little return to the Scottish Government."
Architectural Conservation Masterclass – Conservation and Climate Change
43rd annual series of Architectural Conservation Masterclasses:
Dr James Simpson OBE
Time: Thursday, 30 January 5.30-7.00pm, followed by a wine reception
Venue: Adam House Lecture Theatre, 3 Chambers Street, Edinburgh EH1 1HR
23 Jan 2020
Scotland's Non-Domestic Rates Bill risks significant damage to investment into student accommodation sector
23rd of January 2020 – Student accommodation, like any domestic premises, is exempt from business rates.
However, this principle is currently at risk in Scotland due to an amendment to the Non-Domestic Rates (Scotland) Bill.
The amendment, introduced at Stage 2 of the parliamentary scrutiny process without consultation, would bring student accommodation into the scope of business rates.
Ahead of the Bill's Stage 3 debate, the Scottish Property Federation (SPF) has been working across political parties to urge Holyrood to consider the damage this amendment could cause to investment into the student accommodation sector.
David Melhuish, Scottish Property Federation Director comments:
"Extending business rates to what is essentially domestic property is fraught with unfairness and a fundamental departure from the principles of a tax that is aimed at non-domestic properties. Business rates are not designed for properties in which people live for any significant period of time.
"Inflicting an additional charge on student accommodation providers, who already pay business rates on their commercial spaces, will have a significant impact on the high-quality accommodation that this sector provides.
"Over the past decade, student accommodation providers have built tens of thousands of homes for students, meaning that the houses students otherwise would have been living in are available to families or young professionals.
"Business rates would strike a significant blow to this sector, deterring further investment at a time when government is seeking to support all housing tenures to alleviate growing housing pressure in Scottish university cities and towns.
"This new legislation will ultimately harm Scotland's world-class higher education system and the students who call this accommodation their home."
Home Builders Welcome New Infrastructure Strategy As Joined Up Approach Required To Support Future Housing Delivery
20th of January 2020 – With the cost and delays associated with delivering necessary supporting infrastructure among the biggest blockers to residential development, trade body Homes for Scotland today welcomed the 30-year blueprint published by the Infrastructure Commission for Scotland.
Full details on our Glasgow Architecture news page
13 Jan
RSA Metzstein Architecture Discourse 2020
Wednesday, 29 January 2020 from 18:45 to 20:30
Gordon Aikman Lecture Theatre. 32 George Square, Edinburgh EH8 9LH
The RSA is delighted to announce that Snøhetta will present this years Metzstein Architecture Discourse.
More info on our events page.
Halliday Fraser Munro new appointment supports changing landscape in masterplanning for the future
A rise in masterplanning project wins across Scotland has seen award-winning architectural design and planning practice Halliday Fraser Munro bring high-level expertise to its team, adding landscape architectural services to its portfolio.
Its new in-house landscape architecture team will be at the heart of its masterplanning process, supporting the vision of achieving successful and sustainable places to live, learn or work through excellence in design planning.
Halliday Fraser Munro has delivered significant masterplans across Scotland, like the 120-acre Queensferry One site at Rosyth, which combines manufacturing, distribution and office space and Aberdeen's Marischal Square city centre regeneration, with new retail and leisure developments mixing with a historic building and attractive user-friendly public spaces.
Masterplans that improve peoples' lives through the creation of healthy, viable communities requires a multi-disciplinary response, and Halliday Fraser Munro's recently appointed landscape architect Lesley Samuel will work closely with the firm's masterplanners, architects and town planners to deliver design frameworks that meet the aspirations of communities, developers and planning agencies in Scotland.
Lesley said: "Masterplanning shape our towns and cities and to leave a positive legacy for future generations to appreciate and enjoy. Never has planning policy in Scotland placed such an emphasis on the quality and suitability of people's living environments.
"I'll be working closely with colleagues at Halliday Fraser Munro to deliver masterplans which meet the aspirations of all stakeholders by looking at the complete picture.
"This is an exciting time for landscape architecture. It's important to support quality of life through providing opportunities for social interaction, to consider active travel options and to look for environmentally friendly solutions to aspects like site drainage. All this while creating a visually attractive development in keeping with the area's natural environment.
"It's not a case of putting down ideas for people but working with communities, clients and regulatory bodies, to get it right every time. Halliday Fraser Munro is already delivering on these priorities, and I am looking forward to being part of a multi-disciplinary team striving for excellence in every single project."
Lesley has more than 20 years' experience in private practices in Northern Ireland and Scotland. She has been involved in detailed design public realm works and large-scale landscape and visual assessments. These include public realm projects in Penicuik High Street, Countess Street in Saltcoats and Helensburgh's town centre and esplanade and plans for upgrading sites within Loch Lomond and Trossachs National Park to maximise public enjoyment while protecting the special quality of the area.
She was part of a team that worked on landscape and visual assessment for part of the Aberdeen Western Peripheral Route (AWPR).
Halliday Fraser Munro has an impressive track record of masterplanning. At Queens Quay in Clydebank, it prepared a masterplan which sets the principles to deliver a vibrant mixed-use community that extends Clydebank's existing town centre down to the riverside, enjoying public access to, and focus on, the river frontage, historic dock and iconic Titan Crane.
Close to Bannockburn, its South Stirling Gateway masterplan was prepared for landowners to meet the need for new homes in a very sensitive setting. It is now going through the planning process with a national housebuilder.
The challenge for masterplanners is to produce a design framework which encourages the creation of desirable and attractive places for people to live, work and relax but which are also commercially viable – and a fully integrated design planning service will support the firm's vision for urban design planning, said Stephen Barker, director at Halliday Fraser Munro.
Mr Barker said: "We've always provided a seamless approach by using external expertise but bringing landscape architecture in-house allows increased opportunities to tap into our very own talent stream at every aspect of the design and planning process. "Masterplanning in the 21st century takes a holistic approach and having our own landscape architecture team enhances communication and collaboration opportunities.
"This is particularly important for masterplanning as we continue to raise the bar and set new standards, creating quality places where people enjoy living, working and spending their leisure time in, in a sustainable manner."
Halliday Fraser Munro is an award-winning firm offering architectural, urban design and masterplanning services along with a specialised planning consultancy team. It has offices in Aberdeen, Dundee, Edinburgh, Glasgow, Leeds, London and Belfast. Further information is available at www.hfm.co.uk
Lesley Samuel joins Halliday Fraser Munro as a landscape architect: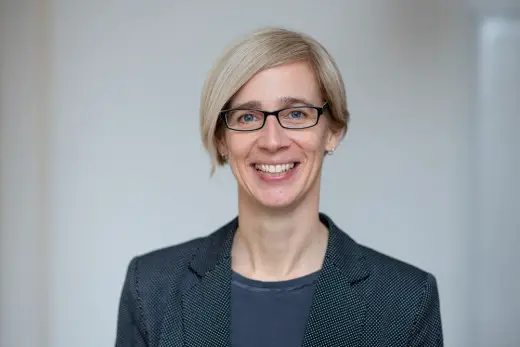 photo courtesy of architects
Edinburgh Architecture News 2019
Building Updates from 2019 – Highlights
6 Dec 2019
New Proposals for Edinburgh's New Town Revealed
New Town North Development News
19 Nov 2019
Architecture and Collective Life conference, Dundee
Dundee Architecture News
29 Oct 2019
Paisley Museum Planning Permission
Paisley Museum Renewal
14 Oct 2019
Maggie's mourns loss of co-founder
Charles Jencks
24 Sep 2019
Address Scottish barriers to housing delivery to mitigate Brexit effects and safeguard improving build rates
www.glasgowarchitecture.co.uk/glasgow-news-2019
8 Sep 2019
Scottish Design Awards Winners
Clydebank Community Sports Hub by Marc-Kilkenny Architects wins:
Scottish Design Awards 2019 Winners
6 Sep 2019
Botanics' Glasshouses close one by one for emergency repairs
Royal Botanic Gardens Edinburgh Biomes
Edinburgh Architecture News Archive
Edinburgh Building News archive links below:
Edinburgh Architecture News Jul – Dec 2017
Edinburgh Architecture News Apr-Jun 2017
Edinburgh Architecture News Jan-Mar 2017
Edinburgh News – Archive for July to October
Edinburgh Architecture News Mid 2016 – Archive for May to June
Edinburgh Architecture News Early 2016 – Archive for the early part of the year
Edinburgh Architecture News 2015 – Archive
Scottish Parliament entrance: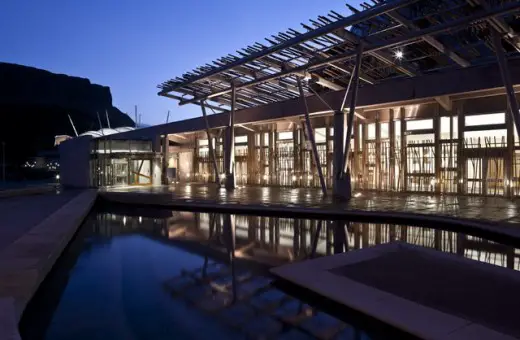 Comments for the Edinburgh Building News 2020 page welcome