St Andrew Square Edinburgh, Photos, Henry Dundas Statue News, Architect, Kiosk, Design, Project
St Andrew Square Buildings : Architecture
Henry Dundas Statue – Melville Monument Controversy: New Town Buildings, Edinburgh, Scotland
31 December 2021
1-2 St Andrews Square
Edinburgh 1-2 St Andrews Square comprises a four-story office building, above a Mexican restaurant in the heart of Edinburgh. Each floor plate was designed to CAT A, with BCO Zoning, efficient LED Baton lighting, and Ducted Fan Coil Units. Coordination was essential in this project with the services exposed to the viewers.
1-2 St Andrews Square
11 Jun 2020
St Andrew Square Henry Dundas Statue
Melville Monument News
Activists in Edinburgh have organised another Black Lives Matter rally to take place this weekend at the Melville Monument in St Andrew Square.
The statue commemorates Henry Dundas, a politician who delayed the end of slavery leading to around 630,000 slaves waiting an extra 10 years for their freedom.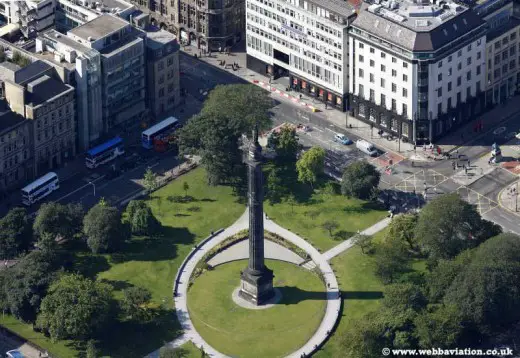 aerial image © webbaviation
The protest, set to take place on Saturday 13 June between 12pm and 3pm has called upon activists to join organisers 'in unity and pride'.
On Tuesday 9th of June Edinburgh City Council leader Adam McVey said he would feel 'no sense of loss' if the statue was removed. It was also announced that wording for a plaque to be put at the base of the statue had been approved to explain Dundas' ties to the slave trade.
St Andrew Square Building
Solar Pavilion
Designed by Karen Forbes for Edinburgh Art Festival
4 Aug – 4 Sep 2011
Admission free
Karen Forbes



Karen Forbes
Solar Pavilion (visualization), 2011
Courtesy the artist and Glo
Edinburgh Art Festival is delighted to announce further details of the first artist-designed Festival Pavilion. Situated in St. Andrew Square Gardens, Solar Pavilion is a 2.8 metre high, 14 metre long glass structure formed from 9 segments.
Designed by Karen Forbes with leading structural engineers Buro Happold and RMJM architectural practice, the Pavilion is a contemporary expression of the city's long fascination with optics and optical devices for viewing. The pavilion will open to the public on 4 August 2011 and will host a series of free events throughout the festival in partnership with the city's museums and galleries.





Karen Forbes
Solar Pavilion (visualization), 2011
Courtesy the artist and Glo
At the intersection of art and architecture, and at the heart of the city where Sir David Brewster invented the Kaleidoscope and dedicated a life to exploring the physics of light, Forbes' glass chamber will use the latest technology in glass facade engineering to create a space which will celebrate the play of light and shadow. Forbes' innovative structure will invite visitors to both enjoy a point of contemplation and reflection in the centre of the festival city and provide an optical viewing point from which to re-see the city. 12 + 13 Jul
New Kiosk Pavilion
The Pavilion was designed by Gillespies (Landscape Architectural Company, based in Glasgow) as part of the redevelopment of the Square.
The tenancy of the pavilion was an open competition to coffee retailers and Edinburgh registered company, Coffee Republic, won with a design concept by lee boyd.
'String of Pearls' project – View
It's easy to criticise such projects as the opening up of this formerly private square, but this initiative is both bold and well executed. Opening on 5th of April the stone landscaping was already being used for seating, with the cafe pavilion providing a focus and gentle bustle. The paths follow natural desire lines and the design is neat and unpretentious.
Many tours we've shown round the New Town over the years have been amazed that St Andrew Square, Charlotte Square, Queen Street Gardens, Moray Place, etc. are all reserved for lucky locals. This is not how a city should work. This civic space now represents a bold and successful attempt to repopulate Scotland's capital city, allow permeability and reconnect the people with what should have always been public space.



photos © Adrian Welch feb 2008 with lumix camera
The next space to be given back to pedestrians is the Grassmarket, another positive initiative. Thereafter the logical next step is to demand Charlotte Square is given back to the city. In the meantime the Council should remove the locked gates at the bridge behind the Ross Bandstand: this daft situation destroys permeability right in the heart of the city – you have to go to either end of the Gardens just to go from Old to New Town or vice versa.
Background to St Andrew Square Revitalisation
Underway in St Andrew Square since Jul 2007: opening up the square to the public & connecting burgeoning St James / Multrees Walk areas with city centre: clearing of foliage, new paths and some micro architecture. String of Pearls Edinburgh Development Framework by City of Edinburgh Council + Broadway Malyan
5 May 2017
Edinburgh Concert Hall Building News
The project to create Edinburgh's first new performance building in 100 years is gathering pace following the appointment of an architect-led design team, David Chipperfield Architects from London:
Edinburgh Concert Hall Building
42 St Andrew Square former RBS HQ prior to completion of Gogarburn



photo © Adrian Welch Feb 2008
Due to be developed, possibly as a hotel
Caledonian Insurance Company building



building: photo © Adrian Welch sep 2006
Scottish Provident building



building: photo © Adrian Welch sep 2006
St Andrew Square building design by Gareth Hoskins Architects + CDA
Melville Monument



statue / column photo © Adrian Welch Sep 2006
Harvey Nichols Edinburgh Department Store



picture from Store PR
Standard Life offices



picture from the architect
Standard Life building
35 St Andrew Square



photo © Adrian Welch 230207
One of the oldest buildings in the New Town, being refurbished in 2006
Dundas Mansion
Dundas Mansion, western focus to Edinburgh New Town's long axis – Royal Bank of Scotland branch for years – RBS offices.
St Andrew Square Retail / Commercial property design by Basil Spence architect



building: photo © Adrian Welch sep 2006
Bank of Scotland : HQ, east side of this civic space



building: photo © Adrian Welch 2005
Multrees Walk off St Andrew Square to east adj. Harvey Nichols
Aerial view:



picture from the architect
Central to St Andrew Square is the Melville Monument atop which is the stone statue of Henry Dundas, Viscount Melville
Prudential Assurance building – 14 South st Andrew St, by Alfred Waterhouse 1895



photo © Adrian Welch 230207
Looking east down George Street to the square:



building: photo © Adrian Welch 2006
Scottish Portrait Gallery, located north of the the civic space:



building: photo © Adrian Welch sep 2006
St Andrew Square – office building – photographed from north (rear) side:



building photo © Adrian Welch, 2006
Former Scottish Equitable offices



photograph © Adrian Welch, Nov 2007
The Dome, George Street
16 North St Andrew Street
Date built: 1824
David Paton
Home of Edinburgh SNP Club

picture from MLA
St Andrew Square Department Store – Jenners
Buildings / photos for the St Andrew Square Architecture page welcome