Edinburgh Architecture News 2021, Lothian Buildings, Architects, Images, Design Scotland
Edinburgh Building News 2021: Architecture
post updated 20 Apr 2021
Edinburgh Architecture News 2021
20 Apr 2021
Drum Property Group Takes Equity and Management Role in New Ingliston Limited
New Structure in Place to Progress "Transformational Development" for West Edinburgh
Drum Property Group has announced that it has taken an equity and management position in New Ingliston Limited, the development company led by Sir Bill Gammell.
New Ingliston development west of Edinburgh: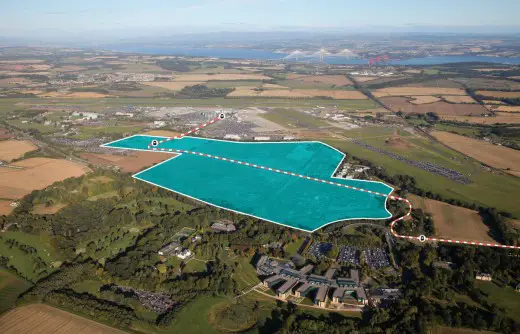 New Ingliston Ltd currently owns more than 200 acres of prime development land to the west of Edinburgh, adjacent to Edinburgh Airport. Drum will now take on the management of both the company and future development activity on behalf of the Board. The 205-acre site – formerly marketed as 'Edinburgh 205' and part of the planned International Business Gateway – is widely regarded as one of the most strategically important economic development areas in Scotland, presenting the opportunity to open up the west of the Capital.
As part of the company reorganisation, a new Board has been appointed with Sir Bill Gammell serving as Chairman. Previous Board members Patrick Gammell, Sir Brian Ivory and Alistair Salvesen have been joined by new appointees Graeme Bone, Group Managing Director of Drum Property Group and property industry veterans Alan Robertson and Eric Young. This follows the recent retirement of Roddie Paterson after 26 years as Managing Director of New Ingliston Ltd.
Welcoming the new management structure, Sir Bill Gammell, Chairman of New Ingliston Ltd said: "We are delighted to be working with the highly regarded Drum team who have a proven track record of expertise and delivery. On behalf of the Board, I would also like to record our thanks to Roddie Paterson and all his team at Highland Properties for their tremendous input over many years and for creating such a strong foundation for future growth."
Graeme Bone, Group Managing Director of Drum, added: "This is a once-in-a generation opportunity for Drum to deliver a development site that has the potential to play a fundamental role in Scotland's economic recovery and ongoing development for decades to come. To have the support of such an inspiring and experienced Board provides a unique platform to look at the site with a fresh perspective and energy as the country emerges from the challenges of lockdown. We have already started the process of productive engagement with local and national stakeholders in the private and public sectors, and we now look forward to building momentum and advancing our vision for what could be a transformational development for west Edinburgh."
E
Background:
About Drum Property Group: Drum Property Group Ltd is an award-winning property development and investment business with a strong track record of growth throughout Glasgow, Scotland and the UK. www.drumpropertygroup.com
About New Ingliston Limited: New Ingliston Ltd is the principal landowner and founding partner in the West Edinburgh Development Partnership, a collaboration of public and private bodies including Scottish Government, City of Edinburgh Council, Transport Scotland, Edinburgh Airport and The Royal Highland Society.
14 Apr 2021
LBA Team Members Awarded Prestigious Medal For Architecture By RSA
Chiara Fingland (left) and Clare O'Connell (right) from Studio LBA: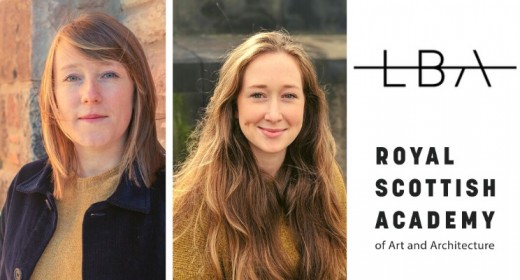 Chiara Fingland and Clare O'Connell from Studio LBA and the Imagine If… research collective, have just been awarded the prestigious RSA Annual Exhibition Medal for Architecture for their work on the Home of 2030 project.
Chiara and Clare worked with colleague Ellie Burroughs from Aitken Turnbull Architects on the design competition which was created by to drive innovation in the provision of affordable, efficient and healthy green homes for all and tackle the need for scalable, sustainable and durable solutions that help to address the housing shortage.
The three created an innovative and transformational design that explores a vision for housing of the future. This scheme seeks to address how we can make a generation driven by convenience live more sustainably. Their proposal aimed to integrate the benefits of shared economies through utilising community assets on a macro and micro scale, which in turn, facilitates individuals to be independent whilst being supported by a collective neighbourhood.
Chiara and Clare said "We established the 'Imagine If…' research collective with colleagues Ellie and Eilidh, with the aim of opening a dialogue with the public on more sustainable housing marketing offerings.
The entirety of the design process took place remotely during the first Covid lockdown and whilst it can often feel hard to work collaboratively in a socially distanced world, this experience really highlighted what can be achieved when you have shared passion and drive. The three of us had countless video calls and phone calls throughout the design process, making it a challenging but rewarding process. It is a great honour to have had our findings on how shared living could help us live more sustainably recognised with this award.
The designs had to take a number of factors into account including; creating comfortable, healthy internal environments in homes, helping to respond to concerns on climate change in home design and building and ensuring quality and affordability.
Studio LBA Managing Director Lynsey Bell Manson adds: "We have always known our team was a group of dedicated, innovative and driven individuals, but to have that recognised by an organisation like the RSA is just fantastic. I know the amount of work that went into this submission and I'm so happy for Chiara and Clare to see it paying off.
For more information about the RSA Annual Exhibition visit www.rsaannualexhibition.org
For more information on Studio LBA visit www.studiolba.co.uk
Their work can be viewed on the RSA digital viewing gallery here https://www.rsaannualexhibition.org/viewing-room/11/works/artworks-7268-ellie-burroughs-chiara-fingland-and-clare-o-connell-imagine-if-home-of-2030-2020/.
Architectural Conservation Masterclass
Offered by the Scottish Centre for Conservation Studies and the Institute for Historic Buildings Conservation – IHBC Scotland Branch:
Dilemmas of Translating Theories into Practice: An Indian Perspective
Aishwarya Tipnis, Aishwarya Tipnis Architects
Details: https://blogs.ed.ac.uk/sccsmasterclass/tuesday-13-april-2021/
Tuesday, 13 April 12.00-13.00 BST, Zoom Webinar
We wish our readers a Happy Easter.
31 Mar 2021
Home Builders Look Ahead To Lockdown Lifting
Non-essential maintenance work in homes allowed from 26 April
Scottish home builders are keenly awaiting the planned 26 April lifting of restrictions which have prevented workers from entering customers' homes for non-essential aftercare work during the latest lockdown and over a large part of the last year.
This is one of the top priorities for the Board of trade body Homes for Scotland (HFS), which met last week, coinciding with the positive news that the industry had achieved a record level of customer satisfaction with 91% of customers willing to recommend their builder to a friend.
HFS Chief Executive Nicola Barclay said:
"As every new home is a bespoke product, there will inevitably be some aftercare required but, for much of the last year, builders have been unable to undertake anything other than essential work in people's homes.
"Our members tell us that customers have been extremely patient as they recognise the Scottish Government-imposed lockdown restrictions have been for their own safety, but the end of April really can't come soon enough. Undeniably, there will be a backlog to work through, but our members are busy preparing for that challenge and are keen to resolve any outstanding issues for their customers as soon as they can."
31 Mar 2021
Scottish Georgian Home
Delightful Georgian Finnieston house for sale in up-and-coming Glasgow West End area.
5 Corunna Street on vimeo.
29 Mar 2021
Preserving heritage in building for the future of a global garden
New photos added:
RBGE Edinburgh Biomes Construction
Engineered timber and historic buildings: The future role of Mass (engineered) Timber in Historic Building Conservation
44th annual series of Architectural Conservation Masterclasses
Peter Wilson, Timber Design Initiatives
Tuesday, 30 March 12.00-13.00 GMT, Zoom Webinar
See our events page for details
19 March 2021
Collegelands Development
Vastint's emerging proposal seeks to transform vacant and under-used former railway land to the East of the historic High Street into a coherent and connected part of the City Centre. The development will provide over 220 new apartments for rent within three stepped blocks.
Read more at Collegelands Glasgow Property
6 Mar 2021
Scottish Architects Win at Civic Trust Awards
With two projects among just 40 winners from around the globe, Hoskins Architects from Glasgow are thrilled to have won the National Panel Special Award, for the transformational project at Aberdeen Art Gallery.
Their project at Strawberry Field, a visitor and training centre for young people with learning disabilities, for the Salvation Army, was also a winner in the Selwyn Goldsmith award:
Read more at Hoskins Architects Civic Trust Awards
15 Feb 2021
EAA News
JOIN THE EAA COUNCIL & WORKING GROUPS
Welcome to the first members bulletin of the newly incorporated Edinburgh Architectural Association SCIO! You can read more about the EAA's ongoing modernisation here.
In line with the updated constitution, the EAA are seeking new council members and student representatives (RIBA Part 1 or Part 2) who are interested in becoming actively involved with the EAA. This is an opportunity to meet other architects and members of the architectural community, and help to advance architecture and the built environment in your local area.
The EAA are looking for enthusiastic individuals who can give some voluntary time each month to become actively involved with the chapter group, either by joining the EAA Council as a Trustee or by contributing to the activities of the Working Groups.
Find out more about the work of the EAA Council and Working Groups, and find further details of how to get involved here.
15 Feb 2021
EAA invites architect Ryan W. Kennihan News
The EAA invites architect Ryan W. Kennihan to speak about his work and practice. Ryan studied architecture at Cornell University. Originally from Chicago, he has been based in Dublin, since 2002, establishing his practice in 2007. He has taught architecture at University of Navarra in Pamplona, the Porto Academy, University College Dublin and the Dublin School of Architecture at DIT, where he is currently a lecturer.
6 Feb 2021
Cadworks Building News
Please see the Glasgow Architecture News page for information about the Cadworks development, in Glasgow City Centre, that will be 'Net Zero Carbon (NZC)' in operation and powered only by renewable electricity when it completes in October 2021.
5 Feb 2021
UK Government's school rebuilding programme
The Royal Institute of British Architects has responded to the Government's launch of the first phase of the School Rebuilding Programme.
RIBA President Alan Jones said:
"Well-designed schools have the power to shape society – improving the attainment, behaviour, health and wellbeing of every child.
As the government's ten-year rebuilding programme gets underway, it is crucial to focus on the delivery of good quality design, sustainability and safety.
See our RIBA news page for more details
1 Feb 2021
100k
The e-architect resource – with over 30,000 pages of architecture information – is now ranked by alexa.com as one of the world' top 100k websites:
https://www.alexa.com/siteinfo/e-architect.com
27 Jan 2021
Need For 25,000 New Homes
Politicians Urged To Unite Around Need For 25,000 New Homes Each Year To Give Confidence To Consumers, Certainty For Business And +£25 Billion Economic Boost
27th of January 2021 – Clear statement of intent required from all parties ahead of election
With the importance of ensuring everyone living in Scotland has a quality home that meets their needs never more apparent, the country's home building industry today urged politicians across all parties to support a shared ambition to achieve and consistently deliver at least 25,000 new homes each year.
Read the news in full on the Glasgow Architecture news page.
26 Jan 2021
Jenners to Close
Frasers Group said it would cease trading on 3 May, after 183 years in the city, at Edinburgh's famous department store. The firm says as it had been unable to reach agreement with the site's owner.
Jenners Edinburgh Closing News
Highlights from the end of 2020:
17 Dec 2020
Plannng Approval for 65 London Road
HG Developments proposed redevelopment of 65 London Road site to form a 76-bed Purpose Built Student Accommodation, designed by 3DReid, replacing disused car-wash buildings:
65 London Road Edinburgh
7 Dec 2020
Moxy Hotel Edinburgh News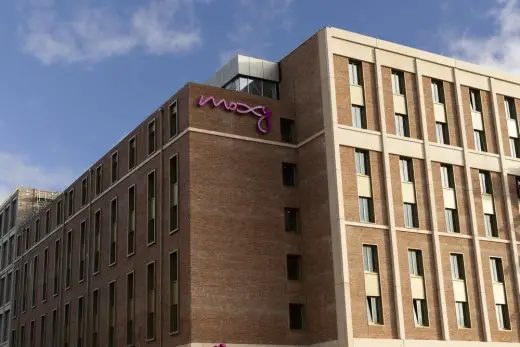 image courtesy of architects practice
Moxy Hotel Fountainbridge
This is part of a regeneration project in the new Fountainbridge district, the 262-room Moxy Hotel from Marriott International is situated on the former Scottish & Newcastle Fountain Brewery site, alongside offices, cafés, co-working spaces and a restaurant.
12 Nov 2020
EAA Photography Competition News
The EAA announce an extended deadline for Old New Edinburgh – New Old Edinburgh, a photography competition open to all exploring the impacts of time and change on the fabric of Edinburgh and its surrounding towns:
Closing date extended to 25 November 2020
1 Nov 2020
HDR | Hurley Palmer Flatt Named as One of 50 Consultants on a Brand New £95m Professional Services Framework
Leading independent multidisciplinary engineering consultancy Hurley Palmer Flatt has been appointed as one of 50 consultants on a major new professional services framework in Edinburgh, Scotland. The programme intends to rejuvenate the city of Edinburgh with the delivery of new state-of-the-art schools, early years centres, sports facilities, and affordable homes across the city.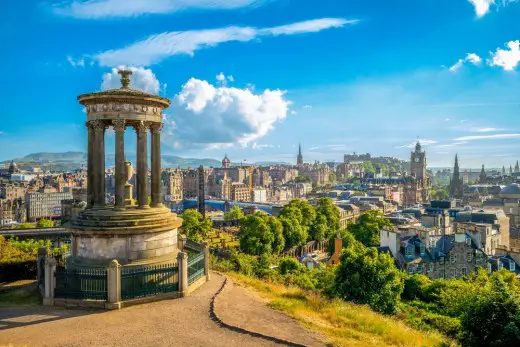 The £95 million framework will consist of numerous architectural, engineering and project management contracts over a four-year period.
The procurement for this scheme entered its first stage a year ago, with the second stage commencing in February, just a short time before the whole of the UK entered a national lockdown. Despite the challenges the City of Edinburgh Council would have faced due to Covid-19, it is a great success that the procurement process was able to come to completion, although other public sector procurement faced delays and cancellations.
The framework has sustainability at the core of its plans, with Passivhaus Architects ensuring that new buildings are energy efficient and the city's net zero carbon by 2030 target is taken into full consideration. The scheme also brings great support to small businesses, with this being a priority for the council, resulting in more than 70% of successful bidders being SMEs. Each consultant is also required to pay the Living Wage and carry out community benefits as part of any work they obtain.
Hurley Palmer Flatt are thrilled to be supporting the projects awarded through the framework.
These are not the only projects the company is currently supporting in Scotland's both historically-rich and dynamic capital, as it is working on a redevelopment which will see the transformation of Edinburgh's Rosebery House by Aviva Investors, welcoming a new state-of-the-art office block. The new 'landmark' development will hold the potential to onboard 1,500 office workers by 2025, and like the new Professional Services Framework, will have the future in mind, with sustainability at the heart of the project as it is committed to securing a Net Zero Carbon rating for the building's operation.
On the news of the Framework appointment, Associate Director at HDR | Hurley Palmer Flatt Group Emma MacLeod commented that "the firm are keen to be providing a key function to further projects across the city of Edinburgh."
1 Nov 2020
30,000!
The e-architect resource has over 30,000 pages of architectural information + building news.
We passed the 30k mark on 31 October 2020.
Glasgow Architecture news page
Edinburgh Architecture News Archive
Edinburgh Building News archive links below:
Edinburgh Architecture News Jul – Dec 2017
Edinburgh Architecture News Apr-Jun 2017
Edinburgh Architecture News Jan-Mar 2017
Edinburgh Architecture News 2016 – Archive for July to October
Edinburgh Architecture News Mid 2016 – Archive for May to June
Edinburgh Architecture News Early 2016 – Archive for the early part of the year
Edinburgh Architecture News 2015 – Archive
Comments for the Edinburgh Building News 2021 page welcome
Website: Edinburgh, Lothian