Edinburgh Architecture News 2021, Lothian Buildings, Architects, Images, Design Scotland
Edinburgh Building News 2021: Architecture
post updated 27 Feb 2021
Edinburgh Architecture News 2021
15 Feb 2021
EAA News
JOIN THE EAA COUNCIL & WORKING GROUPS
Welcome to the first members bulletin of the newly incorporated Edinburgh Architectural Association SCIO! You can read more about the EAA's ongoing modernisation here.
In line with the updated constitution, the EAA are seeking new council members and student representatives (RIBA Part 1 or Part 2) who are interested in becoming actively involved with the EAA. This is an opportunity to meet other architects and members of the architectural community, and help to advance architecture and the built environment in your local area.
The EAA are looking for enthusiastic individuals who can give some voluntary time each month to become actively involved with the chapter group, either by joining the EAA Council as a Trustee or by contributing to the activities of the Working Groups.
Find out more about the work of the EAA Council and Working Groups, and find further details of how to get involved here.
15 Feb 2021
EAA invites architect Ryan W. Kennihan News
The EAA invites architect Ryan W. Kennihan to speak about his work and practice. Ryan studied architecture at Cornell University. Originally from Chicago, he has been based in Dublin, since 2002, establishing his practice in 2007. He has taught architecture at University of Navarra in Pamplona, the Porto Academy, University College Dublin and the Dublin School of Architecture at DIT, where he is currently a lecturer.
6 Feb 2021
Cadworks Building News
Please see the Glasgow Architecture News page for information about the Cadworks development, in Glasgow City Centre, that will be 'Net Zero Carbon (NZC)' in operation and powered only by renewable electricity when it completes in October 2021.
5 Feb 2021
UK Government's school rebuilding programme
The Royal Institute of British Architects has responded to the Government's launch of the first phase of the School Rebuilding Programme.
RIBA President Alan Jones said:
"Well-designed schools have the power to shape society – improving the attainment, behaviour, health and wellbeing of every child.
As the government's ten-year rebuilding programme gets underway, it is crucial to focus on the delivery of good quality design, sustainability and safety.
See our RIBA news page for more details
27 Jan 2021
Need For 25,000 New Homes
Politicians Urged To Unite Around Need For 25,000 New Homes Each Year To Give Confidence To Consumers, Certainty For Business And +£25 Billion Economic Boost
27th of January 2021 – Clear statement of intent required from all parties ahead of election
With the importance of ensuring everyone living in Scotland has a quality home that meets their needs never more apparent, the country's home building industry today urged politicians across all parties to support a shared ambition to achieve and consistently deliver at least 25,000 new homes each year.
Read the news in full on the Glasgow Architecture news page.
26 Jan 2021
Jenners to Close
Frasers Group said it would cease trading on 3 May, after 183 years in the city, at Edinburgh's famous department store. The firm says as it had been unable to reach agreement with the site's owner.
Jenners Edinburgh Closing News
Highlights from the end of 2020:
17 Dec 2020
Plannng Approval for 65 London Road
HG Developments proposed redevelopment of 65 London Road site to form a 76-bed Purpose Built Student Accommodation, designed by 3DReid, replacing disused car-wash buildings:
65 London Road Edinburgh
7 Dec 2020
Moxy Hotel Edinburgh News
This is part of a regeneration project in the new Fountainbridge district, the 262-room Moxy Hotel from Marriott International is situated on the former Scottish & Newcastle Fountain Brewery site, alongside offices, cafés, co-working spaces and a restaurant.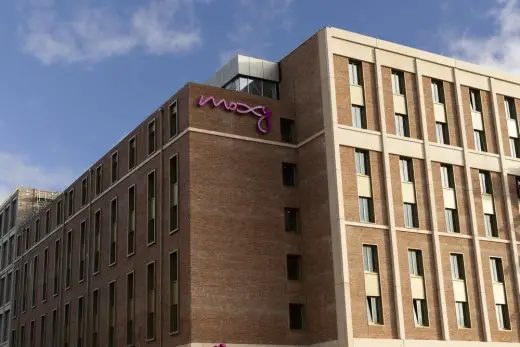 12 Nov 2020
EAA Photography Competition News
The EAA announce an extended deadline for Old New Edinburgh – New Old Edinburgh, a photography competition open to all exploring the impacts of time and change on the fabric of Edinburgh and its surrounding towns:
Closing date extended to 25 November 2020
1 Nov 2020
HDR | Hurley Palmer Flatt Named as One of 50 Consultants on a Brand New £95m Professional Services Framework
Leading independent multidisciplinary engineering consultancy Hurley Palmer Flatt has been appointed as one of 50 consultants on a major new professional services framework in Edinburgh, Scotland. The programme intends to rejuvenate the city of Edinburgh with the delivery of new state-of-the-art schools, early years centres, sports facilities, and affordable homes across the city.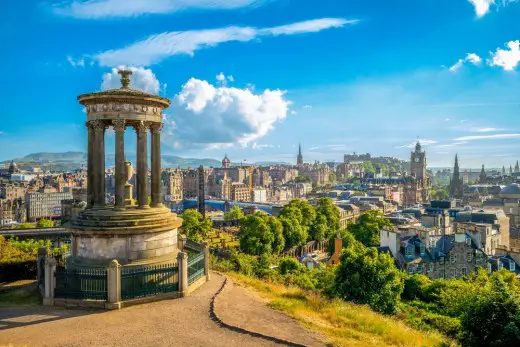 The £95 million framework will consist of numerous architectural, engineering and project management contracts over a four-year period.
The procurement for this scheme entered its first stage a year ago, with the second stage commencing in February, just a short time before the whole of the UK entered a national lockdown. Despite the challenges the City of Edinburgh Council would have faced due to Covid-19, it is a great success that the procurement process was able to come to completion, although other public sector procurement faced delays and cancellations.
The framework has sustainability at the core of its plans, with Passivhaus Architects ensuring that new buildings are energy efficient and the city's net zero carbon by 2030 target is taken into full consideration. The scheme also brings great support to small businesses, with this being a priority for the council, resulting in more than 70% of successful bidders being SMEs. Each consultant is also required to pay the Living Wage and carry out community benefits as part of any work they obtain.
Hurley Palmer Flatt are thrilled to be supporting the projects awarded through the framework.
These are not the only projects the company is currently supporting in Scotland's both historically-rich and dynamic capital, as it is working on a redevelopment which will see the transformation of Edinburgh's Rosebery House by Aviva Investors, welcoming a new state-of-the-art office block. The new 'landmark' development will hold the potential to onboard 1,500 office workers by 2025, and like the new Professional Services Framework, will have the future in mind, with sustainability at the heart of the project as it is committed to securing a Net Zero Carbon rating for the building's operation.
On the news of the Framework appointment, Associate Director at HDR | Hurley Palmer Flatt Group Emma MacLeod commented that "the firm are keen to be providing a key function to further projects across the city of Edinburgh."
1 Nov 2020
30,000!
The e-architect resource has over 30,000 pages of architectural information + building news.
We passed the 30k mark on 31 October 2020.
Glasgow Architecture news page
Edinburgh Architecture News Archive
Edinburgh Building News archive links below:
Edinburgh Architecture News Jul – Dec 2017
Edinburgh Architecture News Apr-Jun 2017
Edinburgh Architecture News Jan-Mar 2017
Edinburgh Architecture News 2016 – Archive for July to October
Edinburgh Architecture News Mid 2016 – Archive for May to June
Edinburgh Architecture News Early 2016 – Archive for the early part of the year
Edinburgh Architecture News 2015 – Archive
Comments for the Edinburgh Building News 2021 page welcome
Website: Edinburgh, Lothian