Edinburgh Architecture News 2021, Lothian Buildings Images, Architects, Property Design Scotland
Edinburgh Building News 2021: Architecture
post updated post updated 2 January 2022
Edinburgh Architecture News 2021
16 December 2021
Edinburgh City Plan: Capital Homes Shortage
Edinburgh City Plan
9 December 2021
"Budget Of Choices" Misses Prime Opportunity To Encourage Consumer Shift To Low Carbon Homes And Fails Would-be First Time Buyers
The "budget of choices" delivered by Cabinet Secretary for Finance and Economy Kate Forbes this afternoon has missed a prime opportunity to encourage a consumer shift towards low carbon homes and fails Scotland's would-be First Time Buyers.
Read the comment piece in full on the Glasgow Building News for 2021 page.
9 December 2021
First Glimpse of Rowanbank Gardens in Corstorphine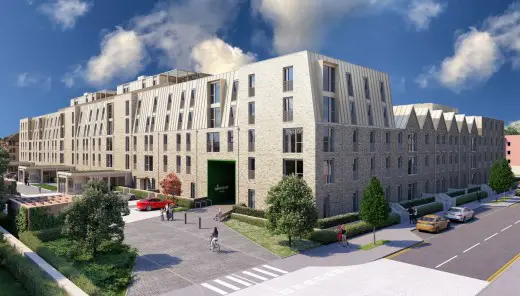 New website showcases industry-leading sustainable development set to become "a Spectacular Blueprint for Low-Carbon Living":
Rowanbank Gardens Edinburgh Housing
9 Dec 2021
Artists studio Garage Conversion in Edinburgh
Design: Konishi Gaffney Architects
The Artists studio Garage Conversion project was to form a new studio space for an artist. Konishi Gaffney Architects repurposed the existing garage, infilled a new floor and the old garage door and fully insulated and improved the interior:
Artists studio Garage Conversion Edinburgh
6 Dec 2021
West Town – Vision Unveiled for New Edinburgh Neighbourhood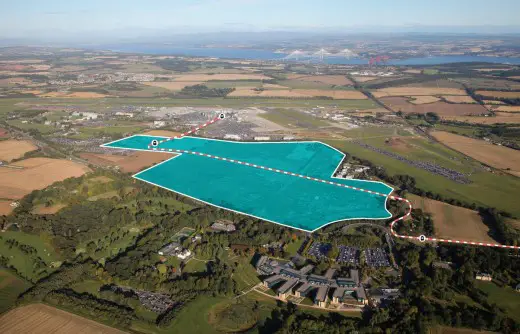 image courtesy of architects practice
Space for 7,000 New Homes Plus Commercial and Community Facilities at 205-acre Site in West Edinburgh. The development consortium which owns more than 200 acres of prime development land in the west of Edinburgh has unveiled an ambitious vision for a significant new neighbourhood to be built on the site.
West Town Edinburgh Property Vision
6 Dec 2021
Cammo Meadows by CALA Homes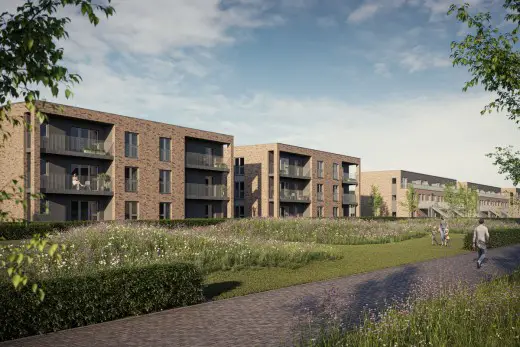 Cammo Meadows by CALA Homes News
A style of housing intrinsic to the Scottish capital is launching at a development in a sought-after suburb. Cammo Meadows by CALA Homes (East) is the latest destination for the developer's reimagining of the traditional Edinburgh colony model, which consists of a ground floor apartment with two duplex homes above it, accessed by an external staircase.
24 Nov 2021
2021 Saltire Housing Design Awards
The Saltire Society today announced the shortlisted houses for the 2021 Saltire Housing Design Awards, which celebrate the diversity of the best in new housing in Scotland. The 2021 judging panel is made up of industry experts steered by Guest Chair Ginnie Atkinson, former Director of the Edinburgh International Film Festival:
2021 Saltire Society Housing Design Awards Winners
24 Nov 2021
Digital Transformation for Planning in Scotland
The delivery of the Digital Transformation for Planning in Scotland is well underway, following the programme's launch in April this year.
The Scottish Government are diligent about adding updates and new articles (blogs) to our website – https://www.transformingplanning.scot/digital-planning/ and via Twitter and LinkedIn, however, they are aware that many of our stakeholders for this exciting programme do not consume their content here.
The Scottish Government would like to forge a relationship with you whereby they create content that speaks to the transformation programme activity to inform our key audiences, and that also, hopefully, will be of interest to you.
Against their 5 strategic missions:
1: to unlock the value of data for the development of digital planning solutions
2: to deliver end-to-end digital technologies that enhance the planning experience
3: to help create the conditions for digital to flourish, by engaging in a skill audit and programmes of development and CPD
4: to deploy the use of digital tools that drive connection, collaboration and engagement bringing communities closer to their local place plans and planning decision making
5: to embed a culture of digital innovation
The Scottish Government have identified 7 year one priorities that include:
Exploring Smart payment and applications for Planning and Building Standards applications in Scotland, establishing a Skills programme for planners, developing a suitable design system and Gateway entry site, supporting the digital realisation of National Planning Framework 4 – the draft of which was launched on November 8 2021, and issuing 8 initial community engagement subscriptions (from 32 that will be available across 3 years) to bring local projects closer to local place plans.
Clearly, the Scottish Government have lots of news and interesting projects underway, and they would like to make sure that those who are curious about what we are doing, and would like to understand the complexities of transforming an entire planning system, and who maybe do not have time to gather information from many sources, are exposed to their activity.
22 Nov 2021
Deposit Unlock mortgages launched nationally
Deposit Unlock, the home building industry-led mortgage scheme that allows new build buyers to purchase with a 5% deposit, today launches nationally with 17 major builders after a successful regional pilot:
21 Nov 2021
The Angus golf resort, hotel and spa design
Design: 3DReid Architects, Edinburgh
An updated masterplan for a £100m world-class golf resort, hotel and spa in the Angus countryside has been submitted to Angus Council for planning consent by 3DReid architects. The Angus represents one of the biggest hospitality investments in Scotland in recent years and could contribute more than £40m to the local economy per year once it's operational:
The Angus golf resort, hotel and spa design
20 Nov 2021
New Homes Launches in Edinburgh & Leeds Target Zero Carbon City Living
Niche housebuilder Artisan Real Estate has raised the bar for sustainable development with the launch of an ambitious design framework geared to achieving low to zero carbon city living. The developer will now incorporate a set of rigorous guiding principles throughout the development cycle, governing both its environmental and social responsibility whilst responding to the changing requirements of home buyers and local communities across the UK.
Artisan Real Estate Sustainable Homes News
16 November 2021
Homes For Scotland Bolsters Executive Team With Raft Of Appointments
Trade body Homes for Scotland (HFS) has bolstered its Executive Team with five recent new appointments, reflecting the wide-ranging challenges facing its members.
The five new recruits comprise:
– Liz Hamilton as Head of Local & Regional Planning
– Richard Lewington as Senior Planning Adviser
– Steve Fawcett as Head of Technical Services
– Vikki Manson as Senior Policy Officer and
– Supi Dematagoda as Planning and Policy Graduate
HFS Chief Executive Nicola Barclay said:
"At a time when the home building sector is facing so much change, whether on planning, the transition to net zero or the delivery of Housing to 2040, I am delighted to be able to expand the team to meet the needs of our members.
"Liz and Richard bring a wealth of industry knowledge and expertise to our local and regional planning work and which will be vital in relation to the consultations on National Planning Framework 4 and new ways of preparing Local Development Plans.
"With a huge focus on the journey to net zero, Steve has a big job on his hands in guiding members through all the changes that are emerging, particularly in relation to the outcome of the current consultation on energy standards. His extensive international construction management experience will be crucial in informing this.
"Joining us from the Independent Living Fund Scotland, Vikki fully understands the fundamental importance of having a home that meets your needs and the huge difference that this makes to people's lives. With a family background in home building, she will hit the ground running at what is a critical period.
"Recognising our responsibility to develop future talent, I am especially pleased that Supi has come on board and I can already see the contribution that he is making in helping the cross-fertilisation of ideas between our policy and planning teams.
"Working closely with the rest of our experienced team, I have no doubt that all will play a valuable role in our work in 2022 and beyond."
13 November 2021
Royal Scottish Academy Annual Exhibition
Online submission is now open for the RSA 196th Annual Exhibition!
Architects may submit up to 2 works of any dimensions in any suitable medium, including drawing, photography, print, film and models/3D.
Entry is £35 per work (student & under 26s £10) plus £10 hanging fee if selected.
Submission deadline: Friday 6 February 2022 at 5pm
RSA Annual Exhibition
12 Nov 2021
Cockburn Association concerned over outdoor eating areas
Edinburgh's heritage watchdog is rightly concerned that temporary structures erected during the pandemic for outdoor eating and drinking could be made permanent.
The continental-style platforms were allowed by the local authority to help businesses survive the impact of Covid.
The temporary structures started appearing on the Royal Mile, George Street, Cockburn Street and Victoria Street since restrictions were eased in the spring. It is time these pandemic structures are reassessed, with the majority needing removal.
Edinburgh heritage group concerned over outdoor eating areas
10 Nov 2021
Scotland Street lighting restored to Georgian glory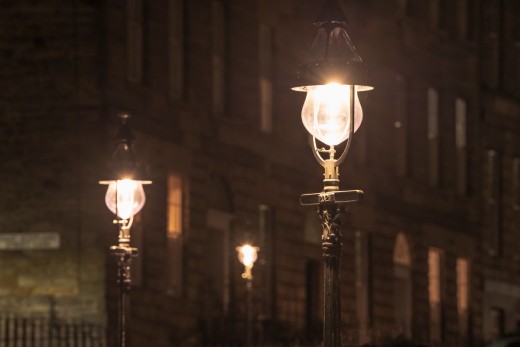 photo : Tom Duffin
Newly installed Georgian replica streetlights were switched on Tuesday evening in Edinburgh's Scotland Street, made famous by the Sandy McCall Smith '44 Scotland Street' series of episodic novels:
Scotland Street Lighting Edinburgh Restoration
6 Nov 2021
COP26 Glasgow climate march
The Glasgow climate march was due to start at 12pm, gathering in Kelvingrove Park from 11am onwards at the Stewart Memorial Fountain.
5 + 4 Nov 2021
COP26: How bricks could prove central to addressing the climate emergency
The construction industry faces a tremendous challenge when meeting decarbonisation goals. At present:
• 45% of the UK's carbon emissions come from the built environment
• More than a third of landfill waste comes from construction and demolition
• In Scotland, up to 85% of bricks are being imported from England and Europe
• The industry sends over 800 million tonnes of waste to landfill in Europe every year
Completing the circular economy pathway, the K-Briq is manufactured onsite at a waste handling company in Scotland to reduce transport miles and limit any additional CO2 involved in its production.
Several million K-Briqs are going into production in 2022 following investment from Zero Waste Scotland.
Professor Gabriela Medero, co-founder of Kenoteq and professor of geotechnical and geoenvironmental engineering at Heriot-Watt University: "We want to support the construction industry as it strives to decarbonise. The K-Briq presents a real and immediate opportunity for the construction sector to reduce landfill, limit reliance on finite resources and take advantage of waste materials to create a more sustainable built environment.
"Due to its manufacturing process, the K-Briq slashes energy use of existing bricks and blocks. It can be made in a range of colours providing flexibility to architects and designers.
"In 2022, we will be scaling production from our existing pilot plant to industrial-scale manufacture onsite at a waste handling facility in Scotland. This circular economy approach can be replicated at waste handling facilities nationwide, removing the need for imported building products and making a significant contribution towards the UK and Scotland's net zero goals."
Together with Dr Sam Chapman, Professor Gabriela Medero developed the K-Briq after more than a decade of research and development into creating innovative, low-carbon products from recycled construction waste.
Iain Gulland, chief executive at Zero Waste Scotland: "As nations around the world commit to building a greener future, the K-Briq presents an achievable solution for one of the construction industry's greatest challenges. Kenoteq is an excellent example of the abundant pioneering innovation in Scotland which can help to place us at the forefront of the global circular economy frontier."
Kenoteq co-founders Dr Sam Chapman and Professor Gabriela Medero will be speaking at the BE The Solution Conference on Friday 5th November 2021 as part of COP26, Construction Scotland Innovation Centre at 2.45pm. https://www.eventbrite.co.uk/e/be-the-solution-to-the-climate-emergency-tickets-186630164847
While tickets are limited, both Professor Medero and Dr Sam Chapman are available for interviews online.
The research and development of the K-Briq was funded by the Construction Scotland Innovation Centre (CSIC), Zero Waste Scotland (ZWS), Scottish Enterprise and the Royal Academy of Engineering.
About Kenoteq
Kenoteq is a clean tech company that specialises in building products. Incubated at Heriot-Watt University, the spin-out is now growing a commercial presence with its first product, an unfired brick called K-Briq, made from 90% recycled demolition and construction waste materials. Completing the circular economy pathway, Kenoteq is manufactured onsite at a waste handling company in Scotland to reduce transport miles and limit any additional CO2 production. The company aims to follow up the K-Briq with a line of premium market products as the business expands.
www.kenoteq.com Follow us: @Kenoteq
29 Oct 2021
COP26 Wood for Good Conference
A focus on sustainable forestry from the ground up could be the key to building back better, one of the leading voices on timber architecture and construction has said ahead of the Wood for Good conference running alongside COP26 next week.
on Tuesday, 2 November 2021, 9am to 4pm
at Construction Scotland Innovation Centre, Unit 3B, 3 Watt Place, Hamilton International Technology Park, Blantyre, G72 0AH
27 Oct 2021
COP 26 Tidal Markers by RIAS
Every five years the UK Government is required by the Climate Change Act 2008 to conduct an assessment, to inform the UK National Adaptation Plans for England, Scotland, Northern Ireland and Wales.
Below is a summary of the implications for Scotland of the evidence for the third and latest Technical Report of the UK Climate Change Risk Assessment (CCRA3).
Risks in Scotland that have a high future magnitude score and more action is required now to address them. They include the following:
The impacts of climate change on the natural environment, including terrestrial, freshwater, coastal and marine species, forests and agriculture.
An increase in the range, quantities and consequences of pests, pathogens and invasive species, negatively affecting terrestrial, freshwater and marine priority habitats species, forestry and agriculture.
Impacts internationally that may affect the UK, such as risks to food availability, safety and security, risks to international law and governance from climate change that will affect the UK, international trade routes, public health and the multiplication of risks across systems and geographies.
The amount of change we are likely to experience in our climate is now largely locked in up until the 2050's. From there, the change we will experience in our climate is more strongly controlled by the success or failure of the global mission to lower greenhouse gas emissions.
In a world where greenhouse gas emissions continue to be released extensively (a high-emissions scenario), we will experience a more severe change in our climate. In a world where we drastically and rapidly reduce greenhouse emissions (a low-emissions scenario) in the coming years, we will be able to avoid more extreme changes in our climate.
To find out more, visit Tidal Markers
26 Oct 2021
COP 26
With COP 26 due to start on 31 October we welcome news of related architectural events.
26 Oct 2021
Demand for sustainability services skyrockets in Scotland
• Multi-disciplinary engineering consultancy Cundall reports a threefold increase in demand for sustainability services over the last 12 months
• Seven new sustainability experts join Cundall's Edinburgh-based team
Edinburgh, 26th of October 2021 – Multi-disciplinary engineering consultancy, Cundall, reports that demand for sustainability services like ESG strategy and governance, net zero carbon design and building performance measurement, is three times higher than it was a year ago.
Sophie Simpson Principal Engineer, Cundall Scotland: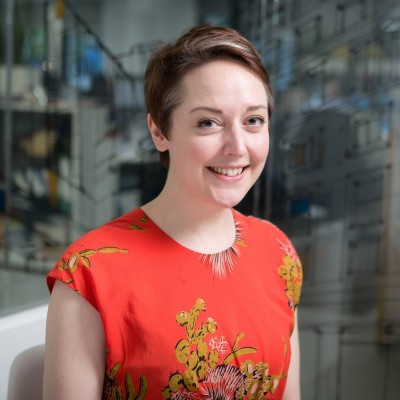 This sharp rise in demand, which has in part been driven by Scotland's legal commitment to achieve net zero carbon by 2045, has led the business to significantly expand its sustainability offering in the Scottish market, with seven new sustainability experts recently joining Cundall's Scottish practice.
Led by Principal Engineer, Sophie Simpson, the Edinburgh-based team brings experience from all over the world, and specialises in building physics, certification and compliance, energy modelling and health and wellbeing, as well as ESG strategy and governance and net zero carbon design.
Commenting on why demand has spiked over the past 12 months, Sophie Simpson said:
"The UN has acknowledged Scotland's "inspiring level of ambition" with its world-leading legislation to achieve net zero greenhouse gas emissions by 2045. These are legally binding targets, which means that despite the pandemic, we've seen demand for sustainability services skyrocket in the last year.
"Clients are increasingly asking for support to establish and realise net zero carbon aspirations, and it's really exciting to see whole life carbon calculations and detailed energy modelling, above and beyond the requirements of 'compliance', become the norm on many of our projects.
"Further to this, there is increasing demand to better understand the influence of the built environment on our health and wellbeing, as the pandemic has emphasised the positive benefits associated with better air quality, access to green spaces and promotion of active travel.
"Cundall are leaders in net zero carbon design and wellbeing within the built environment, and this has attracted new expertise from all over the world, to enhance our sustainability offering from Edinburgh. I very much look forward to working with them and growing our reputation for sustainable leadership in Scotland."
Having travelled from Canada, Australia, Mexico and Italy, as well as Scotland and the rest of the UK, the new members of the Edinburgh sustainability team include Principal Engineer, David Brown; Senior Engineers, Jordan Todd and Bernie Middleton; Engineer, Alejandro Gomez Beltran; Health and Wellbeing Consultant, Lucia Savastano; Whole Life Carbon Consultant, Stuart McHendry, and Graduate Engineer, Jennifer Williamson.
Cundall's global sustainability team has grown from 71 people to over 110 in the last 12 months.
14 Oct 2021
Strathearn Arts Building Design
Architectural project for Strathearn Arts, Crieff, designed by Fraser / Livingstone Architects, based in Edinburgh.
Bringing the strengths of Strathearn Arts up-to-date, meeting and beating contemporary requirements for access and the touring aspirations of diverse theatre, music, dance, comedy and other acts.
See our Fraser / Livingstone Architects page for more details
7 Oct 2021
RHSPT Welcomes Approval Of New National Centre For Music
The Royal High School Preservation Trust (RHSPT) has welcomed today's decision by the City of Edinburgh Council's Finance and Resources Committee to approve the restoration of the iconic Thomas Hamilton building on Calton Hill as a world-class centre for music education and public performance for the benefit of the whole of Scotland:
New National Centre For Music
7 October 2021
BDP Makes A Return To Edinburgh With Pattern Acquisition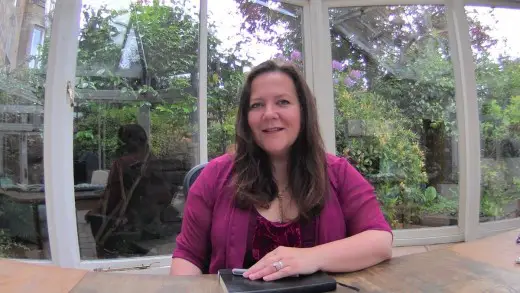 photo courtesy of architects office
BDP's recent acquisition of the specialist sports and stadia architecture firm, Pattern Design – the practice delivering Everton FC's new £500 million waterfront stadium – results in BDP's return to Edinburgh. Previously, BDP held an Edinburgh office from 2008 to 2011:
BDP returns to Edinburgh with Pattern acquisition
23 September 2021
Chris Jones made 10 DESIGN Managing Partner for the UK, Europe and MENA
The architectural practice – with its roots from RMJM in Edinburgh – announce Chris Jones as the new Managing Partner for the UK, Europe and the MENA region. Chris has spent the last ten years heading up 10 Design in the Middle East with great success. In his new role, Chris will continue to bring his considerable experience to bear in enabling 10 Design to further grow its presence in these regions.
16 Sep 2021
Edinburgh Start-up Creates Technology To Help Conserve Historic Buildings
• Technology could change the way we solve community housing issues
A Scottish tech start-up has created unique property technology that will empower individuals to save and re-use old, vacant buildings across Scotland.
Grand Bequest has used data science to develop its platform that links data analytics, stakeholder participation and alternative financing to help communities reclaim, conserve and reuse abandoned buildings. The business hopes that its technology will help tackle societal challenges like the number of people on social housing waiting lists in Scotland – a number that currently sits at 150,000.
To take the business from ideation to start-up, Grand Bequest worked with The Data Lab and its TORCH Business Advisory Service, securing data science training, access to grants and software to scale the idea.
Dr. Katherine Gunderson, CEO and Founder at Grand Bequest, said: "What we're doing at Grand Bequest is building a scalable approach to solving the housing demand, by looking at what's already there and how it can be used to solve societal issues. While I knew I had a good idea, I was then wondering, what's our next step?
"The Data Lab quickly became like fairy godmothers, working with us to provide three grants to give our team data science training, and helped us understand what the next step for us was. Their recommendations have now been implemented and we have software that is operational. What started as an idea is now a start-up, and I'm excited to continue growing the business from here."
Brian Hills, Deputy CEO at The Data Lab, commented: "It often starts with a good idea – but how do you make it a reality? We are proud to have worked with Grand Bequest to help turn the ideation process into something tangible, reaching an exciting result: cutting edge property technology and a team of Architectural Conservationists now skilled in data. I'd encourage entrepreneurs looking to start-up to get in touch with our TORCH team for support, ensuring the business is leveraging digital from the outset."
This Data Lab initiative is funded through Scottish Enterprise and the Scottish Government, and is a direct result of the £11.8m funding for digital technology that the Scottish Government announced in 2020 to help with economic recovery.
About The Data Lab
The Data Lab is Scotland's innovation centre for data and AI. Through hubs in Edinburgh, Glasgow, Aberdeen and Inverness, we foster innovation through collaboration, build skills and grow talent, and champion Scotland's data science community. We help Scotland maximise value from data and lead the world to a data-powered future.

@DataLabScotland
About Grand Bequest
Grand Bequest is a property technology company, headquartered in Edinburgh, that uses data analytics, conservation, and sustainability to promote the global redevelopment of vacant buildings. Grand Bequest empowers individuals to contribute to, develop, or analyse adaptive reuse projects with our marketplace and AI-driven database that makes the process of sustainably reusing existing buildings easier and more accessible than ever before for communities around the world. For more information, visit grandbequest.co.uk.
15 Sep 2021
Edinburgh Architects News
AMA Studio – an architecture practice that helped shape modern Edinburgh through high-profile developments such as the £1bn St James Quarter, New Waverley and new Boroughmuir High School is rebranding. The architectural firm was formerly knwn as Allan Murray Architects:
AMA Studio Edinburgh Architects
10 Sep 2021
Bell Street Stables Award
A conversion of a Victorian council depot to create 52 new homes for affordable rent wins an architectural award.
8 Sep 2021
Scottish Affordable Housing Increase Welcome
But Builders Warn Of Material Shortages And Lack Of First Time Buyers Support
Industry body Homes for Scotland (HFS) has responded to this afternoon's Programme for Government, welcoming the commitment to increased levels of affordable housing whilst warning of deliverability concerns across homes of all tenures in light of material shortages and cost pressures. The organisation also highlights the very real impact that ignoring the plight of Scottish First Time Buyers (FTBs) will have on the future prospects of our young people.
Read the news in full on the Glasgow Building News 2021 page.
6 Sep 2021
Kelvin Hall television and film studio news
Design: Reiach and Hall Architects
Glasgow City Council secured funding from the Scottish Government to develop a new television and film studio as part of the ongoing refurbishment of the city's historic Kelvin Hall.
3 Sep 2021
Vision for National Centre for Music at Royal High School, Edinburgh
The Royal High School Preservation Trust (RHSPT) has put forward detailed proposals to City of Edinburgh Council for the restoration of the iconic Thomas Hamilton building on Calton Hill as a world-class centre for music education and public performance for the benefit of the whole of Scotland.
New National Centre For Music Edinburgh
2 September 2021
RIAS Awards Winners in 2021
24 Aug 2021
Scottish design project makes AJ Architecture Awards shortlist
Calton Hill City Observatory in Scotland's capital has been nominated for an AJ Architecture Award this week. The design by HarrisonStevens, the Edinburgh-based Landscape Architects and Urban Designers, Calton Hill City Observatory has been nominated in the Landscape and Public Realm category in the annual awards.
Calton Hill City Observatory Edinburgh design by HarrisonStevens:

Situated within a World Heritage Site, The Calton Hill Project design integrates the existing listed buildings into a collective, external environment to create a unique user experience.
Martin Stevens, Co-Founder and Managing Director, HarrisonStevens, said, "We are delighted that Calton Hill has been shortlisted. It recognises the work on this challenging project to create a sense of place that encompasses both city views and microclimatic and ecological factors within the physical and historic context of Edinburgh and Scotland.
Martin Stevens of HarrisonStevens Edinburgh: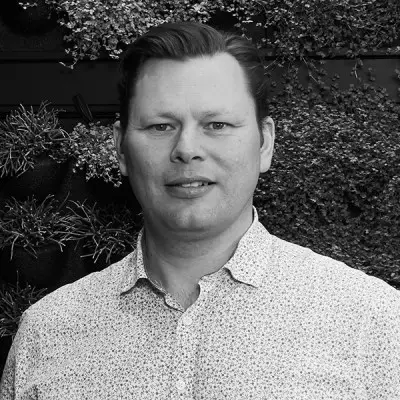 "The planting palette is designed to be extremely low maintenance and has a high biodiversity value and utilises species which are native and that one might readily find on adjacent Arthur's Seat or within a similar Scottish landscape. Careful consideration was given to providing unity from the inside to the outside spaces, highlighting an opportunity for outdoor exhibition and performance space and drawing visitors through the heritage and contemporary spaces of the site."
The AJ Architecture Awards recognise excellence in UK architecture across a range of categories, from School & Housing Projects to Landscape and Public Realm, and the winners will be revealed during a celebratory event on 17 November 2021.
18 Aug 2021
St James Quarter
Architects: BDP Glasgow studio + Allan Murray Architects
St James Quarter Edinburgh
BDP has helped complete the delivery of phase one of the new St James Quarter, Edinburgh, working with client Nuveen Real Estate to create a new destination in the heart of the capital. A new and modern 1.7 million sq ft masterplan in urban placemaking, it is one of the UK's largest inner-city regeneration projects.
10 August 2021
Designing a lower carbon Scotland
Keep Scotland Beautiful partners with Architecture and Design Scotland to develop and deliver bespoke version of accredited Climate Emergency Training:
Designing a lower carbon Scotland
4 August 2021
New Standards Set for Low Carbon Housing in Scottish Capital
Artisan Real Estate has started construction on the much-heralded Rowanbank Gardens new homes development in Corstorphine, Edinburgh, marking a significant step forward in meeting the capital's ambitious targets for low carbon housing: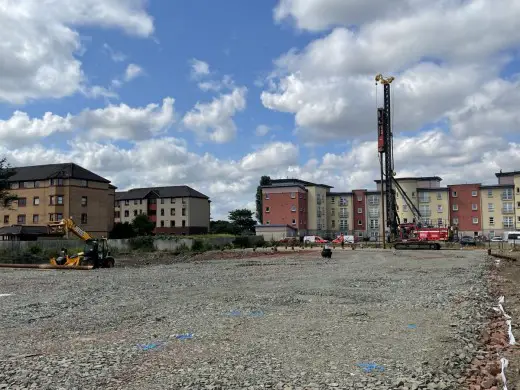 construction photo courtesy of developers
Rowanbank Gardens Edinburgh Housing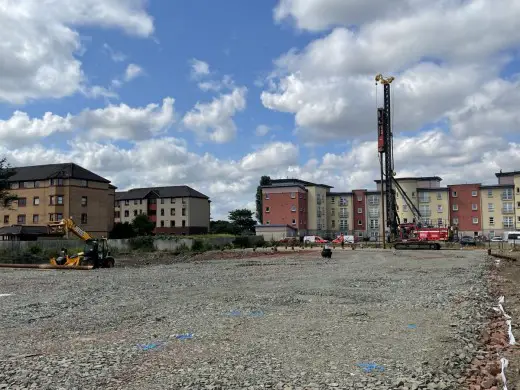 28 July 2021
EAA Awards
Final call for submissions for the 2021 EAA Awards
Deadline: 16:00 Wednesday 28 July.
27 July 2021
Icebox Challenge Glasgow Design News
The Architecture students from The Scott Sutherland School at Robert Gordon University recently won a national competition to design a highly energy efficient buildings that marks the build up to the 2021 UN Climate Change Conference in Glasgow.
Read the full announcement here: Icebox Challenge Glasgow
27 July 2021
Shetland modular building fires warning
Two devastating fires in Shetland should act as a warning to the modular building industry, it has been claimed, reports BBC Scotland. The Fair Isle Bird Observatory was lost in 2019, followed in 2020 by the Moorfield Hotel.
Both buildings were less than 10 years old and made from factory-built units, which had been shipped up to Shetland by sea. One expert has called for a full investigation into why the fires took hold so quickly.
23 July 2021
Scotland's Rural Home Book
John Brennan's new publication, Scotland's Rural Home: Nine Stories about Contemporary Architecture, which was released in the UK on 8th July, by publishers Lund Humphries.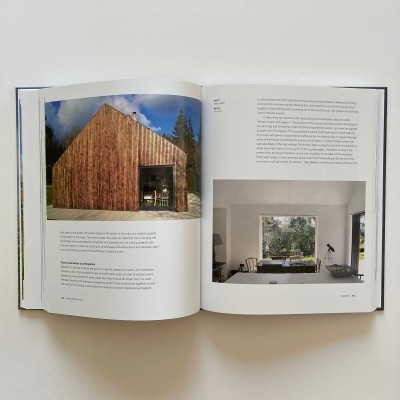 About the Book:
The nine building stories told in Scotland's Rural Home show how rural households and communities define themselves, and the role architecture plays in this. Beautifully illustrated with 226 colour photographs and architectural drawings, the projects, from affordable housing on the islands to exquisite renovations of traditional agricultural stock, and all recognised by the Saltire Society's Housing Design Awards, are visually rich both in themselves and the contexts in which they sit. The houses are set firmly within historic, economic and social contexts and are much more than bolt holes from the urban. More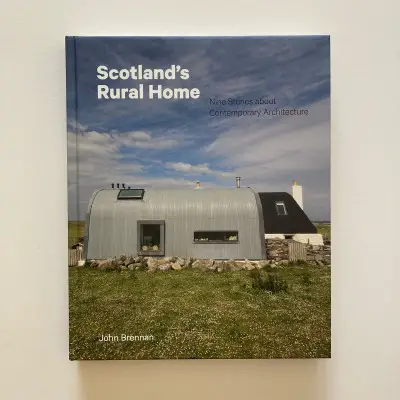 About the Author:
John Brennan is a Senior Lecturer in Environmental Design at the Edinburgh School of Architecture and Landscape Architecture, the University of Edinburgh. He is also a practising architect whose built works include collaborations with James Turrell and a series of awards including the Saltire prize for housing, and most recently the Scottish Homes award for best house in 2011.
The book was also featured in a selection of books in Homes & Interiors Scotland. John Brennan has written a short introductory blogpost, which you can view here.
22 July 2021
54 Week Decision Times For Major Housing Applications Unacceptable
Latest annual planning performance statistics for 2020/21 showing a 17 week increase in the average decision time for major housing development to 54 weeks are unacceptable, according to home building body Homes for Scotland (HFS).
Read the full news announcement on the Glasgow Architecture news for 2021 page.
8 July 2021
Two New Trustees appointed at Wasps Studios
Alasdair Tweedie and Nicola Walls join the Board of Directors at Scotland's studio provider: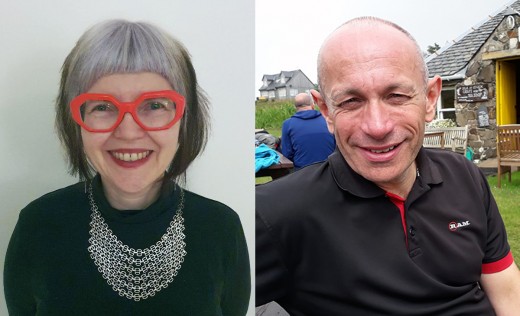 Scotland's national provider of artist studios Wasps has appointed two new Trustees to its Board of Directors.
Architect Nicola Walls and chartered surveyor Alasdair Tweedie were appointed to the charitable institution's Board at its most recent meeting of Trustees. Both appointments bring the desired property and facilities management experience to the Board of Trustees and are skilled in carbon reduction approaches, a key agenda for the organisation in its journey towards Zero Carbon.
Nicola Walls is an architect with Page\Park Architects in Glasgow where she leads the Arts and Culture team. She continues to be involved in producing spaces for people to engage with creative and cultural activities, having been instrumental in the delivery of nationally important, award winning cultural buildings in Scotland. Nicola will bring significant architectural development experience to the Board, particularly in relation to Wasps' historic estate.
Alasdair Tweedie is Director of Property Management at the University of Stirling and is a Chartered Surveyor with 25 years' experience in the delivery and management of complex property developments and portfolios in the higher education, residential, commercial and urban regeneration sectors.
Wasps chairperson Andrew Burrell welcomed the appointments: "Wasps is at a crucial stage in its strategic development, providing affordable and high quality studio and office space for Scotland's creative sector. The arrival of Nicola and Alasdair to the board further strengthens a powerful executive team. Their knowledge and experience will be of enormous benefit to Wasps and to the country's cultural scene."
Wasps trustee Nicola Walls: "The mission of Wasps – to support and provide space for our creatives to prosper through the adaption of existing buildings – resonates very strongly with my architectural practice and my passion for the arts.
"How the cultural sector can help our communities emerge out of this challenging period even stronger makes this a really exciting time to be joining the Board of this important national organisation.
"I am looking forward to helping support Wasps and their portfolio of fascinating buildings across Scotland."
Wasps trustee Alasdair Tweedie: "I very much look forward to the opportunity to support Wasps and its tenants as a Board Trustee, contributing to the continual development, operational effectiveness and overall improvement of the estate."
Wasps bids farewell to long-serving trustees Calum Macaulay and David Bankier, who have been key figures in the safe stewardship and development of the registered charity over the past 7 years.
Home to approximately 1000 artists and creators across Scotland, Wasps opened its 20th property in 2019, Perth Creative Exchange, and is managing the final part of phase 2 of its latest development, Inverness Creative Academy, due for completion later this year.
5 July 2021
Habitat for Humanity Great Britain Appoints Nicola Barclay as Board Chair
Habitat for Humanity Great Britain ("GB"), a charity focused on long-term poverty alleviation through affordable social housing, announced today the appointment of Nicola Barclay as Chair of the Board of Trustees. Nicola, who joined the Habitat for Humanity GB Board of Trustees in 2020, will succeed Ian Whitehead, who served as Chairman since 1991.
About Habitat for Humanity
Housing poverty is a global problem and substandard housing is a key obstacle to social mobility, economic opportunity, and better health and wellbeing for over 1.6 billion people around the world.
Habitat for Humanity believes everyone has a decent place to call home. We believe that a decent home helps to permanently break the cycle of poverty and allows families to achieve strength, stability, and self-reliance.
Our global projects increase access to housing for millions each year through a range of activities, including direct construction, advocating for land rights and security of tenure, increasing access to housing finance, and improved water and sanitation facilities. By working hand in hand with communities, since 1976 we have provided over 1.9 million homes and helped over 29 million people.
In the UK, we act as a catalyst, testing and piloting ideas and approaches that have the potential to help solve some of the biggest housing problems facing this country. We also look to directly support community partners, helping maintain and improve their housing stock.
See the Glasgow Architecture website's news page for the full information.
4 July 2021
St James Quarter


photo © Isabelle Lomholt
The retail centre opened on 24 June 2021 and contains around 850,000 square feet of retail space. The controversial hotel spiral dominates the skyline, and does not integrate well into the context.
St James Quarter Building News
21 June 2021
Powderhall Stables Building
The final refurbishment phase of Powderhall Stables is now underway, that will deliver a contemporary new design to reinvigorate a prominent 1890s stable block in Broughton, Edinburgh. The Powderhall Stables redevelopment for client the City of Edinburgh Council, will deliver a mix of individual studios and co-working spaces aimed at microbusinesses.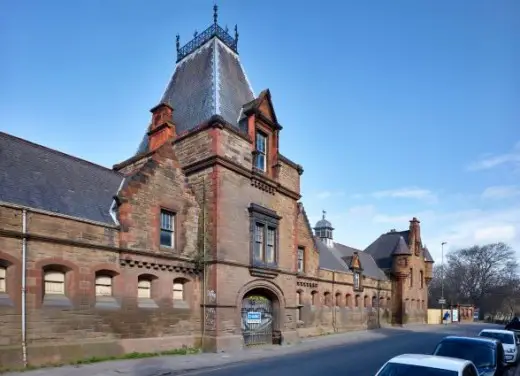 photo : Andrew Lee
Powderhall Stables Building News
16 June 2021
EAA Awards Open
Entries for the EAA Awards 2021 are now open. The 2020 Awards were a great success, demonstrating the rich wealth of architectural talent and design innovation that the Edinburgh chapter has to offer, and this year the Awards return bigger than ever:
EAA Awards – 28 July: deadline
9 June 2021
Kincardine, Places for Everyone project Development News
A community-led design project in a Fife town has been nominated for a Scottish Design Award. Created by HarrisonStevens, the Edinburgh-based Landscape Architects and Urban Designers, the Kincardine, Places for Everyone project has been nominated in the Future Building or Project category in the annual awards:
Kincardine, Places for Everyone
8 June 2021
Artisan Real Estate Property Development News
Investment in Low Carbon Urban Housing and City Centre Redevelopment Across Edinburgh and Glasgow Drives Ambitious Growth Plans. Artisan Real Estate is strengthening its market position in Scotland with the announcement of a new management team as the developer moves forward with its £140 million investment plan focusing on low carbon city centre residential redevelopment across Edinburgh and Glasgow:
Artisan Real Estate Property Development
7 June 2021
RIAS LISTEN
We share details about an open call titled 'RIAS LISTEN'. The RIAS are seeking submissions as part of their Architecture Fringe event and would love to hear from as many people and organisations as possible.
LISTEN is a collaborative and interactive event to gather voices on architecture and explore the role of the professional body in Scotland today. The event is an open call for up to 30-word sound bites, text submissions or video responses and it is open to anyone to take part.
The submissions will be collated and shared via a virtual screening on Friday 18th June 2021. The deadline for submissions is Monday 14th June.
Full details can be viewed here: https://www.rias.org.uk/about/news/2021-june-rias-launch-open-call-for-rias-listen.
4 June 2021
Conservation and energy efficiency work on the Canongate
Local Edinburgh residents living in the Canongate area of the Old Town will benefit from a range of conservation and energy efficiency improvements that are on track to reduce energy consumption and carbon emissions by over 50%:
Canongate Housing Development
3 June 2021
Scottish Capital City Building Photos
Some new photographs around the city centre of key buildings:
St Andrew Square building: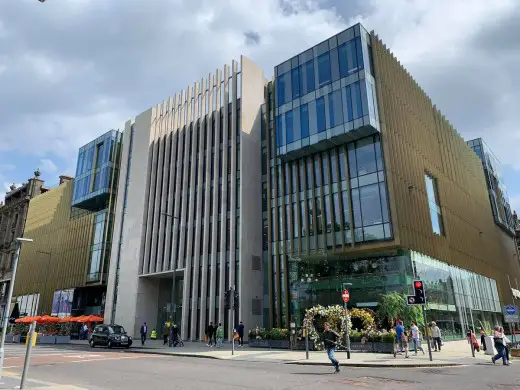 Buildings on The Mound, looking West: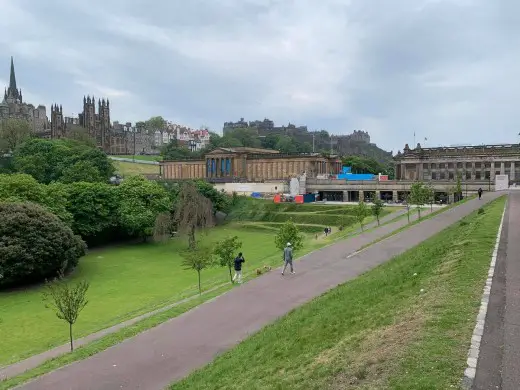 Market Street hotel building in the Old Town: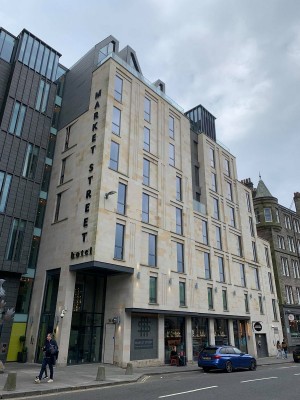 Jenners, Princes Street, from the south: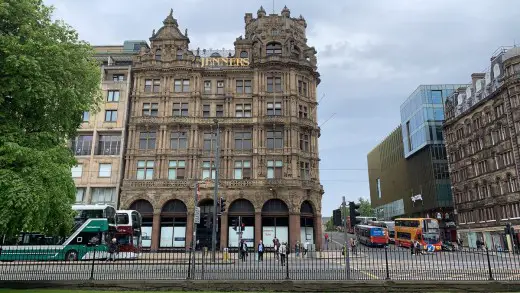 photo © Adrian Welch
2 June 2021
Leith Walk Proposals Get Planning Approval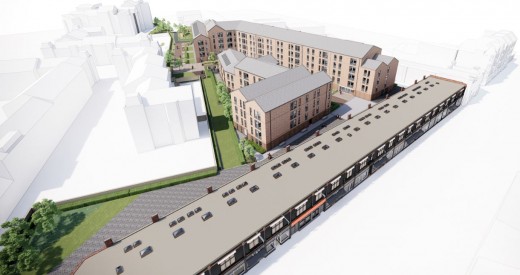 image courtesy of Drum Property Group
Stead's Place Leith Walk development
148 new apartments and refurbishment of retail building set to bring much needed investment to Edinburgh city centre. Drum Property Group's vision for the long-awaited redevelopment of a key development site on Leith Walk is to become a reality following the granting of planning consent.
20 May 2021
Edinburgh Landscape Architects Shortlisted for European Prize
rankinfraser landscape architecture, based in Darnaway St, are shortlisted for The Dunbar Battery in East Lothian. It is one of ten works in the European Award for Architectural Heritage Intervention 2021 category B – Exterior Spaces.
This category was judged by architects Delphine Péters, Olga Felip and Isabel Aguirre, after evaluating 49 participating proposals.
The Dunbar Battery, Dunbar, Scotland, United Kingdom. rankinfraser landscape architecture: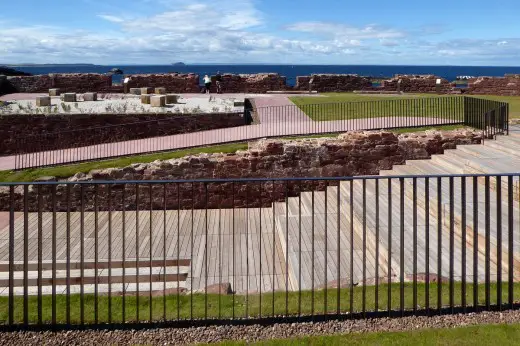 photograph © rankinfraser landscape architecture
The 5th edition of European Award for Architectural Heritage Intervention, with a success of participation that coincides with the celebration of its 10th anniversary, publishes the names of those shortlisted in the a and b categories.
European Award for Architectural Heritage Intervention 2021
20 May 2021
Jenners Building Restoration
The Jenners building in Edinburgh is to undergo a four year restoration so the Victorian department store can be returned to its former glory, reports the BBC today:
13 May 2021
New Board Appointments At Homes For Scotland
Homes for Scotland (HFS) has announced three new appointments to its Board following its Annual General Meeting last week:
– Beth McNeil
Regional Managing Director, Keepmoat Homes
– Fraser Conn
Managing Director, Bellway Homes West Scotland
– Fionna Kell
Director of Policy, Homes for Scotland
11 May 2021
DM Hall markets Category B-listed Pollokshields mansion for £1m
A landmark honey stone mansion in Glasgow's affluent Pollokshields neighbourhood formerly operated as a 23 bed nursing home, is being marketed at offers over £1m by DM Hall, one of Scotland's leading independent firms of chartered surveyors. Read the report in full on our Glasgow Architecture website.
23 April 2021
New Linear Accelerator Treatment Facility in Edinburgh
Work has begun on a new linear accelerator (LINAC) treatment facility at NHS Lothian's Western General Hospital (WGH) in Edinburgh, designed by HLM Architects and being delivered by RMF Health (a Consortium of Robertson Construction and FES).
New Linear Accelerator Treatment Facility
20 Apr 2021
Drum Property Group Takes Equity and Management Role in New Ingliston Limited
New Structure in Place to Progress "Transformational Development" for West Edinburgh
Drum Property Group has announced that it has taken an equity and management position in New Ingliston Limited, the development company led by Sir Bill Gammell.
New Ingliston development west of Edinburgh: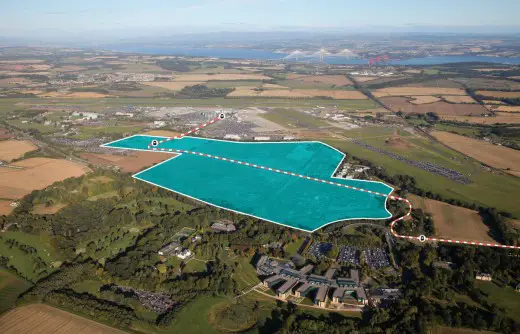 New Ingliston Ltd currently owns more than 200 acres of prime development land to the west of Edinburgh, adjacent to Edinburgh Airport. Drum will now take on the management of both the company and future development activity on behalf of the Board. The 205-acre site – formerly marketed as 'Edinburgh 205' and part of the planned International Business Gateway – is widely regarded as one of the most strategically important economic development areas in Scotland, presenting the opportunity to open up the west of the Capital.
As part of the company reorganisation, a new Board has been appointed with Sir Bill Gammell serving as Chairman. Previous Board members Patrick Gammell, Sir Brian Ivory and Alistair Salvesen have been joined by new appointees Graeme Bone, Group Managing Director of Drum Property Group and property industry veterans Alan Robertson and Eric Young. This follows the recent retirement of Roddie Paterson after 26 years as Managing Director of New Ingliston Ltd.
Welcoming the new management structure, Sir Bill Gammell, Chairman of New Ingliston Ltd said: "We are delighted to be working with the highly regarded Drum team who have a proven track record of expertise and delivery. On behalf of the Board, I would also like to record our thanks to Roddie Paterson and all his team at Highland Properties for their tremendous input over many years and for creating such a strong foundation for future growth."
Graeme Bone, Group Managing Director of Drum, added: "This is a once-in-a generation opportunity for Drum to deliver a development site that has the potential to play a fundamental role in Scotland's economic recovery and ongoing development for decades to come. To have the support of such an inspiring and experienced Board provides a unique platform to look at the site with a fresh perspective and energy as the country emerges from the challenges of lockdown. We have already started the process of productive engagement with local and national stakeholders in the private and public sectors, and we now look forward to building momentum and advancing our vision for what could be a transformational development for west Edinburgh."
Background:
About Drum Property Group: Drum Property Group Ltd is an award-winning property development and investment business with a strong track record of growth throughout Glasgow, Scotland and the UK. www.drumpropertygroup.com
About New Ingliston Limited: New Ingliston Ltd is the principal landowner and founding partner in the West Edinburgh Development Partnership, a collaboration of public and private bodies including Scottish Government, City of Edinburgh Council, Transport Scotland, Edinburgh Airport and The Royal Highland Society.
14 Apr 2021
LBA Team Members Awarded Prestigious Medal For Architecture By RSA
Chiara Fingland (left) and Clare O'Connell (right) from Studio LBA: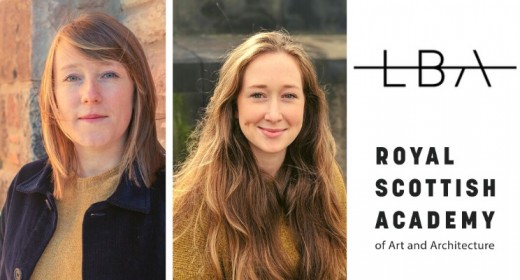 Chiara Fingland and Clare O'Connell from Studio LBA and the Imagine If… research collective, have just been awarded the prestigious RSA Annual Exhibition Medal for Architecture for their work on the Home of 2030 project.
Chiara and Clare worked with colleague Ellie Burroughs from Aitken Turnbull Architects on the design competition which was created by to drive innovation in the provision of affordable, efficient and healthy green homes for all and tackle the need for scalable, sustainable and durable solutions that help to address the housing shortage.
The three created an innovative and transformational design that explores a vision for housing of the future. This scheme seeks to address how we can make a generation driven by convenience live more sustainably. Their proposal aimed to integrate the benefits of shared economies through utilising community assets on a macro and micro scale, which in turn, facilitates individuals to be independent whilst being supported by a collective neighbourhood.
Chiara and Clare said "We established the 'Imagine If…' research collective with colleagues Ellie and Eilidh, with the aim of opening a dialogue with the public on more sustainable housing marketing offerings.
The entirety of the design process took place remotely during the first Covid lockdown and whilst it can often feel hard to work collaboratively in a socially distanced world, this experience really highlighted what can be achieved when you have shared passion and drive. The three of us had countless video calls and phone calls throughout the design process, making it a challenging but rewarding process. It is a great honour to have had our findings on how shared living could help us live more sustainably recognised with this award.
The designs had to take a number of factors into account including; creating comfortable, healthy internal environments in homes, helping to respond to concerns on climate change in home design and building and ensuring quality and affordability.
Studio LBA Managing Director Lynsey Bell Manson adds: "We have always known our team was a group of dedicated, innovative and driven individuals, but to have that recognised by an organisation like the RSA is just fantastic. I know the amount of work that went into this submission and I'm so happy for Chiara and Clare to see it paying off.
For more information about the RSA Annual Exhibition visit www.rsaannualexhibition.org
For more information on Studio LBA visit www.studiolba.co.uk
Their work can be viewed on the RSA digital viewing gallery here https://www.rsaannualexhibition.org/viewing-room/11/works/artworks-7268-ellie-burroughs-chiara-fingland-and-clare-o-connell-imagine-if-home-of-2030-2020/.
Architectural Conservation Masterclass
Offered by the Scottish Centre for Conservation Studies and the Institute for Historic Buildings Conservation – IHBC Scotland Branch:
Dilemmas of Translating Theories into Practice: An Indian Perspective
Aishwarya Tipnis, Aishwarya Tipnis Architects
Details: https://blogs.ed.ac.uk/sccsmasterclass/tuesday-13-april-2021/
Tuesday, 13 April 12.00-13.00 BST, Zoom Webinar
We wish our readers a Happy Easter.
31 Mar 2021
Home Builders Look Ahead To Lockdown Lifting
Non-essential maintenance work in homes allowed from 26 April
Scottish home builders are keenly awaiting the planned 26 April lifting of restrictions which have prevented workers from entering customers' homes for non-essential aftercare work during the latest lockdown and over a large part of the last year.
This is one of the top priorities for the Board of trade body Homes for Scotland (HFS), which met last week, coinciding with the positive news that the industry had achieved a record level of customer satisfaction with 91% of customers willing to recommend their builder to a friend.
HFS Chief Executive Nicola Barclay said:
"As every new home is a bespoke product, there will inevitably be some aftercare required but, for much of the last year, builders have been unable to undertake anything other than essential work in people's homes.
"Our members tell us that customers have been extremely patient as they recognise the Scottish Government-imposed lockdown restrictions have been for their own safety, but the end of April really can't come soon enough. Undeniably, there will be a backlog to work through, but our members are busy preparing for that challenge and are keen to resolve any outstanding issues for their customers as soon as they can."
31 Mar 2021
Scottish Georgian Home
Delightful Georgian Finnieston house for sale in up-and-coming Glasgow West End area – since sold.
5 Corunna Street on vimeo.
29 Mar 2021
Preserving heritage in building for the future of a global garden
New photos added:
RBGE Edinburgh Biomes Construction
Engineered timber and historic buildings: The future role of Mass (engineered) Timber in Historic Building Conservation
44th annual series of Architectural Conservation Masterclasses
Peter Wilson, Timber Design Initiatives
Tuesday, 30 March 12.00-13.00 GMT, Zoom Webinar
See our events page for details
19 March 2021
Collegelands Development
Vastint's emerging proposal seeks to transform vacant and under-used former railway land to the East of the historic High Street into a coherent and connected part of the City Centre. The development will provide over 220 new apartments for rent within three stepped blocks.
Read more at Collegelands Glasgow Property
6 Mar 2021
Scottish Architects Win at Civic Trust Awards
With two projects among just 40 winners from around the globe, Hoskins Architects from Glasgow are thrilled to have won the National Panel Special Award, for the transformational project at Aberdeen Art Gallery.
Their project at Strawberry Field, a visitor and training centre for young people with learning disabilities, for the Salvation Army, was also a winner in the Selwyn Goldsmith award:
Read more at Hoskins Architects Civic Trust Awards
15 Feb 2021
EAA News
JOIN THE EAA COUNCIL & WORKING GROUPS
Welcome to the first members bulletin of the newly incorporated Edinburgh Architectural Association SCIO! You can read more about the EAA's ongoing modernisation here.
In line with the updated constitution, the EAA are seeking new council members and student representatives (RIBA Part 1 or Part 2) who are interested in becoming actively involved with the EAA. This is an opportunity to meet other architects and members of the architectural community, and help to advance architecture and the built environment in your local area.
The EAA are looking for enthusiastic individuals who can give some voluntary time each month to become actively involved with the chapter group, either by joining the EAA Council as a Trustee or by contributing to the activities of the Working Groups.
Find out more about the work of the EAA Council and Working Groups, and find further details of how to get involved here.
15 Feb 2021
EAA invites architect Ryan W. Kennihan News
The EAA invites architect Ryan W. Kennihan to speak about his work and practice. Ryan studied architecture at Cornell University. Originally from Chicago, he has been based in Dublin, since 2002, establishing his practice in 2007. He has taught architecture at University of Navarra in Pamplona, the Porto Academy, University College Dublin and the Dublin School of Architecture at DIT, where he is currently a lecturer.
6 Feb 2021
Cadworks Building News
Please see the Glasgow Architecture News page for information about the Cadworks development, in Glasgow City Centre, that will be 'Net Zero Carbon (NZC)' in operation and powered only by renewable electricity when it completes in October 2021.
5 Feb 2021
UK Government's school rebuilding programme
The Royal Institute of British Architects has responded to the Government's launch of the first phase of the School Rebuilding Programme.
RIBA President Alan Jones said:
"Well-designed schools have the power to shape society – improving the attainment, behaviour, health and wellbeing of every child.
As the government's ten-year rebuilding programme gets underway, it is crucial to focus on the delivery of good quality design, sustainability and safety.
See our RIBA news page for more details
1 Feb 2021
100k
The e-architect resource – with over 30,000 pages of architecture information – is now ranked by alexa.com as one of the world' top 100k websites:
https://www.alexa.com/siteinfo/e-architect.com
27 Jan 2021
Need For 25,000 New Homes
Politicians Urged To Unite Around Need For 25,000 New Homes Each Year To Give Confidence To Consumers, Certainty For Business And +£25 Billion Economic Boost
27th of January 2021 – Clear statement of intent required from all parties ahead of election
With the importance of ensuring everyone living in Scotland has a quality home that meets their needs never more apparent, the country's home building industry today urged politicians across all parties to support a shared ambition to achieve and consistently deliver at least 25,000 new homes each year.
Read the news in full on the Glasgow Architecture news page.
26 Jan 2021
Jenners to Close
Frasers Group said it would cease trading on 3 May, after 183 years in the city, at Edinburgh's famous department store. The firm says as it had been unable to reach agreement with the site's owner.
Jenners Edinburgh Closing News
Highlights from the end of 2020:
17 Dec 2020
Plannng Approval for 65 London Road
HG Developments proposed redevelopment of 65 London Road site to form a 76-bed Purpose Built Student Accommodation, designed by 3DReid, replacing disused car-wash buildings:
65 London Road Edinburgh
7 Dec 2020
Moxy Hotel Edinburgh News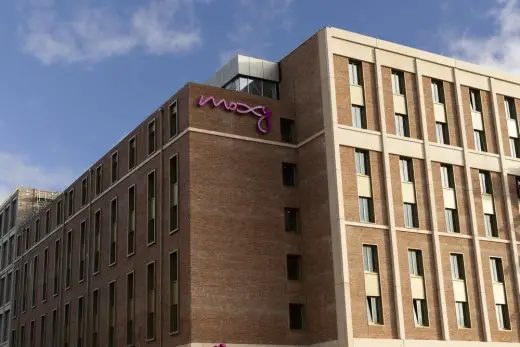 image courtesy of architects practice
Moxy Hotel Fountainbridge
This is part of a regeneration project in the new Fountainbridge district, the 262-room Moxy Hotel from Marriott International is situated on the former Scottish & Newcastle Fountain Brewery site, alongside offices, cafés, co-working spaces and a restaurant.
12 Nov 2020
EAA Photography Competition News
The EAA announce an extended deadline for Old New Edinburgh – New Old Edinburgh, a photography competition open to all exploring the impacts of time and change on the fabric of Edinburgh and its surrounding towns:
Closing date extended to 25 November 2020
1 Nov 2020
HDR | Hurley Palmer Flatt Named as One of 50 Consultants on a Brand New £95m Professional Services Framework
Leading independent multidisciplinary engineering consultancy Hurley Palmer Flatt has been appointed as one of 50 consultants on a major new professional services framework in Edinburgh, Scotland. The programme intends to rejuvenate the city of Edinburgh with the delivery of new state-of-the-art schools, early years centres, sports facilities, and affordable homes across the city.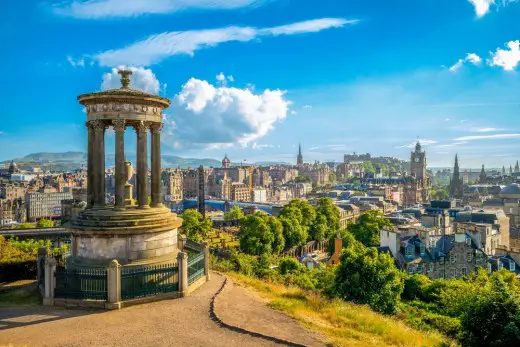 The £95 million framework will consist of numerous architectural, engineering and project management contracts over a four-year period.
The procurement for this scheme entered its first stage a year ago, with the second stage commencing in February, just a short time before the whole of the UK entered a national lockdown. Despite the challenges the City of Edinburgh Council would have faced due to Covid-19, it is a great success that the procurement process was able to come to completion, although other public sector procurement faced delays and cancellations.
The framework has sustainability at the core of its plans, with Passivhaus Architects ensuring that new buildings are energy efficient and the city's net zero carbon by 2030 target is taken into full consideration. The scheme also brings great support to small businesses, with this being a priority for the council, resulting in more than 70% of successful bidders being SMEs. Each consultant is also required to pay the Living Wage and carry out community benefits as part of any work they obtain.
Hurley Palmer Flatt are thrilled to be supporting the projects awarded through the framework.
These are not the only projects the company is currently supporting in Scotland's both historically-rich and dynamic capital, as it is working on a redevelopment which will see the transformation of Edinburgh's Rosebery House by Aviva Investors, welcoming a new state-of-the-art office block. The new 'landmark' development will hold the potential to onboard 1,500 office workers by 2025, and like the new Professional Services Framework, will have the future in mind, with sustainability at the heart of the project as it is committed to securing a Net Zero Carbon rating for the building's operation.
On the news of the Framework appointment, Associate Director at HDR | Hurley Palmer Flatt Group Emma MacLeod commented that "the firm are keen to be providing a key function to further projects across the city of Edinburgh."
1 Nov 2020
30,000!
The e-architect resource has over 30,000 pages of architectural information + building news.
We passed the 30k mark on 31 October 2020.
Glasgow Architecture news page
Edinburgh Architecture News Archive
Edinburgh Building News archive links below:
Edinburgh Architecture News Jul – Dec 2017
Edinburgh Architecture News Apr-Jun 2017
Edinburgh Architecture News Jan-Mar 2017
Edinburgh News – Archive for July to October
Edinburgh Architecture News Mid 2016 – Archive for May to June
Edinburgh Architecture News Early 2016 – Archive for the early part of the year
Edinburgh Architecture News 2015 – Archive
Comments for the Edinburgh Building News 2021 page welcome