Canongate Housing Development Edinburgh World Heritage Work, Scottish Architecture News
Canongate Housing Development Conservation
4 June 2021
Conservation and energy efficiency work on the Canongate on track to deliver over 50% energy reduction
Edinburgh – Friday 4th June 2021 – Local Edinburgh residents living in the Canongate area of the Old Town will benefit from a range of conservation and energy efficiency improvements that are on track to reduce energy consumption and carbon emissions by over 50%. Led by Edinburgh World Heritage, in partnership with the City of Edinburgh Council, the recently finished work to a block of post-war tenements was funded by the SP Energy Networks' Green Economy Fund and the Scottish Government's Energy Efficient Scotland programme. Whilst supporting Edinburgh's goal to become a net zero emissions city by 2030, and contributing to the Scottish Government's ambitious plans to meet climate change targets by 2045, this project will also improve living conditions within the 12 flats and 2 commercial units.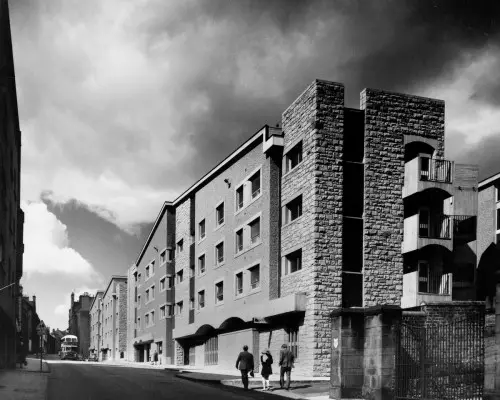 photo © Historic Environment Scotland (Sir Basil Spence archive)
Following the work, which began in March 2020 with John Gilbert Architects and Redpath Construction, Edinburgh World Heritage has reported that the energy efficiency interventions will deliver an anticipated drop of 28 tons of carbon emissions per year, the equivalent to planting almost 3,000 trees, for the Category B-listed tenements. as well as improving the living conditions for residents. The charity says that work to reinstate the original window scheme, including balcony windows, to Sir Basil Spence's original specifications, has also enhanced the architectural integrity of the building and the Canongate.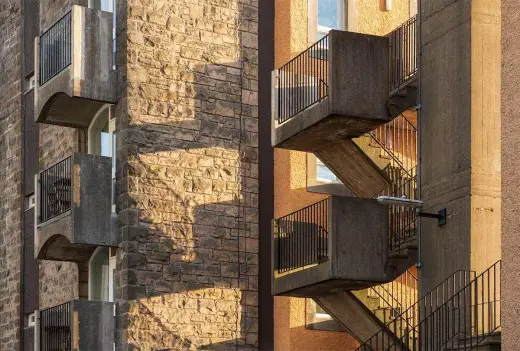 photograph © Tom Duffin for Edinburgh World Heritage
Energy efficiency measures included the installation of double-glazed windows, insulation in the attic, the roof and within cavity walls, installation of LED lighting, upgrades to heating systems and improvements to the ventilation. The conservation work included repairs to concrete balconies and the exterior stairwell, which had significantly deteriorated over the years, the restoration of Spence's original painting scheme to the exterior of the building, as well as the reinstatement of the original window design.
Property owners and tenants were also supported by Edinburgh World Heritage's Conservation Funding Programme (funded by Historic Environment Scotland), which provided expertise, advice, and support throughout the project. In total, the project cost £1.2M, with key contributions from the Scottish Government's Energy Efficient Scotland programme, SP Energy Networks' Green Economy Fund, and property owners.
Edinburgh World Heritage also engaged with tenants and property owners of surrounding buildings, who participated in training opportunities, including workshops on maintenance and ways to make their homes more energy efficient. Additionally, more than 50 local companies and more than 120 people were employed over the project's three-and-a-half-year life cycle. Staff were able to learn new skills in energy efficiency solutions for historic buildings, as well as specialist conservation techniques.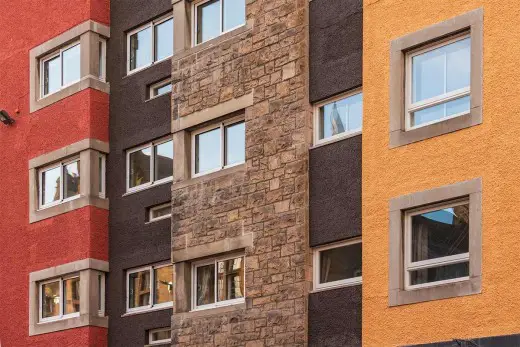 photograph © Tom Duffin for Edinburgh World Heritage
Through the implementation of this pilot project, Edinburgh World Heritage now believes that a number of key principles have been established, which will help other projects involving listed buildings to carry out sensitive and appropriate energy efficiency and conservation works.
SP Energy Networks provided the funding towards this project through its £20M Green Economy Fund. The fund supports initiatives that will benefit the people of Scotland and support Scotland's ambitious green energy plans and local economic growth.
Just Transition Minister Richard Lochhead said: "Removing greenhouse gas emissions from heating our homes and buildings is one of the most important things we can do to help end Scotland's contribution to climate change. We also recognise that many of our historic buildings and places have special characteristics and significantly enhance our built environment.
"It is vital that our approach to reducing emissions in buildings has the principle of just transition at its heart, and I am pleased that the Scottish Government could support this innovative project, which demonstrates how we can reduce emissions whilst protecting our historic environment and, critically, do so in a way that ensures that our fuel poverty objectives and our commitment to tackling climate change work together, ensuring a fair and just transition to net zero emissions."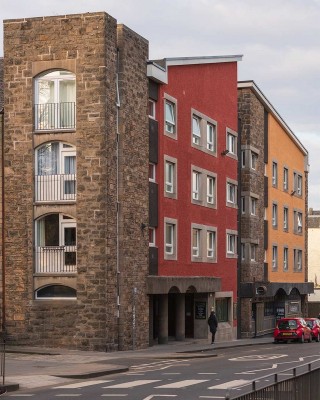 photograph © Tom Duffin for Edinburgh World Heritage
Christina Sinclair, Director of Edinburgh World Heritage said: "Thanks to our community-led approach, and experience in championing high-quality conservation, we have been able to make a success of combining conservation and energy efficiency work. Ultimately, these measures represent a significant contribution towards the improvement of the Canongate area as a whole. It is vital that this kind of work be continued, not only because of the contribution it makes to the City of Edinburgh Council's carbon emissions reduction targets, but also to ensure that Edinburgh's historic buildings are fit for modern living now and in the future."
Cllr Neil Gardiner, Planning Convener, said: "These homes are of historical importance to the city and so it's great that they have been so beautifully preserved while making sure they are now energy efficient for those living in them. The improvements made will help prepare the buildings against the effects of climate change in Edinburgh and partnership projects like this are an important first step in the city reducing its emissions to meet its target of net zero by 2030. These improvements help demonstrate that taking action on climate change not only delivers environmental benefits for the city but helps to support wider health and economic benefits for residents, by reducing heating bills and improving living conditions. Improving historic buildings such as these will positively impact on all of us and help unlock opportunities to reduce inequalities as we build back better and greener."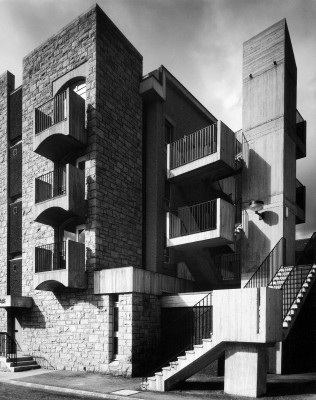 photo © Historic Environment Scotland (Sir Basil Spence archive)
Frank Mitchell, CEO at SP Energy Networks, said: "Scotland has ambitious plans to have Net Zero emissions by 2045 and Edinburgh targeting 2030, but we must ensure that no community is left behind. Helping communities establish low carbon infrastructure and build their own green economy is at the heart of our Green Economy Fund. We are delighted to be funding the Canongate project that will significantly reduce energy consumption and carbon emissions whilst also improving living conditions for residents. We're proud to fund a project that can be used as a blueprint for other historic and listed buildings in the future – this is just the start."
Canongate Housing Development, Edinburgh
The Canongate Housing Development was designed as a social housing complex by Sir Basil Spence and completed in 1969. The Category B-listed modernist development consists of three blocks of flats comprising one- and two-bedroom flats, located on the Royal Mile.
Sir Basil Spence was one of Scotland's most accomplished and prolific 20th-century architects with a portfolio including Coventry Cathedral and the British Embassy in Rome.
From Historic Environment Scotland's statement of special interest for the housing complex: 'Basil Spence's Canongate development is an important example of Scottish Post-War housing occupying a critical and historically sensitive location on the N side of the Canongate. The three relatively externally unaltered blocks (comprising 30 dwellings with shops and a public house to ground floor) share the same unified themes, employed in a variety of ways to achieve a sense of rhythm and movement across the length of the site.
'The use of rubble cladding, the suggestion of a castellated parapet at the corner 'towers' and the narrow slit-windows piercing the slab-like walls all appear to reference the vernacular tradition of the defensive towerhouse. Conversely, the buildings utilise some of the iconic design elements from his Gorbals tower blocks of the previous year including projecting concrete balconies articulating the side elevations.
The punctured openings to the ground floor frame the earlier 17th and 18th century buildings behind. This is particularly notable where the two main blocks separate, framing the Canongate Manse (see separate listing) which is set back from the road behind its own courtyard.'
Current photographs © Tom Duffin for Edinburgh World Heritage
Archive photos © Historic Environment Scotland (Sir Basil Spence archive)
About Edinburgh World Heritage
We are an independent charity with the aim of ensuring that the city's World Heritage status is a dynamic force that benefits everyone. Our mission is to connect people to their heritage in everything we do – whether through the conservation of historic buildings, delivering improvements to the public realm, or engaging people directly with the rich heritage of their city.
About the Conservation Funding Programme
Edinburgh World Heritage's Conservation Funding Programme is funded by Historic Environment Scotland, and supports the conservation of buildings and public spaces in and around the Old and New Towns of Edinburgh World Heritage Site, helping to retain the authenticity and integrity of our remarkable historic city.
About Scottish Government Energy Efficiency Scotland Programme
The Energy Efficient Scotland programme builds on existing legislation and programmes that are already supporting the improvement of the energy efficiency of homes, businesses and public buildings, as well as the work Scottish Government are doing with local authorities to develop Local Heat and Energy Efficiency Strategies (LHEES).
About SP Energy Networks
As a distribution and transmission network operator SP Energy Networks (SPEN) keeps electricity flowing to over 6m customers across 3.5m homes and businesses throughout Central & Southern Scotland and Merseyside, Cheshire, North & Mid-Wales and North Shropshire.
We do this through our network of over 110,000km of power cables and 30,000 substations across our licence areas and we are investing approximately £7 billion into the electricity network to create a better future, quicker for our customers and communities.
SP Energy Networks is part of the ScottishPower group, a Principal Partner for the United Nations climate change conference (COP26) to be held in Glasgow later this year. It is developing an energy model that will play a significant role in reaching the UK's world-leading climate change targets and is investing a total of £10bn in the clean energy generation and networks infrastructure needed to help the UK decarbonise and reach Net Zero emissions.
About the Green Economy Fund
The Green Economy Fund is a way of SP Energy Networks investing in the communities that it serves to support the Scottish and the UK Government's energy ambitions.
SP Energy Networks have committed to voluntarily contribute up to £20m over a two-year period to support initiatives that will benefit the people of Scotland and support Scotland's ambitious green energy plans and local economic growth.
The fund aims to: build the infrastructure and the learnings needed for the changes in heating and transport expected over the next decade; stimulate economic activity and create jobs in Scotland; support the Scottish Government's ambitious energy strategy and the UK's drive to a low carbon economy; work with specific communities within our operational area in Scotland, supporting both rural and urban areas in particular that suffer from fuel poverty; and provide access to funding for projects that may ordinarily struggle to obtain funding.
Image resources © Edinburgh World Heritage
Canongate Housing Development Edinburgh World Heritage images / information received 180920
Canongate Historic Tenements: Edinburgh World Heritage
Edinburgh Architecture
3-8 St Andrew Square
Design: CDA and Gareth Hoskins Architects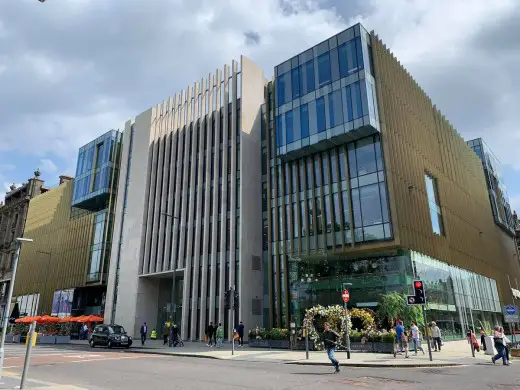 photo © Adrian Welch
St Andrew Square Building
St James Quarter Edinburgh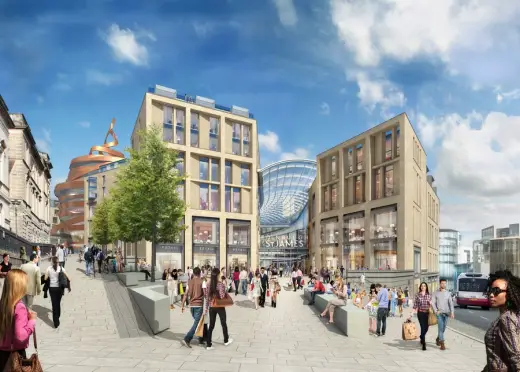 image of the development
St James Quarter
Comments / photos for the Canongate Housing Development Conservation page welcome
Website: Edinburgh Lothian