RBGE Edinburgh Biomes Construction, Building Extension, Architecture, Landscape, Pictures
Royal Botanic Gardens Edinburgh Biomes News
5 May 2022
Construction technology helps to protect the Botanics' iconic trees
While hard hats and diggers can be considered at odds with nature conservation, an innovative tree protection system at the Royal Botanic Garden Edinburgh (RBGE), is combining the latest in construction technology with the need to protect a world-renowned living collection of plants.
Arboriculturist Will Hinchliffe at one of the root bridges: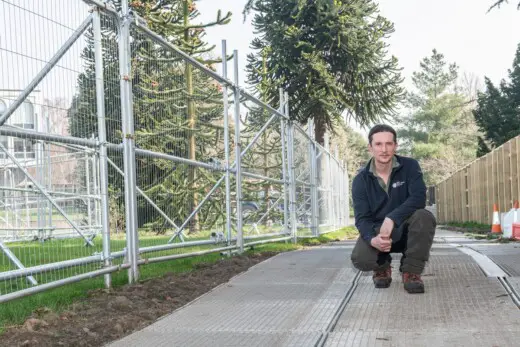 photo : RBGE
Royal Botanic Gardens Edinburgh Biomes Construction Update
The ambitious, multimillion pound Edinburgh Biomes development includes the restoration of RBGE's heritage Glasshouses but, with construction set to take place in the very heart of the 70-acre site, twelve of the Garden's 3,500 trees were at risk of damage. Arboriculture specialists at RBGE, environmental consultants Ironside Farrar and construction company Balfour Beatty worked closely with supplier Green Grid Systems to devise a bespoke plan to protect Scotland's National Botanic Collection.
Will Hinchliffe, Arboriculture Supervisor at RBGE explained: "Trees provide enormous value to society, particularly in urban landscapes where they help people to connect with nature.
"However, they are also very vulnerable. A tree which takes decades or even hundreds of years to reach maturity, can suffer irreversible damage in just a few minutes.
"As curators of trees which are often endangered in the wild, our priority is to protect and retain mature trees that grow in close proximity to the development site. In turn, the survival of prominent features will help to embed the site into the natural environment, adding to the sense of an established landscape when the project ends."
Gillian Smith, Technical Director at Ironside Farrar added: "As a world-leading botanic garden, RBGE has specific site conditions which first required careful consideration.
"Working closely with manufacturer Green Grid Systems, the team has adapted the existing systems to suit the Garden's requirements and have delivered a solution that will secure the best long-term outcome for invaluable specimen trees."
Five years in the planning, the teams incorporated techniques they learned from previous construction projects at the Garden and introduced new technologies.
These include an ingenious root bridge of steel piles and beams submerged into the haul road surface. Designed to protect vulnerable root systems, a void beneath the raft-style grid allows space for future root growth without affecting the final paved surface. It will also disperse the weight of heavy construction vehicles, helping to avoid damage to the roots through compaction or contamination of the soil.
To minimise the risk of flooding, new paths have been created using porous geotextile cells instead of the traditional covering of tarmac. The honeycomb structure of the cells helps to attenuate surface water, ensuring a more sustainable drainage system. Meanwhile, above the ground, immovable protective barriers have been secured around the rarest of trees.
The pioneering action has already attracted visits from tree specialists across the length and breadth of Britain. This not only ensures the safeguarding of trees at RBGE's world-famous site, it also brings fresh knowledge and creates a benchmark for best practice across the public and private sectors.
The final aim is to deliver a project that will serve as the gold standard in tree protection management, facilitate a major construction development and showcase a Living Collection that is functional, impressive and a calm place for all to enjoy.
Previously on Edinburgh Architecture
9 March 2022
Transforming a unique global treasure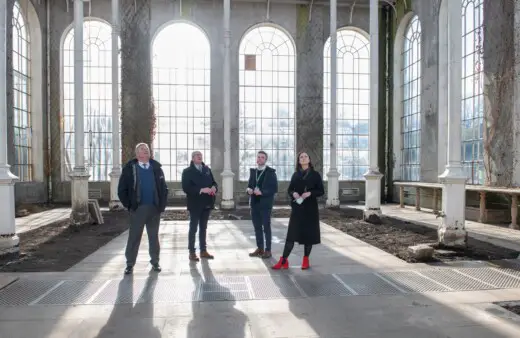 The true value of Scotland's investment in environmental innovation, conservation, education and support for wellbeing has been at the heart of a visit by Mairi McAllan MSP, Minister for Environment, Biodiversity and Land Reform to the Royal Botanic Garden Edinburgh (RBGE).
Welcomed to the Garden's historic Botanic Cottage by Chairman of the RBGE Board of Trustees, Dominic Fry, Ms McAllan received the latest news on achievements in a briefing from Regius Keeper Simon Milne MBE. Updating the Minister on science and conservation work at home and around the world, Mr Milne also provided new insight on education provision and the burgeoning appetite for public engagement that support health and wellbeing in a post-pandemic world.
At the heart of discussions was an update on the progress of the Edinburgh Biomes project, the most ambitious undertaking of RBGE in its 352 years. In committing to this radical overhaul of the Garden's heritage Glasshouses and replacement of its deteriorating research houses and associated facilities, RBGE is creating a new template for the future of plant research, education and engagement.
Explaining the crucial need for the Edinburgh Biomes, Simon Milne commented: "More than ever before there is a sense of urgency in the work of RBGE and its partners. Our world is facing an unprecedented environmental crisis to which an immediate response is required. This initiative will not only protect the future of the 24,000 plants already housed within our Glasshouses, it can influence lives across continents and generations. From welcoming school classes, visiting researchers and members of the public to inspiring engagement with nature, in the very widest sense we have an opportunity to promote real change for the better."
Reflecting on her time at the Garden, Ms McAllan concluded: "Addressing the global threats of the biodiversity crisis and climate emergency is the great long term challenge of our time. The Scottish Government is committed to leading the way in tackling the crises in a way that is fair and leaves no one behind. The Royal Botanic Garden Edinburgh is a crucial key partner in helping to achieve a sustainable, healthy and prosperous future here at home and around the world."
Edinburgh Biomes
Edinburgh Biomes: Arguably the most visionary and exciting project of the Garden's 350-year history, Edinburgh Biomes will avoid the catastrophic loss of up to 4,000 species in the public and research Glasshouses, and deliver world-leading facilities that will protect the work of this national institution for the future.
Work is underway at a time when the Garden's existing Glasshouse facilities – including the Grade A listed Palm Houses, the 1960's modernist Front Range and the Research Glasshouses – require extensive refurbishment. Comprising over 13,500 plant species, RBGE's collection includes many plants that are endangered or extinct in their native habitats.
The Royal Botanic Garden Edinburgh (RBGE) is a leading international research organisation delivering knowledge, education, and plant conservation action around the world. In Scotland, its four Gardens at Edinburgh, Benmore, Dawyck and Logan attract more than a million visitors each year. It operates as a Non Departmental Public Body established under the National Heritage (Scotland) Act 1985, principally funded by the Scottish Government. It is also a registered charity, managed by a Board of Trustees appointed by Ministers. Its mission is "To explore, conserve and explain the world of plants for a better future." Learn more: www.rbge.org.uk.
29 Mar 2021
Royal Botanic Gardens Edinburgh Biomes Project
New photos added within the body of this page – the sad looking exterior of the Palm House, the modern houses' panes being battered out by gales, and the dilapidated research and quarantine houses: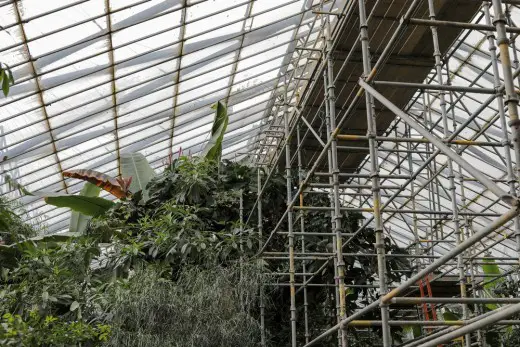 26 + 23 Mar 2021
Preserving heritage in building for the future of a global garden
Video added:
Circa 2:05 the video enters the 1960s Temperate House where the living material will be decanted – the clue you have the right house is the vast amount of scaffolding! That's not part of the Biomes development, it is urgent temporary work to ensure we get there…..
Then, around 7:28, we enter the iconic Victorian Temperate Palm House, already we can see gaps that were planted-up just a couple of weeks ago. It is by no means a polished video but it does provide the proof, if any was needed, that the public Glasshouses have very much become a serious of work site.
In the most significant development of its 351-year history, the Royal Botanic Garden Edinburgh has entered into a Pre-Construction agreement with Balfour Beatty to progress the first stage of work in its seven-year Edinburgh Biomes initiative.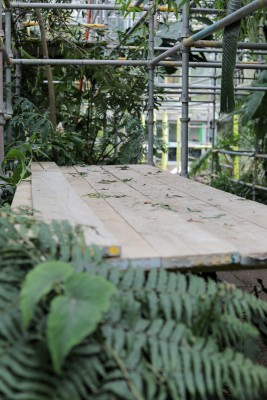 The first stage of work includes a new state-of-the-art Plant Health Centre, energy centre and associated infrastructure works. Pre-construction activity will progress with Balfour Beatty over the spring and summer, with construction works commencing in the autumn.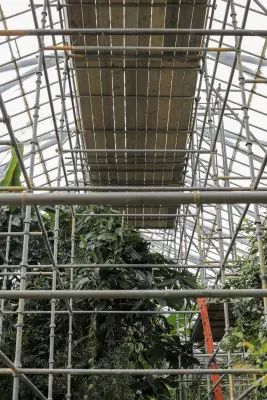 Fifty-eight million pounds funding from the Scottish Government,of which £50m is from the Low Carbon Fund, is a major contribution to the costs of the first five years of the seven-year project. The development is in step with the goal for the transformational change required to make Scotland net-zero by 2045.
Restoration of much-loved public Glasshouses will be at the heart ofEdinburgh Biomesand an operation of military precision is already underway behind-the-scenes to decant plant material in preparation for works. New research Glasshouses will also be constructed and, finally, a new public Glasshouse will become the welcome reception of a spectacular visitor experience. Collectively these works will greatly enhance RBGE's contribution to addressing the biodiversity crisis and climate emergency.
Commenting on the significance of the Edinburgh Biomes initiative, Hector MacAulay, Balfour Beatty managing director for Scotland and Ireland, said: "We are delighted to be partnered with the Royal Botanic Garden Edinburgh to deliver this most significant and historic project. Balfour Beatty is fully committed to playing its part in safeguarding the plant collection for the future and delivering the new world-class facilities which are of international importance in terms of biodiversity conservation."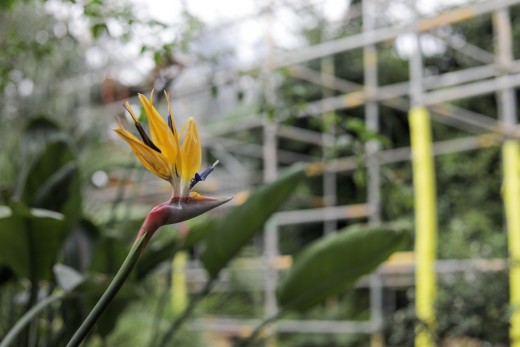 Regius Keeper Simon Milne MBE, who has led the five-year drive to reach this point explained: "The Edinburgh Biomes is an initiative of enormous significance and, from now, it brings seven years of incredibly hard and exciting work, changes to the way we engage with all our stakeholders and flexibility in how we operate. There is a requirement for an immense programme of public engagement and unapparelled fundraising to reach our ultimate goal.
"The living plant collection, at the core of the work of the Garden, is of global importance in addressing the biodiversity crisis. Here, we hold in care species endangered and even extinct in their natural habitats – many of which are yet to be fully scientifically described and formally named. Intrinsic to this is the growing imperative for greater public engagement, bringing people of all ages and outlooks along on the unavoidable and inspirational journey to protect the planet for future generations."
Voicing her support, Environment and Climate Change Secretary Roseanna Cunningham said: "Through the Low Carbon Fund, we have been able to fulfil a Programme for Government commitment to support the Royal Botanic Garden Edinburgh in its transition to net zero and to secure its status as a national and international centre for science, horticulture and learning. By improving the energy efficiency of the Garden's iconic Glasshouses and the construction of the new facilities, not only will it be an important step towards a low carbon future but will also support good, green jobs and preservation of the National living plant collection."
In advance of work starting, RBGE's dedicated horticulturists are employing all the latest techniques in tandem with traditional best practice to carefully lift specimens from their established beds and transfer them to temporary homes. The outcome will guarantee the future of the A-Listed buildings, improve the visitor experience and working conditions.
Throughout the restoration of historic buildings and construction of new, visitors can expect a wealth of opportunities to find out what is happening behind the scenes. Job opportunities will be advertised, and commitment is being made to creative educational and community outreach.
Edinburgh Biomes secured full planning permission in July 2019
The Royal Botanic Garden Edinburgh is one of the world's leading botanic gardens for its plant science, conservation horticulture and learning programmes.
Species and habitat restoration are essential conservation tools, not only to rebuild species diversity but also to improve ecosystem health and provide nature-based solutions to climate change, flooding and poor water quality, food production, poverty and the economy.
Our teams work in circa 35 countries globally from China and Nepal to Socotra, Brazil, Colombia and Scotland.They describe, on average, three plants and fungi new to science each month.
The Living Collection includes 13,500+ plant species.
RBGE is also home to a globally important Herbarium, with three million preserved plant specimens of significant research value, a botanical Library and significant Archive.
Every year, 12,000 learners benefit from RBGE education programmes.
The Temperate Palm HouseCompleted in 1858, the Temperate Palm House is the tallest traditional Palm House in Britain, with a height of 21.95m (72ft). The iconic building of the Royal Botanic Garden Edinburgh, it was designed by Robert Matheson and cost £6,500. Built largely of sandstone, it has a roof of curvilinear iron rafters.
Principal gardener James McNab, responsible for overseeing the project, believed solid masonry prevented rapid cooling and provided shade for the successful cultivation of plants. He also argued that too much sunlight was not good for growing palms, hence the front of the structure faces west. Since refurbishment in 2005, this has been the welcome to the "Glasshouse Experience" of 10 zones over two levels.
The Tropical Palm HouseSitting behind the Temperate Palm House is the oldest Glasshouse at the Edinburgh Garden. Built in 1834, just over a decade after the 'Botanics' had moved from its third site on Leith Walk.
The Modernist Front RangeWhen it was built in 1967, the 128-metre-long range of houses was regarded as the greatest innovation in glasshouse design in a century. At the insistence of Garden Curator, Dr Eddie Kemp, there are no internal supporting structures, so allowing the maximum space and light for the unimpeded growth of plants. Allan Pendreigh and GAH Pearce, architect with the Ministry of Public Works, met this brief by using steel cables to suspend the main structure from a tetrahedral lattice framework.
17 Aug 2020
RBGE Edinburgh Biomes Construction News
Location: Inverleith, Edinburgh, Scotland
Green shoots of recovery cultivate job opportunities for environmental change
As the country emerges from COVID-19 lockdown, bringing fresh focus on Scotland's economic and green recovery plans, the Royal Botanic Garden Edinburgh (RBGE) is on course to promote jobs, apprenticeships and new public outreach while invigorating its globally important research, conservation and learning facilities against the challenges of the climate emergency and biodiversity crisis.
Resuming on-site clearing works for start of construction of the £70m Edinburgh Biomes project, the research institute expects an investment of over 100 jobs per year, with about 700 "person years" of employment being directly supported by the programme. Indicating its significance to the construction sector during delivery, this is a predicted benefit of around £150M.
With full planning permission secured, the organisation, currently celebrating its 350th anniversary, is forging ahead with design and construction partners. High on the agenda for early construction phases is ensure work opportunities and social inclusion for local people, creating openings for workers from disadvantaged backgrounds, graduates, apprentices and long-term unemployed. This will complement the work already done by RBGE in its community engagement and schools' programmes.
Central to the Biomes project is the research institute's commitment to the Scottish Government's green recovery plan. Replacing RBGE's ageing and failing Research Glasshouses will avoid catastrophic loss of plant species core to work in more than 35 countries. A dedicated plant health centre will secure the organisation's place at the vanguard of research into burgeoning lists of pests and plant pathogens destroying habitats at unprecedented rate. Substituting its old and inadequate heating and power systems with energy-efficient updates will greatly enhance. Refurbishment of the Garden's A-Listed Heritage Glasshouses and the addition of an iconic new Glasshouse will provide a focal point for public engagement.
Simon Milne MBE, Regius Keeper, has emphasised the need to stay focussed on environmental and societal improvement as plans are laid for sod cutting in the spring: "Amidst the many personal, social and economic tragedies and challenges of the last few months, there is heightened awareness of interdependencies between human and environmental health, social justice, sustainable development and economic recovery. We are hugely grateful for the support of Roseanna Cunningham, Cabinet Secretary for Environment, Climate Change and Land Reform and for the investment of the Scottish Government to date. Increasingly, as the project moves forward, our own fundraising drive will add to the momentum of the project.
"The Royal Botanic Garden Edinburgh is a force for global change and, in the Edinburgh Biomes initiative, we can bring real benefits to people living and working in Scotland right now by ensuring this project is both ambitus and inclusive. Our future is dedicated to 350 more years and beyond, helping protect lives and economies by underpinning the overarching need to protect the global environment," he said.
Commenting that there could be no alternative to the combined approach of delivering environmental and societal improvements, RBGE's Chair of the Board of Trustees, Dominic Fry, concluded: "A green recovery from Covid-19 is imperative, based on belatedly acknowledging the interdependence of human and environmental health.
"Edinburgh Biomes represents a physical embodiment of that green recovery, bringing with it jobs, infrastructure, education and science. If we are serious about wanting a future that's greener, kinder and more equal, an investment of this scale and ambition cannot be ignored: it is a critical and unique moment to put people, planet and plants first for future generations."
Edinburgh Biomes
Edinburgh Biomes is the most significant project in the history of the Royal Botanic Garden Edinburgh. It will protect RBGE's unique and globally important plant collection for the future.
For visitors, the most visible change will be the addition of a stunning new Glasshouse linking to the Front Range houses. Its initial purpose will be to provide temporary accommodation for the thousands of plants being decanted for the refurbishment of the public Glasshouses. Ultimately, it will become the point of welcome to a considerably rejuvenated Glasshouse Experience, taking visitors through the modernist Front Range and Victorian Temperate and Tropical Palm Houses.
Previously on Edinburgh Architecture:
6 Sep 2019
Royal Botanic Garden Edinburgh
Botanics' Glasshouses close one by one for emergency repairs
2 Aug 2019
Go ahead for plans to safeguard the priceless collections of Royal Botanic Garden Edinburgh
Edinburgh
Royal Botanic Gardens Edinburgh public and research Glasshouses, 1967 by the PSA: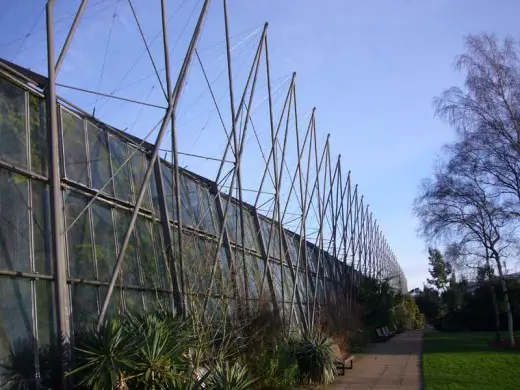 photo © Adrian Welch
Edinburgh Royal Botanic Garden News
11 Nov 2010 – £35m proposals abandoned due to threatened funding cuts: scheme to replace the Britain's largest glasshouse halted despite officials warning they have an "appalling carbon footprint".
The current glasshouses cost a huge sum in repair and general maintenance and have massive running costs.
Royal Botanic Gardens Edinburgh Photos
Royal Botanic Gardens Edinburgh building by Edward Cullinan Architects
Botanic Gardens Edinburgh – Contact
0131 552 7171
Address: 20a Inverleith Row, Edinburgh, EH3 5QH
Botanic Gardens Edinburgh
Edinburgh Architecture Developments
Contemporary Lothian Buildings
Edinburgh Tours : Architecture Walking Tours
Royal Scottish Academy Edinburgh
Comments / photos for the RBGE Edinburgh Biomes Construction – Royal Botanic Gardens Edinburgh Biomes Architecture page welcome