Royal College of Surgeons Extension, Proposal Images, Architect, Nicolson St Design, Picture
Royal College of Surgeons Edinburgh : Architecture
Surgeons College on Nicolson St, Edinburgh, Scotland – design by Benson + Forsyth Architects
post updated 2 January 2022
Royal College of Surgeons
The Royal College of Surgeons, Nicholson Street, Edinburgh
Date built: 1832
Design: William Henry Playfair architect
Abandoned project designed by Benson + Forsyth, London:


image © Benson + Forsyth
Address: Nicolson St, Edinburgh, EH8 9DW
Phone: 0131 527 1600
Royal College of Surgeons Edinburgh: 2004 Update
Recently Benson + Forsyth Architects have been working on an addition to the south (featured in August 2004 Architecture Today). The College houses a library, the Anatomy Museum in the Playfair Hall, a Dental Museum and the Sir Jules Thorn Exhibition of the History of Surgery.
This is the oldest medical society in the English-speaking world, being founded in 1505. The Nicholson Street site was purchased because the Old Surgeon's Hall had become insufficient to meet the needs of the College.
Now part of the college is an adjacent building which once housed the Scottish Oceanographical Laboratory. Lister, the Father of Modern Surgery, attended the College and is remembered in the Lister Room.
The Edinburgh's Royal College of Surgeons is one of three professional, training and examining bodies for surgeons in the UK.

image © Benson + Forsyth


image © Benson + Forsyth
£10.9m The Surgeons Hall Extension, central Edinburgh (approved go ahead 03.05.02) www.surgeonsnews.info/docs/issue1-2/pdfs/hallhill.pdf


image © Benson + Forsyth
Royal College of Surgeons Extension
Detailed plans have been granted for a £5m university alteration in Edinburgh. The contractor is the Peter Walker Group.
July 2004
Royal College of Surgeons Edinburgh Architect: William Henry Playfair
Quincentenary Hall
New building adjacent to historic Surgeons Hall, due for completion Autumn 2006


Quincentenary Hall photo © Adrian Welch
Royal College of Surgeons Edinburgh Quincentenary Hall
The site was originally used as a Riding School.
The College is located in Nicolson Street, Edinburgh, within the William Henry Playfair designed Surgeons' Hall and adjoining buildings.
History:
By the beginning of the 19th century, the Old Surgeons' Hall had become inadequate for the College and there was an urgent need to provide suitable accommodation for the large collection of anatomical and surgical specimens which had been presented to the College by Dr John Barclay. A site for this was acquired by the purchase of a Riding School in Nicolson Street.
William Henry Playfair, 1790–1857, the foremost Scottish architect of that era, was commissioned to design a building containing a meeting hall, Museum, Lecture Room and Library as its principal apartments. Surgeons' Hall was completed in May 1832 and formally opened two months later.
source: wikipedia
Opposite the building is Edinburgh Festival Theatre, a major building with a bold glass-fronted design.
Royal College of Physicians Edinburgh
Royal College of Surgeons Edinburgh former Project Architect: Benson + Forsyth – architecture studio based in London but with Scottish roots via Gordon Benson.
23 June 2017
Royal College of Surgeons Building Conservation Project
Design: Austin-Smith:Lord architects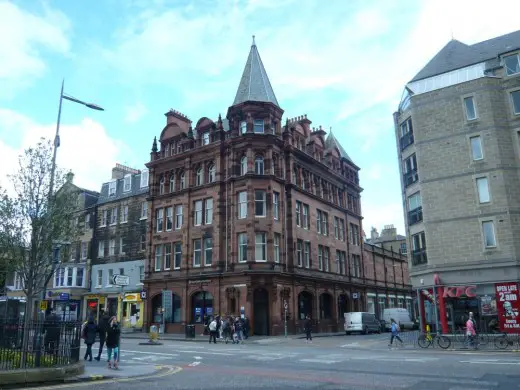 photo courtesy of architects
21 Hill Place Edinburgh
Benson + Forsyth buildings / projects in Edinburgh
Museum of Scotland
Library Extension
Scottish Parliament Competition Leith

Royal College of Surgeons Edinburgh images © Benson + Forsyth
Benson + Forsyth Architects
Address: 37d Mildmay Grove North, London, England, UK
Contact details: Phone +44 (0)207 359 0288 or email [email protected]
Comments / photos for the Royal College of Surgeons Edinburgh Building page welcome