Festival Theatre Edinburgh, Building Photos, Architect, Location, Date, Pictures
Festival Theatre Edinburgh Building
Lyric Theatre + Opera House on Nicolson St, Edinburgh, Scotland
post updated 28 July 2021
Festival Theatre in Edinburgh
Location: 13-29 Nicolson Street, Edinburgh
Date built: 1994
Architects: LDN
Phone +44 (0)131 662 1112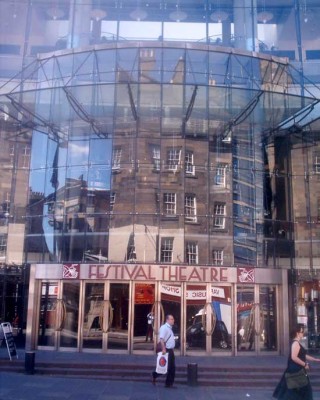 photo of building main facade © Adrian Welch
Festival Theatre Extension News
Proposals to carry out an extension to the Festival Theatre have come under fire from The Cockburn Association has written to the Lord Provost in an attempt to block plans for a £2.8 million development. The Festival Theatre extension, which will provide a practice stage, currently depends on the land to the rear of the building being sold.
Campaigners have said that the proposed student housing and office block would ruin the look of the area, which is home to the university's Old College. Marion Williams, director of the Cockburn Association, said that the plans would also rule out future stage expansion. Council sources say that the Festival Theatre extension would have to be indefinitely shelved if the student development is axed. 22 Jul 2010
Festival Theatre Extension
£2m rehearsal space behind the Festival Theatre set for approval. The extenison would be funded by building student flats between the new space and South College Street. 28 Jan 2009




Festival Theatre pictures © Adrian Welch, 2009
The re-vitalisation of the existing, Grade B listed, auditorium of the 1928 Empire Theatre to form a Lyric Theatre & Opera House – Festival Theatre Edinburgh – maintaining its basic virtues of size and acoustic performance, but increasing the stage area (now the largest in the UK), orchestra pit and back-of-house facilities to accommodate even the largest performance requirements.


Festival Theatre facade images from LDN
Now one of the World's leading auditoria for opera, ballet, music and theatre, the interface between new glassy atrium of the Edinburgh Festival Theatre and decorative and richly-coloured auditorium is marked.



interior images from LDN Architects
The facade is a structural tour de force and Edinburgh's only real example of the era's hi-tech phase popularised down south by Rogers, Foster and Hopkins et al.




facade at night image supplied by LDN Architects
Festival Theatre architects : LDN
Build cost approx. £15m


Festival Theatre with Old College beyond © Adrian Welch


entry image from LDN Architects
Edinburgh Festival Theatre is part of the Edinburgh Old Town Tour


facade photo from LDN
Festival Theatre Edinburgh – Box Office:
0131 529 6000


foyer image from LDN Architects



detail + main facade photos by aw
Address
Festival City Theatres Trust, 13/29 Nicolson Street, Edinburgh
0131 662 1112
Theatre Buildings : Designs + Photos from around the globe
Edinburgh Theatres
Edinburgh Theatre Architecture
Scottish Theatre Buildings
Glasgow
Tron Theatre
Fife
Byre Theatre
Scottish Borders
Dumfries Theatre
Comments / photos for the Festival Theatre Edinburgh Architecture page welcome