Playhouse Theatre Edinburgh, Location, Photo, Phone, Tickets, Address, Concerts
Playhouse Theatre Edinburgh
Edinburgh Playhouse, Scotland : Tickets + Access Info for this Concert Venue
Edinburgh Playhouse Theatre
Theatre Address: Edinburgh Playhouse, 18-22 Greenside Place, Edinburgh, Scotland, UK
Location: just east of the city centre – Leith St / Greenside Place
Nighttime view of the main facade: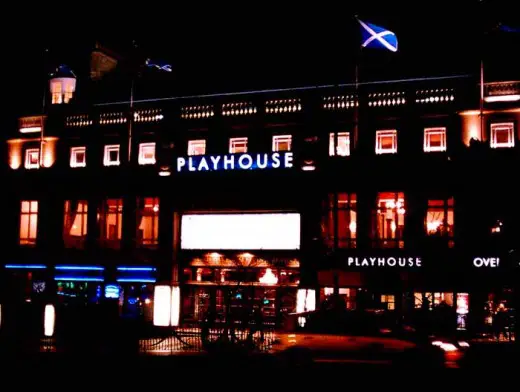 Lighting photo © Adrian Welch
This venue features West End Musicals such as Mamma Mia, plus music concerts / gigs.
Parking is at Greenside multi-storey car park – access off Leith St then down behind Calton Square development (which contians the omni centre and its vue cinema).
Dusk view: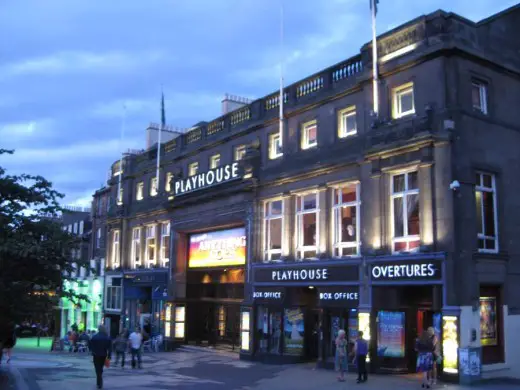 Lighting image © Adrian Welch
Playhouse Theatre – Edinburgh Box Office
Tickets 0870 606 3424 / Phone 0844 847 1660
Edinburgh Playhouse – Building Information
Date built: 1927-29
Architect: John Fairweather
Much-improved lighting installed in Jan 2006.
Address: 18-22 Greenside Ln, Edinburgh EH1 3AA
Capacity: 3,059
This is a former cinema in central Edinburgh which now hosts touring musicals and music concerts. Its capacity is 3,059, (Stalls: 1,519, Balcony: 860 and Circle: 680) making it the UK's largest working non-sporting theatre in terms of audience capacity. (The Hammersmith Apollo, which is a similar building, has more seats, but it is only used for concerts, not for musicals.) The theatre is owned by Ambassador Theatre Group.
The theatre building opened in 1929 as a super-cinema, and was modelled on the Roxy Cinema in New York. It was designed by the specialist cinema architect John Fairweather, most famous for his Green's Playhouse cinema in Glasgow.
When the building opened it was the largest cinema in Scotland and the fourth largest in the UK. The building was originally listed Category B in 1974, and this was upgraded by Historic Scotland to Category A in 2008
source: wikipedia
A fuller architectural description of the Playhouse Theatre will go online soon.



Playhouse Theatre entry photographs © Adrian Welch
The Playhouse Theatre is part of the Edinburgh New Town Tour
Edinburgh Theatre – buildings



image © Adrian Welch
Adjacent Buildings to the Edinburgh Playhouse
Omni Edinburgh – south west, beyond the Glasshouse Hotel
St James Quarter Edinburgh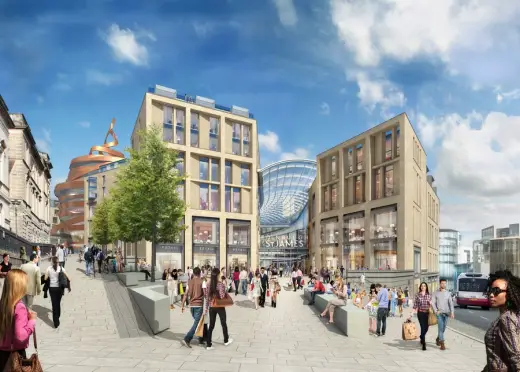 image of the development
St James Quarter
John Lewis Edinburgh – across the rounadabout to the west
Glasshouse Hotel, 2 Greenside Place, Edinburgh, EH1 3AA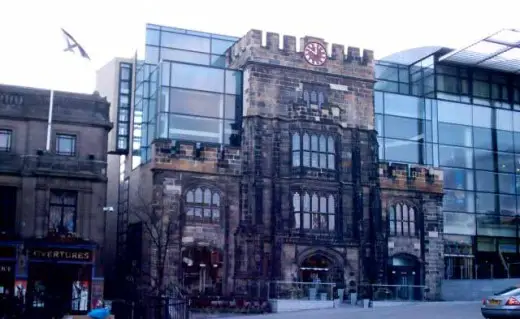 photo © Adrian Welch
Glasshouse Hotel – immediately to the west
The Glasshouse Hotel is the latest addition to The Eton Group's portfolio and occupies the fifth and sixth floors of the Omni Leisure Complex which is a new development at the foot of Calton Hill, a few minutes' walk from Princes Street.
St James Centre – behind John Lewis
Edinburgh Theatres
Edinburgh Theatre Selection
Comments / photos for the Edinburgh Playhouse Theatre at 18-22 Greenside Place page welcome