Common Architectural Styles For Apartment Buildings Tips, Home Advice, Property Help
Common Architectural Styles For Apartment Buildings Guide
22 Dec 2020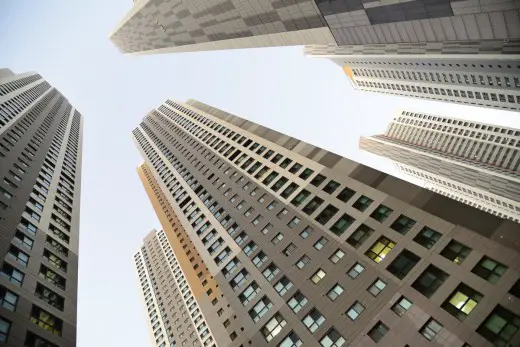 As one of the most influential architects of all time, Frank Lloyd Wright designed more than 1,000 buildings over 70 years. Wright believed in a concept called organic architecture, which blended the environment in which he constructed a structure with his ideas for designing the structure.
As we edge closer to 2021, Wright's revolutionary vision for architecture has taken a firm hold on architects designing apartment complexes around the world.
As the property management specialists at Utopia Management have stated, the contemporary era of architectural styles has developed at a breakneck pace. Many of the newer architectural styles of apartment buildings have invoked Wright's organic design philosophy. Some architects create signature organic style apartments, while others dive deep into their creative wonderlands to build one of a kind structures that blend flawlessly with the surrounding environment.
Whether an apartment rises from a pine needle floor in a rustic area or deep within the caverns of a major downtown industrial center, Wright's organic vision for architecture remains the prevailing theme for the most common architectural styles for apartment buildings.
5 Common Architectural Styles For Apartment Buildings
Five Common Styles of Apartment Building Architecture
The following five common types of apartment building architecture pay tribute to the organic vision of Frank Lloyd Wright. A couple of the styles revive older styles of architecture, while the remaining styles have developed over the past 100 years.
Tudor
Originating in England towards the end of the 16th century, Tudor architecture is defined by relatively newer design innovations such as fireplaces and chimney stacks. Because of local ordinances, the fireplaces created for many urban Tudor-style apartment buildings operate on artificial heat sources. Considered a revived style of architecture, Tudor achieved its greatest stretch of popularity in the 1970s and 1980s. However, it has made a comeback in several major cities as an apartment structure design because Tudor produces a rustic ambiance in a residence located in a high-density urban area.
Some of the distinct design features of Tudor architecture include herringbone brickwork, white stucco infills on exterior walls, and large, evenly spaced windows.
Mediterranean Revival
As the second revival style on our list, Mediterranean Revival architecture borrows heavily from the Renaissance era architecture of Spain and Italy. Introduced to the United States during the Colonial design era, Mediterranean Revival architecture features white stucco walls, rectangular floor plans, and arched windows that usher in a high amount of sunlight. Some architects, especially those designing apartment structures within sprawling urban regions, have constructed tall bell towers that remind architectural historians of the churches located in Spain.
During the past several decades, Mediterranean style architecture has replaced Tudor designed structures as the most popular revival style used in the United States
Craftsman
Towards the end of the 19th century, a group of Boston architects began a movement that eventually evolved into the Craftsman style of architecture. Although it references the design principles established by the English Arts and Crafts movement, Craftsman architecture is considered a relatively new style of apartment architecture. This style focuses on using local materials to enhance sustainability, as well as present a simple design that works well with a large number of interior design options. Craftsman architecture is prevalent in two-flat apartments located in major cities and large, sprawling apartment complexes located in suburban cities.
Craftsman architecture works well for apartments because of its low ceilings, open floor plans, and built-in cabinets that maximize storage space.
Colonial
Dating back to the 17th century when settlers from Europe constructed homes based on the design of their former homes, Colonial-style architecture is prevalent in many eastern seaboard cities and rural areas. The general architectural style of Colonial apartment buildings utilizes design influences from Spain, France, and The Netherlands. You can find Colonial-style apartment buildings in virtually every American state, but interpretations of the architectural style vary. For instance, a Colonial-style apartment complex located in New England was most likely made with wood, while a Colonial-style apartment complex in the Midwest was most likely constructed with bricks and stones.
Colonial style apartment buildings typically rise at least two stories, with a staircase serving as a defining design feature. A central chimney constructed along a steep roof pumps warm air throughout each apartment building.
De Stijl
Barely 100 years old, which is considered young in architectural history, the De Stijl style originated in The Netherlands towards the end of World War I. Pure abstraction dominates the design themes of De Stijl-style structures, with a nod to minimalist design forms and colors. Most De Stijl-style apartment buildings present only white, black, and primary colors, which allows interior decorators plenty of creative leeway. Buildings designed in the De Stijl way feature rectangular shapes that intersect at different points to give a building the utmost appearance of pure abstraction.
Popular interior designs include sliding panels that allow tenants to convert a few private rooms into much larger spaces for entertaining guests. De Stijl-style structures are especially popular today for architects designing condominiums and other types of multiple unit residential structures.
One of the up and coming architectural styles is called industrial chic. This style of architecture gets its name because architects convert vacated industrial buildings into apartment complexes located in downtown areas, as well as on open land developed in suburban communities. Although industrial chic has not yet qualified as a common style of apartment architecture, many experts in the industry believe it will one day emerge as one of, if not the most common architectural styles for apartment complexes.
Comments on this Common Architectural Styles For Apartment Buildings guide article are welcome
Edinburgh Architecture
Liberton Brae Townhouses
Design: LBA Architects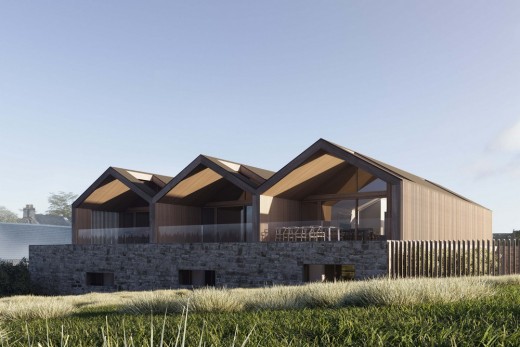 image courtesy of architects
Liberton Brae Townhouses
Cammo Meadows by CALA Homes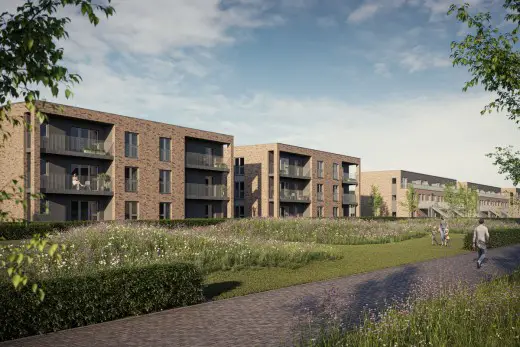 image courtesy of architects practice
Cammo Meadows by CALA Homes
Comments / photos for the Common Architectural Styles For Apartment Buildings help page welcome