4 Fundamental Things to Learn about the Walk-in Showers Tips, Lothian Property Market Advice, Buying Scottish Homes
4 fundamental things about walk-in showers guide
11 Jan 2021
Install a walk-in shower and upgrade your renovation adding value to your living style.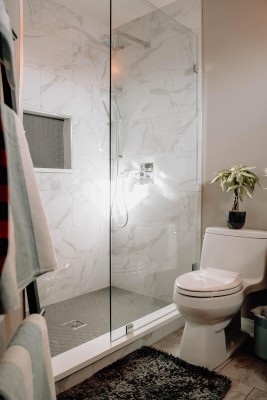 A bathroom is a place where they get their alone time to spend escaping from the outside world. You start your daily activity being refreshed after getting a shower here. There are many types of showers available. Walk-in showers are one of the most popular ones nowadays. Modern bathrooms have walk-in showers in various designs. They are easy and comfortable to use. If you want to know what is a walk-in shower and why do modern people like to use it, this article is for you.
A walk-in shower is an elegant and spacious open shower. It can stylishly fit in a small space. It offers rainfall showerheads as well as steam baths. It beautifies your bathroom, offering many benefits and designs. Let's check out and know broadly about it:
4 Fundamental Things to Learn about the Walk-in Showers
Benefits:
If there are no benefits in walk-in showers why would anyone bother to install them? There are a handful of benefits to look at if you want to use a walk-in shower which is discussed below:
Walk-in showers are suitable for almost all bathrooms as they can fit in any size. There are varieties of designs available to make your bathroom look bigger. You can choose any design you want. They bring satisfaction no matter how you want to install them. It can be customized as per your taste fits perfectly in the bathrooms of any space.
Walk-in showers are one of the most accessible styles among the shower. That's why it is popular with people who have mobility issues. As there will be no curb or bathtub you won't have to step in or out of the shower which helps to avoid slips and falls. It can be a perfect choice for seniors.
Walk-in showers are designed in a way that they can withstand wear for years. If maintained properly these showers can last for a long time. There are fewer accessories in a walk-in shower compared to your regular bathroom. It means that showers have fewer attachments to break. They are more durable than normal showers or bathtubs.
The water we use in a bathtub takes quite a long time to flow to the drain. This happens due to the manufacturing of the tubs. Bathtubs contain curves that resist the water from smoothly flowing down the drain. But in the case of walk-in showers, water doesn't get trapped or stand, rather it flows down the drain quickly and doesn't collect any bacteria.
Walk-in showers are stylish and modern. They are minimalist to use. These are available in five-star hotels for their beauty. Modern houses and architects are in love with their style.
Style
Don't think that a walk-in shower has no style for you to offer. It can be of many styles. Choose the one that you think is convenient to use:
The most obvious and popular style to choose is the modern style. Circle and rectangular shapes which elaborate decoration and lacking edges make them look fascinating and minimal. You might want to emphasize your contemporary or modern style shower using showerheads in different geographical shapes. Using background tiles contrasting showerheads will enhance visual interest.
Traditional walk-in showers are more likely to have glasses as the partition. They usually depend on how the whole bathroom is decorated. If you want a traditional style walk-in shower make your bathroom traditional using an old water heater, traditional hardware, adding retro decor items, etc. Using a walk-in shower doesn't ruin your traditional bathroom. Decorating it according to your traditional ideas can pull it off wonderfully.
These Walk-in showers are ideal for homeowners who are industrial-minded as they love to show off the bare bones. They enjoy walk-in showers in different architectural designs which are wooden and also made of metal-bearing revealing industrial touch. Decor your bathroom in an industrial manner by adding a bit of roughness to enjoy the industrial style walk-in showers.
Frameless Walk-in Showers
Frameless walk-in showers give a clean symmetric look to your bathroom. These are minimalist and have contemporary decor. They are very popular as modern style walk-in showers.
Framed walk-in showers are popular among both traditional and modern style bathrooms. They suit well in different styles. They compliment your bathroom decoration and beautify them.
Grid-framed Walk-in Showers
A Grid-framed walk-in shower carries an industrial look. They are featured with subway tiles and metal highlights. Exposed plumbing is one of their decorative characteristics. They are very popular among industrial-minded homeowners.
Installation
Walk-in showers look simple. But they can be tricky to make while converting from a curbed shower or bathtub. The floor of the bathroom should be raised so that the water is directed towards the drain. It has to be sloped gradually. For a waterproof base, you should build a mortar bed or use a shower pan that is pre-fabricated. After making it waterproof, the tile installer can go ahead with laying the tiles. Then install the glass and place the shower fixtures to complete the installation process.
Construction Cost
If you think of installing a walk-in shower you might want to know about the factor that can fluctuate the costing:
The shower size decides the construction cost as a larger one cost more to lay the tiles and make them waterproof.
The cost can also depend on the installation of the finishings. Large pieces of glass increase the cost. Using ceramic can be less expensive than marble. So, different types of finishings can affect cost.
Walk-in showers are stylish as well as are beneficial to the users. They are easy to maintain and increase the value of your home. They upgrade your renovation. Gives you a comfortable time. Walk-in showers have a very smooth and nonporous surface. There is no grime and dirt to be seen. It beautifies your bathroom and adds value to the way of your living. So, if you think it is convenient for you to use a walk-in shower then don't think too much just install one.
Comments on this 4 Fundamental Things to Learn about the Walk-in Showers guide article are welcome
Edinburgh Architecture
West Town – Vision Unveiled for New Edinburgh Neighbourhood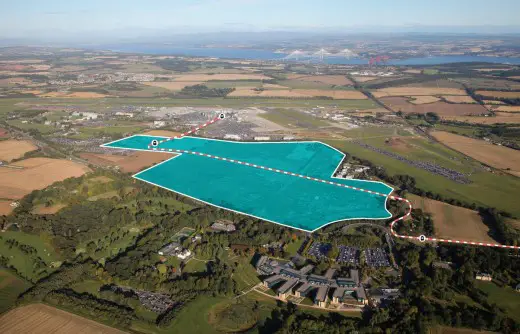 image courtesy of architects practice
West Town Edinburgh Property Vision
St James Quarter Edinburgh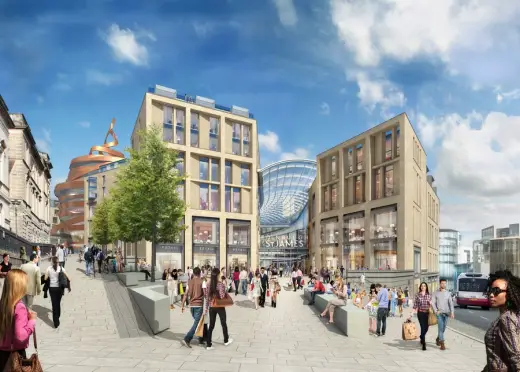 image of the development
St James Quarter
Comments / photos for the 4 fundamental things about walk-in showers page welcome