Edinburgh Live and Invest in 2021 Tips, Lothian Property Market Advice, Buying Scottish Homes
Edinburgh – A Great Place to Live and Invest in 2021
7 Jan 2021
As one of the most admired cities in the UK, Edinburgh makes for a phenomenal place to live. Not only do thousands flock to reside in this popular city, but investors too are recognising the potential in this property hotspot.
Edinburgh is favoured for its prestigious universities, rich history and vibrant culture. These are just some of the reasons why young professionals, students and investors decide to live, study and invest in this city.
With the growing population, charming architecture and ongoing regeneration projects throughout the city, people should consider Edinburgh for a secure and lucrative future.
Edinburgh, a great place to live
The ongoing projects and plans for the city is one of the reasons that Edinburgh is currently thriving, and why so many investors and residents look to set themselves up there.
Regeneration will help to modernise the capital and promote the already existing features that add to the beauty of the city, which makes it so distinguished from other cities and such a great place to live.
There are many redevelopment plans in place for the dynamic capital, including Edinburgh's Rosebery House's transformation by Aviva Investors, which includes a state-of-the-art office block, and the new landmark investment that will house up to 1500 office workers. The new projects will add value to the city and secure a Net Zero Carbon rating for the buildings, putting sustainability at the centre of future regeneration. These upcoming builds will undoubtedly attract even more visitors, tourists, and tenants to Edinburgh.
Edinburgh is the second most visited city outside of London, with over 13 million visitors each year. With its iconic skyline, Scottish castle towering over the city and its famous Whiskey, it's no wonder so many people head to Edinburgh.
As well as the famous ruins and historic landmarks, the city's university also adds to the growing number of people looking to study and live in Edinburgh, making up 20% of the population. Even Charles Darwin and J.K Rowling studied here.
Perfect for first-time investors
Not only is Edinburgh a great place to live, but it provides profitable investment opportunities to those looking to secure a property. Despite Brexit, and now the global pandemic, Edinburgh's property market still remains positive. Some of the city's better-performing areas have had an impressive past year with some of the country's highest rental yields for buy-to-let investors.
Liberton (EH16) and the surrounding areas are doing particularly well, as there have been new developments in this district proving popular with current and future tenants. In the summer of 2020, up until September, the average yield for one-bedroom properties was 7.4%. Gilmerton, Moredun and Mortonhall (EH17) have also shown good yields, with an average of up to 6.3%.
When it comes to capital growth, Edinburgh's property market is second to none and shows a remarkable difference compared to some of the dipping trends in London. According to ESPC, in the last quarter of 2020 property sales rose by 39.7% compared to the previous year, and in the capital alone, 54.8% more properties came to market in the final three months of the year compared to 2019.
Furthermore, ESPC noted that Edinburgh's average selling property price was £286,052 in 2020, which was up by 6.3% in the previous year. With capital appreciation on average set to rise in the city, there is a clear opportunity for both experienced and first-time investors to make a solid return on investment.
With the number of young professionals and students increasing each year, there is a continuous need for apartments and student accommodation. This property investment type can be secured as single units or as multiple investments, with the latest student property planning for 65 London Road, which will replace sites previously used as car washes. With approximately 60,000 student applications every year, and many going on to work and live in the city, the demand is definitely there for future investors. For anyone looking to invest in 2021, you can download a free eBook from RWinvest with plenty of property investment tips to help secure the best deals.
Comments on this Edinburgh – a great place to live and invest in 2021 guide article are welcome
Edinburgh Architecture
Liberton Brae Townhouses
Design: LBA Architects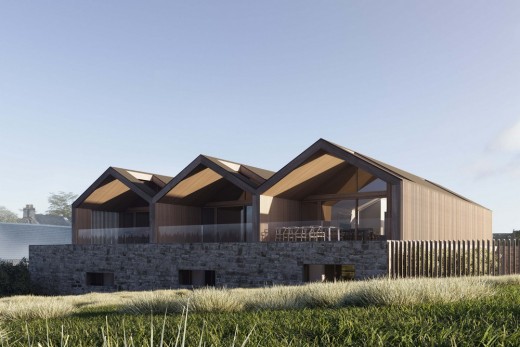 image courtesy of architects
Liberton Brae Townhouses
St James Quarter Edinburgh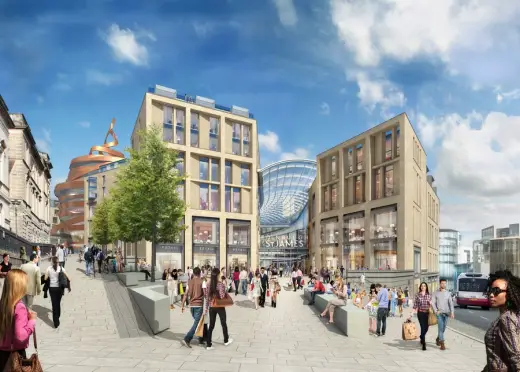 image of the development
St James Quarter
Comments / photos for the Edinburgh – a great place to live and invest in 2021 page welcome