Edinburgh St James Quarter John Lewis Store, Development, Proposal, Architect, Plans, Design
Edinburgh St James John Lewis Anchor News
Retail Quarter Development in South East Scotland: Architecture Photos
updated 9 Jul 2016 ; 14 Dec 2015 ; 13 Nov 2015
New Edinburgh St James Development To Be Anchored By John Lewis
14 Dec 2015
Edinburgh St James Quarter John Lewis Partnership Anchor
John Lewis agrees terms with TH Real Estate for Edinburgh St James.
TH Real Estate has confirmed that the John Lewis Partnership has agreed terms to anchor the 1.7 million sqft Edinburgh St James development, one of the largest regeneration projects currently underway in the UK.
The agreement will see John Lewis remain open throughout work on the new scheme and operate a fully refurbished department store as part of the finished St James development.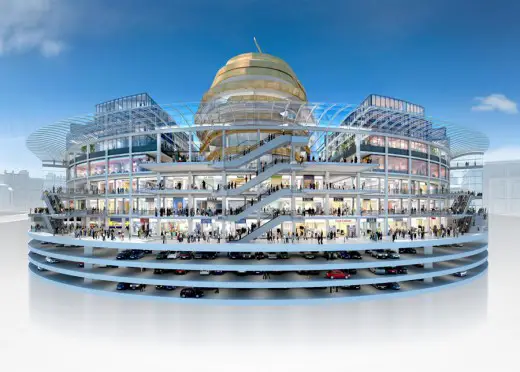 Edinburgh St James, which will include up to 85 shops and 30 catering units, is expected to attract a range of operators including boutique and independent stores, high street retailers, aspirational brands and high end names, as well as international retailers looking to expand into the UK.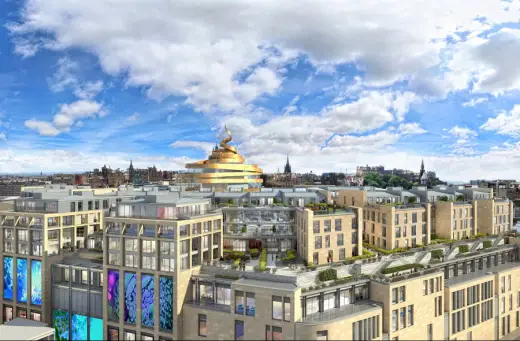 This year has seen significant progress on Edinburgh St James with planning approval secured in July, followed by approval of the central hotel design in August. Construction work is anticipated to commence on site in early 2016.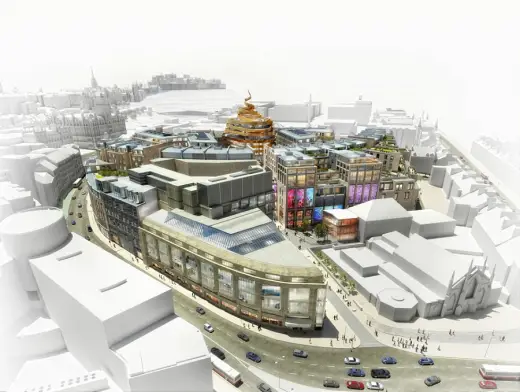 The Edinburgh shop is John Lewis' regional flagship for Scotland. To ensure the store remains trading throughout the demolition and construction period, a series of early enabling works need to be delivered:
John Lewis' existing electrical supply, which runs through the middle of the St James Centre will be relocated and a new substation built in Cathedral Lane, with the supply diverted along Broughton Street and across Picardy Place.
A new infill building will also be built to the adjoining John Lewis store to house a high voltage substation and electrical switch room.
This building will also be home to a temporary unloading bay and will house a new permanent fire escape.
During this phase of the works the store will begin reconfiguration works which include a new entrance to Leith Street, the relocation of the menswear department and the repositioning of a standby generator and boiler to the roof.
A series of essential works are already underway around the site:
New St Andrew's House (the former Scottish Government building) is currently being stripped out, with work due to complete in December 2015, whilst the site is also being cleared ahead of demolition.
Scottish Power has been carrying out essential utilities work from the John Lewis goods entrance on Leith Street southwards to Little King Street; and from the junction of Little King Street, Picardy Place and Cathedral Lane across York Place and into Broughton Street. These works will provide a new primary electricity substation, which will benefit the wider area by providing a new source for the distribution of electricity.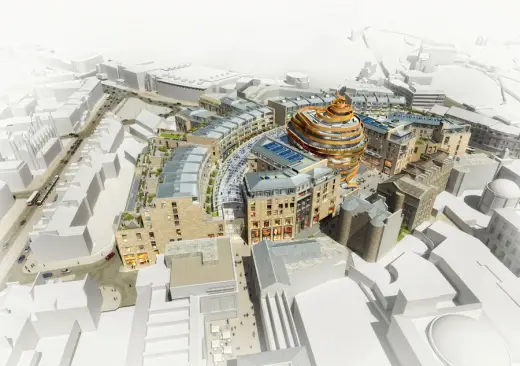 A series of 'investigative trenches' have also been dug around the site allowing utility companies to verify the location of services under the ground to ensure accurate information is available to plan future works.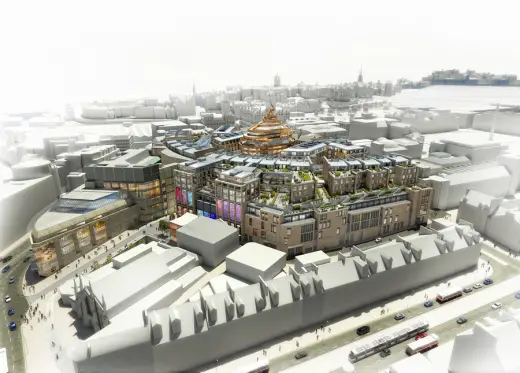 A world-class example of city-enhancing place making, Edinburgh St James will see the 1970's shopping centre currently on site replaced with 850,000 sq ft of retail space, a multi-screen cinema, and a world class hotel comprising up to 210 rooms. Designed by Allan Murray Architects, the completed scheme will move Edinburgh further up the UK retail rankings, from 13th to eighth and will support the city's tourist industry which contributes an estimated £260m to Edinburgh's economy each year. Edinburgh St James will also create up to 3,000 permanent jobs and up to 5,000 jobs during the construction period, with completion anticipated for 2020.
CBRE represented TH Real Estate.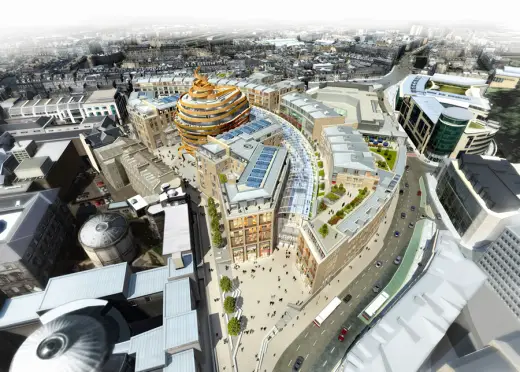 About TH Real Estate
TH Real Estate is an established investment management company, specialising in real estate equity and debt investment worldwide. As one of the largest real estate managers in the world, TH Real Estate has the scale, capital resources and knowledge to provide creative and effective real estate investment solutions for clients. With a focus on the retail, office, logistics, debt and residential sectors, TH Real Estate emphasises sustainable practices to protect assets and maximise their value.
The company is owned by TIAA-CREF, a US financial services and Fortune 100 company, with £584bn assets under management*. Launched in April 2014, TH Real Estate has a dedicated global presence with offices across America, Asia and Europe, representing c.£17.4bn* of real estate assets across c.50 funds and mandates. Together with TIAA-CREF's US real estate assets, the global real estate platform of £55.7bn* represents one of the largest real estate investment management enterprises in the world.
Its products are managed by specialist teams, which apply their own experience to the management and style of their portfolios. Each team is supported by an experienced senior management team and integrated investment platform, including finance, debt and currency management, performance analytics, client service, fund and transaction structuring, development, sustainability and research.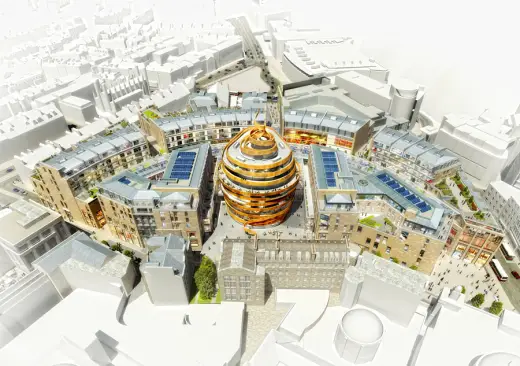 Source: http://www.edinburghstjames.com/news/131115.html
updated 22 Sep ; 3 Mar 2015
Edinburgh St James Hotel Approval
Edinburgh St James Hotel News
Design: Jestico + Whiles, architects
Edinburgh St James Hotel Building, one of largest regeneration projects currently underway in the UK.
Edinburgh St James hotel: St James Square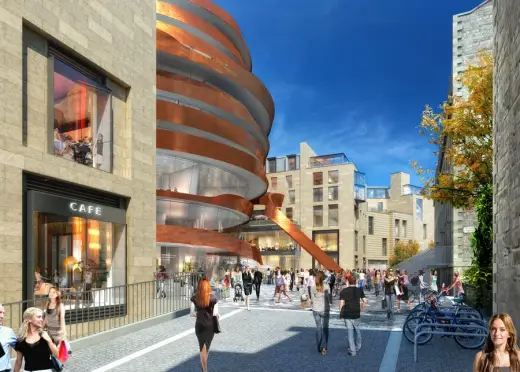 image of the development
Jestico + Whiles architects
Website: St James Quarter
Edinburgh St James Hotel design : Jestico + Whiles Architects
John Lewis Edinburgh store architects : Sir Basil Spence Glover & Ferguson
St James Centre context : Leith Street Bridge
Opposite the St James Centre is Calton Square and omniedinburgh
John Lewis Edinburgh, central Edinburgh
St James Centre, central Edinburgh
Comments / photos for the Edinburgh St James John Lewis Anchor Architecture page welcome