Sculpture Workshop Leith, Scotland, Images, ESW Building, News, Design
Edinburgh Sculpture Workshop
ESW Building Newhaven: Creative Laboratories – design by Sutherland Hussey Harris, Architects
8 Nov 2015
ESW Creative Laboratories
Edinburgh Sculpture Workshop Creative Laboratories Building
Edinburgh Sculpture Workshop offers a base for artists providing low cost studios, exhibition space and workshops. Having been based on Hawthornvale in Newhaven for more than 20 years, being housed until recently in a draughty old railway shed, ESW began a campaign to raise funds for a new facility to better suit the needs of the sculptors and artists. With significant contributions from Creative Scotland, Lottery Funding and a land gift from City of Edinburgh Council work could finally begin.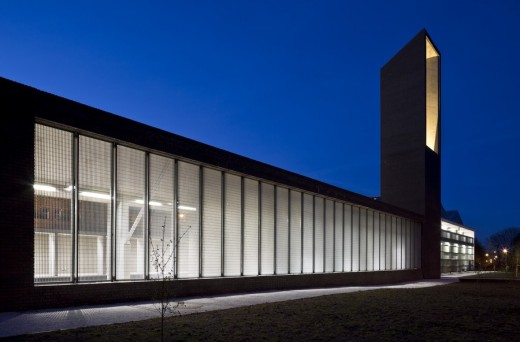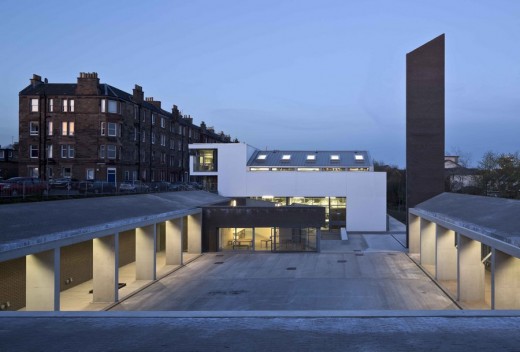 photos © Keith Hunter
Phase 1: Bill Scott Sculpture Centre
The new sculpture centre sits perched on the South side of Hawthornvale and straddles the embankment of the disused railway cutting, now a cycle path, adjacent to the site of the old railway shed which allowed a smooth phasing between buildings for the artists. This building consists of 30 artists studios, large workshops for wood, metal, plaster and mixed media gathered around a covered external yard, an education space, project room, administrative offices, meeting rooms and two new self serviced apartments for visiting lecturers and artists in residence.
The workshops are located at ground level, within the cutting, for discreet and easy servicing and keeping the more industrial activities away from the residential street. These workshops open out onto the yard, a covered external workspace wrapped in Orsogril screens which provides glimpses out to the cycle path whilst obliquely screening the facilities.
Robust, flexible and economical industrial construction methods were employed to allow the internal spaces to be adapted to suit the future needs of the building users.
During the construction of Phase 1 Foundation Scotland launched a competition on behalf of an anonymous donor for a £3m prize to an arts organisation in Edinburgh for the advancement of arts in Scotland. ESW and SHA began developing proposals for a second building providing spaces for research, cross disciplinary activities and public engagement – a cultural hub – with this specific funding in mind. The team won the competition prize in 2010, judged by Izi Metzstein, Lord William Prosser, Sir Charles McKean and Colin Liddell.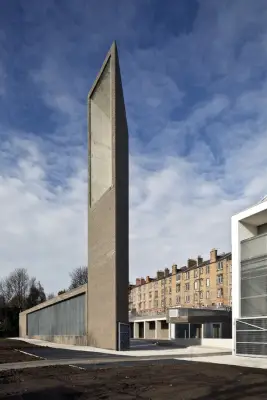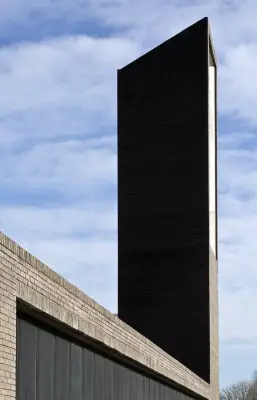 photos © Keith Hunter
Phase 2: Creative Laboratories
The buildings are arranged around a new public arena, purposely complementing the adjacent Workshop facilities and embedded within the railway cutting, creating opportunities to view down into the courtyard from the street. A new public space, promoting art in the city of Edinburgh, allows for the flourishing and exposition of the process and work produced by ESW and its associated artists on a local, national and international level.
An architectural promenade surrounds the outdoor arena, linking a series of spaces with different spatial qualities. The building provides a range of low maintenance internal and external environments, from small to large scale for events and the production and exhibition of work. These spaces are predominantly clad in brick – a robust low maintenance material complementing the proposed Workshop whilst echoing the industrial heritage of Hawthornvale.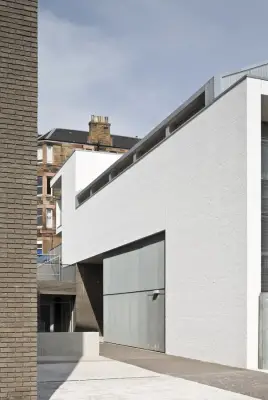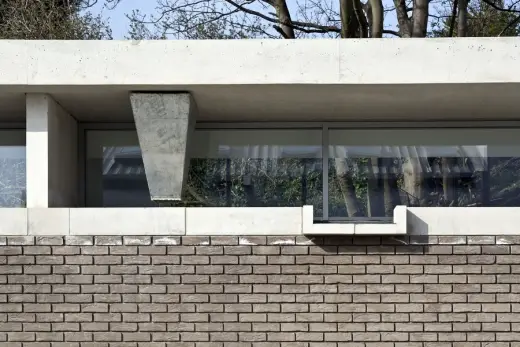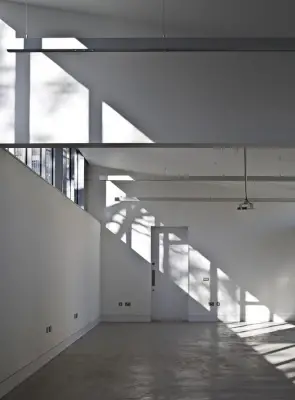 photos © Keith Hunter
The new structure is offset from the cycle path, maintaining a band of mature trees and vegetation around the perimeter, with a stepped route between the Workshop and Creative Laboratories providing access between Hawthornvale and the cycle path, from which a new cafe space offers visitors, passersby and artists alike a place to sit, mix and meet.
A 28m tall campanile completes the project, acting both as a gateway to the facility and as a beacon visible to the wider city beyond.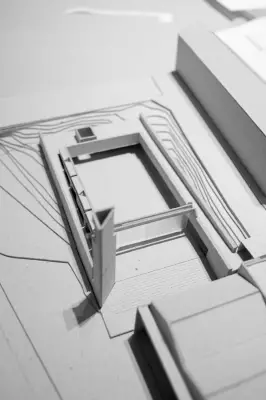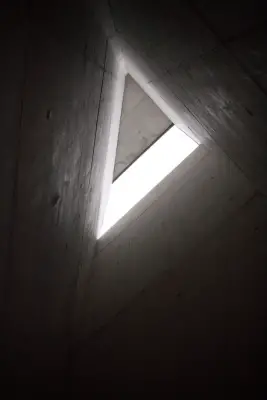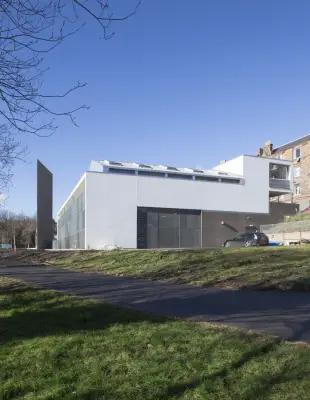 photos © Sutherland Hussey Harris
Edinburgh Sculpture Workshop Creative Laboratories – Building Information
ESW Creative Laboratories: Project Credits
Client: Edinburgh Sculpture Workshop
Architects: Sutherland Hussey Harris (Charlie Sutherland, Charlie Hussey, Colin Harris (Principles), David McKenna (Project Director), Sean Douglas (Project Architect))
Project Manager: Iain Logan, Thomson Bethune
Structural Engineer: Colin Eastwood, David Narro Associates
Quantity Surveyor: Alan Pinchard, Thomson Bethune
M&E Engineer: Neil Granger & David Appleford, AECOM
Landscape Architects: Liane Bauer, Rankin Fraser
CDMC: Ross Buchan, Thomson Bethune
Main Contractor: Maxi Construction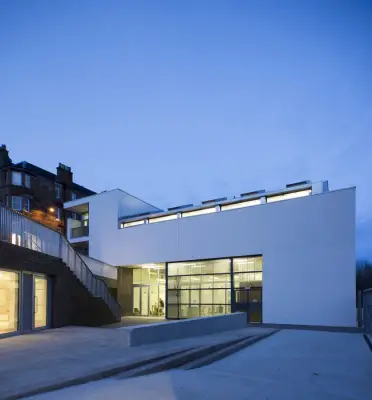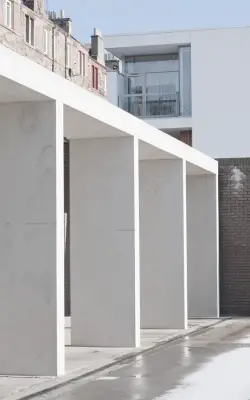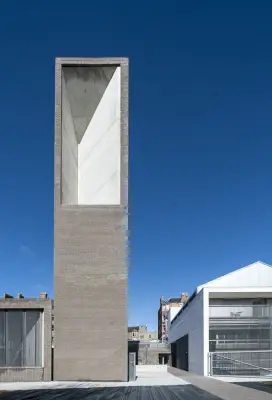 photos © Sutherland Hussey Harris
Project Details:
Project Title:
Phase 1: Bill Scott Sculpture Centre / Phase 2: ESW Creative Laboratories
Costs:
Phase 1: £2,892,960.00
Phase 2: £2,183,838.00
GIA
Phase 1: 1840m2
Phase 2: Internal 310m2 & External covered 850m2
Completion:
Phase 1: 28/07/2012
Phase 2: 20/11/2014
Construction Materials:
Facing Brick: Vandersanden Platina DF & painted stock brick using Sto Lotusan
Paver Roofing Brick: CRH Terra Agata
Internal Courtyard: In-situ visual concrete
Metal Panels: Orsogril, Lang & Fulton
Lighting:
External Bays Soffit Lights: Zumtobel SlotLight II
External Bays Task Lighting: BEGA, Surface Washer
External Terrace: BEGA Garden Luminaire
Internal Cafe & Labs: Intra, Gyon Flex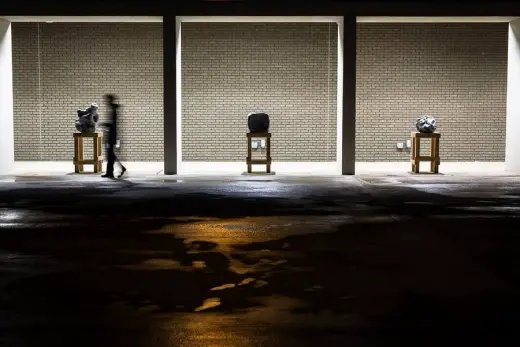 photo © Sam Proctor
Website: Edinburgh Sculpture Workshop Building
19 Aug 2015
Concrete Antenna Packaging: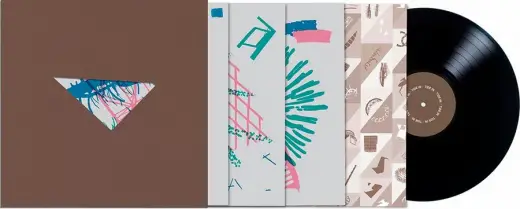 Simon Kirby Rob St John Tommy Perman: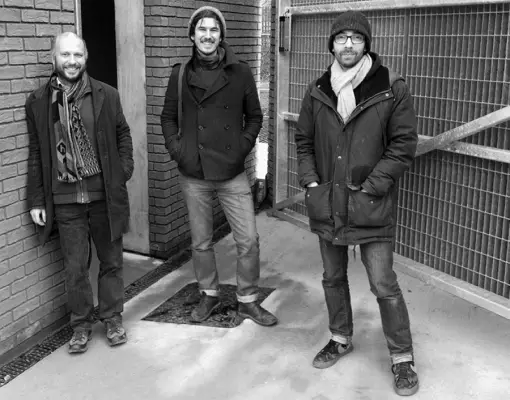 21 Aug 2013
Edinburgh Sculpture Workshop News
Edinburgh Sculpture Workshop News
Maxi Construction Limited has been awarded a £2m contract from Edinburgh Sculpture Workshop Ltd for the construction of a new facility – the Creative Laboratories – in the Newhaven area of Edinburgh. The project is designed by Sutherland Hussey Architects. The works include the construction of a new single storey area with sculpture bays, project spaces, a new café and concrete courtyard with a foundry for metal work.
26 Oct 2010
Edinburgh Sculpture Workshop scoops £3M prize
Sutherland Hussey Architects' proposal for the Edinburgh Sculpture Workshop has been named the winner of the £3M Arts Funding Prize for Edinburgh.
The £3M prize will fund the creation of ESW's Creative Laboratories, a world class research and production facility at its Newhaven site.
The Creative Laboratories will be a unique new building situated alongside Edinburgh Sculpture Workshop's new sculpture centre. It is expected to open in 2013.
The Creative Laboratories will provide a mix of indoor and open-air workspaces around a central courtyard. Together with the sculpture centre, the Laboratories will create a vibrant cultural hub of benefit to the whole city. The addition of viewing areas and a café will open up the space to visitors.
Irene Kernan, director of Edinburgh Sculpture Workshop, said: "This is an amazing opportunity for Edinburgh Sculpture Workshop which will enable us to fulfil our ambitions to create a world class sculpture centre in the city. We are very fortunate to have an internationally renowned architectural practice on our doorstop in Sutherland Hussey Architects. The Arts Funding Prize represents a major investment in future generations of artists and will be a major resource for our local community in Newhaven as well as the city as a whole."
ESW's Creative Laboratories beat off stiff competition for the prize from the Scottish Book Trust and Edinburgh College of Art. 26 Oct
ESW have just received their final funding for Phase 1 to go on site. Construction is due to start in January. 22 Oct
Previously:
EDINBURGH SCULPTURE WORKSHOP
Edinburgh Sculpture Workshop : Proposals, Jun 2009



Edinburgh Sculpture Workshop images from Sutherland Hussey Jan 2007
Sutherland Hussey – Edinburgh Sculpture Workshop Building – Apr 2005
Edinburgh Sculpture Workshop awarded funding for development of first purpose-built open-access sculpture facility in UK
Edinburgh Sculpture Workshop, the Leith-based visual arts facility has been awarded a grant towards the development of a new building in the recent funding round of Scottish Arts Council National Lottery Capital Awards.



images : Sutherland Hussey Architects
Edinburgh Sculpture Workshop (ESW) Director, Irene Kernan said 'This is a marvellous opportunity not only for Edinburgh but for the visual arts sector throughout Scotland. This will be the first building of its kind in the UK – a purpose-built sculpture facility supporting young and established artists which also will be open to anyone interested in learning about or making visual art. Our aim is to create a centre of excellence for sculpture and contemporary visual art which will attract artists working in Scotland and throughout the UK as well as internationally.'
ESW board member, Neil Fraser of Diageo, said 'It's great that all the planning and hard work has finally paid off but there is still a lot to do as we have a significant fundraising target to reach within the next 18 months'.
Chairman, Bill Scott, congratulated the staff, members and Board of Directors of ESW on the achievement to date and thanked the Scottish Arts Council and the City of Edinburgh Council for demonstrating their whole-hearted support of the project and the organisation.
The new facility will provide up to 30 studios and 3 purpose-built workshops as well as a dedicated education area and accommodation for visiting artists. A general project space will allow for experimentation and artists' professional development as well offering a programme of public events and exhibitions throughout the year. At present the building has 15 studios, a single workshop and one general public space and the organisation is struggling to cope with demand.
Iain Munro Head of Capital at the Scottish Arts Council, said: 'When we decided to consolidate our funding for the next three years into one funding round, we wanted to support exciting and ambitious projects that will contribute to the development of Scottish artistic and public life for many years to come. Providing development funding for this project will now allow Edinburgh Sculpture Workshop to examine its proposals in more detail, looking at things such as business plans and sustainability as well as its architectural ambitions to develop a leading international centre for sculpture and contemporary art that will excite, inspire and transform the lives of both artists and the local communities.'
ESW has been working with award-winning Edinburgh architects, Sutherland Hussey to develop the first stage of the project and will continue consulting with artists and the local community as the project develops.
Edinburgh Sculpture Workshop: Building PR from Sutherland Hussey Architects
Edinburgh Sculpture Workshop
Edinburgh Sculpture Workshop (ESW) was set up in 1987 and has been based in Leith/Newhaven for the last 10 years.
ESW provides a unique mix of services and professional facilities for artists working at a local, national and international level and can accommodate a wide range of contemporary and traditional sculptural practice. With studios, workshops and professional facilities on offer the organisation aims to support young and emerging artists as well as those who are more established – at present among the 20 studio-holders are Royal Scottish Academy members as well as 2 short-listed contenders for the New Contemporaries. In 2004 we launched an International Visiting Artist programme hosting a residency by Australian artist, Stewart Elliott and enabling Scottish artist, Duncan Robertson to take up a residency in Norway.
As a public facility ESW is a place where audiences can view work and where people can participate in and learn about the creative process. We work with local communities to establish creative partnerships which connect with and have an outcome in their own environment. We are a valuable resource for education providers, arts and associated organisations, local community groups and national establishments – organising workshop and education programmes, Open Studio Days and many public events and exhibitions.
Edinburgh Sculpture Workshop is supported by the Scottish Arts Council and the City of Edinburgh Council
Website:- Edinburgh Sculpture Workshop Newhaven
http://www.edinburghsculpture.org/ – broken link checked 9 Jul 2016
Sutherland Hussey : Assembly Street Leith
Sutherland Hussey Architecture: An Turas
Sutherland Hussey Architects: Practice Profile
Charlie Hussey Dip Arch. RIBA
Born 1962, he studied architecture at the Mackintosh School of Architecture. From 1987 he joined the office of Sir James Stirling, leaving in 1994 to work briefly for Renzo Piano in Italy, before returning to Scotland to establish the practice Sutherland Hussey Architects in Edinburgh.
Charlie Sutherland B Arch
Born in Scotland in 1963, he studied architecture at the Mackintosh School of Architecture. From 1987 he joined the office of Sir James Stirling, going on to become an Associate and responsible for the overseeing of a number of internationally acclaimed projects. In 1997 he left Stirling and returned to Scotland to set up Sutherland Hussey Architects.
Both combine practice with part-time teaching at the Mackintosh School of Architecture. Completed projects to date include private residences – The Barnhouse, Highgate was awarded the AJ First Building Award at the 2002 Stirling Prize ceremony, an Art Gallery in Inverness and Lynher Dairy, Cornwall (also being awarded an RIBA award and the Civic Trust Special Award in the rural buildings category in 2003). They have also recently completed a collaborative arts project with sculptors in Tiree which was awarded the RSA Gold Medal, an RIBA regional award, the RIAS Architecture Award and was shortlisted for the Stirling Prize in 2003 and currently shortlisted for the Mies van der Rohe prize 2005.
Comments / photos for the Edinburgh Sculpture Workshop Architecture page welcome
Edinburgh Sculpture Workshop Building : page