Edinburgh Victorian Terrace Home Refurbishment, Scottish Capital House Interior, Scotland
Edinburgh Victorian Terrace Home Restoration News
Refurbished Property in the Scottish Capital by Emily Murray, of interiors blog The Pink House
21 Apr 2017
Edinburgh Victorian Terrace Refurbishment
Tour a Bright and Bold Edinburgh Victorian Terrace
Filled with colour and personality, this beautiful Victorian terrace is bursting with character and style
Full article first published on Houzz
Victoria Harrison, Houzz Contributor
Emily Murray's home is a confident mix of colour and pattern and a great example of how to modernise a period home without losing the character of the space. As founder of the award-winning interiors blog The Pink House, Murray's approach to decorating is fun and fearless, and she encourages others to embrace this attitude.
"People are often scared of colour and pattern, but so much of the success of a room lies in just being bold and going for it," she says. To see more of Murray's style, take a tour of her Edinburgh home below.
Houzz at a Glance
Who lives here Emily Murray of The Pink House, her husband Euan and their two children, Oscar, 7 and Zac, 4
Location Edinburgh
Property Victorian terrace
Size 4 bedrooms, 2 bathrooms
Photos by Susie Lowe
When Murray and her husband moved to Edinburgh from London six years ago, they were looking for a family home they could stamp their personality on. When they saw this Victorian terrace they knew they had found a home that could offer them a beautiful canvas on which to work.
The couple started their renovations on the ground floor by knocking through the wall between the living room and kitchen. This created a light, family-friendly space that spans the full length of the house.
When they moved in, the ground-floor rooms were painted white throughout, which Murray considered keeping. "I wasn't sure if I should change this initially," she says, "but I was fed up with the living room feeling cold, so I finally took the plunge and painted the walls Manor House Gray. As soon as I'd painted them, the room just came alive. The colour highlighted the beautiful windows, and everything else in the room suddenly sung out."
A slim band of metallic gold paint highlights the inside of the connecting archway and adds an extra shot of warmth to the room. The same paint has also been used on the door frame to the right. "If you look closely the paint is actually covered in tiny handprints!" says Murray.
Wall paint, Manor House Gray; woodwork, White Tie, both Farrow & Ball. Orange Masters chairs, Philippe Starck at Kartell.
Once the walls were transformed, Murray turned her attention to the floor. The existing black floor tiles were removed in the kitchen to reveal original floorboards underneath. This immediately made the kitchen and living room feel more connected to one another.
Stockholm sofa, Ikea. Blackbird cushion, Halsted Design. Grey felt gypsy cushion with yellow pom poms, Graham & Green. Armchair, Sofa Workshop. Yellow floor lamp, Jielde. Blinds made in Arkona, velvet in Sky, Harlequin. Zebra and Rhino trophy heads, Anthropologie. Coffee table, Studio One. Ikat Circles rug, Jennifer Manners. No Cats cushion, Barbara Coupe. Silk grey and white ikat and zig zag cushions, both Jessica Buckley Interiors.
The existing kitchen units were in good shape, so after living with them for a while, Murray decided to just give the lower units a makeover with a coat of black paint and gold hardware.
Murray hired local decorator Paul Sutherland to paint the kitchen cabinets – he then did most of the painting and wallpapering throughout the house. Murray also called on the skills of local joiner Keith of Keith Pollock Joinery for various pieces of bespoke carpentry as she worked through the home renovation over the course of two years.
Wallpaper (covering boiler cupboard) Woods by Cole & Son. Revival Mini radio, Roberts Radio. Brass cabinet handles, Buster + Punch. Floral rug, Anthropologie. Maskros pendant ceiling light, Ikea.
A separate dining room on the ground floor offers a more secluded place to eat and also doubles up as a second study.
The room has an elegant feel, thanks to the traditional-style toile wallpaper. The paper is actually a Timorous Beasties design and on closer inspection, the 'pastoral' scenes depicted are actually modern-day scenes of urban London life. "The wallpaper was my way of bringing a bit of London to Edinburgh," explains Murray.
The couple also reinstated the original Victorian fireplace in the corner of the room.
London Toile wallpaper, Timorous Beasties. Mirror and chandelier, both vintage. Gold chest of drawers, An Angel At My Table. Rug, Heal's. Ghost chairs, Philippe Starck. Blind in Asolo fabric, Designers Guild.
The staircase from the ground floor leads down to this bright and bold lower-ground landing. Bold prism wallpaper and bright blue woodwork ensure the space feels anything but gloomy.
Prism wallpaper, Cole & Son. Mirrored console table, Graham & Green. Woodwork painted in Stone Blue by Farrow & Ball. Watercolour, Dale vN Marshall.
Leading off this landing is a multi-functional room that serves as a second living room, a home office and also a guest room. Because this room needed to serve so many purposes, Murray called in some help from interior designer Jessica Buckley of Jessica Buckley Interiors.
"The 'den' had to have so many different functions and I wanted to see how far I could push it," says Murray. "I'd seen a photo that Jessica Buckley had designed, and I knew that was exactly the look I was after. So I hired her to come up with a scheme for this room. The teal colour was her idea; she sourced the blue paint and grasscloth wall covering and the whole scheme just worked."
Snuggler armchairs, Sofas & Stuff. Juicy Jute grasscloth in Tantalising Teal, Phillip Jeffries. Ain't Nobody cushion, Furbish Studio. Zig zag; purple spot; yellow ikat silk cushions, all Jessica Buckley Interiors. Pink Sparkly Water picture, Monika Forsberg. Pink neon PLAY sign, made bespoke by Specialized Signs.
Hiring a designer was a really positive experience for Murray. "It was brilliant; it doesn't have to cost a lot. I just wanted help with the design, then I wanted to take it on and move it forward myself," she explains.
Murray paid Buckley for a set number of hours work and admits that she learnt a lot from her. "She was also very generous in passing on contacts and trade discounts. I probably ended up saving money as a result of hiring her as I had to buy a lot of things for the room. Collaboration is totally the key."
The den provides a creative and inspiring place for Murray to work and is a great showcase for her love of colour and creativity. "The more I get a feel for pattern and colour the more confident I get," she says.
"I like interiors that lift you and make fun, but I also like to mix that with a sense of gravitas. It can't be all new, you need some older pieces in the mix too."
Curtains in Carnival fabric, Christopher Carr. White ceramic desk lamp, The Old Cinema. Desk, made bespoke by Christopher Butler.
The master bedroom is on the first floor and the design was based on Murray's love of the outdoors. "I wanted to feel that nature was coming into the room," says Murray. The room is south facing with leafy views from the sash window, so Murray chose moss-green velvet curtains to create a visual link to the trees outside. The wallpaper has a delicate botanical print and even the chest of drawers has a nature-inspired inlaid motif.
Wall paint, Calamine by Farrow & Ball. Butterflies wallpaper, Timorous Beasties. Pink and yellow bedside lamps, Pooky. Pink velvet chair, Tann Rokka. Pink zig zag silk cushions, Jessica Buckley Interiors. Brescia Moss velvet curtains, Designers Guild. Mother-of-pearl chest of drawers, Graham & Green.
The tiny bathroom on the first floor packs a lot of style into a compact space. "It's the tiniest bathroom ever," says Murray, "but we couldn't make it any bigger so we decided to make it into a little jewel-box of a bathroom instead."
Murray and her husband started by ripping everything out, then they dug into the wall to fit a decent-sized bath in and the sink unit was made bespoke to fit the space.
Derwent fish wallpaper, Osborne & Little. Metro tiles, Topps Tiles. Fish mirror, brought back from Malawi. Brass wall light, Balineum. Brass taps and shower head, Barber Wilsons. Mother-of-pearl cupboard handles, Anthropologie. Bathroom cupboards painted in Down Pipe, Farrow & Ball.
The shower is actually a sit-down shower. "I couldn't understand why this wasn't a 'thing'" says Murray. "There wasn't enough vertical space to install a full-height shower over the bath, but I didn't want a handheld shower as I find those really tricky to use. So we installed a low, fixed showerhead instead, to be used as a sit-down shower and it really works."
The couple installed a tiny shower screen to prevent any splashes, and papered the two walls that weren't tiled in striking fish paper. "It hasn't peeled at all and it's been up for two years," says Murray.
"Trying to find a wall light that was safety-rated for use in a bathroom but also beautiful was really difficult," admits Murray. "I found this one eventually in Balineum. It wasn't cheap but it is really beautiful."
The interiors at country-house hotel Babington House were a big inspiration for this bathroom. The recesses for the shampoo bottles came directly from an idea Murray saw there.
Browse beautiful bathroom products
A colourful children's playroom on the first floor is sunny and cheerful without being cluttered. A large drawer unit, wall-mounted shelves and a floor-level bookcase offer plenty of storage for toys and books.
Multicoloured striped curtains and an animal rug add a sense of fun, and work well against the soothing mint-green backdrop of the walls.
Bookcase painted in Stiffkey Blue by Farrow & Ball.
"My style is constantly evolving," says Murray "I'm developing the confidence to try things out and the evolution is part of the fun. So much of it is getting started though, and just doing the thing you say you'll do."
See more of Emily's home and work at The Pink House website.
Comments for this Edinburgh Victorian Terrace Home Restoration post are welcome
Edinburgh Architecture
Courtyard by Marriott Edinburgh City Centre Hotel
Edinburgh Georgian Townhouse Apartment
Glamorous Edinburgh West End Apartment
Mezzanine Apartment in Edinburgh
3-8 St Andrew Square
Design: CDA and Gareth Hoskins Architects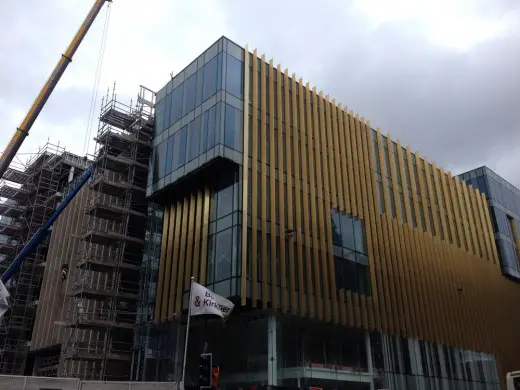 photo © Adrian Welch
St Andrew Square Building
St James Quarter Edinburgh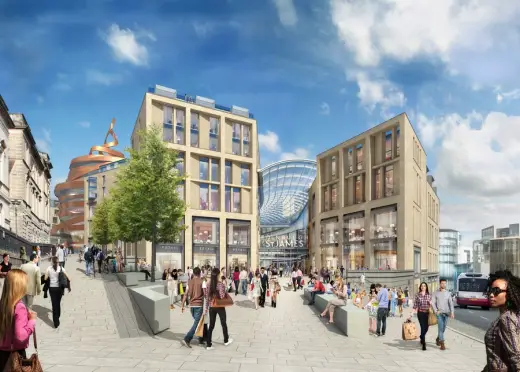 image of the development
St James Quarter
Comments / photos for the Edinburgh Victorian Terrace House Restoration page welcome