Fire Resistance in the Home Guide, Property Safety Online Advice, Architectural Tips
Fire Resistance in the Home
26 Mar 2021
Fire Resistance in the Home – Everything That Can be Used to Improve Ratings
The home should be somewhere that people feel safe and protected, but house fires are a huge problem and there are many hazards around the house that can lead to a fire. These fires can destroy and take lives, so it is vital that homeowners do all that they can to protect themselves, their family, their possessions and home against this threat.
Causes of House Fires
First, it is important to be aware of what the main causes of fire are in the home. Usually, house fires occur because of cooking equipment, portable heaters/furnaces, smoking, candles, faulty wiring and faulty electrical equipment. While there will always be a risk, the good news is that there are ways to make your home more fire-resistant.
Fire-Resistant Sealants
Even the sealants that you use can have a big impact on how fire-resistant your home is. You should always use a fire-resistant sealant to prevent the spread of fire, smoke and toxic gasses and you can find fire-resistant sealants for all applications whether this is sealing fire-rated doors or sealing holes in walls.
Fire Doors
Fire doors are an excellent investment that could end up saving a life and/or your home. Fire can rapidly engulf an entire home in a short time period, but fire doors can greatly slow the spread of a fire for up to 60 minutes giving you plenty of time to get to safety and for the fire brigade to arrive. You can also use fire-resistant glass to double the time it would take for a fire to break through a window (this also protects against heat, smoke and toxic gases).
Smoke Alarms
You are five times more likely to die in a house without a functioning smoke alarm and ideally these will be in every room of the house (and hallways) other than bathrooms. Smoke alarms give you an early warning, which could help you to prevent a fire from starting or give you enough time to get to safety and call for help.
Gypsum/Drywall
In terms of building materials, gypsum (also known as drywall) is the most commonly used fire-resistant interior finish and for good reason. Gypsum board has a layer of gypsum between two sheets of paper and the board can then be further treated to improve its fire-resistive abilities for greater protection. Other good materials to use include brick, concrete and stucco.
Every homeowner needs to take fire safety incredibly seriously and it is better to be safe than sorry. There are many fire hazards in the home, but making sure that you are using the right items and materials can make a huge difference and will also help to provide peace of mind knowing that your home is as fire-resistant as it can be.
Comments on this guide to Fire resistance in the home article are welcome.
Edinburgh Architecture
Liberton Brae Townhouses
Design: LBA Architects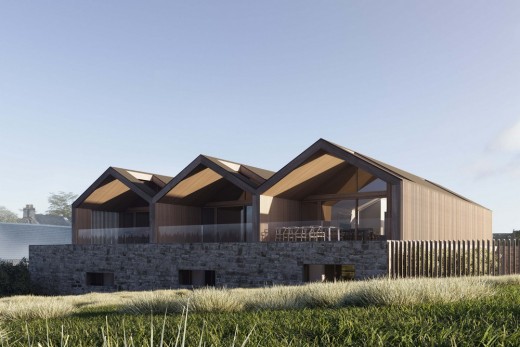 image courtesy of architects
Liberton Brae Townhouses
St James Quarter Edinburgh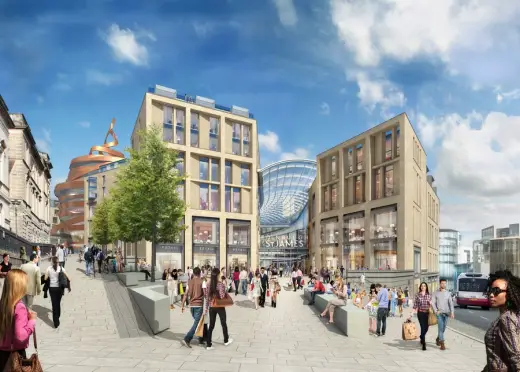 image of the development
St James Quarter
Comments on this guide to Fire resistance in the home advice article are welcome