How to Choose the Best Showroom in London guide, Property Advice, Home Tips
How to Choose the Best Showroom in London
22 Jan 2021
London is a historic and vibrant city that is always evolving. This city receives thousands of tourists every year from all over the world. As home to multiple cultures, this city is business-focused having witnessed the rise of some of the biggest brands from mere ideas to what they are today; household names. London presents a friendly environment for revolutionary thinkers and dreamers to rise.
From Shoreditch to Mayfair, the availability of showroom to rent London has made it possible for innovators and creatives to display their creations to potential customers and expand their markets. Showrooms also allow potential customers to try various products and services at a minimal cost. The flexibility of showroom spaces rentals makes it possible for businesses of all kinds to work with their budgets and get a front seat before potential markets.
Moreover, shoppers too are keen on exploring new products as well as innovative ways to shop. Whether you're promoting consumables or apparel, you will find showroom space that complements your needs.
Choosing a Showroom Venue in London
There are several things you must pay attention to when shopping for showroom space for rent in London. They include the following:
Location. The location of the showroom space is crucial because you need a place where you can 'meet' your prospects or customers. Most importantly, you need to determine the kind of traffic you need. For instance, if your business relies on walk-in traffic, then you must make sure the showroom can be accessed easily both by public transit and foot. For short-term exhibitions, you may want to consider out of town spaces. However, keep in mind that you need crucial things like extra parking as well as additional space in case you have to handle large crowds within a short time. This is especially important now when social distancing is important in preventing the spread of Covid-19.
Cost. Perhaps this is the first thing you need to take into account when looking at showroom space to hire. This is because your budget will determine the size as well and duration you can lease the space. Most importantly, your budget will also determine where the showroom will be situated. When you have a clear budget, you will be able to determine those spaces that you can afford.
Set up. One of the reasons businesses and brands opt to showcase their work in the showroom to rent London is because they are getting away from the traditional nature of events that people have become so used to. However, beyond that, you should not forget to look at the basics of every space event that includes a stage ore relevant technology that you need to set your event off. Think about other additional items you may need such as props and if you require additional labour to get things going.
Capacity. You must factor in the showroom's capacity keeping in mind the number of people you will be expecting at the exhibition. Generally, the number will depend on the kind of event you are hosting. If you intend to host a come and go kind of event where people will be coming in and leaving at their pace over the day you can do with a smaller capacity venue. However, if you need to have everyone in the room at the same time, then you must consider a large capacity space.
To make the most of showroom to rent London, you need to make sure you have a plan detailing what you intend to do with the showroom space. This will help you to avoid the excitement of being on a big platform without having any results to show. You may want to have an itinerary that you publicize of the flow of activities that you will be engaging in. This will draw in people who are interested in specific aspects of your business or products at a specified time.
You could also bring in experts to conduct product demos and respond to any questions that your customers may be having concerning your products. This will help to boost customer confidence in your product as well as grow your customer base because customers will become indoctrinated to become raving fans that they begin to share about your product to their networks. Showroom for rent London can be equated to a blank check as there's so much you can do that will have a positive impact on the growth of your business.
Comments on this guide to How to choose the best showroom in London article are welcome.
Edinburgh Architecture
St James Quarter Edinburgh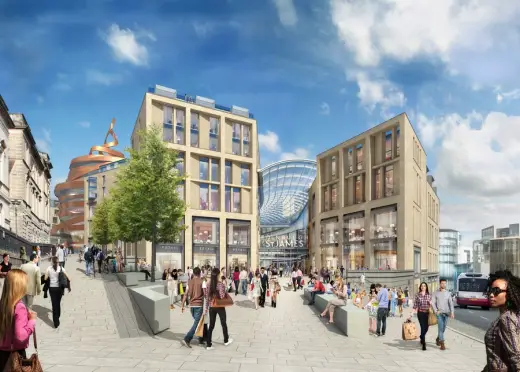 image of the development
St James Quarter
Comments / photos for the How to choose the best showroom in London Advice page welcome