Make your living room look modern tips, furniture ideas guide, Property decor style advice
Make Your Living Room Look Modern With These Furniture Ideas
21 June 2022
The last two years of the pandemic highlighted the importance of our homes. We realized that this precious sanctum of our lives has been rather neglected, with the same design and furniture, possibly for decades. Most importantly, its greatest protagonist, the living room, should be beautiful, relaxing, and practical at the same time. So, let's do something to rectify this situation, and, depending on your budget, try to transform it into a more sophisticated environment, by following these refreshing furniture ideas.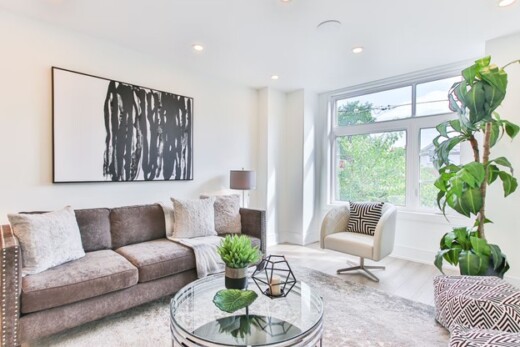 Type of Residence
Before you begin redecorating your living room, you need to consider the special idiosyncrasies of your residence. A simple house on the beach is totally different in both style and function from a modern apartment in the city center.
So, in the first case, you will probably be fine with casual and practical materials, like bamboo furniture with tufted pad cushions, whereas in the second, you'll want a more formal, minimalistic approach, with big plush furniture and thick carpets. As for a wooden house in the countryside, you probably want it furnished with rustic materials and fabrics to match your surroundings and your own personal taste.
Modern Sofas
Naturally, sofas are the most prominent pieces of furniture in your living area. There are so many different types and colors in the market nowadays that just seeing them in endless brochures would make your head spin.
It all depends on your available space and budget, of course. If the living room is rather small, you can opt for sofas that are thinner but look slicker at the same time, whereas for larger areas, wider chesterfields would fill the room, giving it a plusher and more laidback vibe. Whatever the size, you don't want to buy a Louis XIV-style sofa, as this kind of furniture will definitely send the opposite message from modern. Another aspect of a modern space is to make it feel light, so why not choose big sofas on legs? They would perfectly combine the modern look with comfortable seating.
Finally, the materials are predominant in offering that desirable outcome, so a green or red velvet sofa would make for a more industrial chic style, while a simpler fabric would keep things light and make it a cozy everyday living space.
What About the Tables?
Tables are as essential to your living space as sofas or armchairs. Where will you lay your coffee cups and your cookies, when you invite your friends over? You need coffee tables and probably a sitting room table for those dinner invitations.
There are also library tables with pull-up chairs, or console tables we usually put behind the sofas. If you're looking for dining room tables, the folks at www.sawdustandwhiskey.com underscore the importance of exquisite craftsmanship and style when choosing dining room sets that will match your taste. As for coffee tables, you could add a three-piece set that every sitting person on your sofas can reach or a large, rectangular type that will fill that empty space and give a rich tone to your living room.
There is a wide variety of these tables, ranging from simple wooden tables to rustic or even marble, for a more 30s style, depending on your personal style, of course.
Color Matters
There are various ways to alter the mood that your living room conveys using color.  Different color choices can offer a more modern look, especially when they are matched with the colors of the walls, your curtains, and the floor. A clever idea would be to buy furniture that varies around the shades of your favorite color.
Otherwise, you can use more cool colors, like different tones of grey, beige, or pale blue, combining them with a splash of a contrasting color, like red or yellow to avoid making it dull. If your living room is filled with the morning sun, you could invest in an all-white sofa setting matched with light-colored wooden armchairs. Generally, lighter colors also lighten up the mood, while darker colors make for a more serious Art-Deco style or formal tone.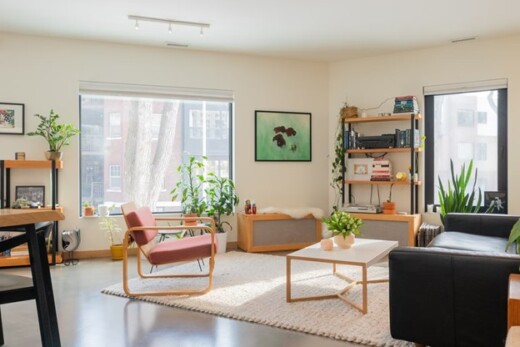 Hopefully, you've found these ideas intriguing enough to make a decision about altering your living room into a more aesthetically pleasing area for you. In case your living room is already to your liking, perhaps you've read one or two suggestions here that you'd like to apply to make it even better. Whatever the case, there are always countless ideas for you to discover and apply to create a living area for you and your family that will reflect your own personal style.
Comments on this guide to Make your living room look modern: furniture ideas article are welcome.
Architecture
Rowanbank Gardens, Corstorphine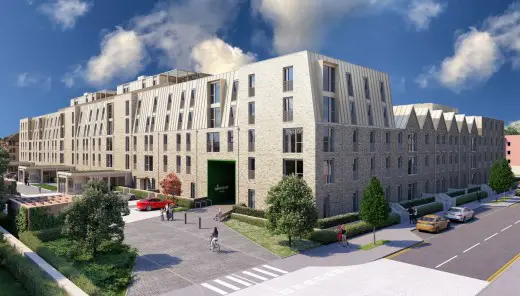 Rowanbank Gardens Edinburgh Housing
West Town Vision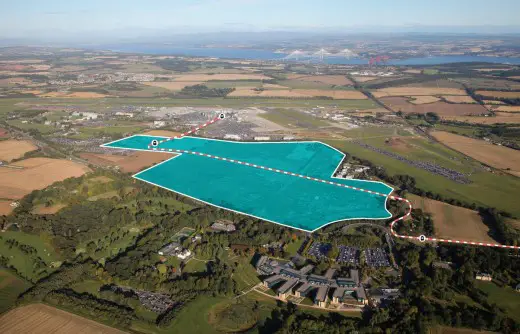 image courtesy of architects practice
West Town Edinburgh Property Vision
Comments / photos for the Make your living room look modern: furniture ideas advice page welcome