Recommended construction industry building materials tips, Property decor material advice
Recommended Construction Industry Building Materials
27 June 2022

image source : Thomas Wolter, pixabay.com
Highly Recommended Building Materials in the Construction Industry Today
The construction industry utilises various materials for various types of projects. Constructors who need expert advice on the accurate selection of building materials can visit sites like materialsmarket.com. The most common materials are steel, stone, bamboo, concrete and masonry. Every material has its durability, strength and weight, making it ideal for a particular use. When choosing construction materials, architects consider some factors such as aesthetics and cost. Materials are considered artificial or natural, but all must be treated and prepared before being used in construction. If you plan to build a new house or renovate an old one, it is essential to consider using eco-friendly materials to preserve the environment. This article will guide you on the highly recommended materials to select.
Bamboo
Bamboo is available on most continents except Antarctica and Europe. It is a thick fibre that is abundant in perennial grass. The temperatures are ideal in these regions for bamboo development. Mostly, this fibre is used as a construction material in South America and South Asia. In other regions of the world, it is also used for constructing bridges, scaffolding and building homes. It is a renewable building material that grows quickly and is simple to produce; bamboo is an environmentally benign option of material for construction. It is strong and lightweight, making it suitable for various building tasks.
Concrete
It is a composite substance comprised of coarse and fine aggregates such as recycled concrete, gravel, crushed stone and geosynthetic. The aggregates are joined by a liquid binder, including cement that cures or hardens over time. It is an excellent material for the foundation of a building because it is sturdy and long-lasting. It is sturdy enough to bear the weight of the structure above it and the damp soil surrounding it. It is a low-maintenance finish that resists a range of environmental challenges and lasts for a very long time. Steel rebar can be used to strengthen concrete for increased strength. Concrete structures may also passively transport heat absorbed during the day and release it at night when it is colder, making them energy-efficient structures. Ensure you deal with a professional and reputable concrete team to guarantee that your structure is developed appropriately and can withstand the test of time. The long-term maintenance and operating costs of concrete are lower for building owners, making the higher initial cost more bearable.
Steel
Steel is a common construction material since it is sturdy without being overly heavy. For this reason, it is the perfect equipment for large, multi-storey structures, manufacturing and industrial buildings. It is resistant to termites and fire and can withstand wetness. It is also very durable and long-lasting. It can support expansive, open forms without compromising the building's structural stability. Steel is a manufactured material that is predictable and consistent, facilitating the achievement of exact, precise and repeatable craftsmanship. Since it is bendable, it allows architects and designers to experiment with more unusual building designs. Steel is, therefore, more expensive than wood but has greater durability and lifespan. A qualified building inspector can save money by employing only the right amount of steel to build your structure securely while keeping an eye on costs and avoiding wasteful spending.
Masonry
Masonry provides building options in a range of materials, dimensions, forms and hues, providing more creative freedom regarding the project's design. Masonry builds a structure out of numerous smaller parts that are mortared together. Clay bricks, concrete blocks, stone and other materials are frequently used in masonry. It is a tested load-bearing material that can hold the weight of multiple storeys and can be strengthened with steel beams for added support. It has outstanding fire protection and can withstand moisture and vermin. Masonry, like concrete, may be quite effective in keeping a structure warm in the winter and cool in the summer because the bricks or blocks retain a significant amount of heat.
Stone
Stone is the resource with the longest lifespan. In reality, stone makes up the oldest structures still standing on the globe. Although it has many benefits, architects must consider certain factors when developing a building made of stone. For centuries, people have built dry stone walls out of solid rock. Stone can be challenging to deal with because of its weight and the difficulty in moving it because it is so dense. Stone is a poor insulator since it is hard to stay warm. Various stone types are used for different purposes. Slate, for instance, resists fire. Granite is one of the market's hardest and most durable building materials.
Every building material has advantages and disadvantages. Builders can balance the advantages and drawbacks of the project's objectives by being aware of them. It enables them to decide which materials are suitable for the structure. It is crucial to seek advice from a professional since deciding what materials to utilise for construction is a huge decision.
Comments on this guide to recommended construction industry building materials article are welcome.
Architecture
Rowanbank Gardens, Corstorphine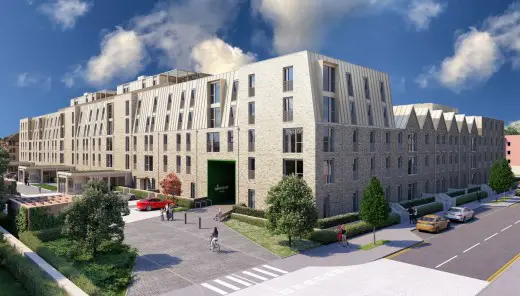 Rowanbank Gardens Edinburgh Housing
West Town Vision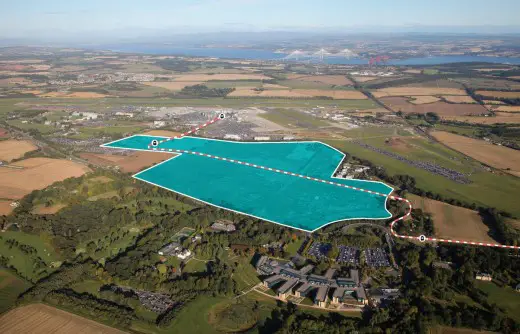 image courtesy of architects practice
West Town Edinburgh Property Vision
Comments / photos for the Recommended construction industry building materials advice page welcome