Waterfront Edinburgh, Ken Shuttleworth, Granton Building Designs, Architect, Properties, Project
Waterfront Edinburgh Architecture
Major New Property Developments in Granton, north Edinburgh, Scotland
post updated 2 January 2022
15 Oct 2001
Edinburgh Waterfront Development
Ken Shuttleworth @ Granton – Make
Former Foster & Partners architects – Ken Shuttleworth and John Prevc – have been appointed to create a 'bold, imaginative vision' for Edinburgh Waterfront.
Ken Shuttleworth's new practice – Make – is to create yet another masterplan for the Edinburgh Waterfront development. Shuttleworth was known for his work on the Swiss Re Building and Millennium Bridge in London. Make proposed in mid-2004 London's tallest building.
Edinburgh Waterfront has previously been masterplanned by Llewelyn-Davies Architects, CZWG Architects, Conran & Partners and many other architects have been involved.
Waterfront Edinburgh is planning to create a new island in the middle of Granton. The proposed island may be thistle-shaped in plan and could contain a marina, a couple of towers and mixture of residential and leisure developments. The proposal came from Stephen Izatt, Chief Executive of Waterfront Edinburgh and Make.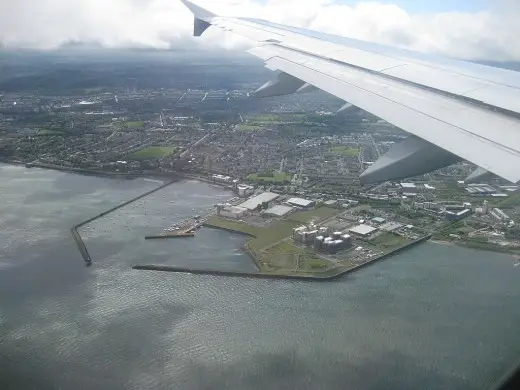 photo : HaSt, CC BY-SA 4.0 , via Wikimedia Commons
Granton Waterfront
by Waterfront Edinburgh, 28 Apr 2003
New CEO appointed to steer Granton Waterfront Project
Edinburgh Property Chief Executive of Brownfield Regeneration Ltd, and former merchant accounts banker, Stephen Izatt, has been appointed new Chief Executive of Waterfront Edinburgh Ltd, to lead Scotland's largest urban regeneration project.
He takes up his post on 2 June, taking over from Andrew Russell who announced his intention to retire from the Company last year.
Announcing the appointment, Company Chairman, Councillor Lezley M Cameron, said: "Stephen Izatt brings a wealth of experience to this important post. He is the ideal choice to lead the Company as the Waterfront Edinburgh project moves into the next exciting stage of development.
"We have already made tremendous progress, including the opening of the Southern Access Road, the purchase of a significant portion of land from United Wire, the award of a World Trade Centre licence, the approval of our Outline Planning Application for our first stage development and the construction of major transport corridors through our site.
"We are concluding negotiations to build the first 500 homes on our site and, later this year, we shall be bringing other residential and commercial sites to the market.
"We are on track to deliver our vision for Edinburgh's Waterfront – to create a new integrated city community of the highest quality of design and build. Residential, commercial and leisure developments will sit comfortably alongside each other, surrounded by substantial parkland and landscaping. Creating significant new job opportunities, Edinburgh's Waterfront will become the most sought after place to live and work."
As Chief Executive and founder of Brownfield Regeneration Ltd, a private sector remediator of large brownfield and contaminated sites, Stephen Izatt is currently responsible for all development activities encompassing strategic risk assessment and management, land investigation, land assembly and acquisition master planning, planning, stakeholder engagement, funding, tendering and contract negotiations, programming and construction, marketing, letting and sale as well as the management of the group.
He has close working relationships with a wide range of stakeholders from local interest groups, local authorities to Regional Development Agencies and Urban regeneration Companies, government departments and senior politicians.
In his early career, Stephen was an investment banker specialising in corporate finance, venture capital and investment management. He holds a degree in economics and is taking a part-time doctorate in the risk management of the remediation of contaminated land.
Councillor Donald Anderson, Leader of The City of Edinburgh Council, said: "This is an exciting time for Edinburgh's Waterfront as developments are really taking off. Stephen Izatt has a wide range of economic and property development experience and will be able to hit the ground running, helping secure more jobs and more houses for the area. I very much look forward to working with him."
David Crichton, Chief Executive, Scottish Enterprise Edinburgh and Lothian, added: "The regeneration of Edinburgh's waterfront area is a vital element in the city's drive to become a truly global competitive location. Stephen Izatt has the wealth of experience in this specialist field necessary to lead this major project and take it forward into the next stage of its development. I am delighted to welcome him as the new chief executive."
Waterfront Edinburgh – information 2003
Waterfront Edinburgh 2001
Edinburgh Regeneration Company Submits
Environmental Impact Assessment
Waterfront Edinburgh Limited, the company responsible for procuring the regeneration of the Granton Waterfront in the North of Edinburgh, has submitted an Environmental Impact Assessment on its proposed development of the Project's Central Development Area.
An Outline Planning Application for the Waterfront Edinburgh Area was submitted to The City of Edinburgh Council on 16 May 2001.
Chief Executive, Andrew Russell explained: "Though regarded by many as yet another barrier in the way of comprehensive redevelopment, an Environmental Impact Assessment is in fact of immense value to everyone concerned, since it highlights at an early stage both the contribution which the new scheme will make to the quality of life in North Edinburgh, and also the areas which required sensitive treatment if adverse effects are to be avoided.
"Through careful consideration of all the elements in proposals which are both complex and closely related to each other, we are confident that we have achieved a scheme which reflects the vision in The Council's Master Plan in the central part of the site. The work is of the highest quality and should provide a firm foundation for detailed development of the designs and projects we expect to launch in the new few years."
The Assessment has been carried out in accordance with the requirements of the Environmental Impact Assessment (Scotland) Regulations 1999 and provides a comprehensive independent analysis of the likely impact of the Project on the development area and covers noise, air quality traffic and access, the collection and disposal of water, ecology, cultural heritage, recreation, landscape, visual amenity and the treatment of contaminated land.
The Environmental Impact Assessment was prepared by a multi-disciplinary group of expert advisers lead by Montagu Evans and comprising Arup Scotland, CFA Archaeology Ltd, Page and Park Architects, Turnbull-Jeffrey Partnership, Ian White Associates and Young Associates.
Cllr Lezley M Cameron, Chairman of the Company, added: "This is a key element of the Waterfront Edinburgh project and my fellow Board members and I have placed great emphasis on the need for a robust assessment of high quality. The Executive Team have shared this goal and we are impressed with the time and effort they committed to ensuring that the group of expert advisers received all the help and information required to produce the Assessment."
Waterfront Edinburgh – PR 5 Oct 2001
Waterfront Edinburgh Environmental Statement
Copies of the full Waterfront Edinburgh Environmental Statement can be purchased from: Montagu Evans Chartered Surveyors 37 Melville St Edinburgh
The Waterfront Edinburgh Statement and Technical Appendices cost £80 and cheques should be made payable to Montagu Evans.
Copies of the Waterfront Edinburgh Statement and Technical Appendices can be viewed during normal office hours at either The Prentice Centre, Granton or The City of Edinburgh Council, City Development. A non-technical Waterfront Edinburgh summary has also been produced to comply with the assessment regulations and present the key conclusions contained in the statement.
Copies of the Waterfront Edinburgh summary can be obtained, free of charge, by contacting Christine Cook, Waterfront Edinburgh Limited, Madelvic House, Granton Park Avenue, Edinburgh.
Waterfront Edinburgh information Oct 2001
Scottish Capital Oceanfront Developments
Key New Edinburgh Waterfront Property – Selection:
Read more at Waterfront Edinburgh Development
Llewelyn-Davies Waterfront Edinburgh Masterplan
Edinburgh Properties
Key New Edinburgh Property – Selection:
Comments / photos for the Waterfront Edinburgh Architecture page welcome