Why invest in urban infrastructure development Guide, Architectural Tips, Online Advice
Top Arguments Why Businesses Should Invest in the Urban Infrastructure Development
19 Apr 2021
Wondering why big corporations and startups have started actively invest in urban infrastructure development? Find the most detailed arguments in this very article!
Megapolises, as well as cities, are considered the driving force of global environment development. According to the report "Increasing private sector investment into sustainable city infrastructure" prepared by PwC, in terms of economics, urban development accounts for about 79% of global GDP. Experts expect the substantial growth of the current urban population of approximately 4 billion to about 6.2 billion by 2049. That is 69% of the entire population worldwide.
Such growth is noticed fastest in a minority of developing economies and emerging markets as India, Nigeria, and China, which will contribute above 37% of the total urban populations increase between 2020 and 2050.
The range of urban infrastructure that businesses from developing countries require to develop is enormous: transport, electricity generation, water and sanitation, transmission and distribution, and solid waste disposal should be optimized with the target to support future generations in having green infrastructure.
The above-mentioned smoothly culminates in the first argument why finance matters for supporting sustainable urban development.
Desire to invest in the infrastructure development of your native city but have no idea how to do that? It is time to check these infrastructure design solutions. Here, the engineering teams will not only deliver innovative solutions but help to save budget on construction projects.
Investing in Urban Infrastructure due to Urbanization
When talking about the key reason to get long-term investment, we should accentuate the interrelation of 2 aspects: urbanization and economic growth. What is that all about? Let's see.
Urbanization is the crucial potential factor that drives growth in the global economy. As far as cities increase at a faster rate than during last decades, previous trends demonstrate that urban infrastructure development will not keep abreast of the modern requirements, making it challenging for cities to give a reasonable standard of living and meet the Sustainable Development Goals (SDGs).
That is why big and small businesses from advanced industrial economies like Western Europe and the US actively invest in the replacement and repair of their obsolete urban infrastructures. However, businesses are facing a more complicated goal of not just replacing the old but creating new urban networks to optimize public health systems as well as reduce poverty.
When it comes to developing countries, if invested well, the potential benefits of this urban infrastructure development will be truly remarkable. The economic potential strongly depends on the increased productivity that comes from the concentrations of businesses in megapolises and cities. This results in a dynamic market and prosperous environment for innovation in various industries.
The urban infrastructure that businesses invest in nowadays, will guarantee numerous economic and climate bonuses for decades to come. The urban infrastructure supports in delivering economic stimuli to participants in the public as well as private sectors. The availability and decent quality of urban infrastructure in a certain country help to form investment intentions of local enterprises and shape the location's attractiveness to global investors.
Investing in Urban Infrastructure for a Global Growth Opportunity
That is the second top argument to invest in urban infrastructure development.
According to various reports prepared by researchers around the globe, modernization of the world's infrastructure will be a prevailing topic during the nearest 15 years. As it was assessed, an impressive 50 trillion US dollars will be spent on urban infrastructure development by 2029. What is more important is that, considering the financially problematic state of several municipalities and governments, most probably that they will more and more rely on private capital/investment to finance spending needs for urban infrastructure development.
A great decision in this direction was made by the previous U.S. President Donald Trump. He has outlined a strategy to allocate 1 trillion US dollars in urban infrastructure expenses by way of stimuli for private investors to design and optimize the American infrastructure. If this is realized, the initiative will likely be good for the earlier-mentioned urban infrastructure aspects by introducing more opportunities for the private investors to design and operate infrastructure objects.
Researchers point out that on the global level, the growth in the investable opportunity regarding the urban infrastructure development will be driven by the following factors:
Organic growth, i.e. when the infrastructure assets owners broaden and increase their existing businesses. For example, energy infrastructure enterprises design numerous pipelines, and road companies expand toll highways to make the higher user demand;
Privatization, i.e. when states sell ownership stakes to local investors. Bright samples of privatized urban infrastructure involve seaports, airports, electricity distribution/transmission assets, and toll roads.
Taking into account the great deal of urban infrastructure financing demands worldwide, urban infrastructure investment opportunities will expand to satisfy the needs for improving critical infrastructure.
Comments on this guide to Why invest in urban infrastructure development article are welcome.
Edinburgh Architecture
Liberton Brae Townhouses
Design: LBA Architects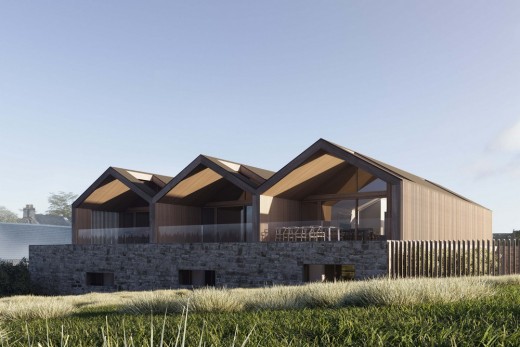 image courtesy of architects
Liberton Brae Townhouses
St James Quarter Edinburgh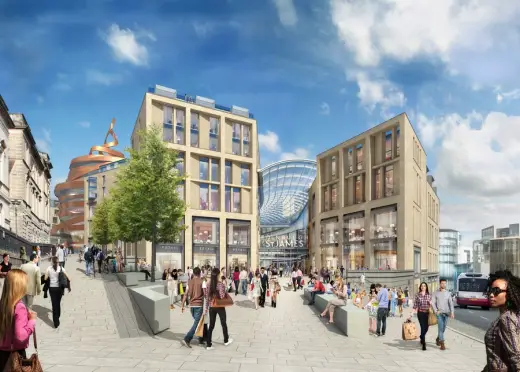 image of the development
St James Quarter
Comments on this guide to Why invest in urban infrastructure development advice article are welcome