Trusted Retractable Patio Awning Installation Advice, Property Garden Space Tips
Buying Guide – Choosing a Retractable Patio Awning
29 Nov 2019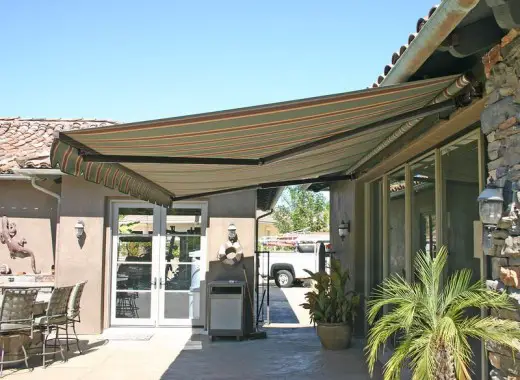 Have you heard the term "Urban Jungle"? This is usually used to describe the brick and mortar urbanization that has robbed us of the beauties and serenity that nature offers. We now find ourselves locked behind artificial barriers like glasses, drywalls, bricks and mortar.
Retractable Patio Awning Help Guide
The pull of nature gets so strong a lot of times, pushing us to seek the outdoors in any way we can. This is not surprising because from what we can see in this article here, there is a lot of benefit in staying outdoors and taking in all of the wonderful essence of nature.
Sadly, we cannot always visit the real outdoors so we make do with what we have. This need to enjoy an open and airy space is one of the reasons why patio awnings are quite popular.
In this article, we will be carefully looking at one type of patio awning and we are referring to the retractable variation. This simply refers to the kind that has a mechanism that opens it up or closes it.
What are the Benefits they Offer?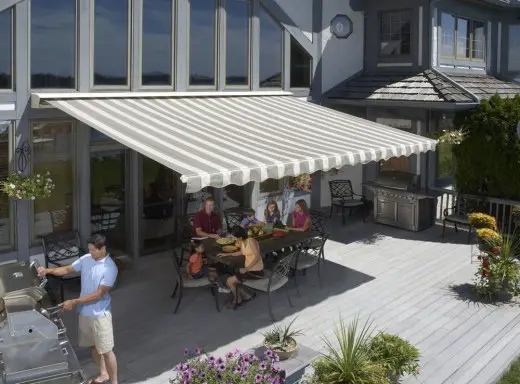 Aside from what has been said above, there are other tangible benefits that these awnings can offer. A few of them may actually surprise you. Here we go.
Reduced Energy Cost
During those hot summer days, extending the awning will provide shade from the direct sunlight and if there are windows under its shade, this will translate to reduced heat inside the house. The implication is that it will automatically reduce how hard your air condition will have to work to cool the house. You've just saved some money.
On the flip side, there are times during the winter when the sun decides to show its face. Retracting the awning will allow direct sunlight into the home providing some warmth which will reduce how hard the heating system will need to work, again saving you some money.
When you add all of these up, you may be surprised at what you will have saved.
Increase Indoor and Outdoor Furniture Durability
If you have furniture outdoors, your awning will provide a shade that will shield them from the elements, ensuring they last longer. The same applies to furniture inside the house that may have been exposed to direct sunlight from the windows. When the awning prevents direct sunlight from getting in from the windows, they are also shielded from the harmful rays of the sun and will therefore last longer.
Improve Social Gatherings and Family Times
Finally, family time and hosting of friends will be a more enjoyable affair in this open space, especially on the warm days.
You can find a few other benefits in this article: https://enctoday.com/6-benefits-of-retractable-awnings/.
How to Go about Making a Choice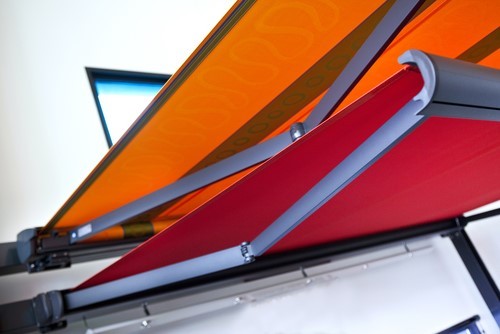 There are a number of important things to bear in mind when choosing this type of awning. We will quickly examine some of these.
Size
This is obviously something you need to consider. The size you need will be determined by where you intend to use it. Before you begin to shop for one, be sure that you know the exact measurement of the patio where you will be installing it so you don't get something that is either too small or too big.
Material
The next consideration factor is the material of the fabric. There are common materials you will find and these include canvas, vinyl, acrylic and polyester. These different materials will offer varying levels of durability and protection from the elements.
If you need something that can withstand the wear and tear of rough weather, you should go for either acrylic or vinyl. You may also find those made of polyester coated with vinyl. This type will offer protection from UV rays. For much larger sized awnings, your best bet may be polyester as it will be less likely to sag.
Color
This is a simple matter of aesthetics. It's only common sense for you to choose a color that will match the color of your building.
Retracting Mechanism
This is another really important consideration factor. There are two types of mechanisms you will have to choose from. There is the manual and the motorized mechanism. The manual will require that you physically turn the crank to retract or extend the awning for use or after use.
The motorized version will however electrically extend or retract it at the push of a button.
Additional Features
You can also find some with additional features like remote controls for controlling the motorized mechanism or sensors that detect weather conditions and retracts the awning in rough weather while extending it in a sunny weather condition.
These are just a few of the things you may need to consider when choosing a retractable awning.
Buying Guide for Retractable Patio Awning Recommendations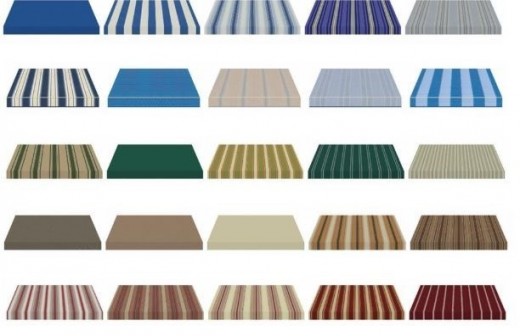 In rounding off this article, we want to quickly provide a short list of products which we think will offer you some good value.
ADVANING Manual Patio Retractable Awning
This is a product that is made of acrylic, is mildew resistant and also provides protection against UV rays. It comes in about three sizes – 14ft. X 10ft., 12ft. X 10ft. and 10ft. X 8ft.
Though it has a manual mechanism, it is quite easy to operate.
BCP Retractable Patio Sun Shade Awning Cover
This is another manual product. It measures 80 inches by 98.5 inches and has aluminum frames that are powder coated to prevent rust.
The fabric is heavy-duty polyester that is water and UV resistant. Aside from the fact that it can cover a considerably large area, it also promises to be very durable.
Outsunny Patio Manual Retractable Sun Shade Awning
This product is ideal for smaller spaces. It has a durable build which consists of a steel frame and polyester fabric that is UV coated.
This is also a manual version that is easily operated with the 63-inch long crank.
ADVANING Motorized Patio Retractable Awning
If you need something that offers a higher level of convenience then this is the one to go for. This uses a motorized mechanism that is also remote controlled.
You can get this in a number of different sizes 8ft. X 7ft. (being the smallest) to 16ft. X 10ft. being the largest.
It has a steel frame and the fabric is acrylic which is resistant to UV rays, mildew and mold. You can also get it in about five different colors and designs.
You can get an Official Top 5 Review of retractable patio awnings from professional reviewers to help you decide exactly which you need to get.
Retractable Patio Awning Buying Guide Conclusion
By simply installing the right patio awning, your patio can become one of the places where you, your family and friends spend most of your time. This is the truth that many have experienced.
Do not also forget all the other benefits we mentioned above. Take some time to pick out the product that is right for you and make your home's patio more fun and inviting today.
Comments on the Buying Guide – Choosing a Retractable Patio Awning advice article are welcome
Scottish Architecture
Contemporary Lothian Buildings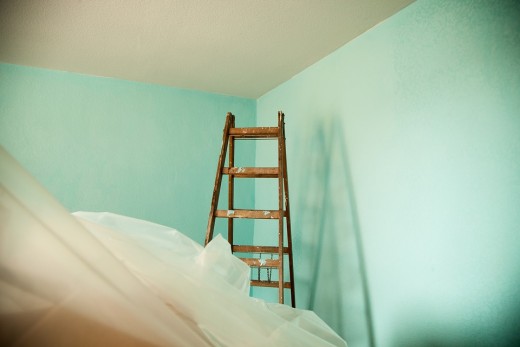 image courtesy of article provider
Comments / photos for the Buying Guide – Choosing a Retractable Patio Awning page welcome