Which material is suitable for bathroom sinks Tips, Property interior advice, Building decor guide
Which Material is Suitable for Bathroom Sinks Guide
2 June 2020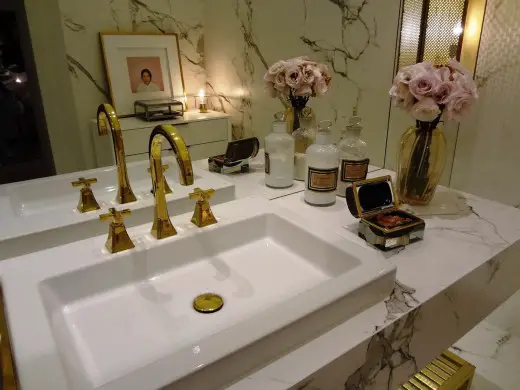 Apart from style, function, size, and beauty, your bathroom sink material ranks highly for overall durability, reliability, and integrity. The type and quality of material you choose will depend on your home situation, personal preference, unique features, and benefits.
We will present a range of bathroom sink materials and highlight the pros and cons of each type. According to sink engineering, some bathroom sink materials include bamboo, porcelain, wood, enamel, ceramic, and more. Let us show you how to make an informed choice on the type of sink material that's best for you.
Which Material is Suitable for Bathroom Sinks Options
1. Ceramic
It's one of the most widely-used bathroom sink materials in use today. The construction undergoes high heat to fuse water, powder, and clay to form the basin manually.
Durability
Following the ancient art of pottery, ceramic material will last a long time. It is highly stable, resistant to chips, scratches, bacteria, and stains.
Functionality
Ceramic material is non-porous and leak-proof, with no flaking or cracking. The super-smooth surface also repels build-up, making it easy to clean and maintain. Keep the body dry to help minimize spots and stains. Wipe each area with regular multi-purpose cleaners and avoid harsh cleaning products.
2. Porcelain
Porcelain material is affordable, durable, and stable. While the material is similar in makeup to ceramic, the surface is significantly more reliable. Porcelain is also one of the most popular bathroom sink materials around.
The design includes a fusion of glass, metal, and fireclay. Over time, porcelain tends to absorb less water than some other bathrooms ink materials.
Durability
Studies also show porcelain is one of the most durable materials available. It's still holding up in traditional style homes and institutions. The material is low-maintenance. Cleaning with regular soap and water is essential. While the material is solid, it may chip on impact with heavy objects.
3. Natural Stone
The shape and groove of natural stone are flexible and perfect for any shape bathroom sink you desire. Some stone materials include travertine, sandstone, green jade, marble, onyx, and granite. Since natural stone is highly porous, you'll need to apply a sealer to minimize moisture build-up.
Durability
While natural stone material is solid and super-sturdy, it requires high maintenance to preserve its original properties. It cleans up nicely with gentle soap and water or select products suitable for stone.
Benefits/Features
The stone material is customizable to any shape you desire. It also blends well with any contemporary décor theme. It is easy to install, clean, and maintain, and significantly resists heat.
4. Stainless Steel
Stainless steel bathroom sink material ranks among the most affordable materials on the market. It is hygienic, environmentally friendly, and upkeep is hassle-free.
Durability
The rigid material is dent-proof and offers lots of sturdiness. It is highly resistant to stains, rust, bacteria, and corrosion. Besides, it also holds up well under rough handling and will not scratch or chip.
Maintenance
Stainless steel is one of the few materials that will not deface when using heavy-duty cleaners. It washes well with soap and water, but you need to keep it dry to minimize water spots.
5. Resin
Resin material consists of durable layers of plastic, fiberglass, and acrylic in a stone-style finish. The super-smooth surface is attractive with the look and feel of porcelain or ceramic. Besides, the resin is non-porous and repels mold, mildew, and stains.
Maintenance
Resin is easy to clean with products suitable for paint-based surfaces. In the event it scratches, you can use vehicle buffing material or sandpaper to even it out.
Features/Benefits
You can choose from several sizes and shapes. The material is lightweight and easy to install.
6. Bronze Material
Bronze bathroom sink material has a stylish appearance that's compatible with a range of modern bathroom styles. The design and construction feature copper and other similar elements that are sturdy and durable. It is hygienic and resistant to mold, mildew, and bacteria.
Types of bronze
There are satin bronze and polished bronze from which to choose. Satin bronze has a muted surface, and shiny bronze carries a high sheen.
Durability
Bronze material is long-lasting and super durable. It will withstand rust, corrosion, moisture, and mold build-up. It may require some unique cleaning applications to maintain its select properties.
7. Glass
Glass material presents a sleek, modern design that's highly desirable. The result is a blend of sturdy chemically-treated glassware that will not shatter like regular glass.
Durability
Glass is highly resistant to heat and is stable and durable. It is easy to maintain and comes in various colors and styles for any modern bathroom design. You can also customize glass material to complement your unique style. Clean the glass material with standard glass or window cleaner to reduce water stains and spots.
Wood Bathroom Sinks
Teak and bamboo are among the most popular choices of wood materials for bathroom sinks. They come in a variety of beautiful shapes and sizes for all your décor needs.
Bamboo material adds an elegant touch to your bathroom style. The eco-friendly material is versatile, sturdy, and highly durable. The material is pliable and easily adapts to any shape when required.
Maintenance
While you can mar bamboo material with strong chemicals, it's usually easy to clean and maintain regular cleaning products.
Teak material offers a high-end finish to any bathroom style. It is water-resistant, with a natural sheen that reduces warping and drying. The material also reduces build-up from fungi, mold, and mildew. It cleans easily with soft cleaning materials and mild detergents.
Which Material is Suitable for Bathroom Sinks Conclusion
Your bathroom sink is a focal point and works hard to maintain cleanliness in your household. With the correct material, you can select the type that fits nicely with your existing bathroom décor. We offer some of the best materials that will appeal to your sense of style.
You can choose from a range of materials, including glass, porcelain, bamboo, ceramic, teak, bronze, resin, stainless steel, or resin. Each material has several benefits and features that ensure reliability, durability, sturdiness, and functionality.
They also vary in shape, sizes, colors, textures, and design elements. Overall, each selection is worth exploring and will meet any design theme that will make your bathroom stand out.
Comments on this guide to which material is suitable for bathroom sinks article are welcome.
Edinburgh Architecture
St James Quarter Edinburgh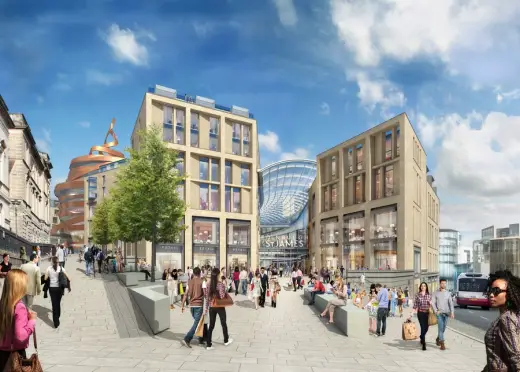 image of the development
St James Quarter
Rowanbank Gardens in Corstorphine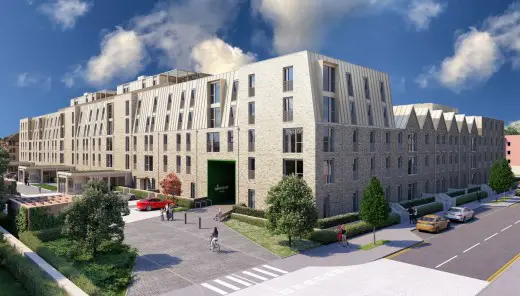 image courtesy of architecture office
Rowanbank Gardens Edinburgh Housing
Comments on this Which material is suitable for bathroom sinks advice article are welcome.