Guide to formwork for architects and builders, Building construction, Concrete structures tips
A Guide to the Design and Use of Formwork for Architects and Builders
15 April 2022
Formworks are essential in the construction of buildings and concrete structures. If you are an architect or builder, you are responsible for ensuring the formwork meets your project's particular requirements.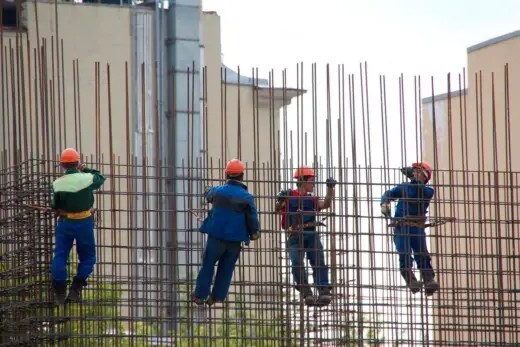 What are your requirements?
Generally speaking, formworks are used as temporary moulds to hold the reinforcement bars until the concrete hardens. There are several criteria that your formwork needs to fulfil, as explained below.
1. Technical
The formwork system must follow the shape and size outlined by your structural plans. According to Meva UK, you will need specific formworks for walls and different ones for circular columns.
You can reduce your transportation costs and the amount of time spent if the formwork can be dismantled and set up on-site.
The formwork should be able to withstand the pressure of the fresh concrete, including the working load. This means the mould should not distort or deflect from its designated position.
During construction, your formwork should not cause damage to the concrete edge or surface.
The formwork connections should be durable enough to prevent or reduce the risk of fresh concrete leakages or gaps.
2. Functional
For convenient transportation to construction sites, it is best to use formworks that can be dismantled in sections.
Workers should be able to quickly dismantle, move and install the formwork and its components.
The formwork should have interchangeable parts and units.
The formwork should be light but still durable enough to handle the designated weights.
3. Financial
The acquisition cost of your proposed formwork should be affordable.
The formwork should help reduce your project's energy usage and labour costs.
You can make substantial savings if your formwork is reusable.
Formwork systems that require only unskilled or semi-skilled labour to set up and dismantle can bring economic benefits.
Regular maintenance will expand the service life of your formwork.
4. Safety
The formwork should not pose any significant safety concerns to your workforce.
It needs to be stable and robust enough to prevent injuries and deaths.
The formwork should incorporate provisions for emergencies and escape exits.
What formwork designs can you use?
It is imperative that you design and deploy a formwork system that can withstand the anticipated external concrete pressure. Ideally, you need to acquire a basic understanding of the behaviour of liquid concrete.
There are various types of formwork:
Frames based on materials
Aluminium
Plastic
Steel
Timber or wood
Facing based on materials
Based on concrete structure
Columns
Foundations
Slabs
Walls
Customised forms
Based on usage and need
Foundation formwork
Slab formwork
Wall formwork
Circular and column formwork
Climbing formwork
Shoring towers
Single-sided supports and brackets
The cheapest formwork systems are made of timber or plywood. However, aluminium, plastic or steel would be better if you want your formwork to be reusable. Moreover, you also need to consider other factors such as logistics, and installation and labour costs.
What factors will affect your choice of formwork?
1.Concrete type
Not all cement products have the same hardening time. If you have to use different cement from your usual product, you will need to adjust the specific processes, such as the pouring rate.
2.Additives
You must ensure you follow the recommended usage guide for plasticisers and retarders.
3.Pouring rate and height
Concrete in liquid form can create significant pressure on your formworks. When ascertaining the concrete pressure, you need to consider its weight and height.
As a guide, concrete pressure is directly proportional to the height of the pouring. As the liquid concrete hardens, the pressure on the formwork will decrease.
4. Slump
Concrete with a low slump will create less pressure on your formworks. However, if you are building a concrete slump of more than 100 metres, you will need to design a special formwork that will hold a full liquid load.
5. Temperature
Temperature can directly affect the hardening time of your concrete. The majority of formwork designers use an average temperature of 21°C. To avoid any delays in the hardening process, you should decrease the pour rate at low temperatures. Another way of reducing pressure on your formwork is to heat the concrete.
The ideal concrete pouring temperature is between 16°C and 38°C. Temperatures outside this range can delay the concrete curing time due to insufficient moisture. Moreover, the concrete should contain enough liquid to achieve maximum strength.
6. Vibration
Air bubbles in fresh concrete can result in weak structures. With formwork vibration, you can reduce or even eliminate these air bubbles. Another option is to use prefabricated concrete.
How to choose high-quality formwork
There are a number of factors to consider when choosing a formwork system:
It should be strong enough to carry dead and live loads.
It must have enough horizontal and vertical braces to keep it in its correct shape.
The joints should be tight enough to prevent cement grout leakage.
It should be cost-effective and accessible.
The surfaces need to be smooth and levelled.
If possible, it needs to be lightweight.
It should have a rigid base support.
It should be adaptable enough to accommodate your project's rooms and floor areas.
What are the advantages and disadvantages of the various types of formwork?
1. Timber, plywood and wood formwork
These types of formwork are extremely lightweight and easily manageable. In addition, the fabrication process does not involve skilled labour.
However, wood has a high moisture content which can reduce the effectiveness of the formwork. Its reusability is also limited as it is prone to shrinking and warping.
2. Steel formwork
Steel has several advantages, including reusability, quick assembly and dismantling, and a long life cycle. However, it is also more expensive, heavy and limited in form and scale.
3. Aluminium formwork
In contrast to steel, aluminium is lighter, less expensive and reusable for up to 250 cycles. Some of its disadvantages include the high initial cost and the longer setup time. You will also need to hire professional labour to maintain and align aluminium formwork.
Conclusion
For the majority of concrete building projects, formworks are essential as they will enable you to turn your structural vision into a solid reality. Nevertheless, you always need to ensure that your formwork complies with the technical, functional, financial and safety requirements of your buildings.
Formworks are available in various materials and sizes, ranging from wood to plastic. Your choice of formwork can also be affected by factors such as concrete type, pouring rate and temperature.
Comments on this Guide to formwork for architects and builders article are welcome.
Architecture
St James Quarter Edinburgh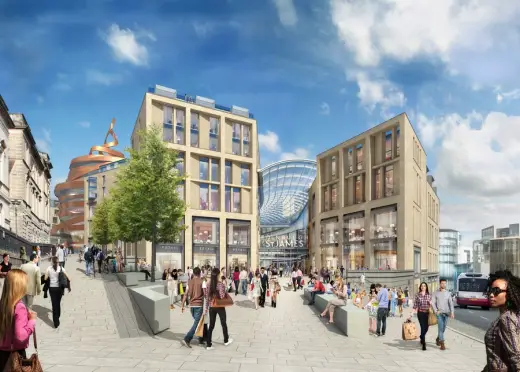 image of the development
St James Quarter
Moxy Hotel Fountainbridge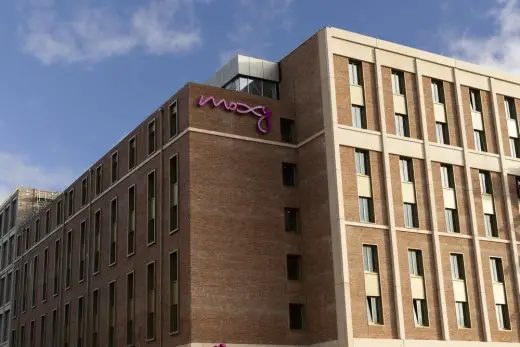 image courtesy of architects practice
Moxy Hotel Fountainbridge
Comments / photos for the Guide to formwork for architects and builders advice page welcome