Edinburgh Interior Designs, Pictures, Scottish Buildings Photos, Architects Scotland
Edinburgh Interiors : Designs
Contemporary Architecture Design + Historic Properties in Lothian, east Scotland
post updated 6 January 2022
Edinburgh Interior Design
This page contains images & links for key Edinburgh Interiors
We've selected what we feel are the key examples of Edinburgh Interiors, Lothian. We aim to include Interior Design projects that are either of top quality or interesting, or ideally both.
We cover completed Edinburgh Interior Designs, new building designs and architectural contests across Lothian. The focus is on contemporary building interiors but information on traditional buildings is also welcome.
We have 1 page of Edinburgh Interior Designs selections.
Latest key completed Edinburgh Interior:
The Chapel of Saint Albert the Great
Design: Simpson & Brown Architects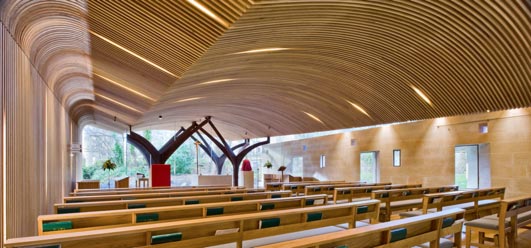 photograph © Chris Humphreys
Chapel of Saint Albert the Great
A really successful interior in my view, the warmth of the wood, the unusual section, the graceful tree columns and the rhtyhm of the internal walls and soffit all make a strong interior.
This new chapel is situated in the garden of one of the original townhouses on the west side of George Square and replaces the previous chapel which was located on the upper floor of one of the adjoining properties.
Recent Edinburgh Interior Design:
Edinburgh Library Renewal
Design: Bennetts Associates



image courtesy of architects practice
Edinburgh Library – 13 Aug 2013
Bennetts Associates' Edinburgh studio commissioned to undertake a feasibility study for Grade B listed Edinburgh Central Library. The architects are drawing up a strategy for a major refurbishment which will reconfigure the existing facilities to improve accessibility and provide Edinburgh with a modern library that retains the best of its historic fabric. Early ideas include looking at the potential for a new cultural hub in The Vaults below George IV Bridge and a rooftop restaurant.
Assembly Rooms Renewal, George Street, Edinburgh New Town
Renewal design: LDN Architects



photo © Paul Zanre
Assembly Rooms renewal : RIBA National Award Winner – 13 Jun 2013
The Category A Listed Assembly Rooms, opened in 1787, is a much-loved multi-purpose venue situated at the heart of Edinburgh's World Heritage Site and a focal point of the annual international Fringe Festival. It has been enjoyed by many generations of citizens but its fabric and infrastructure were failing and its facilities no longer met modern needs and expectations.
National Museum of Scotland Renewal, Chambers St
Design: Gareth Hoskins Architects



photo © Adrian Welch
National Museum of Scotland
The 'big moves' of opening up new street level entrances, excavating the previous basement store as new gallery spaces and the ingenuity of the building's new circulation which draws visitors up and through its superbly restored spaces.
The transformation project is the centrepiece of an ambitious £70 million Masterplan launched in 2004 to redevelop the museum complex. Further phased development will deliver 11 more galleries and complete the overall vision by 2020.
Scottish National Portrait Gallery
Design: Page Park Architects



photo © NGS, photo by Chris Watt
The Scottish National Portrait Gallery underwent a £17.6m restoration project that provided entirely new presentation of its world-famous collection. The project – the first major refurbishment in the Gallery's 120-year history – has restored much of the architect's original vision, opening up previously inaccessible parts of the building and increasing the public space by more than 60 percent. It has also added a range of new facilities that will utterly transform visitors' experience of the Gallery. Entry to the new Portrait Gallery will be completely free.
St Peter's Church, Lutton Place
Design: Benjamin Tindall Architects



photograph : Keith Hunter
The redecoration and relighting has "Transformed one of Edinburgh's least interesting churches into one of its most beautiful". The bold use of red with a stencilled decoration of golden keys in a diamond pattern, with a 'daisy chain' border, has given back the richness the building needed.
Interiors in Edinburgh
Featured Interiors in Edinburgh, alphabetical:
Pizza Express in Stockbridge, 32 Queensferry St



picture from architect, no larger image
Pizza Express Stockbridge
Balmoral Hotel, North Bridge/Princes St



image from Leonardo
Balmoral Hotel, North Bridge/Princes St
The Balmoral is one of Edinburgh's few 5-star Hotels and one of the most famous Scottish Hotels.
The Bonham, 35 Drumsheugh Gardens, New Town



picture from architect
Three Grade A listed New Town Terrace houses combined – the transformation is subtle, with hints of modernity in the bright red spiral of seating/sculpture on the right and swirling fruit bowl on the left. With lighting being Jonathan Speirs & Associates forte, the Bonham has an invigorating interior.
Circus Lane Houses, New Town Phase 2
Design: Richard Murphy Architects



image courtesy of architects practice
Circus Lane Mews House
"As with other projects by Richard Murphy, the colour and detailing are intense and thoroughly engaging and, although there are inevitable references to Carlo Scarpa, this is clearly an original work that far exceeds the normal standard of new domestic architecture."
Circus Lane House, New Town Phase 2
Design: wt architecture – William Tunnell



photo © Andrew Lee
Circus Lane House
This is a conversion of a listed mews workshop and disconnected vault below into an intricate maisonette with living spaces on the ground floor and two bedrooms below. A series of deep cuts have been made into the vault to gain access and allow light and air deep into the subterranean spaces. At ground level stepped platforms connect half levels, with translucent glazed slots between them, articulating the open plan spaces.
Dance Base, Scotland's National Centre for Dance, Grassmarket
Design: Malcolm Fraser Architects



photo : Steffen Schefer
Dance Base
Dance Base is a building primarily about spaces. Thus the lack of overt entry from the Grassmarket is suitable. You enter the National Centre for Dance and walk up a traditional pend, then turn right to the stairs. At First Floor you reach an unpretentious reception: from here most visitors are again drawn to the light, coming here from the Principal Studio. Each space has different proportions, but also levels of light.
The Hub, Castlehill
Design: Benjamin Tindall Architects



picture from architect
Old Town Hub
Richly-coloured scheme amalgamating history and creativity in a famous landmark assembly hall, now home to the Edinburgh International Festival offices. The colourful interiors of the Hub seem initially attractive but do not always repay closer look. The project does however take risks and challenges the status quo with its vivid contrasts of colour and approach to conservation.
Mansfield Traquair Centre, Mansfield Place, Broughton
Design: Simpson & Brown Architects



picture from architect, no larger photo
Mansfield Traquair Centre
The architects for the Church restoration were Simpson & Brown. The key to the rescue of the Mansfield Traquair Centre was the creation of substantial office space in the under-building. This gave the building a viable use. Two floors of offices were fitted into the space beneath the nave with ancillary accommodation below the chancel and in the attached clergy house.
Hotel Missoni Edinburgh, George IV Bridge
Design: Allan Murray Architects ; interior by Matteo Thun & Partners



photo : Keith Hunter Photography
Missoni Hotel Edinburgh
129 rooms, seven suites, the bar, restaurant and conference facilities.
The Hotel uses the bar, staircase and restaurant to connect the outside of the urban block with the courtyard deep in the heart, accessed by closes. This allows one of the key characteristics of the Old Town – the narrow closes and courts – to be reinvigorated with active uses.
Moray Place – House, Phase 2 of the New Town
Design: Richard Murphy Architects



picture from architect
Moray Place
Moray Place's kitchen is slightly raised and visually connected to the living space, but separated by a parapet wall. The barrel vault is expressed externally with steelwork and water chains.
Oloroso rooftop restaurant, 37 Castle St
Design: Richard Murphy Architects



picture from architect, no larger photo
Oloroso Restaurant
Oloroso's entry is at street level, and is pretty discreet. Unfortunately they have to share their communal areas – lift, lobbies, stairs – with other tenants, currently offices. Once on the third level you rise up into the space through stairs that allow glancing views up to the restaurant and bar. Bolder colours would be welcome here rather than the all-over cream. The centrepiece of Oloroso is the bar, complete with hidden rooflight that brings in subtle light by day.
Opal Lounge, George St
Design: Malcolm Fraser Architects



image courtesy of architects practice
Opal Lounge
Conversion of five-storey Georgian townhouse, for Montpelier nightclub: Edinburgh New Town bar / restaurant.
Palace of Holyroodhouse Gallery – Queens Gallery
2002
Design: Benjamin Tindall Architects



image by Antonia Reeve
Palace of Holyroodhouse Gallery (Queens Gallery)
Rick's restaurant, Frederick Street, New Town
Malcolm Fraser Architects



picture from architect, no larger image
New Town Ricks
This is a boutique hotel bar and restaurant. It was created by connecting two New Town properties. The two properties, the lower ground floor of a Georgian tenement and a three-storey warehouse, have been tied together through the insertion of a glazed roof over the narrow, separating courtyard. The hotel reception, bar and restaurant are all located on the lower ground, covering the whole site from front street to the basement of the warehouse at the rear lane.
St Andrew's House
Design: Thomas S Tait & Sir John Burnet, Tait and Lorne



photo © Adrian Welch
St Andrew's House
Inter-war architecture competition win – monolithic, symmetrical and sober from the front, romantically irregular from the South – note the curved glass stair towers reminiscent of the Fagus Shoe Last Factory. This building was formerly the Scottish Office, the UK government's administrative offices in Scotland, and still used for government administration. The St Andrew's House frontage is influenced by Grey Wornum's Art Deco verticality RIBA HQ in London.
St James Centre,



picture from architect
Scottish Parliament Building, Old Town
Architect: Enric Miralles – EMBT/RMJM



image courtesy of architects practice
Scottish Parliament
Sir David Steel, Presiding Officer of the Scottish Parliament claimed "This building is the most important to be built in Scotland for 300 years": although this no doubt refers back to the Act of Union in 1707, the point has architectural validity too.
Influences for the Scottish Parliament building reported include upturned boats at Holy Island, flower paintings & Glasgow School of Art by Charles Rennie Mackintosh. Architect influences are noted by Gillespie as Aalto, Kahn, Pietila, Coderch, Lapena & Torres, Viaplana & Pinon. Louis Kahn was a strong influence on architect Enric Miralles, the Kimbell Museum's vaults specifically for the three tapering vaults of the Debating Chamber ground floor.
Valvona & Crolla restaurant, Multrees Walk
Design: Reaich and Hall Architects



picture courtesy of architecture practice
Valvona & Crolla restaurant, Multrees Walk
The architectural expression explores creating an interior architecture which somehow expressed the client's new venture yet also evoked a sense of having been there for years. The first floor contains a restaurant and private dining rooms, this is expressed in a palette of rich, simply detailed materials notably walnut floor and wall panels. The ground floor contrasts with the upstairs. Here the brief was more ambiguous, "a shop combined with eating and drinking, a place to drop in and converse."
Harvey Nichols, St Andrew Square / The Walk
Design: CDA ; Interiors by Lifschutz Davidson Architects



image courtesy of architects practice
Fifth Floor at Harvey Nichols in London was the inspiration and was developed in 1992: the first proper restaurant to be situated within a department store.
Interiors – designs from around the world
Buildings / photos for the Edinburgh Interior Architecture page welcome
Edinburgh Interiors – page