National Museum of Scotland Refurbishment, NMS Renewal, Photos, Masterplan
National Museum of Scotland Edinburgh
NMS Building Redevelopment – Master Plan News: Architecture Information, UK
Address: Chambers St, Edinburgh, EH1 1JF
Phone: 0131 247 4422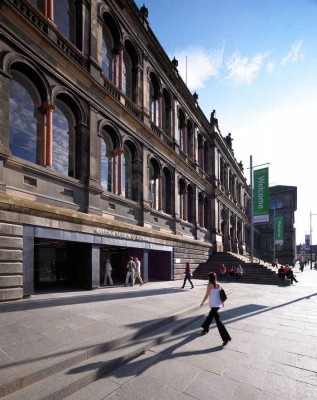 photograph © Andrew Lee
18 Nov 2011
National Museum of Scotland Award News
RIAS Andrew Doolan Award for Architecture
At a ceremony in the Scottish Parliament last night, The National Museum of Scotland in Edinburgh by Gareth Hoskins Architects Ltd has been awarded the RIAS Andrew Doolan Best Building in Scotland Award 2011. From a shortlist of 13 projects the judges selected The National Museum of Scotland as a clear winner.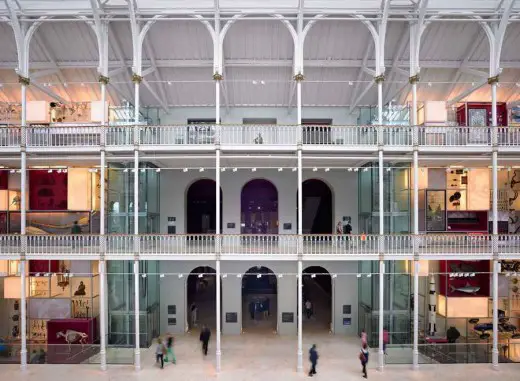 photo © Andrew Lee
The award was presented by the Cabinet Secretary for Culture and External Affairs, Ms Fiona Hyslop MSP with Mrs Margaret Doolan Hon FRIAS (the late Andrew Doolan's mother).
Fiona Hyslop, commented;
"Scotland has an international reputation for creativity and innovation, enhanced by the outstanding quality of Scottish architecture. This excellence is demonstrated by the record number of schemes shortlisted for this year's RIAS Doolan Award, which inspires ever-higher standards of design by celebrating and recognising the very best of architecture in Scotland. The transformation of the National Museum of Scotland is truly breathtaking, making this project a worthy winner of the Award."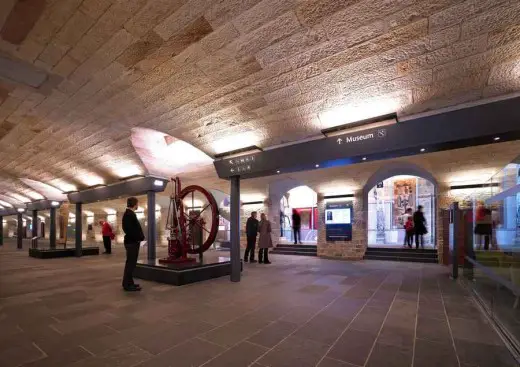 photo © Andrew Lee
The judges citation for the winning building highlights the 'big moves' of opening up new street level entrances, excavating the previous basement store as new gallery spaces and the ingenuity of the building's new circulation which draws visitors up and through its superbly restored spaces.
5 Nov 2011
National Museum of Scotland in Edinburgh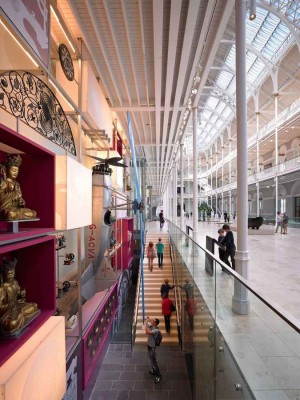 photo © Andrew Lee
'Following an international competition in 2003, Gareth Hoskins Architects have completed the £47m redevelopment of the National Museum of Scotland. Set within the World Heritage Listed site of Edinburgh's Historic Old Town, the Museum brings together a world class collection of artefacts from world cultures, natural history, science and technology and art and design. The project is the most comprehensive redevelopment of the Museum's complex of buildings and displays since it first opened in 1866.
Photos by Andrew Lee at larger size:
Royal Museum of Scotland 5
Royal Museum of Scotland 6
Royal Museum of Scotland 7
Royal Museum of Scotland 8
Royal Museum of Scotland 9
GHA worked with National Museums to develop a 15 year masterplan to guide the redevelopment of the Museum. Alongside the refurbishment of the main A listed Victorian building, the masterplan introduced a series of new external and internal architectural spaces and alterations. These major architectural interventions connect the Museum with the surrounding City via new public spaces and entrances carved into the rusticated sandstone plinth of the original building.
The previously hidden undercroft to the building has been completely reconfigured and opened up to create much needed back of house spaces and a dramatic new public arrival hall within the atmospheric stone vaults of the complex's substructure.
Visitors ascend via new stairs and lifts to the delicate cast iron structure of the original central atrium which has been reinstated as the main introductory gallery. Large scale objects re-inhabit this vast 6 storey volume and with new full height displays animate the space and introduce the collections housed in the galleries beyond.
A sequence of new voids and stairs create a clear promenade through the Museum drawing visitors up through the levels of redisplayed galleries to the new special exhibitions gallery and learning centre and improve connections with Benson & Forsyth's 1999 extension.'
Within its first month of reopening to the public, the Museum has attracted over ½ a million visitors, far exceeding anticipated visitor targets.
The National Museum of Scotland is the latest in a succession of museums and cultural buildings the practice has worked on, including the Victoria & Albert Museum's Architecture Galleries, Culloden Battlefield Visitor Centre, Court Barn Museum in Chipping Campden and Durham's Light Infantry Museum. To see all these along with the range of current projects the practice is involved in please visit our website at www.garethhoskinsarchitects.co.uk.
1 Aug 2011
National Museum of Scotland Building
Over 22,000 visitors visit the National Museum of Scotland on its first day of being open
Architectural and Design Innovations Transform National Museum of Scotland
The National Museum of Scotland in Edinburgh has completed its most significant redevelopment in over a century, breathing new life into one of the finest Victorian buildings in Britain. 16 new galleries, home to over 8,000 objects, take visitors on an inspirational journey through the wonders of nature, the cultures of the world and the excitement of science and discovery.
Working with the Museum, award-winning practice Gareth Hoskins Architects has opened up and expanded the Museum's public space, restoring and revitalising the grandeur of the Victorian Grade A listed building. Ralph Appelbaum Associates, international interpretive planners and designers, were responsible for creating dramatic new exhibitions for visitors.
Spectacular stone-vaulted spaces on Chambers Street, originally used for storage and hidden from public view, have been excavated and sensitively developed to form an impressive new Entrance Hall, accessible from street level and encompassing welcoming visitor facilities.
From here visitors enter the breathtaking and light-filled Grand Gallery. This beautiful 'birdcage' structure, with its delicate cast-iron balconies and soaring glass roof, was opened in 1866. Designed by the Royal Engineer Captain Francis Fowke, architect of the Albert Hall, it was inspired by London's Crystal Palace. It offers one of the most memorable architectural experiences in the UK.
The Grand Gallery has been reinstated as a dramatic focal point of the Museum's displays, with its impressive feature the 'Window on the World'. Spanning the four storeys of the majestic Grand Gallery space, this spectacular vertical installation rises over 20 metres and showcases extraordinary objects from across the collections of National Museums Scotland.
The Discoveries gallery in the centre of the building – another major architectural feature – provides a dramatic new home for one of the Museum's most popular exhibits, the Millennium Clock and some of the key highlights of the internationally important collections. Opening up long-forgotten archways, this space draws visitors through to the exhibitions and an expanded three-storey Learning Centre, which features new studios, event spaces and an upgraded auditorium. A series of balconies, walkways and escalators improve visitor circulation and provide dramatic views, both of the architecture and the displays.
A broad range of exhibition design approaches have been developed to bring the rich collections to life: from a spectacular array of open-display taxidermy to contemplative object-rich installations; from an immersive cinematic experience to dramatic objects which act as focal points; and from hands-on interactives to displays of internationally important and unique objects.
The redevelopment is the centrepiece of a visionary Masterplan to realise a 21st century museum which will stimulate and inspire people for generations.
29 + 28 Jul 2011
National Museum of Scotland Renewal
The National Museum of Scotland opens to the public on 29 July revealing a £47.4 million transformation which has created one of the world's great museums presenting the sciences, humanities and culture, all under one roof.


photo © Andrew Lee
National Museum of Scotland Unveils Dramatic Transformation
National Museums Scotland has completed a highly ambitious redevelopment returning a listed Victorian building to its original glory, creating spectacular new public spaces and revealing the wonderful collections. The centrepiece of a 15-year Masterplan, the project has taken just over three years to complete with fundraising efforts exceeding target by almost £1 million.
Sixteen new galleries take visitors on an inspirational journey through the wonders of nature, the cultures of the world and the excitement of science and discovery. Over 8,000 objects have been selected for the new galleries, 80% of which go on display for the first time in generations. Pioneering Scots who revolutionised the modern world are introduced through their innovations, inventions and possessions, including John Logie Baird, Sir Alexander Fleming and the chemist Joseph Black.
Sir Angus Grossart, Chairman of the Board of Trustees, National Museums Scotland said:
"The reopening of the National Museum of Scotland, on time and within budget is a tremendous achievement as importantly it allows us to liberate the strengths of our great collections and mobilise their great potential for dynamic development.
"Our collections tell great stories about the world, how Scots saw that world, and the disproportionate impact they had upon it. The intellectual and collecting impact of the Scottish diaspora has been profound. It is an inspiring story which has captured the imagination of our many supporters who have helped us achieve our aspirations and to whom we are profoundly grateful."
Working with award-winning Scottish architect Gareth Hoskins and internationally acclaimed exhibition designer Ralph Appelbaum, National Museums Scotland has also restored remarkable Victorian architecture, created sixteen new galleries, a major gallery to host international exhibitions, a three-storey learning centre and a spectacular new street-level stone-vaulted entrance hall.
Glass elevators carry visitors from the entrance hall to the stunning Grand Gallery, a light- filled space housing the UK's single largest museum installation, the Window on the World: a four-storey, 18-metre high display of over 800 objects.
Dr Gordon Rintoul, Director, National Museums Scotland said:
"This is a proud moment in the history of a great museum – the climax of a once-in-a-lifetime transformation through which we have rediscovered our exceptional collections, and breathed new life into a beautiful building. The result is a new National Museum of Scotland – a place where the cultures of Scotland and the world meet, and the arts and sciences connect. We look forward to sharing the results with our visitors now and those of many generations to come."
The £47.4 million redevelopment, has been jointly funded by the Heritage Lottery Fund (£17.8 million), and the Scottish Government ( £16 million), with a further £13.6 million from private sources.
Fiona Hyslop, Scottish Government's Cabinet Secretary for Culture and External Affairs said:
"The reopening of the National Museum of Scotland is one of the nation's cultural highlights of 2011. The transformed Museum, displaying its exceptional collections, is truly spectacular. A must-see attraction for local and international visitors alike, the new National Museum of Scotland promotes the best of Scotland and our contributions to the world.
"I'm delighted that the Scottish Government has been able to contribute to this successful project, which will allow visitors from home and across the globe to enjoy an inspirational and memorable experience."
Colin McLean, Head of the Heritage Lottery Fund in Scotland, said:
"Held dear in the hearts of many Scots through memories of childhood visits, the National Museum of Scotland has undergone a glorious transformation which will surprise and delight all those that enter its stone-vaulted doors. It has taken the Museum to a world-class level showcasing Scotland at its best while making a significant contribution to our culture, society and tourist economy. The Heritage Lottery Fund is very proud to have been a partner in helping make this happen and looks forward to the National Museum entertaining, educating and inspiring generations to come."
The transformation project is the centrepiece of an ambitious £70 million Masterplan launched in 2004 to redevelop the museum complex. Further phased development will deliver 11 more galleries and complete the overall vision by 2020.
Architect: Gareth Hoskins Architects
Exhibition Designer: Ralph Appelbaum Associates
National Museum of Scotland Reopening
We visited the redeveloped National Museum of Scotland on 27 Jul 2011
Royal Museum of Scotland : Review by Adrian Welch, e-architect:
Gareth Hoskins Architects (Glasgow) worked with exhibition designers Ralph Appelbaum Associates (New York) throughout the Masterplan development.


Royal Museum of Scotland image from GHA 5 Sep 2008
Contractor: Balfour Beatty Construction Limited
Museum of Scotland
Royal Museum of Scotland
Opening Times:
Mon to Sat 10am – 5pm
Tue 10am – 8pm
Sun 12noon – 5pm
Admission Price: Admission Free
Address: Chambers Street, Edinburgh
Contact: 0131 247 4422

Royal Museum of Scotland – updated image from GHA Sep 2005


Royal Museum of Scotland image from GHA
Main entry – Chambers Street facade:



Royal Museum of Scotland photo © Adrian Welch
Royal Museum of Scotland Masterplan Launch
Nov 2004
National Museums of Scotland Launches Masterplan



Royal Museum Masterplan: New Entry Level image from Gareth Hoskins Architects
Royal Museum of Scotland Masterplan
Royal Museum Masterplan Lead Architects: Gareth Hoskins of Gareth Hoskins Architects and Ralph Appelbaum of Ralph Appelbaum Associates
National Museum of Scotland (NMS)
Date built: 1861
Architect: Captain Francis Fowke
Royal Museum of Scotland Masterplan
Another project by Ralph Appelbaum Associates is the Museum of Zoology Cambridge.
To see projects in Edinburgh on a map please follow this link
Also by Royal Museum of Scotland architect, Captain Francis Fowke – Royal Albert Hall, London – 1871
Edinburgh Architecture
Key Building Pages
Comments / photos for the Royal Museum of Scotland Edinburgh page welcome