UK Government Stimulus 2020, Build better. Build greener. Build faster, MTX Construction
MTX Project Speed News
Oct 4, 2020
When the economy is in difficulties, you need a project that will stimulate growth. In response, the Prime Minister launched the "Build better. Build greener. Build faster" initiative aimed at boosting the construction industry, including in this a pledge of £3 billion in capital investment for the NHS.
MTX couldn't have been more excited than when Prime Minister Boris Johnson chose to visit our very own MTX fast-track 'project speed'. On the 11th August, we welcomed Mr Johnson to our latest £12 million project to build a ward for Hereford County Hospital.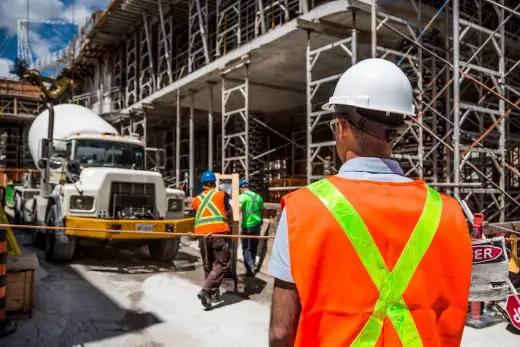 MTX Project Speed Update
Our fast-track ward is aimed at providing the NHS with a total of 72 extra beds across three wards in just 11 months, ensuring they have all the state-of-the-art equipment available. Such a project is both welcomed and necessary at this time. However, what makes MTX so uniquely capable of delivering this project is the speed with which buildings can be delivered. With the worry about the winter pressures on healthcare a more significant concern than ever, the fact that modular construction can provide at such speed is essential to the success of the scheme.
'Project Speed' is the government's attempts to bring about the "most radical reforms of our planning system since the end of the second world war." The Prime Minister made it clear that offsite methods of construction are a possible way to deliver on these promises. It is worth exploring in more detail how MTX can deliver the PM's promises "Build better. Build greener. Build faster."
How MTX ensures we 'Build better.'
Let's begin with something that you probably didn't know before. You may have assumed that offsite construction means prefabricated buildings of old. However, this is far from the truth, as modular construction is an engineered solution. It is the result of years of development of design methodology. Far from being the secondary choice in building, the engineering in offsite, modular construction is superior.
Second, you need to consider the impact of factory production. This factory-setting demands that our processes are repeated time and again. They are, therefore, perfected. We also employ exceptional Quality Assurance practices, reducing the chance of contractor error. Traditional on-site construction is subject to the weather and to the problems of hiring the best subcontractors. As we build our units with the same skilled personnel inside our factory, the chances of a superior finish are much higher.
But building better is more than just the delivery of an exceptional end design. With reduced vehicle movement and fewer on-site operatives, building is safer for our team and for the wider public. More importantly, for sites like hospitals, this is building better because there is minimal disruption on a site that needs to keep going no matter what.
How MTX ensure we 'Build greener.'
When units are built from standard components and built modular, it is possible, once the building has served its function, to deconstruct the components effectively. Rather than demolition and then transportation to landfill, the unit can be stripped down again, and the parts recycled, renewed or reused. Consequently, when using modular construction methods, you offer a 60% reduction in waste from construction activities.
Waste is also reduced because of the factory setting. The components are standard across units, so the supply chain is much easier to manage. Any excess material can be held over for use on a different project.
The end building will also be more environmentally friendly. The units let in very little air. Consequently, there is minor seepage of heat, and therefore, it takes less energy to heat the units. There is also a premium placed on natural light, again a means of reducing the electricity consumption in the buildings.
How MTX ensure we 'Build faster.'
The sub-structure and the super-structure of any project can be constructed in parallel using modular methods. While the groundworks are completed, the unit is built offsite. When the groundworks are finished, the entire building is transported to site and is ready for fit-out immediately. The result is a saving of time of up to 50% – which you can imagine will save money too as you are less likely to run over deadlines and need to access your contingency.
We can also reduce the fit-out time by using pre-manufacture MEP (mechanical, electrical, and plumbing processes). This means the units will be delivered with the MEP fit-out completed. It is also possible to employ offsite finishes – reducing the build time even more.
Comments on this guide to MTX Project Speed article are welcome.
Edinburgh Architecture
Cammo Meadows by CALA Homes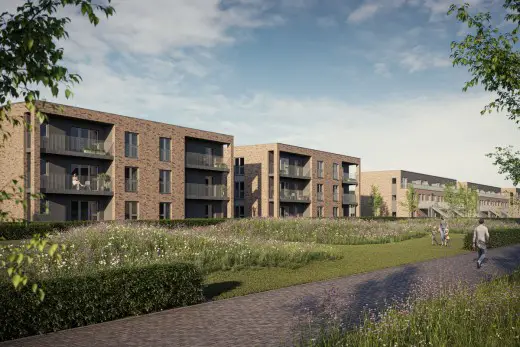 image courtesy of architects practice
Cammo Meadows by CALA Homes
Moxy Hotel Edinburgh News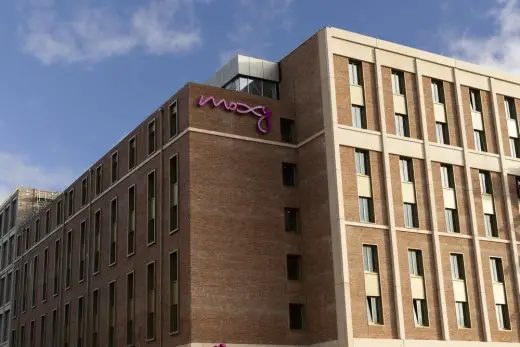 image courtesy of architects practice
Moxy Hotel Fountainbridge
Comments / photos for the MTX Project Speed advice page welcome