How Edinburgh and Scotland's Iron Age Structures Impact Modern Culture Advice, Scottish History Tips
Edinburgh and Scotland's Iron Age Structures Impact Modern Culture
10 Nov 2020
We know a lot about modern architecture in Edinburgh and when the style began, but our understanding of Iron Age architecture in Edinburgh and Scotland is a lot less certain.
Although much of Scotland's Iron Age architecture is located on the northern coast of the country and the surrounding islands, Edinburgh and the local area still has notable Iron Age sites, such as Ravelrig Hill. Plus, remember Edinburgh Castle has stood since the Iron Age, too.
With this in mind, let's take a look at Iron Age structures in Scotland and Edinburgh. We can then assess what we know about the structures and how this form of architecture is expressed and enjoyed in modern culture.
A Brief History of Iron Age Structures in Scotland
The roundhouses of the Scottish Iron Age are an integral part of Scotland's rich heritage. From the seventh century BC, architectural styles in Scotland shifted, and cellular houses began to be replaced by Atlantic roundhouses that were made with drystone construction methods.
Although this phenomenon started on Scotland's northern isles in places such as Tofts Ness in Orkney and Clickimin in Shetland, construction soon spread throughout the country. At this point, Iron Age structures and buildings reached Edinburgh, where two notable examples are apparent today.
After all, even though it's not a roundhouse, Edinburgh Castle has sat upon Castle Rock since as far back as the Iron Age. Similarly, an Iron Age site was recently discovered just to the west of Edinburgh, on the north-facing slope of Ravelrig Hill. Here, the roundhouse is well developed, measuring 15 metres in diameter.
As can be seen from the Ravelrig Hill site on the outskirts of Edinburgh, the intricacy of the designs of Iron Age structures also improved as they spread throughout the country. By 200 BC, circular broch towers began to appear. These hollow-walled structures are unique to Scotland and over 100 examples of this form of architecture still stand within Scotland's boundaries to this day, including Yarrows near Wick and two popular sites on Shetland: the Broch of Clickimin and the Broch of Mousa.
What Do We Know About These Structures?
For those of us interested in Scottish architecture and its significance today, part of our interest is the mystique that surrounds why they were created and what their purpose was. In fact, this is an issue that attracts a lot of academic interest from the University of Edinburgh today. Sadly, in spite of the best efforts of academics, we still know very little about the purpose of these structures and the nature of the societies that built them.
However, because historic sites have been studied by academics, we can still understand how people lived their lives together and their rituals. It's clear today that roundhouses and brochs were primarily dwellings. However, in many circumstances, they were used as 'byre-houses' where animals and people co-habited. This is particularly true for multi-story brochs, where academics believe that the ground floor was used for co-habiting while the first floor and above were dedicated living quarters. That said, there is still academic conjecture around this, and some academics believe we cannot attribute roles to particular spaces within the buildings as we simply do not know for certain.
What's the Significance of These Structures Today?
It's easy to understand how modern architecture influences our lives today. After all, you can take a walking tour around Edinburgh and learn all about it. Sadly, we can't do this with Iron Age architecture in Edinburgh, as many of the structures have been lost to time. But, although Iron Age architecture doesn't exist on the streets of Edinburgh (other than the site of the castle), we can learn more by visiting Scottish museums. After all, the architecture is celebrated at The Scottish Crannog Centre, an open-air museum in Perthshire. Here, it's possible to gain a fascinating insight into Scotland's prehistory.
Similarly, we can also consider how Iron Age structures have an impact on popular culture to this day. After all, no matter where we look in the entertainment industry, Iron Age structures are presented alongside the mythology and legends of the time. For example, the TV series Vikings which is available on Amazon Prime remains one of the most popular shows of the 21st century and showcases Iron Age architecture and Norse heroes throughout, featuring much of the same Norse imagery that has been found at Edinburgh's own Rosslyn Chapel.
Similarly, the hit TV show Game of Thrones leaned heavily on this style of architecture in many of its rural settings. Over in the world of online casinos, themes of varying sorts are prevalent, particularly in slot games. Thunderstruck is one example that leans heavily on Iron Age mythology and architecture – check https://betway.com/en/casino/slots/thunderstruck-2. Most of the slot game is based in the game's 'Great Hall', where Norse Gods reside. These examples clearly disprove the idea that our history is irrelevant to modern life.
In summary, although academic debates may still be raging about Scotland's brochs, we can still learn a lot about these structures and their impact on Scottish culture today. In fact, even though our understanding of why these buildings were created is minimal, they're still apparent everywhere we look in popular culture, from TV shows to casino games. Thankfully, with educational centres like The Scottish Crannog Centre spreading the word of the importance of Iron Age architecture, we can see its beauty and splendour for ourselves, even if we do have to venture a little outside Edinburgh.
Comments on this guide to Edinburgh and Scotland's Iron Age structures article are welcome
Edinburgh Architecture
Scottish Widows, off Lothian Road



picture © Adrian Welch
Scottish Widows
Scotland Street lighting restored to Georgian glory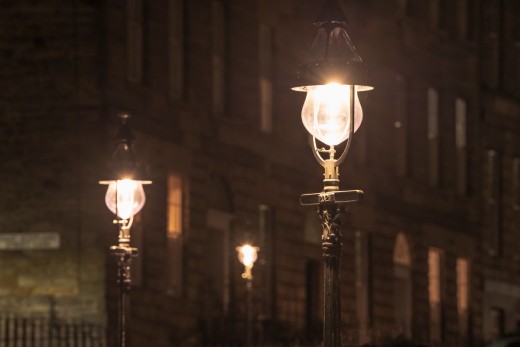 photo : Tom Duffin
Scotland Street Lighting Edinburgh Restoration
Comments / photos for the v page welcome