Terry Farrell Partnership, Architecture, Edinburgh, Scotland, Architect, Project
Terry Farrell Edinburgh : Architecture
Scottish Projects + Buildings, UK
Terry Farrell Edinburgh
Terry Farrell in Scotland
Paperback 96 pp (Aug 2002) Publisher: Tuckwell Press ISBN: 1862322759
More Books further down page.
Books
Terry Farrell: Urban Design (Architectural Monographs) Ken Powell (Introduction)
Availability: usually dispatched within 1 to 2 working days
Hardcover 1 pages (Dec 1993) Publisher: Wiley-Academy ISBN: 1854901257
Order Terry Farrell: Urban Design Today
Ten Years, Ten Cities: The Work of Terry Farrell & Partners 1991-2001
Hugh Intro Pearman, Hugh Pearman (Introduction)
Hardcover 320 pages (Feb 25, 2002) Publisher: Laurence King ISBN: 1856692752
Order Ten Years, Ten Cities Today
Terry Farrell in Scotland – Book
by Terry Farrell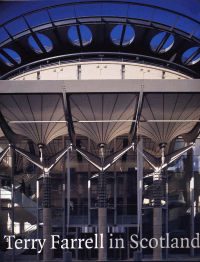 picture from the architect
Order Terry Farrell in Scotland Today!
Paperback 96 pages (Aug 2002) Publisher: Tuckwell Press ISBN: 1862322759
Terry Farrell in Scotland: Review
In the decade since Terry Farrell and Partners founded their architecture office in Scotland, three major buildings and two public squares have been designed and constructed in the capital. This architecture book, illustrated in colour throughout, explores the philosophy and implementation of responding to context in creating sensitive, yet innovative and bold, interventions to the design culture of a capital.

The Exchange Financial District master plan, won in competition in 1989, draws on Terry Farrell's enthusiasm for "gentle architecture". The distinctive drum-like form of the Edinburgh International Conference Centre landmarks the site and forms a set piece within the urban mass.


picture © Adrian Welch
At the heart of the Terry Farrell project is the triangular Conference Square, which forms the main public space for the Conference Centre.
Nearby is a diversity of public spaces and walkways that resemble public rooms and corridors within a building. Terry Farrell and Partners' master plan incorporates elements of contrast and surprise. For example, the angular Sheraton Spa, squeezed into an uncompromisingly small plot of land, provides a startling visual juxtaposition with the circular Conference Centre.
The driving forces behind the Edinburgh master plan are historical continuity, the integration of old and new, pedestrian access, and the quest for richness and diversity. Terry Farrell and Partners' singular concept of urban design allows an incremental approach that encourages the area to take shape in its own way. Confronting the reality of the urban situation – rather than prescribing utopian visions – is an integral part of Terry Farrell and Partners's outlook.
Order Terry Farrell in Scotland Today!
Feb 2004 News:
Terry Farrell: Design Tsar Chosen



picture © Adrian Welch
Sir Terry began his new role as Edinburgh's 'design champion' on 03.02.04 by calling for a rethink of the city's streetscape
Terry Farrell – architect of some major Edinburgh projects – to be
'figurehead for the city's attempts to improve new architecture':
Riccardo Marini announced as Sir Terry Farrell's (Design Champion) officer
05.02.04; 20.01.04
Terry Farrell Edinburgh: main page
Terry Farrell in Scotland: Contact details
Terry Farrell : projects around the globe
Current Terry Farrell Building News
Former Power Station site, London
The Lots Road Power Station development is to contain 821 homes & shops. Two residential towers have been designed by Terry Farrell & Partners either side of the redeveloped Lots Road Power Station, which was built in 1904. In early 2006 Deputy Prime Minister John Prescott over-ruled a previous planning refusal allowing the development to proceed.
Tallest buildings in Scotland
Office Tower and Flats Tower, Leith, by Terry Farrell & Partners
Edinburgh's Leith docks are set to become a mini-Manhattan, complete with Scotland's two tallest buildings and a Guggenheim museum. Forth Ports has revealed plans to build two 35-storey towers as part of the regeneration of Leith port's Edinburgh Harbour.
The company is also in discussions with the Solomon R Guggenheim Foundation about building a museum at the port. The two towers would stretch 420 feet into the air, making them three feet taller than the Millennium Tower at Glasgow Science Centre – currently Scotland's tallest structure. They would dwarf Scotland's previous tallest buildings, the 31-storey flats in Bluevale Street and Whitevale Street in Glasgow's Gallowgate, which are both 298 feet tall
Other buildings by the practice outwith Scotland include the new Home Office headquarters
Do we need a design tsar?
Such as Terry Farrell? Reported in early 2002: Edinburgh should appoint a Design Tsar to improve the standard of its new buildings – because much of the city's modern architecture is not good enough.
Feb 2002
Architecture Exhibition
25 Nov – 24 Dec 2002: RIAS, Edinburgh
Terry Farrell in Scotland
new book describing TFP's last decade of Scottish projects:
This small book gathers together Terry Farrell & Partners completed Scottish works with competition entries and forthcoming projects. Many of the images will be familiar to those who have read 'Ten Years Ten Cities: The Work of Terry Farrell & Partners 1991-2001' but it was the most recent projects that captivated me simply due to inclusion of images that have not yet been aired: Ocean Point and the South-East wedge.
I was struck in 1997 when the Samsung Europe HQ was publicised that Farrell's are very eclectic and seem refreshingly bereft of a fixed house style (unlike the colonial signature architects – Frank Gehry et al – rolling depositions). The Ocean Point however seems so different to the Dean, The Exchange and the Sheraton Hotel Health Club. The South-East Wedge proposals are encouraging, a new community based around a railway station. Many have opposed ANY eating into the Green Belt but this area of plain farmland seems ripe for settlement. Sitting on the Cockburn Cases Committee I try to encourage density in central projects: I believe we all have a responsibility to increase populations in the city, fully utilise brownfield sites and increase heights around transport nodes. Terry Farrell & Partners's plans propose just this and I repeat my request for architects to get involved in the proposed New Town for East Lothian. (see the initial Editorial for December).
I encourage you to visit the Terry Farrell & Partners Exhibition at the RIAS.
Mon-Fri 9am-5pm
Terry Farrell: Inverness
Architect Terry Farrell has been commissioned to create a masterplan for 1,000 homes, shops, marina, hotel, school and leisure facilities at a disused oil fabrication yard at Arderier, near Inverness.
Terry Farrell: Dundee
Dundee University has engaged Terry Farrell for the redevelopment of its campus to the next stage. The architect, who designed Edinburgh International Conference Centre, is taking a personal role in the university project. Key buildings on the campus like the Centre for Interdisciplinary Research and the Queen Mother Building are almost finished, and work is about to start on residences and a new faculty and teaching building.
Terry Farrell Architects has been retained to ensure that the redeveloped campus matches the needs and aspirations of the community. Consultation will form a big part of that process and the architect will give an open presentation on the plans to staff, students and the wider community later this month. Sir Terry has visited Dundee a number of times and is working closely with Dundee City Council and Scottish Enterprise Tayside.
Sculptor and artist David Mach is developing ideas for a public work of art based on the life sciences that could be incorporated into the campus plan.
Sir Terry Farrell's open presentation takes place on 25 Apr in the Cooper Gallery at Duncan of Jordanstone College of Art.
Apr 2005
Buildings / photos for the Terry Farrell Architecture pages welcome
Terry Farrell Edinburgh Buildings : page