Best Architectural Designed Casinos in Scotland guide, Scottish Gambling Property Architecture
The Best Architectural Designed Casinos in Scotland
8 Feb 2021
Let's travel to the best casinos with gorgeous Art Deco design in Scotland. Find out more about The Corinthian, Maybury Casino, and Alea Glasgow Casino!
The Best Casinos in Scotland with Outstanding Art Deco Style
Art Deco — What's all this about?
This architectural style originated in the 1920s, named after the Exposition Internationale des Arts Décoratifs et Industriels Modernes in Paris, in 1925. It turned into a predominant style throughout Europe and the United States in the 1930s. Also called "style moderne", Art Deco symbolizes modernism turned into fashion.
This style has simple yet elegant elements that give buildings a sleek but modern design. It's characterized by the use of certain materials, like aluminum, shagreen, wood inlay, and materials that give constructions an opulent look.
As the preferred style between two wars, Art Deco is considered the optimism period after the first world war and the great depression.
Casinos create a luxurious and exciting feeling in people, and what a better style to adopt for that than the polished and distinguished Art Deco?
Casino at The Corinthian
One foot at The Corinthian, and you'll feel transported into another era.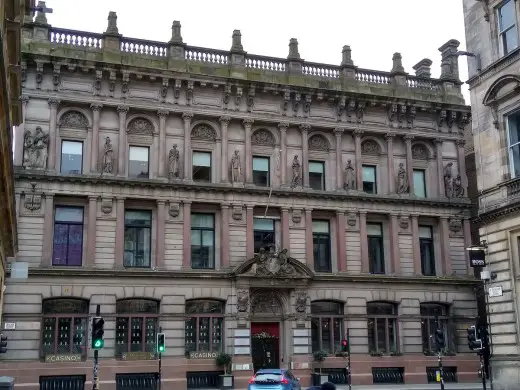 photo : Twospoonfuls, CC BY-SA 4.0, via Wikimedia Commons
This building isn't new, but Graven Images surely did a great job renovating it. The structure has a long history; it started as a private home, then turned into a bank; later on, it served as a courthouse, and now it's a casino, bar, and restaurant.
The architect behind the construction did not feel inspired by the courthouse version of the building. Instead, he wanted to replicate the bank that used to operate there. They even reproduced the same chandeliers that once were there!
The establishment has several bars with gorgeous round booths underneath a beautiful ceiling and a dazzling dome in some rooms. While the bars and restaurants have a more modern-looking design, the casino has a rustic style. With tables and chairs made of dark shades of wood, a marble bar and tables, and beige rough walls, you'll definitely get that lavish feeling while playing here.
It offers tons of entertainment, ranging from electronic games like slots and roulette to traditional table and card games including Poker, Blackjack, Roulette, and Three Card Poker.
Maybury Casino, Patterson and Broom
The Art Deco styles usually associated with extravaganza and entertainment, and the Maybury Casino doesn't disappoint. This building has its history, but the most important part is that it's still being used despite being built in 1935.
When constructed, its purpose was to host dinner parties and live music events. It wasn't until the 90s that it was turned into a casino. The architects Patterson and Broom designed this "B-listed" building with a very distinct facade style– the walls are white while the frames and windows are a strong black colour, forming horizontal and vertical lines.
Another interesting fact about this building is that the architects built it to attract middle-class, car-owning people. Being one of the most luxurious structures back in the day, there was a sense of exclusivity when going to the edifice.
This casino might be a bit more modern than The Corinthian, as it has the option to play online. Maybury Casino offers all kinds of entertainment, including table and card games, and electronic games.
Alea Glasgow Casino
This casino is known for its elegant yet welcoming style. Not only can you enjoy world-class gaming here, but also live music events, fine dining, and attractive bars.
This casino has perhaps one of the most modern-looking facades out of the three listed here. It has a unique round shape and interesting lines that expand from the centre out. However, when you enter the building, you're struck by bright lights coming from all places, like the dance floor, underneath the bar, and behind signs with the name of the casino.
We all know how famous Las Vegas is for the real casino experience it offers, but Alea Glasgow Casino doesn't fall behind. It offers a wide range of gaming entertainment within the modern-designed spaces; going from the traditional table and card games like Blackjack, Poker, Roulettes or Punto Blanco to electronic games where you can win up to £20,000 on Slots. You can find one of the best casino slot games in the market on the website, not to mention it's totally safe to play at online casinos nowadays.
The Best Architectural Designed Casinos in Scotland Conclusion
Scotland is a beautiful place to visit if you love the Art Deco style. These aren't the only buildings with this architectural design; there are many others. We can mention the Bellgrove Hotel, Dominion Cinema, Luma Tower, Ravelston Garden, and Younger Hall, just to name a few.
All of these structures have that post-war taste that we all love. Sleek designs, luxurious feel and extravaganza encouragement is what we all need at least once in our lifetime!
So, take the plunge and visit these special casinos. We can ensure that you'll have the time of your life. Besides endless fun, you'll feel like you've travelled back in time.
Comments on this guide to Best Architectural Designed Casinos in Scotland article are welcome.
Edinburgh Architecture
National Centre for Music at Royal High School, Edinburgh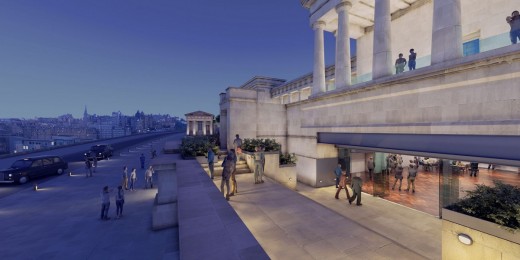 image courtesy of architects practice
New National Centre For Music Edinburgh
St James Quarter Edinburgh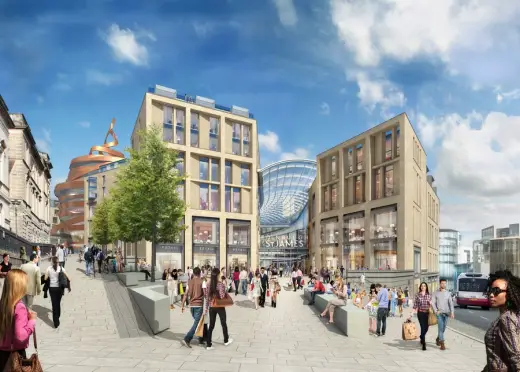 image of the development
St James Quarter
Comments / photos for the Best Architectural Designed Casinos in Scotland Advice page welcome