omniedinburgh, vue cinema, Greenside Place, Phone, Location, Website, Scotland
Omni Edinburgh – Vue Cinema
Omni + Calton Square, Leith Street, Edinburgh
–
Vue Cinema Edinburgh
Warner Village Edinburgh: Multiplex Cinema – Omni Centre
Films/Times – VUE Cinema: 08712 240240
Calton Square – offices for Pillar Properties + Parlison Properties
Location: Omni Edinburgh (Warner Village Cinema), Greenside Place, New Town
Omni Edinburgh – Building Information
Edinburgh's most high profile cinema complex has just opened following a gala premiere of 'Harry Potter II'. This represents a key component in Allan Murray Architects' ambitious design for this £73m mixed-use development at Greenside Place in Edinburgh's city centre.
The leisure building, called 'Omni', includes a five-star hotel, a health + fitness club, a variety of bars and restaurants as well as a Warner Village 12 screen multiplex cinema. The hotel wraps round an expansive rooftop garden and gives the building a unique 'fifth' elevation when viewed from the elevated position of Calton Hill.
Allan Murray Architects' detailed urban analysis of the site generated two distinct buildings – Omni Centre & Calton Square – and the practice was retained as master planner for the whole site as well as project architect for 'Calton Square', the 190,000 sq ft flagship office development for Pillar Properties plc and Parlison Properties Limited. The two buildings are separated by a new square which breaks down the scale of the overall development and affords an uninterrupted view up to the monuments on Calton Hill.
The design responds to the location's unique urban character and relates to the massing of the surrounding buildings, the superb views out from the site and the client's desire to create a 'landmark' building. The structural grid for the buildings spring from the existing car park structure and a transfer slab was constructed to increase flexibility. Construction work started in November 2000 and the mass of the new buildings echo the scale of the former tenements on Leith Street (demolished in the 1960's).
Omni Centre / Calton Square – Building Information received 18.11.02
Since the completion of Warner Village Edinburgh the eastern section was developed as TheGlasshouse Hotel with the Mood Bar (Club) in between
Greenside Edinburgh Development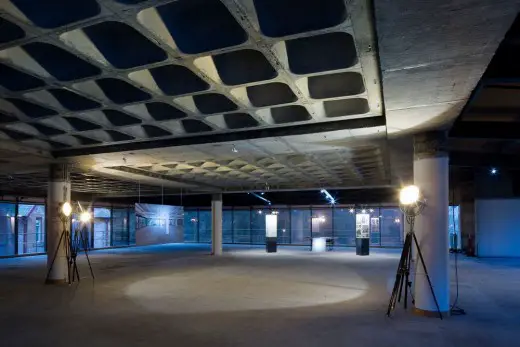 image courtesy of Chris Stewart Group (CSG)
Greenside Edinburgh Development
Buildings close to the Omni Centre
St James Centre



photo © Adrian Welch
Edinburgh Playhouse



image © Adrian Welch
Omni Centre Edinburgh : main page



picture from architect
Edinburgh Cinemas
Ster Century, Ocean Terminal



image © Jason Baxter
Fountain Park
Cameo Cinema
Dominion
Odeon Wester Hailes
VUE, Omni Edinburgh, Greenside Place
Adjacent Structure:
Leith Street Bridge by Broadway Malayan
Comments / photos for the omniedinburgh cinema + restaurants page welcome
Omni Edinburgh – Building : page