Top 5 destinations with impressive architecture guide, Best buildings from around the world
The Top 5 Destinations with Impressive Architecture from Around the World
18 July 2022
Architecture is a materialistic form of art. A city is defined best by its architectural qualities. When we travel, what we most seek are meaningful experiences and a deep, lasting cultural immersion. And what better way to do that than to explore the architecture of a place or city.
Every city has a landmark of its own that reigns as the pinnacle of its architectural and cultural history. These distinctive works of architecture have played a profusely notable role in the identification of historical civilizations who left these behind as a semblance of their existence.
Here are the top 5 destinations that we think connoisseurs would agree to have the most impressive architecture from around the world.
1. St.Peter's Basilica, Rome, Italy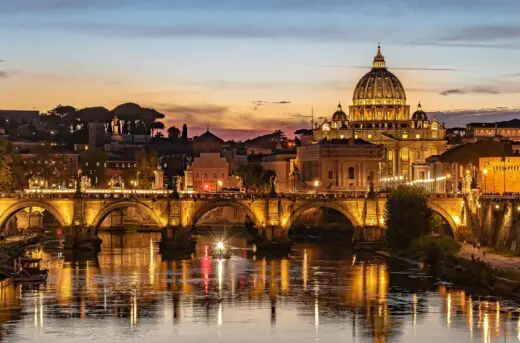 Saint Peter's Basilica is located within Vatican City in the heart of Rome, Italy. With its looming presence, mosaicked walls, and gilded interior, it is considered one of the largest catholic churches in the world.
It is a behemoth of a building erected over Saint Peter's shrine that is not only a symbol of Christendom but also proudly represents the grandeur of 15th-century renaissance architecture in Italy. Brought to life by the skilled hands of architects like Michael Angelo, it is as much a work of art as it is an architectural marvel.
2. Château de Versailles, Versailles, France
It took almost 40 years to build the palace and gardens of Versailles which makes perfect sense once you witness the sheer opulence of it all. The chateau is erected in the mid-17th century style of Baroque architecture and completely embodies the gilded glory of Louis XIV's reign.
One of the most loved characteristics of the Palace of Versailles is its vaulted ceilings that are completely adorned with Charles Le Brun's paintings that depict the king's reign. The palace is nestled among an array of rose-colored marble buildings and lush gardens that attract tourists like moths to flames.
The colossal Hall of Mirrors, sprawling and gloriously adorned with scintillating chandeliers and meticulously crafted sculptures contains 357 mirrors and is interspersed with an assemblage of frescos and marbles. With its rich historical background and distinct pomp and pageantry, the palace of Versailles is guaranteed to take your breath away.
3. Casino de Monte-Carlo, Monaco, France
Staying true to Monaco's extravagance, the Monte-Carlo casino is famous for two things: its Beaux-Arts style architecture and James Bond. The building's splendour is said to be what inspired the casino in Ian Fleming's first Bond novel Casino Royale. It has been frequently used as a filming site due to the beautiful baroque-inspired style of it all.
With high, ornate ceilings, stained glass windows, and allegorical paintings, the gilded interior of Monte-Carlo holds a range of slot machines and table games in its seven different gaming rooms. Some of these games include 777 slots, poker, blackjack, and roulette tables.
With gambling, opulence, and unrestrained glamour, the Casino de Monte-Carlo is everything Monaco is known for.
4. Taj Mahal, India
Now an inclusion in the 7 wonders of the world, the Taj Mahal stands in Agra, India. This royal monument was built upon the order of the Mughal Emperor, Shah Jahan for his beloved wife as her eternal resting after she died. Engravement with semi-precious stones and the use of white marble for the body makes it a house of jewels as well as granting it a sense of vast symbolism closely associated with religious morals.
Intentional reciprocity prevails between its acoustics, geometric arrangement, surface decoration, and materials. A remarkable balance exists among all elements of the mausoleum and its vicinity.
5. Hagia Sophia, Istanbul, Turkey
The Hagia Sophia Mosque in Istanbul flawlessly represents the various cultural and religious changes it has gone through in the years. There is a certain elegance and sanctity to it that is reflected back in its Byzantine architecture.
The building holds significance for both Muslims and orthodox Christians with its turbulent history and holds it well in the way its grand dome stretches and curves in the air, its mosaicked arches, and minarets that define it as a mosque. Undoubtedly, the Hagia Sophia, with its Islamic and Byzantine architectural elements of domed ceilings and carved placards, is an absolute marvel to behold.
Comments on this guide to The Top 5 Destinations with Impressive Architecture from Around the World article are welcome.
Architecture
Rowanbank Gardens, Corstorphine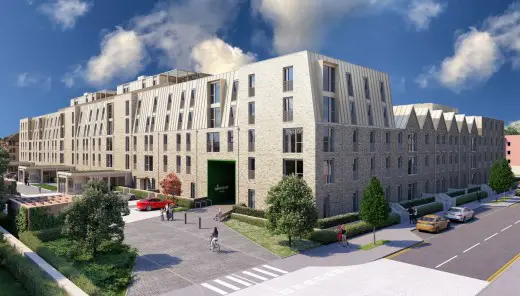 Rowanbank Gardens Edinburgh Housing
West Town Vision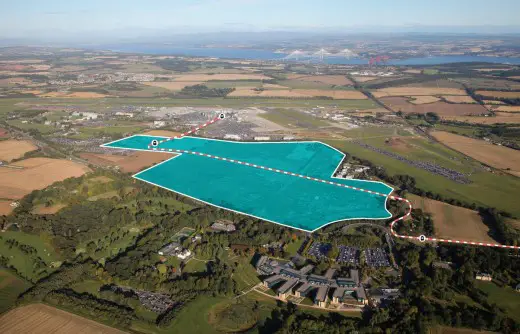 image courtesy of architects practice
West Town Edinburgh Property Vision
Comments / photos for the The Top 5 Destinations with Impressive Architecture from Around the World advice page welcome