Tigerlily Edinburgh, George St Restaurant, Montpeliers Hotel, Bar, Location, Photo
Tigerlily Edinburgh Hotel
George Street Restaurant + Hotel by Graven Images, Scotland, UK
–
Tigerlily Hotel
Tigerlily Edinburgh : Scottish Design Awards 2007 – Interior Design Shortlist
Graven Images
Address: 125 George Street, Edinburgh EH2 4JN
Tigerlily, the boutique hotel in Edinburgh which Graven Images designed for Montpeliers did really well at Scottish Hotel of the Year Awards 2007.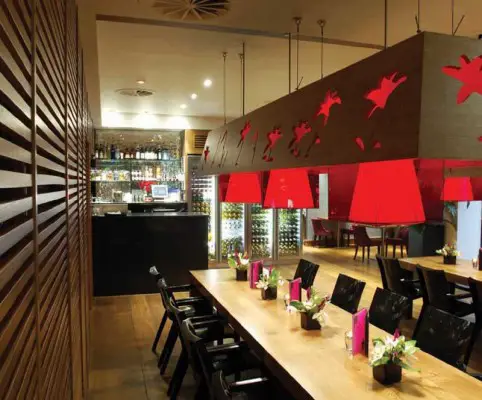 This boutique hotel won the Scottish Hotel Design Award 2007, and the Scottish Hotel Bar Award 2007. It was also awarded a special commendation for the Scottish boutique hotel category. 260207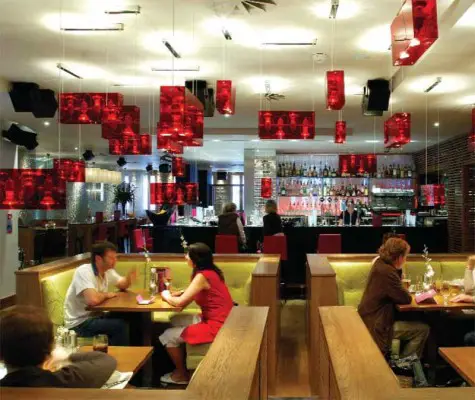 Information from designers Graven Images, 2006:
This is Montpeliers' new boutique hotel situated on Edinburgh's George Street.
We designed the whole package; all thirty-three bedrooms with their own individual character, the public spaces, and all graphic materials, from menus to room keys. The brand echoes the Georgian opulence of the Grade A-listed building but is cool and fresh at the same time.




hotel images by Jon Barnes received from Graven Images 290606
We were able to design special furniture and specify some of the most fabulous wall coverings and fabrics on the market.
It will be one of the world's best boutique hotels and one of Edinburgh's best restaurants. The bedrooms are sumptuous and the bathrooms are good enough to spend all night in. There are two bars and a 200 cover restaurant.
Graven Images designed the website for the hotel & restaurant.
Tigerlily Hotel Architects : Graven Images – designers, Glasgow
George Street Hotels & Restaurants
George Street Hotel



Refurbished by new owners Principal Hotels in 2006
George Street Restaurants – Selection
Centotre, 103 George Street +44 (0)131 225 1550



George Street Restaurant
The Dome, 14 George Street +44 (0)871 703 1288



The Dome Edinburgh
Le Monde restaurant, 16 George Street +44 (0)870 432 8895



Le Monde Restaurant – boutique hotel, brasserie, bar & nightclub
Hotel Le Monde: 18 suites
Restaurants close to Tigerlily Edinburgh, off George Street
Oloroso Restaurant, 33 Castle St +44 (0)131 226 7614


rick's hotel & bar, 55a Frederick St +44 (0)131 622 7800


Roti Restaurant


Graven Images Interior at Indigo Yard : Edinburgh bar at the west end of the New Town.
Another hotel design by Graven Images – Radisson SAS Hotel Edinburgh
Hotel Missoni, an interesting building on the Royal Mile
Edinburgh Hotels – accommodation across the Scottish capital city


George Street restaurant – Centotre
Comments / photos for the Tigerlily Hotel George Street Architecture, George Street, page welcome
Tigerlily Edinburgh Building : page